JUST under an hour's drive from Dubai International Airport, and away from the hustle and bustle of the UAE's busiest emirate, is one the country's hidden gems in the form of Al Hamra Golf Club and it is proving to be an increasingly popular destination for a golf staycation for those in the know.
Nestled on the shores of the serene Arabian Gulf with the spectacular backdrop of the majestic Hajar Mountains, the pristine Peter Harradine designed course is flanked by three world class hotels – the Hilton Al Hamra Beach & Resort, Waldorf Astoria and Al Hamra Village & Residences. 
The course itself, which was upgraded along with the clubhouse ahead of hosting the 2018 Challenge Tour Grand Final, measures 7,325 yards and incorporates two open water lagoons and stunning desert landscapes. With five varying tee options, it's a track which provides a fun and enjoyable test of golf for both seasoned professionals and enthusiastic amateurs and beginners.
And the fun doesn't stop when the sun goes down. The course features floodlights on a selection of holes creating a composite 9-hole course meaning local residents or players from around the emirates can enjoy a round after work or in more bearable temperatures during the summer months.
An 18-hole round can be booked for as low as AED 475 or AED 375 for Troon Executive Card members with nine holes of night golf just AED 250, which can be booked and paid for online on the club's website.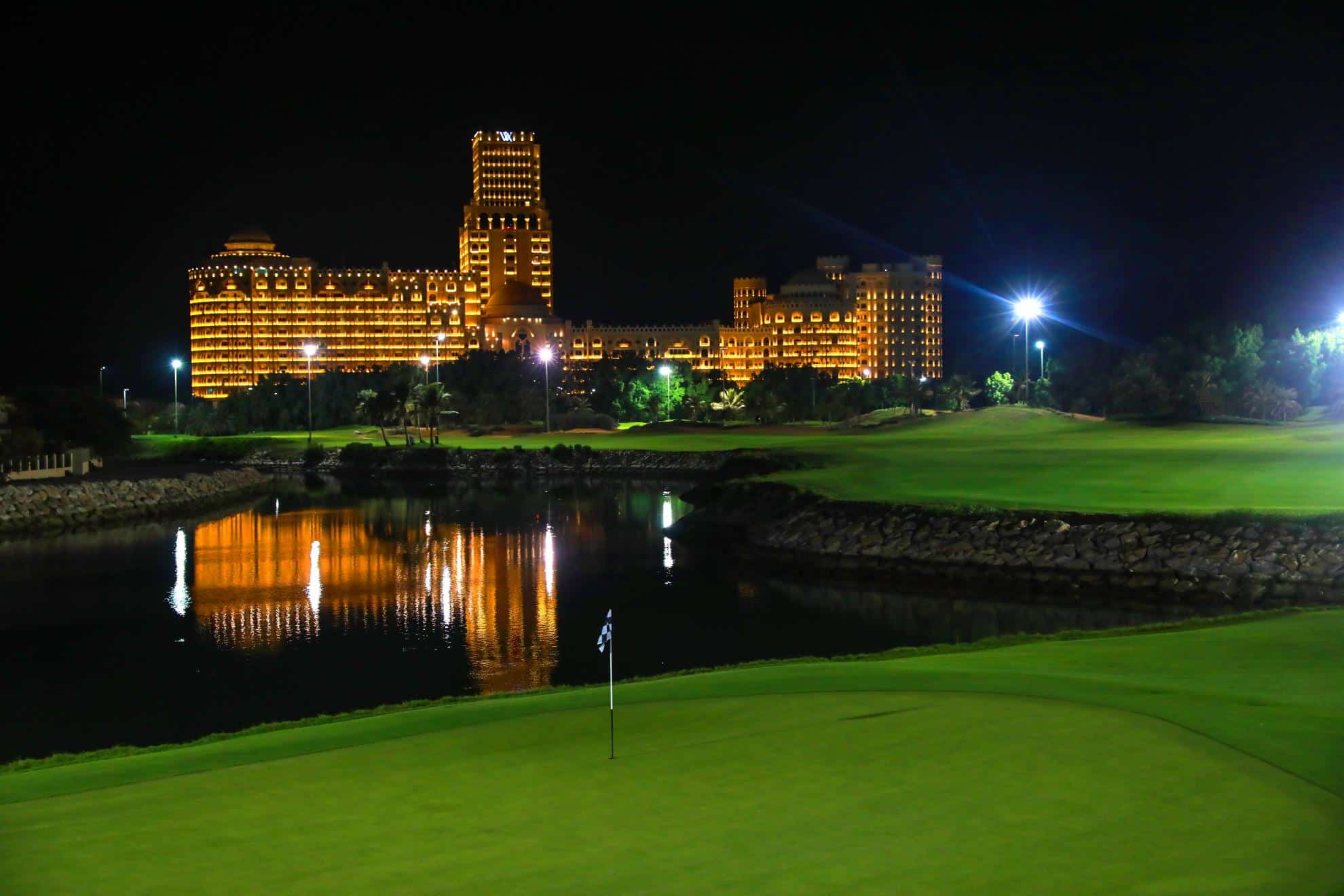 Al Hamra, which has joined with fellow Troon Golf facility, Dubai's The Track Meydan, in leading the way for other clubs in the region in going 'plastic free', is very much a venue which is 'open to all' and has some of the best 'intro to golf' programmes around.
The Al Hamra Golf Academy offers the perfect setting and facilities for those looking to learn the game or for the advanced golfer aiming to enhance their performance. The Academy also features a fully equipped gym so players can work on their golf fitness.
Outside, the large two-tiered grass driving range allows individual golfers to practice with varying shot options catered for on the multipurpose range, combined with dedicated short game practice and putting greens, as well as those tricky bunker shots. PGA Professional coaches are available to provide tuition to those players who may require it.
The Academy Par-3 course also offers golfers the chance to improve their game on holes ranging from 60 to 127 yards or it can even be used for a fun and fast alternative to the championship course. As a nice addition non-golfers can also enjoy a round of footgolf on the Academy Course.
There are also regular family days with bouncy castles and a range of fun activities on offer for the kids while the parents enjoy some top-notch food and beverages on the terrace overlooking the 18th green.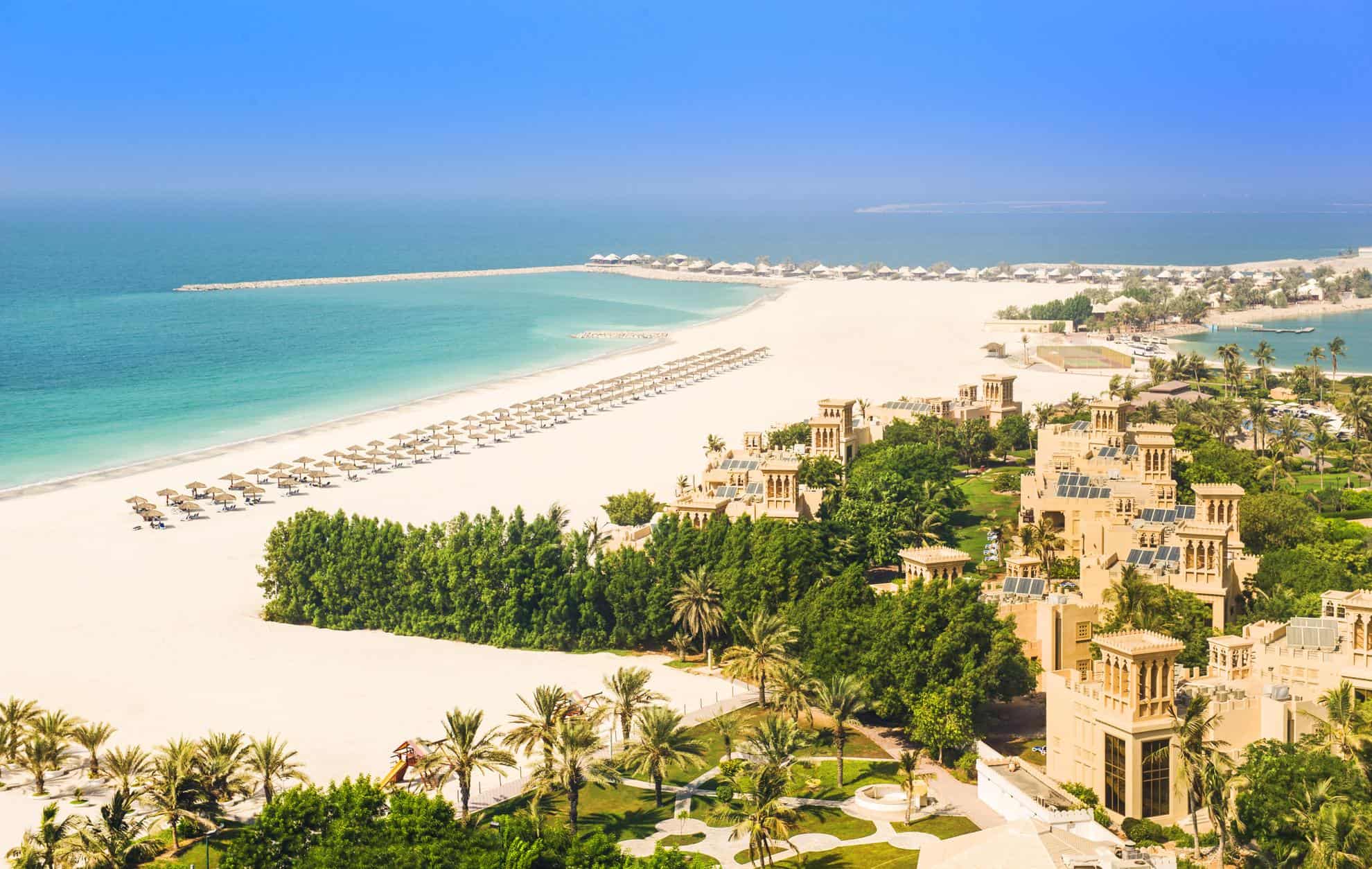 Hilton Al Hamra GOLF & Beach Resort
The award-winning Hilton Al Hamra Golf & Beach Resort is a relaxing, stylish and contemporary sanctuary offering a programme of energising activities from volleyball to tennis and yoga (not to mention golf of course) – including a pristine private beach and lagoon, plus two temperature-controlled swimming pools and Jacuzzi. There's also the 24-hour fitness room, complete with the latest Technogym equipment, or experience the thrill of water sports, including fishing and jet skiing. Younger guests can enjoy engaging programmes at the Kids' Club which hosts activities at the playground and beach in addition to tennis lessons and a dedicated children's pool.
The resort has yoga classes as well as a state-of-the-art spa offering a full range of treatments performed by a team of professional therapists using exclusive organic spa products.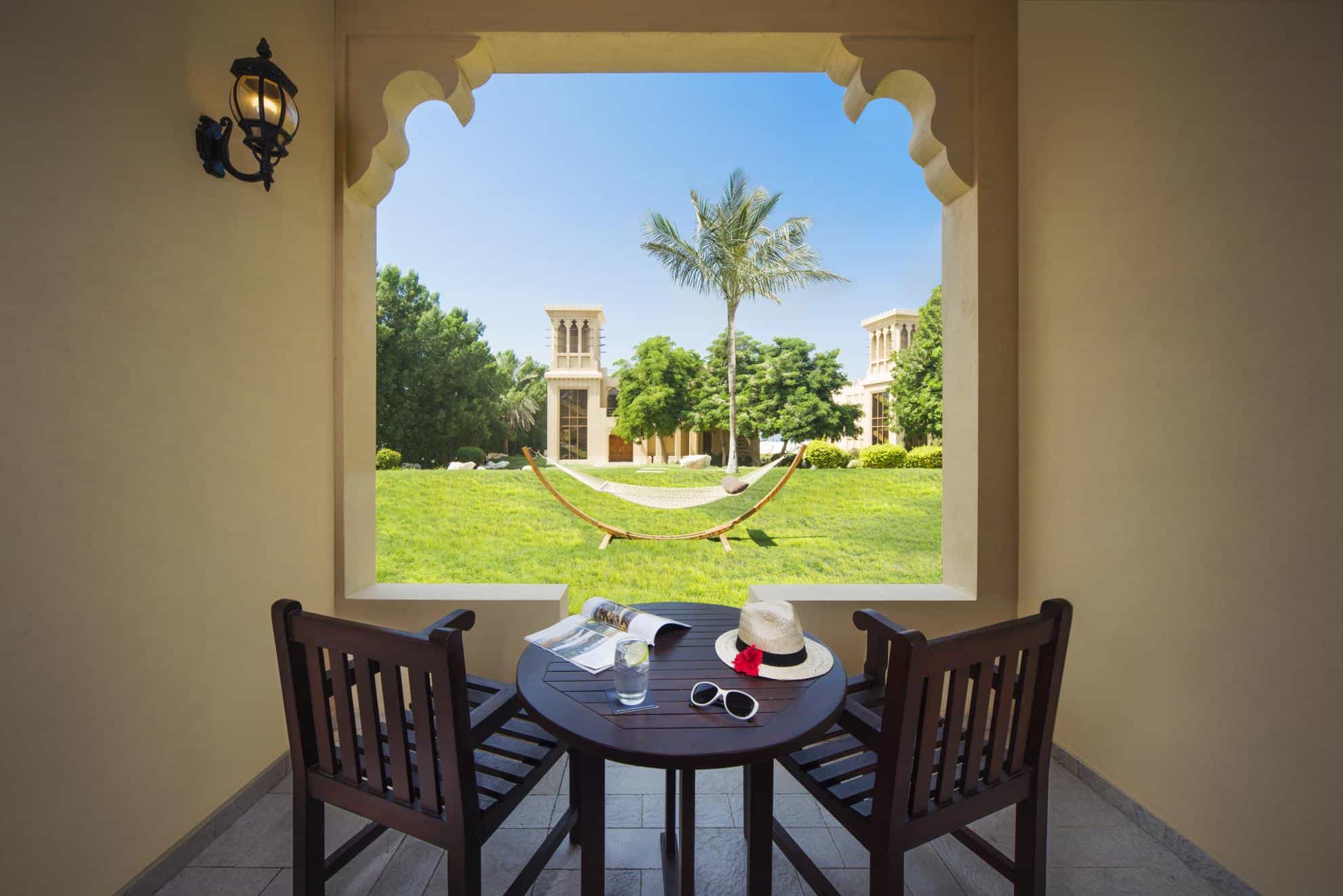 When it comes to accommodation, the internationally-renowned Hilton brand speaks for itself. The resort boasts 250 modern and well-appointed guest rooms within the main building, offering every convenience to suit the modern-day visitor, alongside 15 luxurious suites and beach villas, each with stunning ocean or garden views.
Vibrant, onsite dining outlets are carefully designed to cater for every culinary taste. From Polynesian-themed bar bites at Trader Vic's Mai Tai Lounge to a relaxing cup of coffee served in the lobby, Hilton Al Hamra Beach & Golf Resort has something to suit every taste and occasion, with healthy menu options available upon request.
Stay and Play offers starting from AED 750
---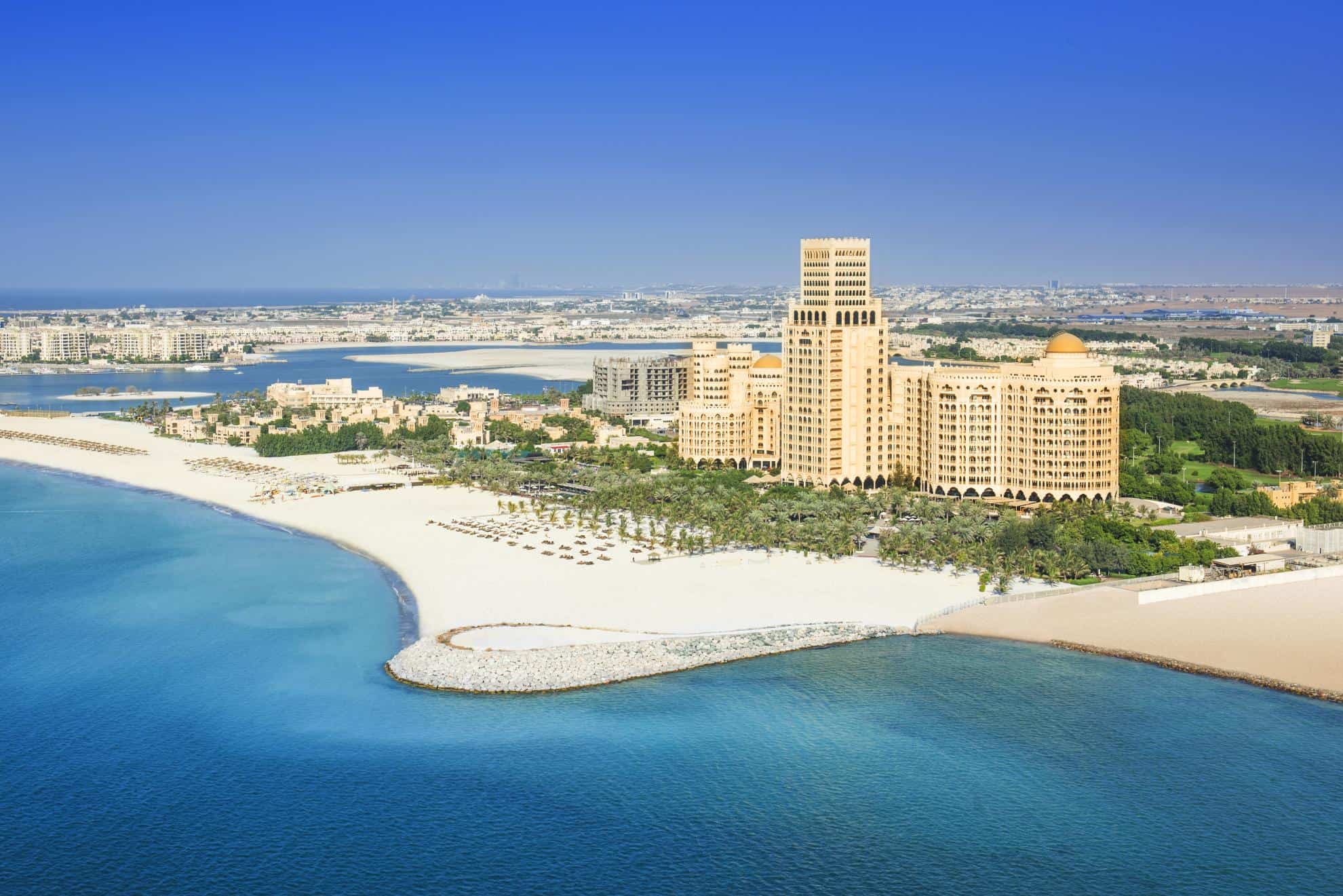 Waldorf Astoria Ras al Khaimah
The Waldorf Astoria Ras Al Khaimah offers signature attentive service, a whopping ten stylish restaurants and lounges, and elegant accommodation with pristine views of the Arabian shoreline. There are 346 palatial rooms offering either golf course or sea views, two temperature controlled pools including an adults only pool and 350 metres of pristine private beach.
There are a range of motorised and non-motorised water sports activities available while the Waldorf Spa contains a floatation bed, VIP couple's treatments and signature herbal sauna.
The little ones are well catered for too with the Pearl's Kid's Club an babysitting services.
Stay and Play offers starting from AED 1,300
---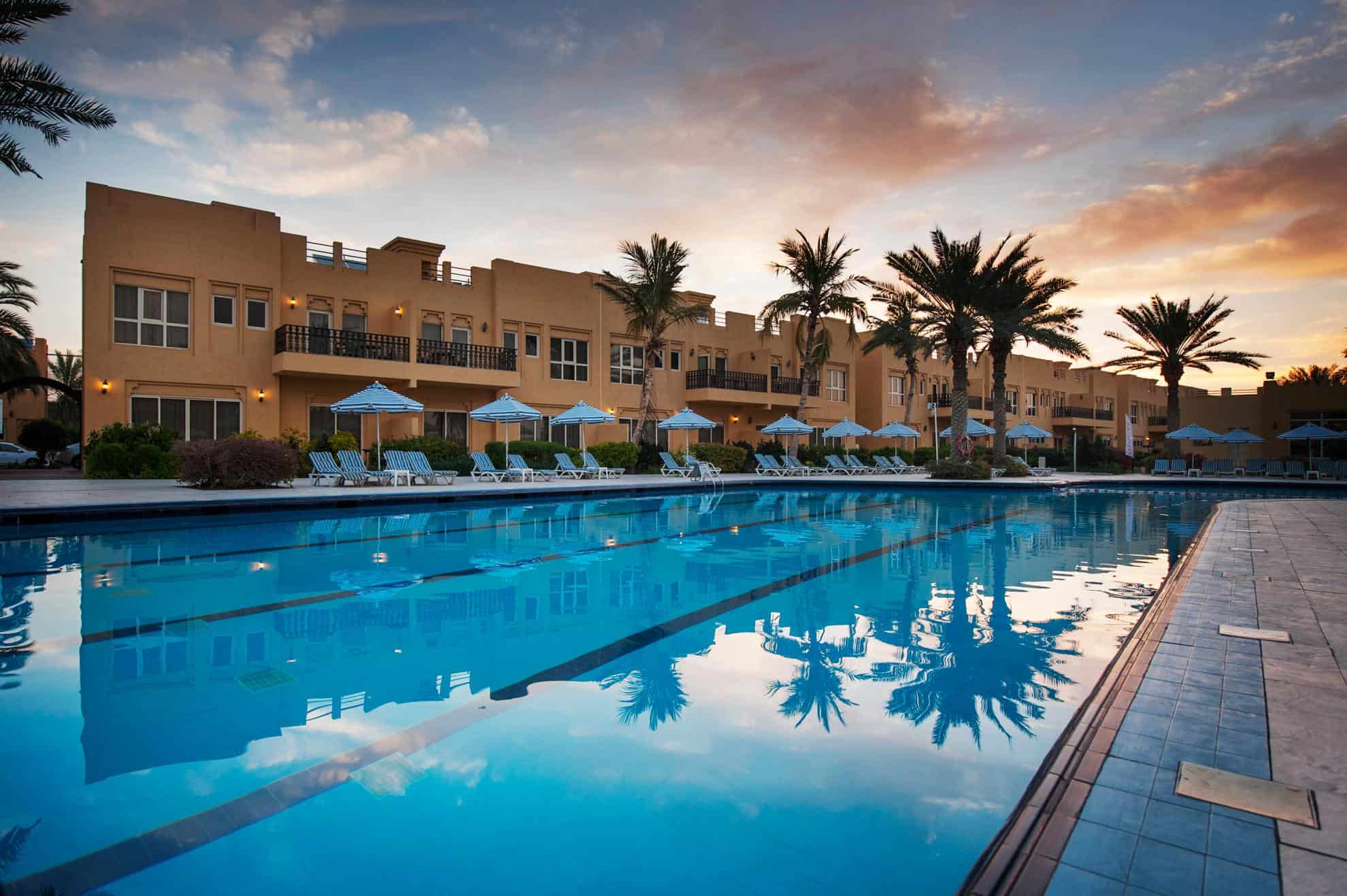 Al Hamra residence and village
Al Hamra Village – Set along the pristine beaches of the Arabian Gulf, Al Hamra Village is the perfect getaway from the daily grind. 219 guest rooms and suites of the Al Hamra Village are located within a sand wedge of the golf course. The cozy rooms are uniquely decorated with antique-style wooden furnishings. Al Hamra Village offer a wide range of recreational facilities for all including swimming pools for both children and adults, gym, a health club, and massage room. The property is also home to the famous English Pub that serves traditional English favorites such as fish and chips.
Al Hamra Residence – Offering a private beach, this beachfront resort offers nicely decorated rooms and suites featuring both golf course and Arabian Sea views, two outdoor pools with a sun-lounger terrace, a children's pool, a gym and several bars. Sea Breeze Restaurant is an all-day dining restaurant that serves buffet breakfast, buffet lunch and buffet dinner. Cocktails, salads, and grilled specialties are offered at the Marjan Pool Bar. The Seafood Restaurant offers an a la carte menu. Guests can enjoy multiple onsite activities including tennis courts, beach volleyball and table tennis. Al Hamra Residence is located within a stone throw from the 18-hole Al Hamra Golf Course. Free private parking is available at Al Hamra Residence.
Stay and Play offers starting from AED 700