By Will Kent
Nestled within the mountainous landscape that surrounds the Georgian capital, Tbilisi Hills Golf Club ticks every box if you're looking to escape the Middle East heat this summer. This premium facility has stunning elevated views while boasting a charming course that's just a short flight away from the UAE. Will Kent recently had the pleasure of spending a few days there, and at one point we wondered if he was ever going to come back. Fortunately he did, and here's everything you need to know about this Georgian beauty.
It's really easy to see why this track consistently ranks within the top 100 courses of Continental Europe. If the unique design of each hole isn't grabbing your attention, something else will. On the fourth hole while plotting my way down the eye-catching split fairway, I was greeted by a turtle plodding over the short grass. The 16th hole also has spectacular views of a monk monastery on the hill above. There's something at every turn.
While not the longest at 6800 yards off the tips, precision and accuracy is vital to a good score here. Finnish architect Lassi Pekka Tilander has placed priority on hitting the fairway, and in doing so has created a course that needs your full focus on the tee box. Missing the fairway into the rough can be penal, that's unless you're playing with the Director of Golf Paul Põhi who is fantastic at finding balls in the longer grass. He either has X-ray vision, or he's living proof course knowledge is vital at Tbilisi Hills.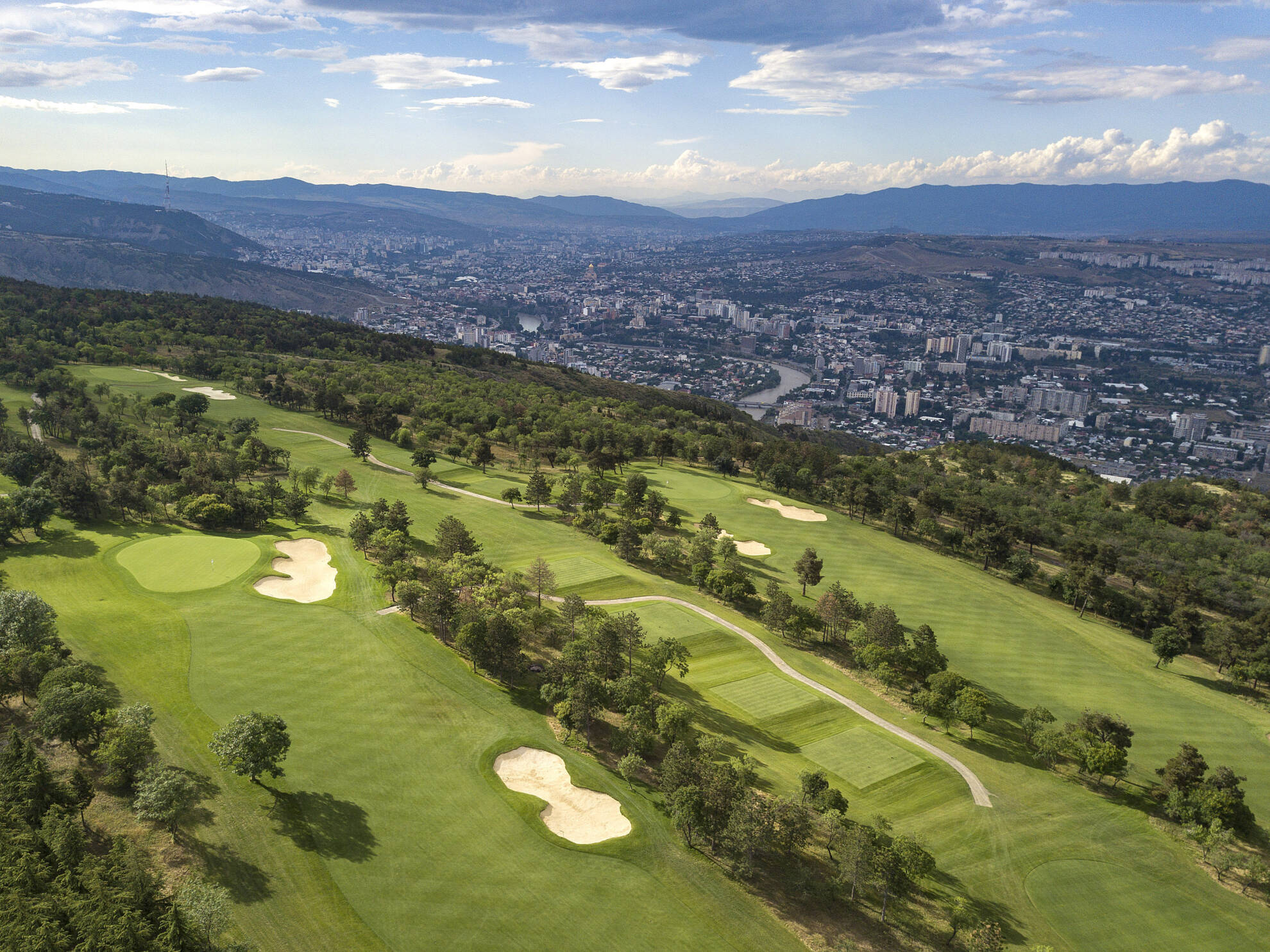 "It's an exceptional destination and course," explained Põhi. "I often say it's a pearl in the middle of nowhere, but you need to play smart. It's not just a grip-it-and-rip-it course with your driver. There are plenty of slopes, different elevation changes which makes it very interesting. We're above sea level so the air is thinner and the ball flies a bit further. This is a golf course which is different every day. It's challenging, but not too difficult. If you play smart, it's a very enjoyable golf course."
The practice facilities also rival those that we are so used to in the desert with a grass range and a separate well-kept short game area. The clubhouse overhangs the practice putting green while also looking out over the mountainous landscape, and the food menu is sumptuous – make sure to sample the beef brisket. The whole place is tranquil and brings together everything which we love about golf: nature, the challenge and the people.
"It's a very short flight with no time difference to the UAE, and Georgia is very affordable," added Põhi. "You have something very unique here which you don't find elsewhere in the world. Whenever you visit Tbilisi you get to feel what Georgia is about. Going to local restaurants and meeting the people on the streets, it's very special, and I'm sure all the golfers from the Middle East would enjoy it."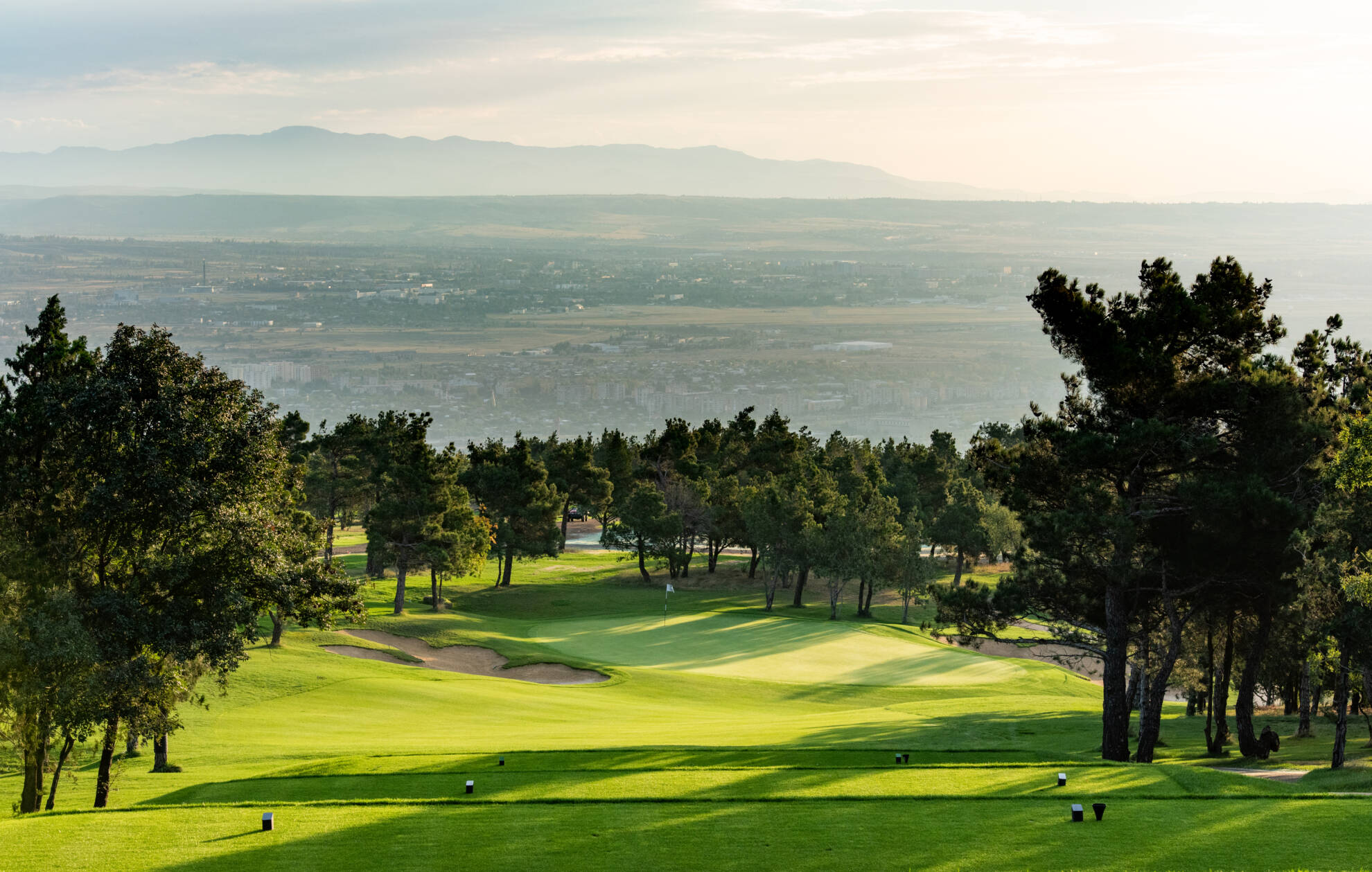 In the upcoming spring, another nine-hole course near completion is set to open as they make the final touches to the accompanying hotel. While Turkey and Greece are frequently favoured by UAE expats seeking getaways, this growing golf scene in Georgia is a fantastic new option.
"Whenever we have international guests here at Tbilisi Hills they are truly surprised," added Põhi. "They don't think they would find such a great golf course here in Georgia. We've been ranked 34th in Continental Europe before and just last year we were listed in the top 100 'X Factor' course again."
A round at Tbilisi Hills is priced at a reasonable 400 AED, while you can enjoy golf all day for just 625 AED. Combine that with everything on offer away from the golf course, and Georgia is set to become a thriving golfing destination. I'll definitely be returning in the not-so-distant future. What a place!
HOW DO I GET THERE?
The flight from Dubai to Tbilisi is just over three hours via many airlines, including Flydubai. The airport to the course upon landing is around 30 minutes by car, while this drive alone is worth the flight with some remarkable views as the road winds up to the course which sits more than 750 metres above sea level. The taxi app Bolt – rather than Uber – is used in Georgia, and the flights are around 2000 AED for a Dubai return.

WHERE SHOULD I STAY?
As a capital city, there's a variety of accommodation options ranging from the cheap and cheerful, to the expensive and luxury. The Marriot hotels remain a popular choice, and I personally stayed at Moxy Hotel. It's a modern accommodation which was located in a perfect spot if you wanted an evening stroll and to sample some local Georgian cuisine. It was still quiet at night which helped ensure a restful sleep before my round, while it was also only a 30-minute drive to the course in the morning. Prices vary, but 300 AED seems the average for a night at Moxy.
WHAT'S THE WEATHER LIKE?
During the summer months, you can expect warm weather while rain is rare but possible. I played at the end of May where the sun shone and it was around to 25 degrees Celcius. I was lucky with the climate, but also proved that the perfect conditions to play golf do exist in Georgia, too!
WHAT ELSE IS THERE TO DO?
Tbilisi is a culture-rich city with plenty of offer away from the course. Enjoy the local food, meander through the Old Town, take an aerial tramway, and you can even head over to Gudauri ski resort which is just a two-hour drive from Tblisi. It has to one of the few places in the world where you can golf in the morning, and ski in the afternoon!
For more information of travelling in Georgia, visit: https://georgia.travel