Ping has been regarded as the leading manufacturer of the game improvement iron that fits all abilities. Their first club launched in the 1970s, aptly named the Karsten, was a cavity back, at a time when blades were the norm, regardless of your ability. This design was the template for what was to become the most iconic club in golf – the PING Eye. Whether you were a weekend warrior looking to break 100 or a Tour pro in search of his first Major, the Eye2 became the go-to club in the 1980s and 90s. It was forgiving and fairly long. Compared to a blade, you could get away with murder when it came to mishits. This brings me to the G400. It's long, forgiving and simple to understand. There are no complicated variations. But if you want to hit it straight and hit it a long way, simply get the right shaft combo and away you go. I caught up with Jamie Coughlin, one of the leading Custom Fit Technicians in the UAE, and we put the G400 through its paces on the TrackMan.
Like all clubs of this type, ignore the number on the bottom and instead refer to the distance each club delivers, and believe in it. I'm a little old school and still attribute a yardage directly to a specific club. So a seven iron carries 175 yards and rolls out to 184 for example. It's hard for me to fathom out an 8-iron delivering the same numbers but that's what I get with the G400.
How are they achieving the distance and forgiveness?
It comes as no surprise to see stronger lofts with the G400 7-iron standing at 30 degrees, compared to 34 degrees in their iBlade model. You are getting the spin rate of a 6- iron and more distance but the extra height is found through the introduction of a top rail undercut cavity, paired with 'COR-Eye Technology'. The undercut top rail means PING has been able to remove the weight from inside the top edge and relocated it lower down to gain more effect on the centre of gravity and forgiveness.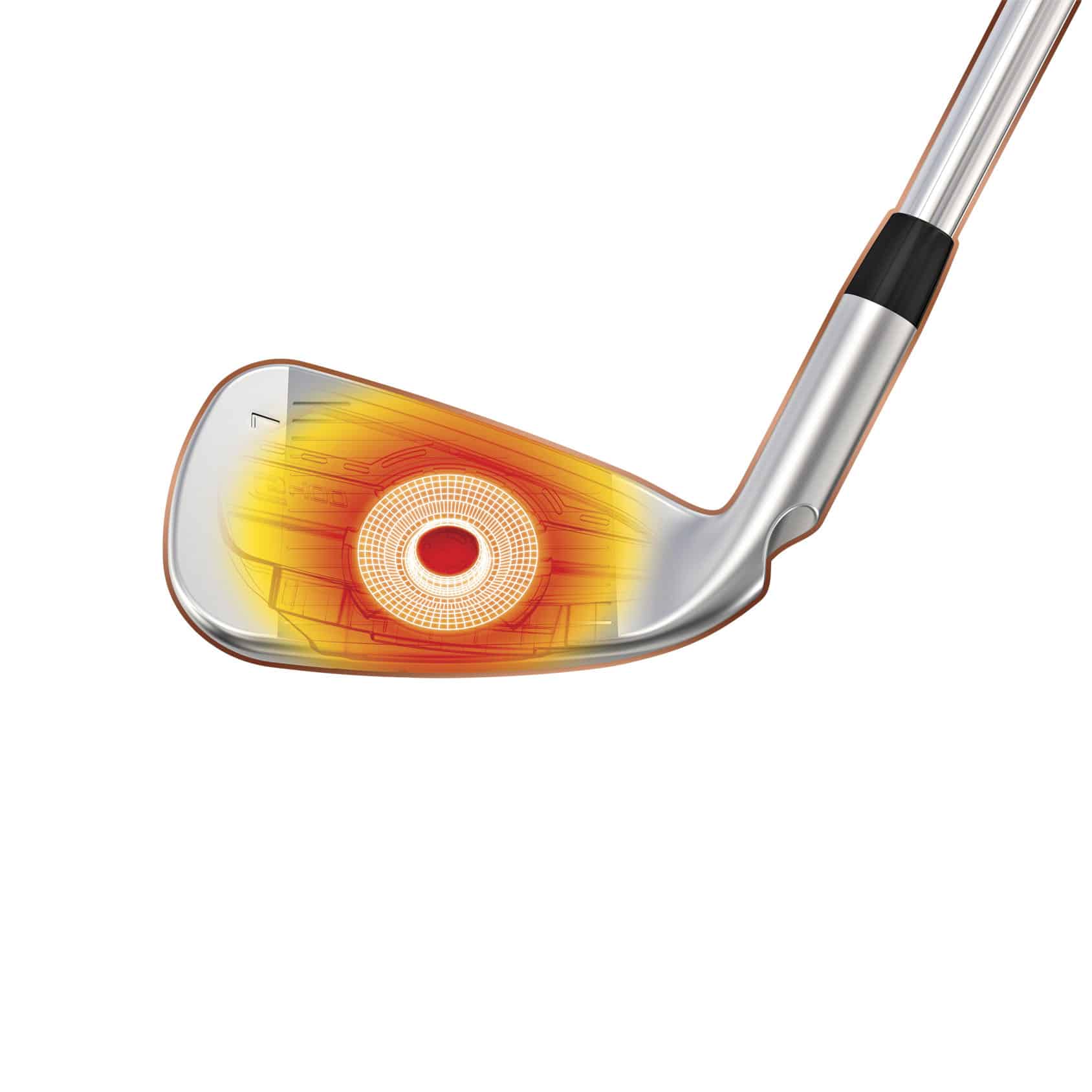 COR-Eye Technology
Generates faster ball speeds and a stronger higher flight for better stopping power.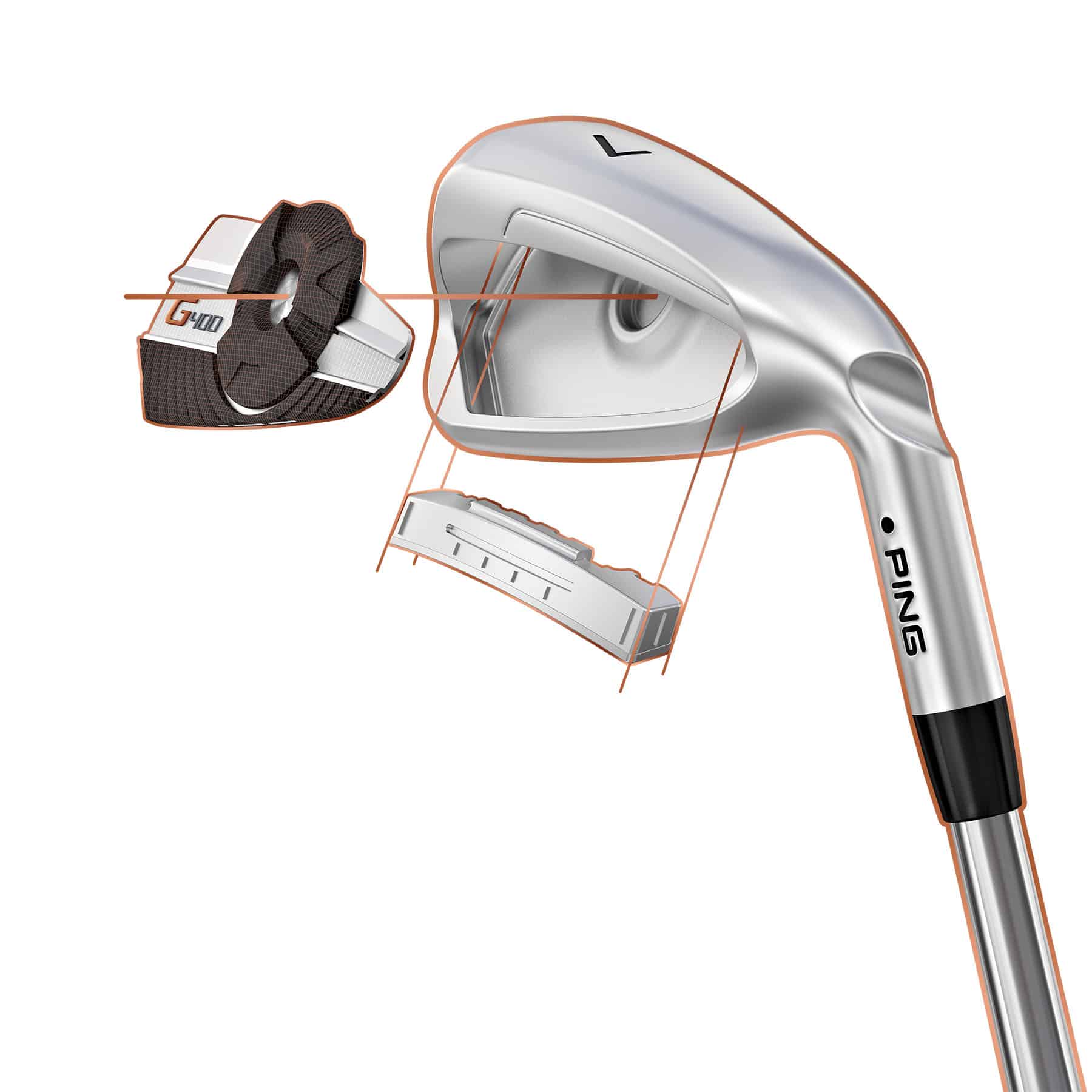 Advanced Cavity
A unique top rail design combines with COR-Eye Technology to increase ball speed and height. The
co-moulded 3-piece cavity badge helps provide a powerful sound and feel.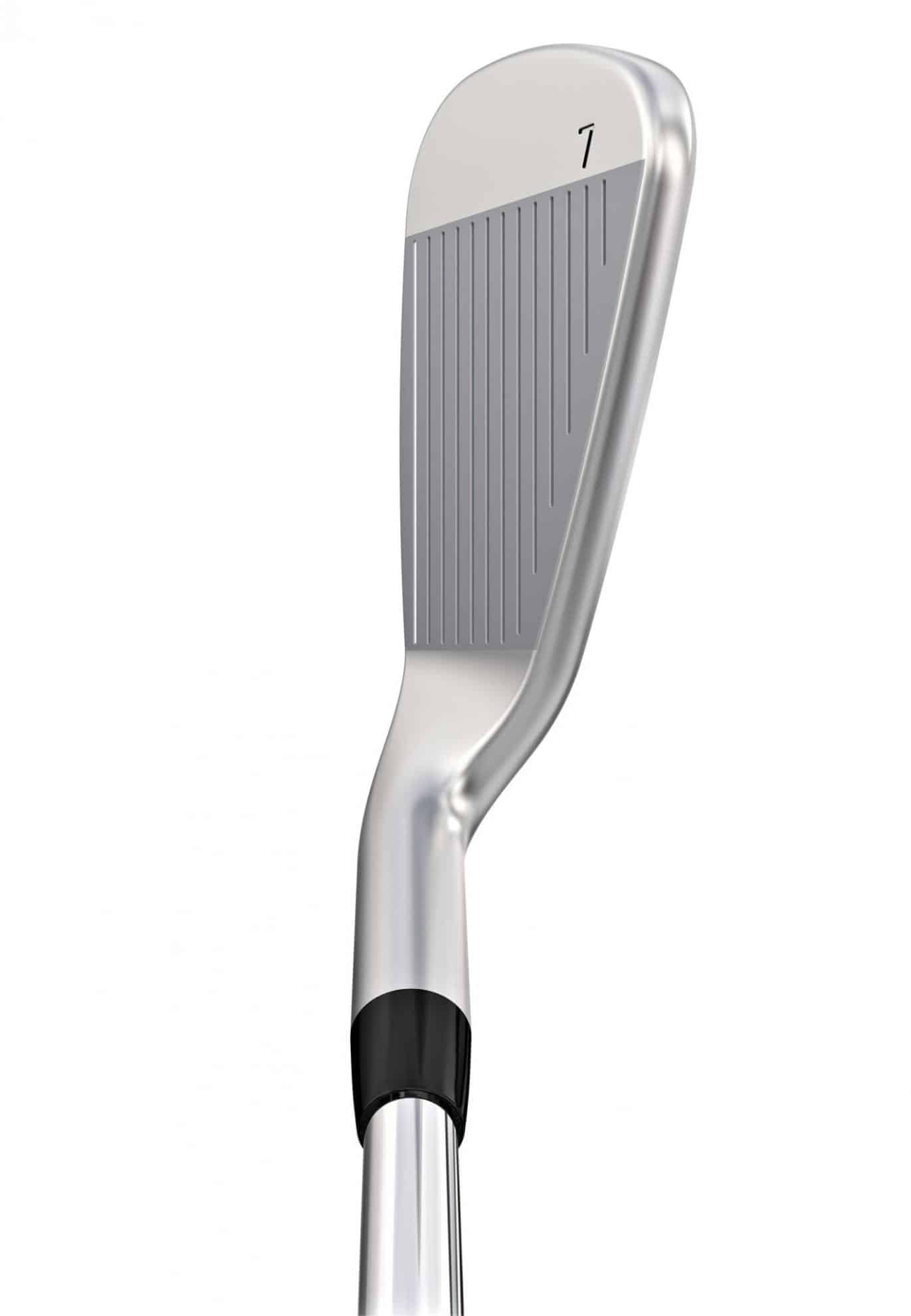 Great topline
Streamlined hosel at address builds confidence and creates a clean look.
Thinner is faster
More distance has been gained by using stronger Hyper 17-4 stainless steel, and that means PING have been able to make the face thinner, which they claim generated 18% more flexing for faster ball speeds and peak trajectory.
The finish
Hydropearl chrome finish claims to reduce friction with the turf by 40% and improve launch and spin from the rough and wet grass. Or simplified, more forgiving from areas of the course where we are more than likely going to find our ball. The best bit about this finish is that it matches the Glide wedges, so the 'white sock & black shoe' look in your bag is no longer an issue.
Shafts
PING AWT 2.0 Shaft
Pings's Ascending Weight Technology shafts get heavier from long irons to short irons/wedges. Lighter long-iron shafts help square the clubface. Short iron/wedge shafts are heavier to improve trajectory control and feel.
Alta CB Premium Shaft
Powered by AWT (Ascending Weight Technology), PING's proprietary counter-balance design allows for more mass in the head to increase energy transfer at impact for greater speed and distance with stability for forgiveness.
Shaft options
When you are being fitted for the G400 irons there are also a host of high end shafts available with no upcharge fee. So for players with a faster or slower than average swing speed your fitter will have the following shafts in various weights and exes to choose; Nippon N.S. Pro Modus3 105; True Temper XP 95; KBS TOUR; Rie Project X LZ; Dynamic Gold; Dynamic Gold 105; Dynamic Gold 120
The Test
Sticking with a stock stiff shaft and keeping the swing speed to around 85mph, I was impressed with the grouping and how the club interacted with the turf. From six shots the dispersion was just five yards. The longest was an impressive 175.7 yards and the shortest 170.6. Though upping the speed to 91mph we were getting close to 190 yards and still tight on dispersion.
Conclusion
Long and forgiving, they look great on the eye at address but the detailing and badging in the cavity give it a 'boy racer' look. That has no significance to your scorecard and these clubs for outright performance tick every box. They are very competitively priced and you get a lot of bang for your buck.