Since winning the Omega Dubai Desert Classic back in 2012, Spain's Rafa Cabrera Bello has held a special place in the heart of golf fans in the region. the 32 year old has enjoyed the kind of season dreams are made of this year, with debuts in the Masters, the Olympics and the Ryder Cup, so we're thrilled to welcome Rafa to the Worldwide Golf team as our newest columnist.
I'm delighted to be joining the Worldwide Golf team as a columnist. I'm very fond of the UAE and Dubai has become a 'second home' for me. It's a place I spend a lot of time when I'm not on Tour and of course my victory at the 2012 Omega Dubai Desert Classic was a very special moment – the biggest win of my career so far. So the region will always be very special to me and it's going to be a lot of fun keeping you up to date with my golfing adventures around the world.
It's been a really good year for me, starting with qualifying for the Masters for the first time, then the Olympics and of course, the Ryder Cup!
Hazeltine was probably the best week of my life! I would trade my two European Tour wins for another Ryder Cup loss any day! We went there as friends but we left the tournament with a much stronger bond and it was just an incredible week. We fought as hard as we could and gave our best for the Captain, the team and Europe.
Obviously we're disappointed that we did not win, but individually, I was pleased with the way I performed and how I contributed to the team. As a rookie I can say that the experience mattered more than winning or losing.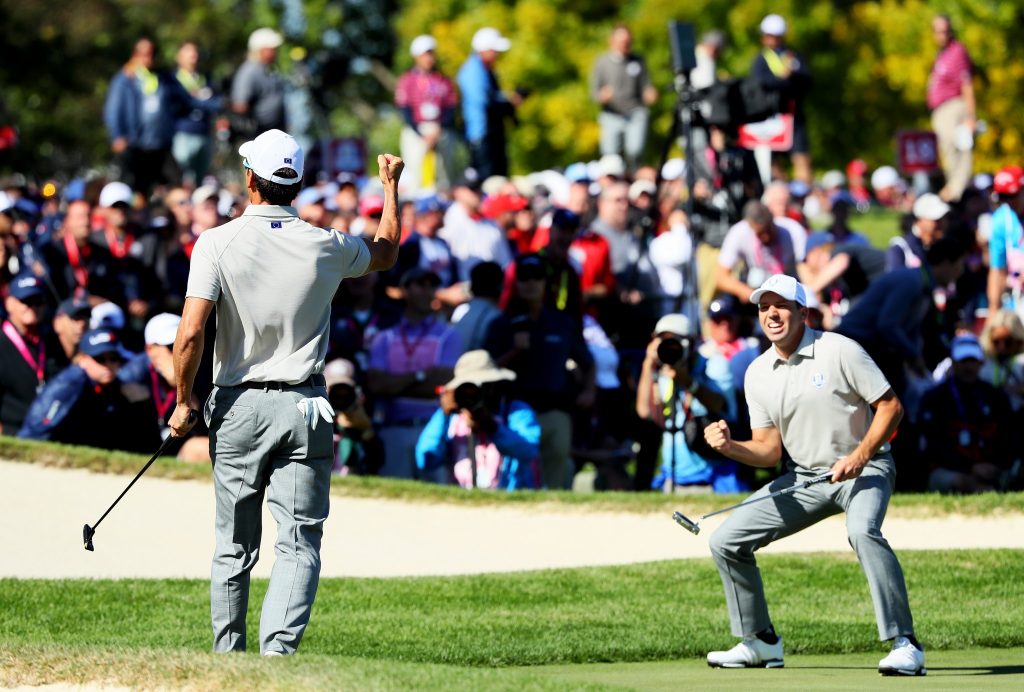 Rafa and Sergio form a blossoming partnership
The partnership with Sergio Garcia was great! He has been a massive asset to Spanish golf and the European Ryder Cup team for the past 15 years at least. Having the chance to play alongside a player as consistent as him made me feel safe on the course – I knew that if I messed up he would have my back. We're great friends and that connection we have, knowing that we are fighting for Spain and the team, is a really strong one. We're able to help each other on the course, give a boost when its needed and get the best out of each other.
The Olympics was also great, it was the first time golf had been at the event for 112 years and to be able to represent my country was something special. All of the people back home in Spain were watching me play, whether they followed golf or not, so it was a huge honour and also a big responsibility which I took very seriously and with great pride.
I was pleased to be in the fight for the medals right up until the back nine on the Sunday. I can't say I'm disappointed as the guys who won the medals played really well and deserved them so I'm pleased that I did myself and my country proud.
Consistency  
A big element of my success this season has been consistency. I read a stat the other day that I haven't missed a cut on the European Tour for over a year and I think the reason is that I've grown as a player in all areas of the game. My putting is consistent, my long game is good and my short game has got better as well.
I don't have any real Achilles heel in my game – everything seems to be pretty tight so I can rely on certain parts of my game to help whichever part isn't working so well on any given week.
I also think that mentally I'm a better player. I'm stronger, I'm more consistent and I understand my game and my emotions better so I can control them and focus my energy in the correct way on the golf course.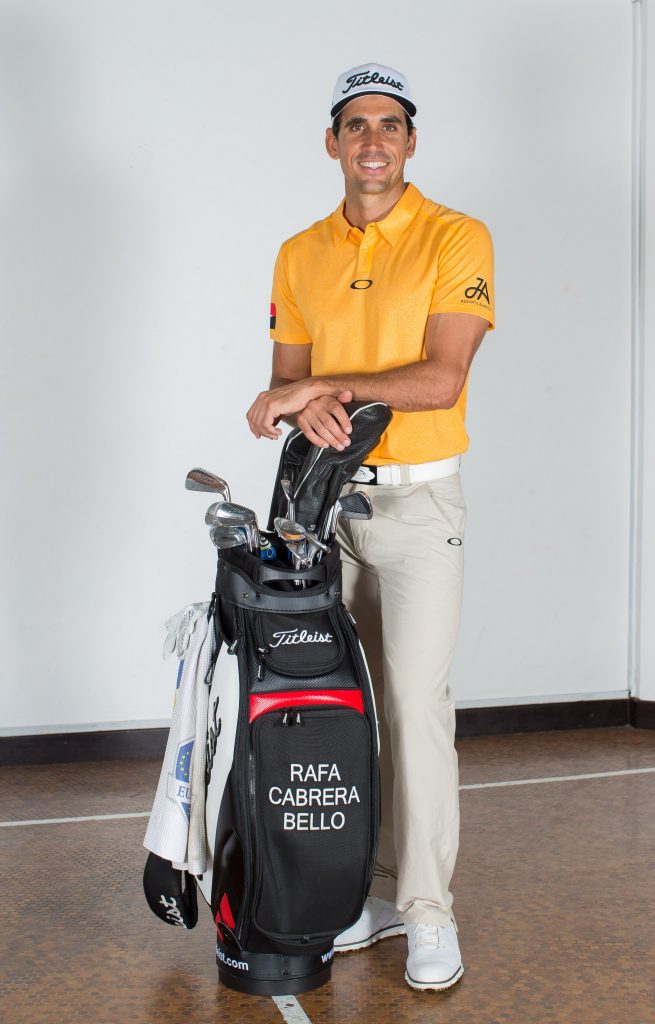 Recharging the batteries
It's very important to get some rest with such a hectic schedule. I call it the 'invisible training' – you feel like you're doing nothing but actually you are doing something. The body needs rest – even if we were machines we'd still need our maintenance periods – so you need to take your mind off golf for a while, just relax, lie down, do your hobbies and gain some happiness from something besides golf.
I enjoy spending time with friends, good weather,  going to the beach and surfing – just doing normal stuff. It is as important as training, especially when a difficult end of season period is coming, it's crucial that you get that little bit of rest so I was pleased to be able to do that in Dubai recently ahead of the important final stretch.
During my week long break I visited the Rashid School for Boys to help coach the kids there as part of a programme being run by the Emirates Golf Federation and supported by DP World and the European Tour which is introducing golf to 6,000 local school kids.
Just watching the kids smile made my day! Being able to have the opportunity to witness young kids try the game for the first time and see how they interact with other classmates was great. It reminded me of the values that the kids have; that innocence, genuine happiness and just enjoying the simple things in life, so it was a pleasure to be part of it.
It is a great idea to get golf into the physical education programme at schools. The misconception that golf is for old and un-athletic people has been blown out of the way. Golf actually takes a good amount of athletic ability and if the school have the grounds to take up the initiative then why not? I am sure that it will benefit the game greatly, especially here in the region.
I would advise the kids to keep playing and practice as much as they can; to enjoy the game with their friends. If they really have a passion for it then they should fight for it and not let anyone tell them what they can and cannot do. They should go for their dreams and chase them.
I started a little younger than the kids I visited at Rashid School, when I was six years old. My first memories are just going out on the golf course that was beside my home with my dad, my brother and sister, and we would all play and compete for a pin that my dad would give for the winner of each hole. So we would all be proud if we went home with a hat full of pins.
When I was a bit older I used to watch videos of Seve Ballesteros and José María Olazábal winning tournaments, especially watching Ollie win the 1994 and 1999 Masters Tournament live – I think that was the main reason why I became a golfer.
I also got the chance to visit my sponsors' Jebel Ali Golf Resort course, which has recently undergone some renovations, during my week off in Dubai. It's a really nice nine-hole track, and a complete course. It has shots left-to-right and right-to-left, wide and narrow fairways, longer and shorter holes, a bit of an elevation and some water is included too.
And with the new irrigation system, the grass on the greens will be in extremely good shape and environmentally friendly. So I'm really looking forward to getting in some more practice there because the facilities are great and they have everything I need to prepare for tournaments.

The final stretch
It was great to take a little time out ahead of a huge final stretch of the season which will finish back in Dubai at the DP World Tour Championship at Jumeirah Golf Estates.
Ending the season with victory there would obviously be the dream finish – but there are lots of other great players who are also going to be contending.
Luckily for all of us players, the events coming up are all big events of significant importance and if you win one of them it will have a big impact on your Race to Dubai ranking.
I've got myself into a position this season where if I win one of those events I will be contending for the Race to Dubai title. Every event between now and the end of the season is a big one and I'm playing in all of them to give myself the best possible chance.
I'm really looking forward to the conclusive period and if I could end the season with victory at the DP World Tour Championship it would be like double icing on the cake for me.
That's it for me for now, I'll see you all in Dubai later this month!