Myself and Mike Walker, who works closely with me, have had a great year, starting with Danny Willett winning the Dubai Desert Classic, and then we came close with Thomas Pieters in Abu Dhabi chasing down Rickie Fowler. So we got off to a solid start in the Middle East and things just continued to build from there.
Danny carried his form into the Masters Tournament and we know what happened at Augusta. Not long after, one of Mike's main players, Chris Wood, won the BMW PGA Championship at Wentworth, so again, a good team effort.
From there the momentum carried forward as Henrik Stenson went on to win in Germany in impressive style and closely followed it up with his
breathtaking performance at The Open –we've not seen golf played like that for a long time. He was close to playing like that when he won the Race to Dubai in 2013 but it was so impressive to see him and Mickelson go head-to-head at Troon. The two of them resembled heavyweight boxers clashing with each other over twelve rounds and, thankfully, our man came out on top. It was well deserved and if you ever ask Henrik which one Major he wanted, he would always say The Open – and he certainly won it in true style.
The year continued to progress with Padraig Harrington winning in Portugal, with some of his critics reckoning he was finished. But people soon forget that he won the Honda Classic last year. I was expecting him to win again as I could see he was improving, so it was merely a matter of time.
You couldn't have scripted a better finish to the season for Mike and myself with the climax we had in Dubai last month. With Henrik winning the Race to Dubai and Danny coming second it was spectacular enough but to have Matt Fitzpatrick steal the limelight by winning the DP World Tour Championship made it a great end to the year for Mike, the players and myself. Sitting back now and looking forward to the 2017 campaign we can reflect on what has happened, and review our scheduling accordingly. It's very hard for the European players to stay fresh all season when they commit to playing on both sides of the Atlantic. You can't play your best golf all of the time, although we saw Tiger do that in 2000. Modern Major champions need to manage expectations. Considering the competition these days I doubt we will ever see one player dominate for an entire season again.
---
Danny Willett
Danny said to me at JGE last month that to win the DP World Tour Championship he needed to be as fresh coming into the final event as he does starting the season. He agreed that he definitely wasn't fresh at this year's event and he was running on empty. So we've got to make sure that we manage the schedule so our players are fit at the end of the year, because that's when the big tournaments take place. So it's important they are in the right frame of mind and fit to compete at the highest level come any Sunday.
---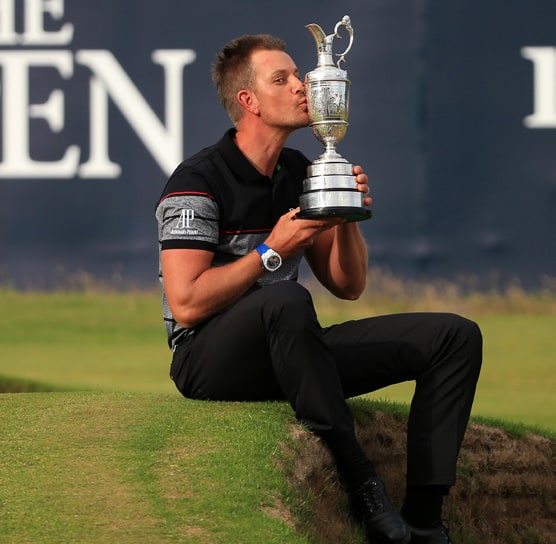 Henrik Stenson
Henrik has three types of hitting a golf ball: good; very good and almost perfect. But Henrik doesn't like to play 'good' and 'very good.' He only likes to play 'perfect.' So if his game isn't close to perfect he almost has to battle inwardly to grind out a result. We know you can't be perfect all the time but Henrik's expectations are so high and that's a battle all the top players have.
---
Thomas Pieters
When Thomas won in Denmark to get into the Ryder Cup it was a very impressive feat in itself and the way he played at Hazeltine thrust him onto the world stage and showed just what he was made of. We all know he's got the potential to go all the way in the game but next year we are looking at the scheduling, as he's going to play both Tours, which is difficult as we know, but he has youth on his side and if anyone can make it work it's Thomas.
---
Matt Fitzpatrick
He won in Sweden in style, made the Ryder Cup team and then the DP World Tour Championship at just 22 years old. But with the young players we need to be careful that we don't burn them out. Matt has been working hard on his fitness and his leg strength has improved massively, which shows in the additional yardage he's picked up. He's getting stronger all the time and his technique continues to get better, so the future is very bright for Matt. Despite him looking very young for his age he's very strong all round. Kevin Duffy does a great job on his physical work. He's hard on Matt and makes sure he's progressing correctly with his physical performance.
---
Padraig Harrington
If you watched Padraig hole out at Portugal as I did you could see the putting demons certainly have left him. People think that he changed his swing after winning three Majors. But to put it bluntly Padraig has just looked to improve his technique – not change his swing. In this game, if you don't try to improve you tend to go backwards pretty quickly.
---

Lee Westwood
Lee's long game is one of the best in the business and his short game has improved massively. What he needs to do is just hole those crutial momentum putts that he misses. If you sink those momentum putts early in the round you go on to shoot 66 but if you start to miss them it can easily turn into a 72 or worse. When he gets in contention again, which he will, and holes those key putts going down the stretch he'll win, that's for sure. He's also back in the gym with Kevin Duffy working on his strength and fitness over the winter so expect to see him fired up in 2017.
---
Pete Cowen
Looking forward to 2017 and beyond I'd like to spend more time in Dubai. Not many of my players are keen to come over to Sheffield to practice in the cold English winter for six hours. It would be ideal to base myself at the Emirates Golf Club and Creek academies and pass my knowledge on to the lads there. Dubai is also a great stop-off for the players and to be based there from the months of November through to the end of February would be perfect.