Worldwide Golf meets up with Callaway's Commercial Director for European territories, Nick McInally, to talk about the steps Callaway have taken to become new partners with the European Tour and their continual progress in bringing out market-leading products, including the new Epic Flash driver, which was designed using artificial intelligence…
WWG: This season you've announced an historic partnership with the European Tour – what does this kind of arrangement say about Callaway and its growth in recent years?
Nick McInally: It's been a lot of work and time and development over the last few months but it felt like the perfect time for us to take this opportunity. Callaway is no longer just one brand. There is Callaway golf clubs, apparel, OGIO in terms of Luggage and also Travis Mathew, from a clothing perspective. This new relationship allows us to activate all those different areas. One of the most important aspects is the social content that both we and the European Tour deliver and the reach that we have – so we can take that forward and appeal to not just the hardcore golf audience, but people who are occasional players or are just interested in the game.
Worldwide Golf: Will you be getting involved with the general public/spectators at the events or is the partnership strictly in place to support the Tour players?
NM: Getting involved with the public is a big part of the partnership. For example at the Abu Dhabi HSBC Championship, when you came through the main entrance there's an Odyssey area and we put the product out there for people to test and hit. In similar ways to the European Tour – we've got to make coming to a golf event an experience. Callaway has always been about being demonstrably superior and pleasingly different in making the game easier. To work alongside the European Tour, who are forward-thinking and innovative, we feel is an ideal opportunity to forge a great partnership together.
WWG: The European Tour has a very prestigious set of partners who are brand leaders in their own markets such as Rolex; Emirates Airline, BMW and Hilton – to what extent does joining this suite of partners elevate the Callaway brand?
NM: I think it's a credit to the brand and the business and we're lucky in that we've already got a very well established brand. What's great about it, is that the European Tour themselves look very specifically at the profile of the partners they're looking for. From a Callaway perspective, the conversation that got us over the line was less about our product and more about what we do on a day-to-day basis in terms of what we're trying to achieve with golf and the future of the game in terms of content and social media.
WWG: Henrik Stenson is one of your leading staff players as is Danny Willett. Both have strong connections with Dubai and the UAE. How vital is the region for Callaway and your players?
NM: The Middle East is totally vital for golf, never mind just Callaway. I think if you look at the number of tournaments over here and the amount of investment that's gone into the infrastructure of the game within this region, it's only going to continue to grow. I know it's had some tough times, but what we're delighted about is that we have a great local team out here running the Callaway business.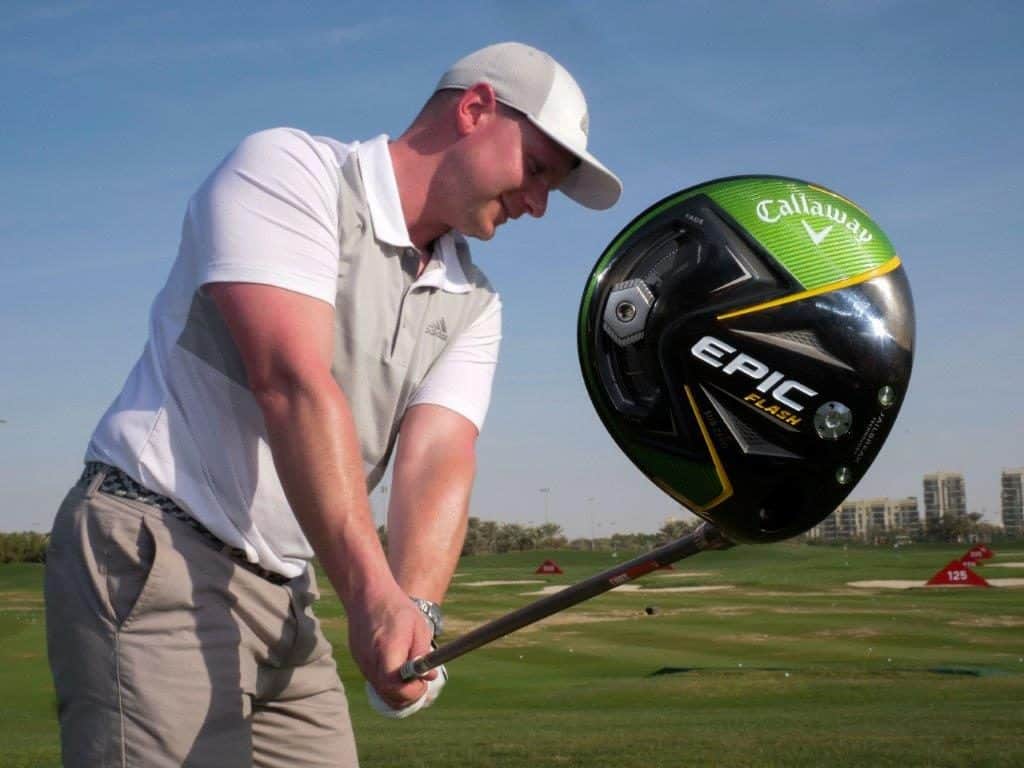 WWG: Shane Lowry used the Epic en route to winning in Abu Dhabi. How much player feedback goes into developing new clubs and how do the Tour players find the Epic Flash next to a Rogue?
NM: I think the biggest difference between this driver against anything else is that there's been a lot of player feedback. Ultimately, this driver has been designed without humans but by artificial intelligence. The story is that there's been 15,000 alterations that have gone through the computer before it said 'OK – I can't make this any better'. It's at that stage that we start involving the players. In early stages Stenson was seeing it go 5mph faster and Xander Schauffele won with it in his first week with it in the US. In Abu Dhabi there were more Callaway drivers in play than any other brand. Someone like Shane Lowry using it is great for us because he isn't under contract, so that's a great endorsement for the product.
WWG: Tell us about the AI and supercomputer technology that was used to come up with the Flash Face?
NM: In theory, the computer that built this, is the biggest computer in the USA. Callaway CEO Chip Brewer is a product and Tour fanatic, so when it comes to the process of where we are going to allocate the budget, R&D is always very high up on the list. This new process is exciting for us because this computer has so far only designed one clubface – the driver. So for the future, we can look at the golf ball, irons, everything across our entire portfolio.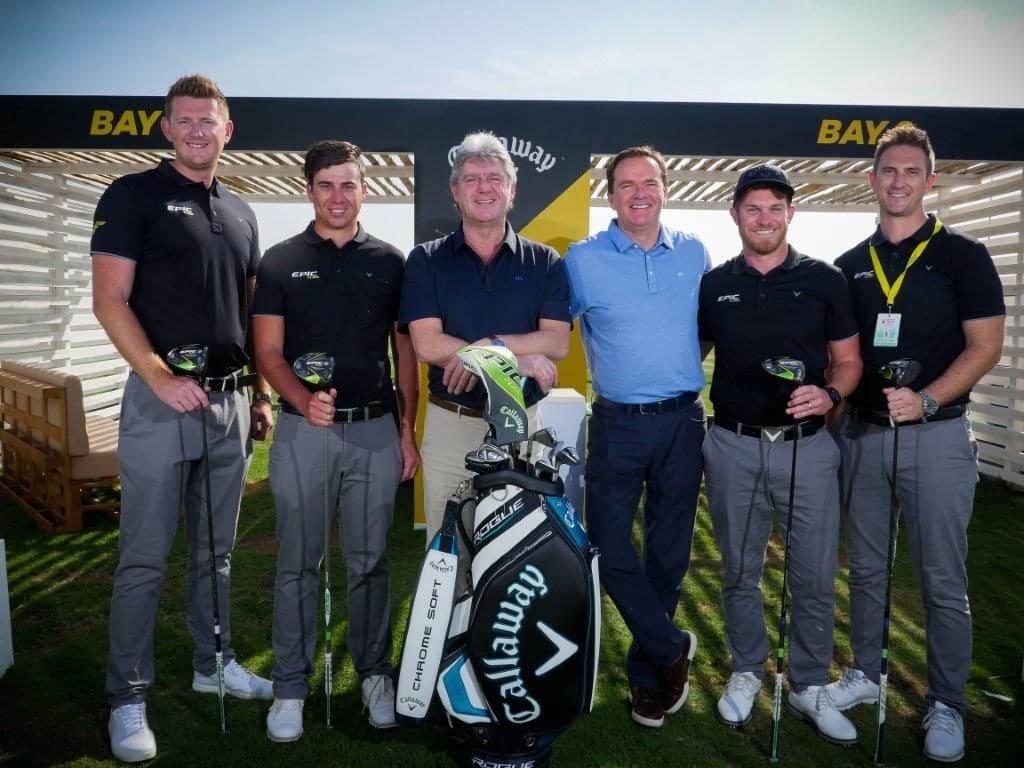 WWG: If you could ignore the R&A and USGA Rules, how could you enhance the design of the ball to make it go further and further?
NM: I think the ball is always going to be a combination of two things – greenside control and spin – and, perhaps, distance. But if you removed the dimple design it could go for 100s and 100s of yards more, but you're not going to get the control. So it's all about balance. From a Callaway point of view, we will always represent and adhere to the Rules. Our R&D guys find it a challenge to try and maximise everything within the limitations, but we will never
produce a non-conforming product.
WWG: How crucial for Callaway is the ball count on the Tours?
NM: If you asked anyone five or six years ago, they would say that Callaway was an equipment company that also made golf balls. Now we're a serious golf ball company and if you look at global sales we've gone from one in 20 balls sold, to one in five. Now, I don't think anyone at the company expects us to suddenly become the No.1 ball in golf, but as it is the product that is purchased most often and, arguably, the most important piece of equipment – it's an important part of the business.
WWG: Who comes up with the names for the clubs – they have a bit of a personal touch compared to other brands that just come up with codes and numbers? Is that a deliberate strategy?
NM: With some of the names there's definitely a strategy behind them. But equally, for example, 'Epic Flash' was the internal code name for the club, and it stuck. There are other projects, for example, such as the ERC ball which is named after the company founder Ely Callaway and we know that it was something that he would be proud of. Sometimes there's some logic behind the naming process, like the Chrome Soft ball because of the soft technology that was involved in the making of it. It generally tends to be what feels right but there is a core global committee that gets involved with the names.