Next month the Road to Mongomo will be complete for 50 male and 14 female golfers representing no fewer than 26 countries as a top class field of pros assembles in Equatorial Guinea to contest the US$150,000 2016 3e Actuaries Open taking place at the stunning Presidential Golf Course from December 8-11. 
Spectators and competitors, including reigning men's champion Odoh Andrew Oche, MENA Tour star Luke Joy and the five qualifiers from the DSA Architects UAE qualifier presented by Worldwide Golf will find not only a world-class golf course and exceptional hotel, they will also find a little-known country, emerging from a difficult past into an optimistic future, that is as enchanting in its natural beauty as it is engaging in its diversity.
"Equatorial Guinea is a country with natural charm that inspires you to fall in love with its beauty and the hospitality of its people," says 3e Actuaries Open Tournament Host, Olawale Opayinka. "Those who visit with us this December can expect to be pleasantly surprised. As a tourist destination it is filled with undiscovered gems like the new National Park and virgin natural habitats. As a golf destination it is a country on the rise. All are welcome to the 'Sunrise on the Equator'."
Most visitors arrive via the country's oil-rich capital city Malabo, which is actually situated on Bioko Island, off the west coast of the mainland. You'd be forgiven for thinking that you'd landed in 19th century Spain, such is the prevalence of Spanish colonial architecture. It's also the predominant language spoken by the majority of Equatorial Guinea's 1.2 million population – a remnant of almost 200 years of Spanish rule. Malabo highlights include the Arena Blanca beach with its array of sports activities and wonderful nature trails, where scores of butterflies can be found during the dry-season, and the Monte Alen National Park with its tropical rainforest which is home to elephants, chimpanzees and gorillas.
Mongomo, where the 3e Actuaries Open is played, is situated in the Wele-Nzas Province on the far eastern border of the mainland, just 1km west of neighbouring Gabon's Woleu-Ntem Province. The city hosted the African Cup of Nations football tournament last year and is quietly emerging as a sporting centre for West Africa.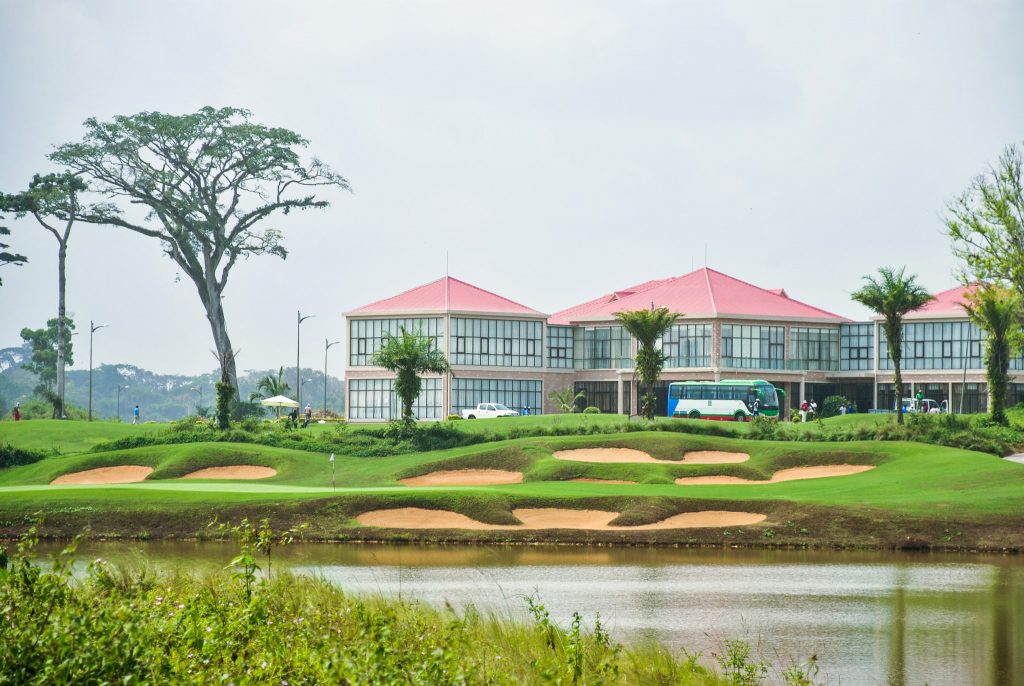 Presidential Golf Course
The par-72 Presidential Golf Course, host venue of the 3e Actuaries Open, is one of three golf courses in Equatorial Guinea and it's definitely a case of 'quality rather than quantity' as this is a track of top-class international standard. Beautifully manicured greens and highly playable, rolling fairways make this Ritson Golf Design course a joy to play for golfers of all abilities, while a standout feature sees half of it is set within the Equatorial Forest, creating a truly unique golfing experience.
Former Dubai Creek Open winner Luke Joy, who played in the 3e Actuaries Open for the first time last year said: "It's a fantastic design – really good holes, a solid finish, and great fun to play while also being a solid test of golf. There aren't many places in the world that you can say you've played on a golf course where half of the holes are in the jungle!"

Grand Hotel Djibloho
THE Grand Hotel Djibloho, which will be home for the players and officials during the 3e Actuaries Open tournament week, is also located in the heart of the Equatorial Forest and offers accommodation of a truly international five-star standard.
Featuring 380 spacious rooms, four suites and a sumptuous Presidential Villa, the hotel offers the height of comfort and relaxation. There are three world-class restaurants – the chic Mariposa, offering international cuisine, stylish L'incanto with its delicious Italian fare and Lom which serves up a traditional African menu.There are also four bars and even an onsite nightclub as well as a state-of-the art gym, wellness centre and indoor and outdoor swimming pools, not forgetting that the golf course is right next door.
Joy had this to say about the hotel: "I literally had no idea what to expect when I arrived in Mongomo last year – the hotel could have been a shack with a roof for all I knew. But I can honestly say it was probably the best hotel I've ever stayed in – and I spend a lot of time in the UAE where they have some of the nicest hotels in the world so that's saying something! I'm really looking forward to returning this year."
Away from the golf course visitors to Mongomo can enjoy a variety of cultural highlights including the striking Basilica of the Immaculate Conception temple, which is often called a 'cathedral' due to his size – it's the largest religious building in Central Africa and the second largest Catholic church throughout Africa. There's also the spectacular new National Park with its stunning array of wildlife and fauna.
The focus for visitors and players will of course, be on the golfing action at the 2016 3e Actuaries Open but it's clear that Equatorial Guinea has much to offer both on and off the course.