By Stephen Deane | Peter Cowen Academy Dubai, Jumeirah Golf Estates  | @deanopro
It was amazing to watch Gary Woodland 's Major success in last month's US Open at Pebble Beach. Peter Cowen has helped take Woodland's game to the next level after initially developing his short game, and now also his full swing. Peter has achieved this by implementing some of the simple exercises discussed in this month's article. They have helped Gary understand how to use the ground better, how to match his body and arms better and take control of his overall game. At the Peter Cowen Academy we teach our students the movement patterns required for the swing. Follow the information in this article to get you moving better!
Part One: Body Spiral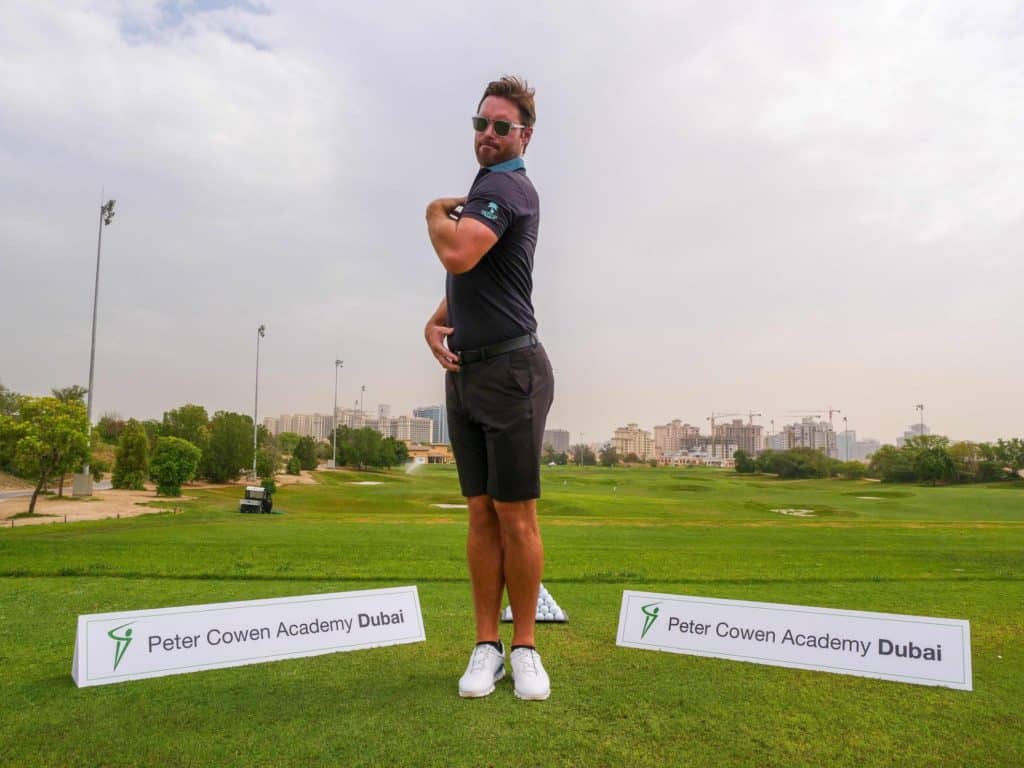 Simply stand vertically with your feet together.
Imagine your body as a spring, that's why we call it a coiling motion. Now mimic this spring in a coiling action with your body.
Simply pull your weight up and around from the ground with a spring-like coil as shown above.
This movement pattern is the first thing we have to get right. If we don't, the body won't work properly and we will struggle with the swing.
The spiralling body pattern pulls against the ground with your abs, mid-section and chest spiralling up whilst we keep our shoulders level.
It's important for us that all our students understand the spiral. 

Part Two: Shoulder/Arm Spiral
Again, stand vertically with your feet together as we increase the movement up through the shoulders and arms.
If the body is working like a spring up, the shoulders have to spiral up and down as well. 
As we start the second part of the exercise, the left arm spirals left and the right arm spirals right. 
The spiral continues up to the shoulders. Most players have been taught to turn and turn. Unfortunately,  they don't get the spiral with the body and certainly not with the shoulders and arms. For many players, this has and will create lower back problems which can be avoided when moving correctly. Once up, let the shoulders/arms drop to create a momentum drop. This drop creates acceleration in the implement you're holding and this can be increased the higher you spiral your arms during the initial movement pattern.
Part Three: Matching Movements 
Again from a vertical position with our feet together we combine the body and arm spiral.
This is a simple movement pattern but now we're matching the movements, everything's in sync.
The basis of our coaching is to get the body working better and combine the hand, arm and club movement together.
Eventually, we put an implement in our hands and that moves as a consequence of the body and arms moving correctly!
These movement pattern exercises should be used as part of your daily warm-up. A minimum of 60 seconds per exercise and you'll notice and enjoy the improvement in your game.
For more information please watch the accompanying video or visit one of our three Peter Cowen Academy locations in Dubai.