By Malcolm Young
For the average golfer, putting is a significant factor in reducing scores. With information gained from total drive and greens in regulation, we know long game work can improve scoring, however, putting can provide some valuable scoring gains in shorter time frames.
Looking at available data on putting, we can identify how to develop strategies for better results opening a different approach to golfers practice habits. Golfers often have high and unrealistic expectations of holing putts from mid-range distances of 7 to 20 feet leading to a changing mindset and ultimately frustration at not holing putts.
This leads to our focus on "Putt Importance" and maybe a change of perspective.
The most important distance at pro level is 5 feet and for amateurs this falls at 4 feet.
This is related to the largest number of strokes gained, to give a fuller perspective the following information reinforces where golfers should focus on putting statistics.
3 to 7 feet can account for up to 46% of the strokes lost between professional and amateurs.
Very simply, short putting is important, a lot of golfers get over focused on holing more mid-range putts (7-20ft) and it's always good to get a perspective on the tour stats for this to set realistic expectations on putts holed ratios.
PGA Tour Average putts holed 8ft : 50%           10 ft : 40%        15ft : 23%         20ft : 15%
At 8 feet tour professionals are only holing half of their attempts. It's also worth remembering highlights reels on television coverage rarely show missed putts. Through this we establish a mindset that professionals hole putts regularly from mid to long range, at 30 ft the tour average is just under two putts (1.98 strokes). On average Tour players will hole 5 putts over 20ft in a 72 hole event, just over 1 a round.
So to form a strategy for working on this part of your game we need to focus on how we structure practice in three areas: time, content and challenge point. With examples of effective practice time we can visualise how our next visit to the putting green might look.
Structure putting practice in 3 sections and break down the time – the example below shows a 45 minute session:
Stroke Maintenance 20%     9 mins
Short to Medium Putts 50 %     23 minutes
Long Putts & Speed Control      30 %     13 minutes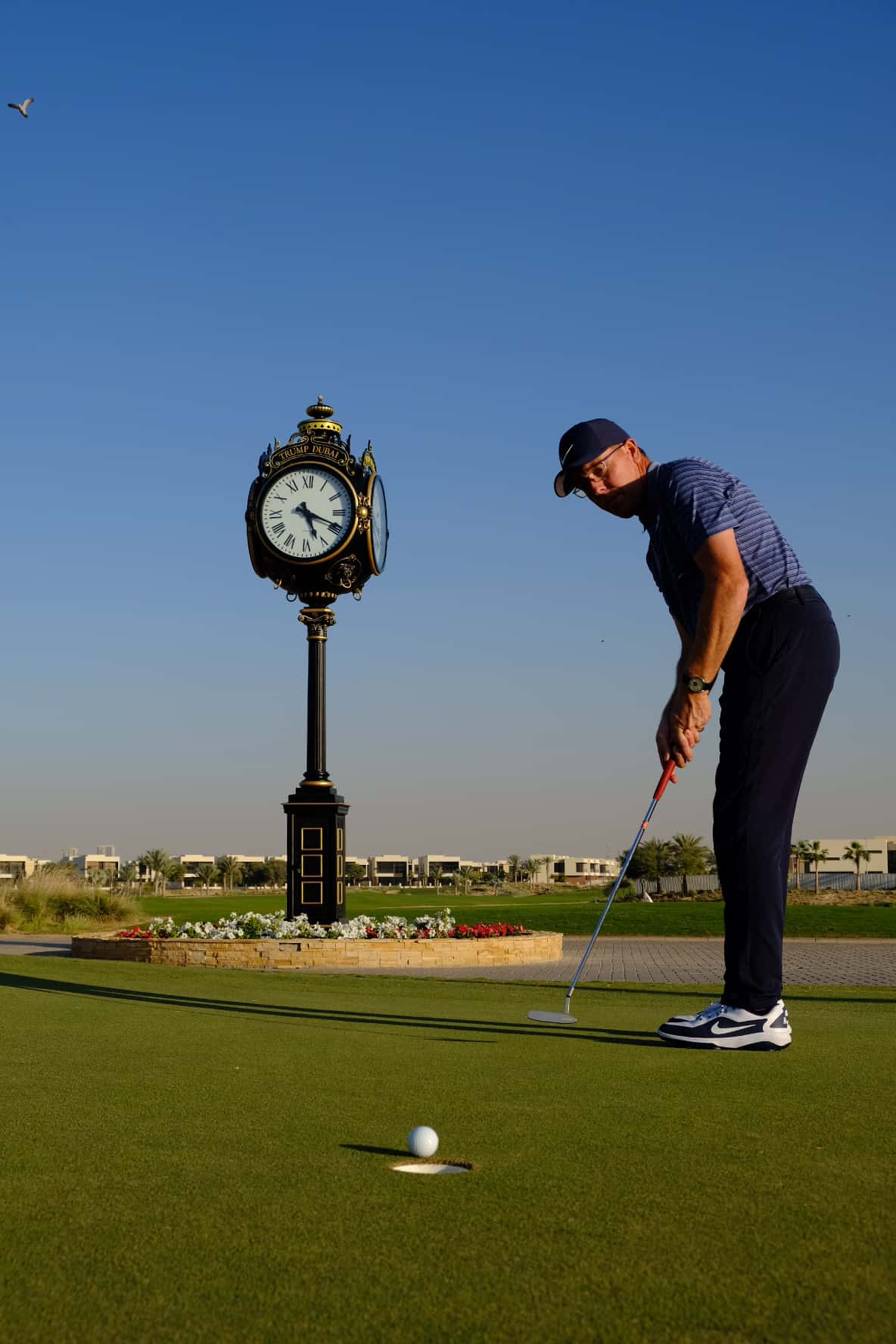 How you now spend this time should be player dependent, putting strokes are not equal. We deal in micro movements with putting so it's important to at least know some personal tendencies through play that will assist in specific practice. Feedback is essential which may require coaching guidance or training aids to work on stroke maintenance.
During this practice I would always encourage players to practice these three main putting skills:
Green Reading              – Your ability to assess the varied factors and predict break on each putt
Distance control           – Your ability to assess and apply the right speed management for each putt
Start Line                         – Your ability to control the putter face and start putts on the intended line
Neither of these factors are more or less important than each other but all are intrinsically linked to success on the greens. When focusing on practice outside of stroke maintenance, a variety of games or challenges helps keep a sharper focus. If players have clear outcomes and results to aim for, this assists skill development and benchmarks future sessions which should carry over to results on course.
Most players don't practice putting simply because they don't find it interesting; this translates in coaching terms to not having a sufficient challenge point in practice.
So if you're looking for some faster ways to lower scores look no further than the putting green; the time you spend there, what you do within that time and how you record it for future sessions. We need to then remind ourselves that practice must be done in a way that builds confidence in each player.