Maria Jonsson has recently joined the fantastic team at the Address Montgomerie in Dubai and she's thrilled to have a chance to make an impact on the local golfing scene especially in the Ladies Programme that is booming at the club.
The blonde Swede has 13 years' playing experience on the Swedish Ladies Tour and has been teaching for 15 years so has a vast amount of knowledge which she can't wait to share with golfers in the region. Here are some facts and interesting information about the 39 year old and if you'd like a lesson, please contact her on MariaKJ@emaar.ae or 04-3631243 and she'd be happy to help improve your game.
Hometown:
Norrkoping, Sweden
Golf clubs worked at in Sweden: 
Nykopings Golfclub, Vidbynas Golfclub, Mauritzberg Castle & Golf, Grytsberg Golfclub
Lived and worked in:
Oslo Golf Club Norway and Roquetas De Mar, Spain for Nordpoolen Golf
What I enjoy most about coaching:
I love to work with the everyday golfer and help all the juniors to give them the best opportunity to become a professional golfer later if they would like to.
How I got into golf:
I fell off a horse when I was ten years old so my step-father persuaded me to take up golf and then you all know it's easy to get hooked when you've played a few good shots. Then I started to play competitions to try and be like my role model Annika Sorenstam.
My teaching style:
To make the game as simple as possible because there's so many aspects to it. When you get everything together it enables you to feel confident on the course and perform well.
Best advice for beginners:  
Don't get stuck on the driving range! We have a stunning par three course at the Address Montgomerie that would be better for practicing on.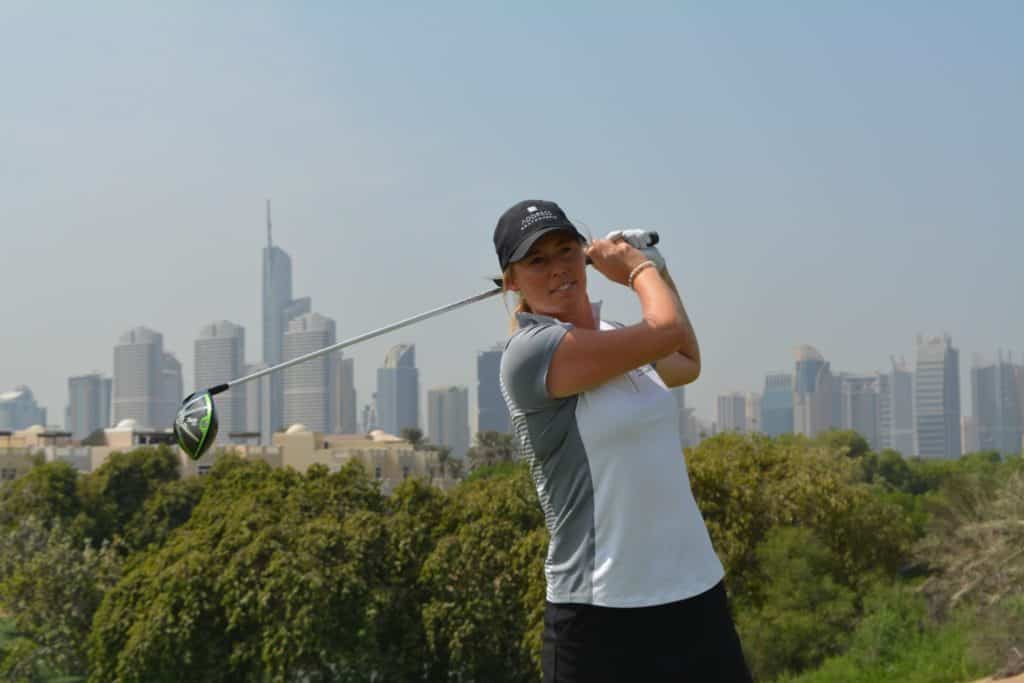 Why should ladies take up golf?
Because of the social aspect. It's very good for meeting new and interesting people, you can compete if you want and you can play with anyone regardless of their age, skill or level.
Favourite club in my bag: 
3 wood or 2 iron (difficult choice!)
Top three courses I have played: 
The Island, Ireland
Black Mountain, Thailand
PGA National, Sweden
Top three courses I want to play:
Valderrama, Spain, St Andrews and Lofoten Links
What you cannot miss on the menu at the Montgomerie:
Eggs Benedict!
Biggest achievements:
Board member PGA of Sweden for 2 years (PGA of Sweden has 1100 members)
PGA of Sweden, board of the educational committee of Stockholm for 5 years
Coaching achievements for Norwegian Golf Federation:
Her squad competed in the following:
2013 European Team Girls Championship in Sweden
2014 French International Lady Juniors Championship in France
2014 European Team Girls Championship in Slovakia
2015 French International Lady Junior Championships in France
2015 World Junior Girls Golf Championship in Canada