Ever heard of XXIO before? Well it's one of the fastest growing premium golf equipment manufacturers that you can purchase in the UAE available exclusively at eGolf Megastore. With the highest quality materials and revolutionary technologies, XXIO (pronounced zek-si-oh) products are painstakingly crafted for the discerning golfer with a moderate swing speed.
XXIO is the brother brand of Srixon and has the reputation for designing popular clubs in Asia which is proven by the success it's had in Japan where it's been the top-selling premium golf brand for nearly two decades. They've also just signed Ernie Els as a brand ambassador! Worldwide Golf headed down to The Track Meydan Golf to see what XXIO Sales Manager Billy Meyburgh had to say about these unique bespoke products when being questioned by his colleague Regardt Van Rooyen.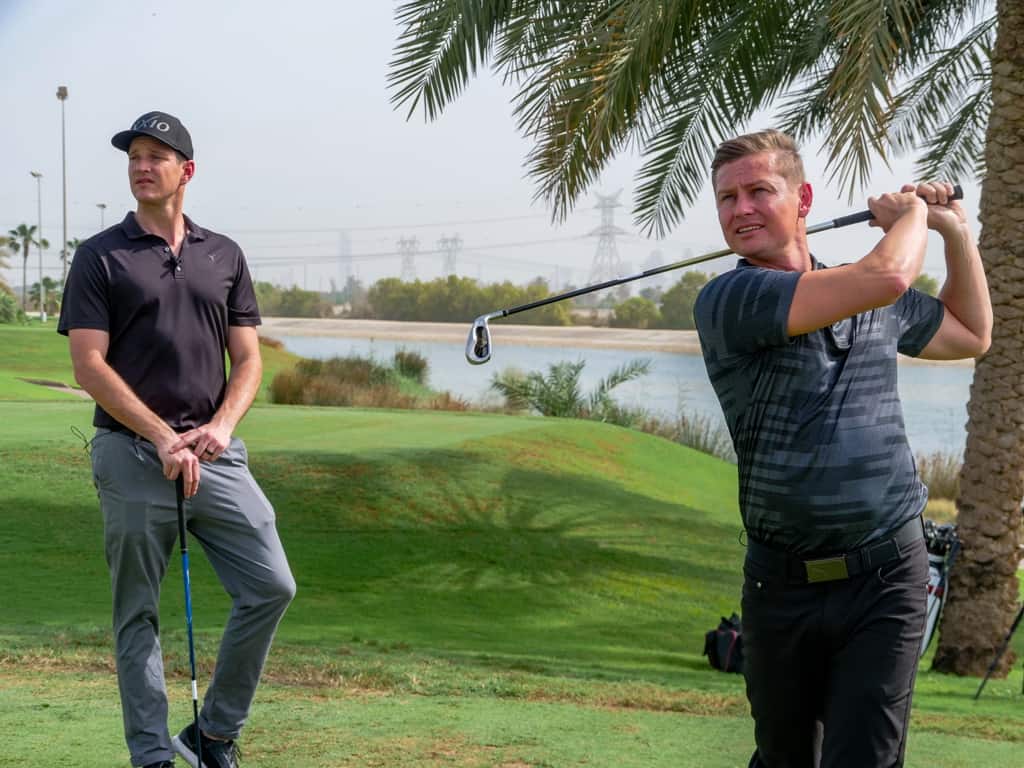 Regardt Van Rooyen: I'm seeing numerous people playing these XXIO golf clubs in the Middle East and they seem impressed. Are they new on the market? Can you tell me a bit more about the brand?
Billy Meyburgh: XXIO is a Japanese brand owned by Srixon Golf and has been around since 2001. They have been the No.1 premium golf brand in Japan for 17 straight years and they currently also occupy the No.1 spot in South Korea and New Zealand in the luxury golf brand category.
Reg: I have not seen the brand on TV at all or noticed any tour players using it, why is that?
Billy: This is because it's a niche product and they do minimal marketing. This brand is only focused on creating products for average to high handicaps with medium to slow swing speeds. Tour players' demands are obviously diverse to these golfers. They only recently signed Ernie Els as their global ambassador, but he has clubs specially made for him.
Reg: Looking at the XXIO X seven iron, not only does it look very easy to hit, but it's also very light when swinging it. Can you tell me more about this product?
Billy: The 'X' model is their flagship model and is their latest game improvement iron. It has titanium face inserts and tungsten nickel sole weights for an optimised and larger sweet spot. They are a high launching mid to high handicap iron that are deemed to be the 'longest and straightest clubs XXIO has produced.'
"I'm proud to be on board as XXIO's new Global Ambassador. Their high-quality products and innovative technologies help the average golfer play better golf. I'm all for that."

Ernie Els
Reg: Interestingly, you don't see many irons with titanium faces these days, but this has been done in other high-end irons before. Is there anything else that makes this product stand out?
Billy: The XXIO clubs have True Focus Impact Technology which is the combination of two revolutionary innovations: Smart Impact shaft and Hi-Energy Impact Head. Together they help you strike the ball on the sweet spot more consistently to achieve greater distance and more accuracy, and evidently lower your scores. Dual Swing  Technology (DST) can be found in the specially-designed high balance point shafts where XXIO use complex weighting and flex profiles to increase clubhead speed to enhance moderate swing speeds.
Reg: I've seen there is a XXIO Prime model as well, how is that different other than being gold?
Billy: The Prime is designed for slower swing speeds and will mostly likely appeal to higher handicaps. It has the same technologies as the X but lighter shafts, no steel, and produces a higher ball flight. In addition, it has a larger offset that helps reduce the chances of a fade.

XXIO X IRONS

Suited for 80-95MPH swing speed (mid handicap) 

XXIO FORGED IRONS
Suited for lower handicap players

XXIO PRIME IRONS
Suited for 79MPH or less swing speed

LOWER CENTRE OF GRAVITY

PROGRESSIVE WEIGHTING TECHNOLOGY 

V.T. SOLE DESIGN WITH THIN FACE
Reg: Is there a XXIO option for the better golfer which is more workable?
Billy: Yes, the final iron model is the XXIO Forged. This is a more compact, classic looking club with refined aesthetics. It's precision forged from higher quality soft carbon steel to create the softest feel. The face is still very thin, and it remarkably still has a large sweet spot resulting in high ball speeds. Also, it has a VT sole design to cut through the turf much smoother. These irons offer a bit more precision for average to better golfer.
Reg: Where can I try out more of the XXIO range and get them custom-fitted?
Billy: At the moment, they are exclusive to eGolf Megastore in the UAE so it's certainly worth popping down to one of their stores and testing these products out for yourself. If you are a high handicapper who is looking to improve your swing speed and accuracy, these irons will be ideal for you.