HONMA has got everybody talking since Justin Rose signed a 10-club multi-year equipment deal earlier this year and became the Japanese brand's iconic associate. The good news is that they are now being sold in the UAE so you can test them out for yourself and find out what makes them such a bespoke golf brand, renowned for the finest craftsmanship in the industry.
If it's good enough for Rose, it's good enough for me
Reigning FedEx Cup champion, Justin Rose, will lead HONMA's worldwide tour presence after ending his exclusive 20-year relationship with TaylorMade to join HONMA.
The Olympic Gold medalist has just come off the greatest season of his career so it was a surprise to see him switch allegiances, but he's been delighted with HONMA's performance which helped him seal his 10th PGA Tour victory in the Farmers Insurance Open in late January. "I was incredibly confident I was going to have a set of irons that look and feel like nothing I've ever had and that has been the case," said Rose. "The driver I had to take people's word for, and I've been blown away by the performance." 
<
"The pinnacle of the HONMA master clubmaker's art is that each new creation must be infused with both beauty and performance" – Read more here: https://t.co/ibFHPGqn9c #HONMAGolf pic.twitter.com/KYzng2CcUN

— HONMA Golf EU (@honmagolfEU) February 22, 2019

HONMA, too, offered Rose the ability to have input into the design of the irons, including the TW 747 Rose Prototype muscle back irons. This collaboration factor is deemed to be one of Rose's motivating principles to switch to Honma. "The collaborative process of making these (HONMA) irons was so much fun," added the Englishman. "I was able to make them look and feel like my own, which I think is awesome."
Brief history
HONMA have been making clubs for almost 60 years and are renowned for their craftsmanship with many of their workers having been there for decades. The shafts are hand-rolled and each and every club are handled by over 100 craftsmen that go through a 156-step production process before a final human-eye inspection. In 2009, Chinese golf-enthusiast Liu Jiangao became the new owner of HONMA and has since aimed to make roads in the UK and European market – with signing Justin Rose being a groundbreaking coup for the company. 
---
What's in Rose's bag? (10-club deal with HONMA)

Driver: HONMA TWorld 747 460

 

Driving iron: HONMA TW TX-X 2-iron
Irons: HONMA TW747 Rose Prototype (4-9)
Wedges: HONMA TW Rose Proto 48, 52, 56 degrees

Some other notable players that use HONMA are Hideto Tanihara and former LPGA Tour World No.1 Shanshan Feng, who is a four-time Omega Dubai Ladies Masters winner, but the Japanese brand are rumoured to be signing another marquee name in the near future with free agent Paul Casey linked after being spotted at the Sentry Tournament of Champions with a HONMA iron in his hands. 
---
HONMA's new TWorld747 range
Honma has blended revolutionary technology with cutting-edge design to create the new TWorld747 range for the 2018/19 season. The new TWorld747 'Real Distance' technology allows the face and lie angle to be adjusted without rotating the spine of the high-quality shaft.
TWorld747 Vx Forged irons
Designed for distance with a solid feel and premium look.
A 10g tungsten weight is located in the toe of the clubhead and the neck of the club is 3mm shorter than the previous model.
Low and deep centre of gravity creates maximum distance with a high and precise trajectory.
TWorld747 Driver
Contains groundbreaking Proprietary Adjustability System, which allows golfers to adjust the loft of the club to create their desired shot shape, without rotating the spine of the shaft, which improves ball flight and distance.
The crown of the TWorld747 driver is crafted from an extremely light ET40 carbon with a ribbed grooving.
HONMA's new 4 Fang Technology deploys four metal studs that due to their strategic position, increases strength and energy along the face to deliver faster ball speeds and greater distances.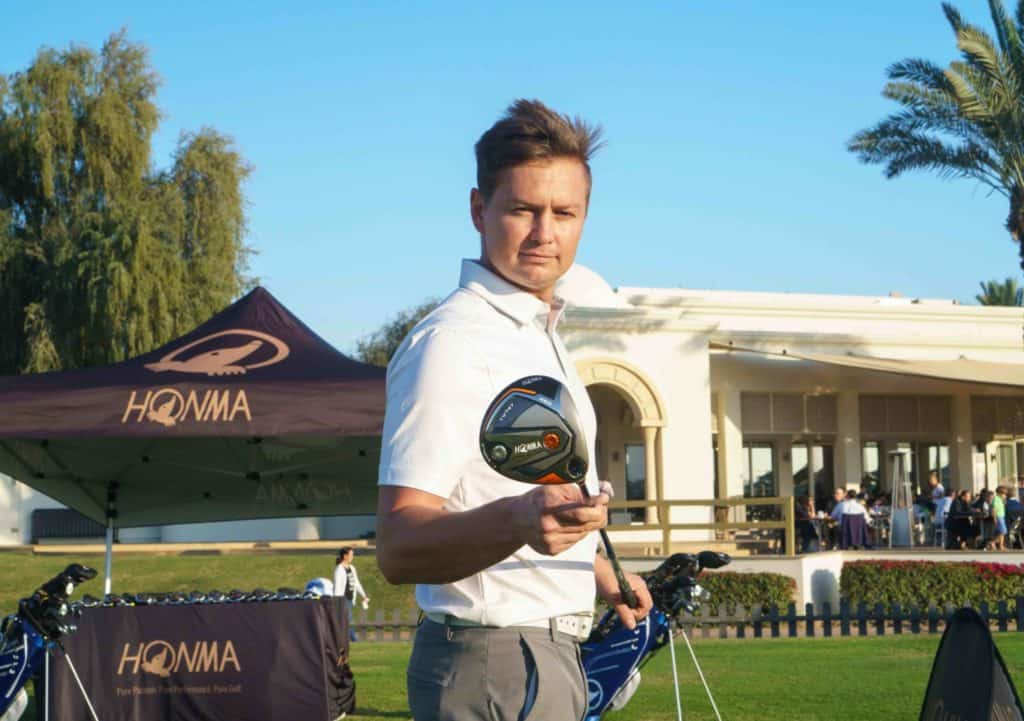 "I was extremely excited to hit the HONMA 747 range for the first time and they didn't disappoint. I love Japanese forged irons because of their stunning design and consistently high ball speeds. The four fang technology is impressive in the driver and not only does it perform exceptionally, it looks beautiful with its gloss finish. I feel Honma will be a huge success in the UAE." – Regardt van Rooyen – Custom fit specialist at eGolf Megastore