Summer is here and the blistering 40 degree heat is every golfer's nightmare. However, when you love the game, you learn to improvise, adapt and overcome the sauna-like humidity and crack on with it. Gripping the club with sweating palms can be tough – but this product may be the game changer!
By Jordan Smith
At the weekend I decided to head down to the driving range to hit some balls. It was around 2pm and as I stepped out of my car and the heat immediately hit me. I took my clubs out of the boot and started to have second thoughts – but as I was already there I thought it would be rude not to.
When I pulled my clubs out of the bag on the range, the grips on my clubs were soaking wet and so were my hands. I looked up and down the range and it seemed like everybody else was getting on fine – but I couldn't get a decent grip on the club! Luckily for me I didn't let a club slip out of my hands and send it flying down the range because a friend I was with slipped me a secret potion from his bag to prevent my hands from sweating.
"You need some dry hands!" he shouted.
Is he winding me up? As a matter of fact, he wasn't. I was introduced to a product called 'Dry Hands' that keeps hands dry in hot and humid weather. And it allowed me to keep a firm grip on the club, enabling me to accurately control the position of the club head. So how does it work?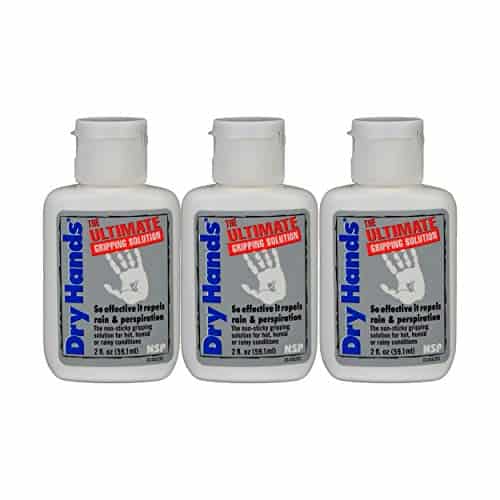 Dry hands is known as the 'ultimate gripping solution' and it essentially repels the perspiration from the palm of your hands. It comes in a small 30ml tub and after you apply it onto your hands it doesn't leave a sticky residue. The bad news is you do have to reapply it at regular intervals – every 10 minutes or so on the range.
The product is available on import from the USA and provides the confidence of a glove with the natural touch of your own skin, and is certainly seems like an essential addition to the bag for playing golf during summer in the Middle East – just make sure you stock up on it!