Cobra's latest 'Forged Tec' irons not only look the business they also seamlessly blend the precision of a tour iron with the playability desired by all us weekend warriors. With exciting young stars like Rickie Fowler, Bryson DeChambeau and Lexi Thompson on the roster, Cobra is doing a decent job of disrupting the more established hardware brands and innovative new releases such as the DeChambeau-inspired 'One Length' series have turned heads in recent years. We headed down to eGolf Megastore Abu Dhabi to speak to custom-fit guru Regardt Van Rooyen to find out how good these latest irons actually are.

---
TECHNOLOGY
"The Cobra Forged Tec Black Irons not only perform exceptionally but they also look beautiful.  Golfers are always looking for an extra bit of distance so Cobra have helped us out by taking a Forged 4140 Chromoly Steel Face and making it very thin to create more spin which increases your ball speed," says Rooyen.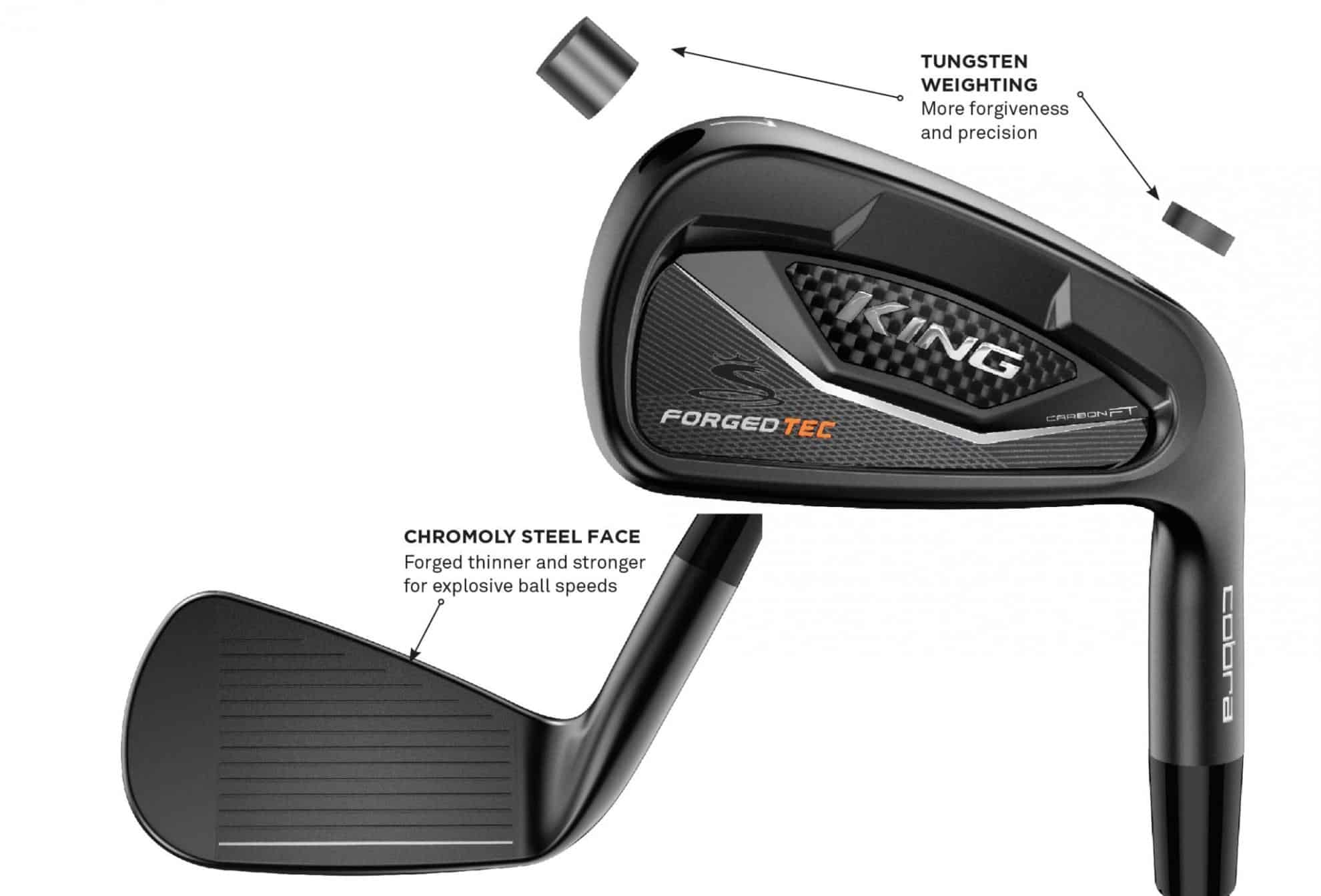 "They've also put two tungsten weights in the toe and the heel of the golf club which will lower the centre of gravity helping us to launch the ball. This also creates more stability through impact which gives us a higher Moment of Inertia leading to straighter and longer hits.
"While decreasing the weight of the club, Cobra has managed to incorporate a carbon cavity medallion behind the face which gives it a great feel when striking the ball. It makes a beautiful soft sound when you the hit the ball which is what the golfer is looking for. They don't want to hear a high pitched or 'clicky' sound when striking the ball.

"Another nice feature is the Dynamic Gold S300 AMT Steel Shaft which they have added to the club in the black finish which looks stunning. It also comes with a Recoil ES Smac Wrap shaft in the graphite offering which is an unbelievable graphite shaft – probably the best in the industry right now."
"They've also added Cobra Connect which you can pair with your smart phone to give you information on iron shot distances, accuracy and loads of other information on your game. This really is a complete golf club to help improve your game and lower your scores."
Performance
"I tested a seven iron out on eGolf Megastore's TrackMan 4 Launch Monitor," says Van Rooyen. "I achieved an average club speed of 92mph and smash factor of 1.41, which is unbelievable and exactly what I'm looking for in this club. "The average carry was around 198 yards whereas I usually club 185 yards with 30 degrees of loft so that is very long for me."

Van Rooyen's Conclusion

"The club feels amazing and is very responsive. I get good feedback off every strike. I achieved ball speeds of 130mph which is unbelievable because I usually get nowhere near that with a seven iron set at 30 degrees. The spin is also nice and low and the launch is perfect. There's no doubt that I'll be putting a set of these irons in my bag."