Although my players have been prolific winners in the UAE, we've never won the Abu Dhabi HSBC Championship. We have come perilously close on occasions but never walked off with the Falcon Trophy. So, when Thomas Pieters rolled in that winning putt at Yas Links last month I was more than delighted. Not for clinching that illusive title but for Thomas.
Everyone knows what a talented lad, but he has not lived up to his full potential and I'm partly to blame for that for putting too much pressure on his shoulders. Last year at the BMW Championship we sat down together and had a long conversation about what he wanted to accomplish. It was clear he hadn't achieved what he wanted to achieve and that is where I've made a mistake. I try to make my players perfectionists and sometimes, they don't think they are good enough.
That eventually becomes a negative, so I had to stop that and create more positivity. I might not have the letters behind my name, but I've become a psychologist to my players, as I've certainly given more mental than technical lessons over the years to help them win tournaments.
Another of my players that enjoyed the challenging conditions was Ian Poulter. As we all know from watching him at the Ryder Cup over the years, he is very strong mentally. What people do not appreciate is Poults is a true player and has the game to craft a score in all weather. I know thousands of great hitters, but I don't know many good players. The final round at Abu Dhabi was a shining light for Henrik Stenson after he closed with a 65. Our team has got off to a great start with the win at Yas but the icing on the cake would be to see Henrik back on top.
I've worked with him for close to 20 years and said everything I needed to say but he needs to listen to something else. Mike Walker who works with me is looking after Henrik now and even though we teach the same way Mike phrases things differently. To this day Henrik's final round to win the DP World Tour Championship in 2014 was one of the best I've ever seen, and I've seen plenty. If he can get close to that form with Mike's assistance, a win will not be far away.
Wave of fresh talent
From the old guard in Abu Dhabi to the next wave of fresh talent, it was exciting to watch. Hovland and Morikawa are the future of the modern game. Both now winners of Rolex Series events in the region and shown the world they can win anywhere. But leading UAE amateur Josh Hill also caught my eye, especially when he finished above the world number one. It's hard to believe Josh is just 17 years old and to perform like he did in Abu Dhabi and Dubai he's got the talent to make it on Tour. Not only does he have the length off the tee, but he obviously doesn't suffer from stage fright. These are the two essentials these days to make it on the big stage.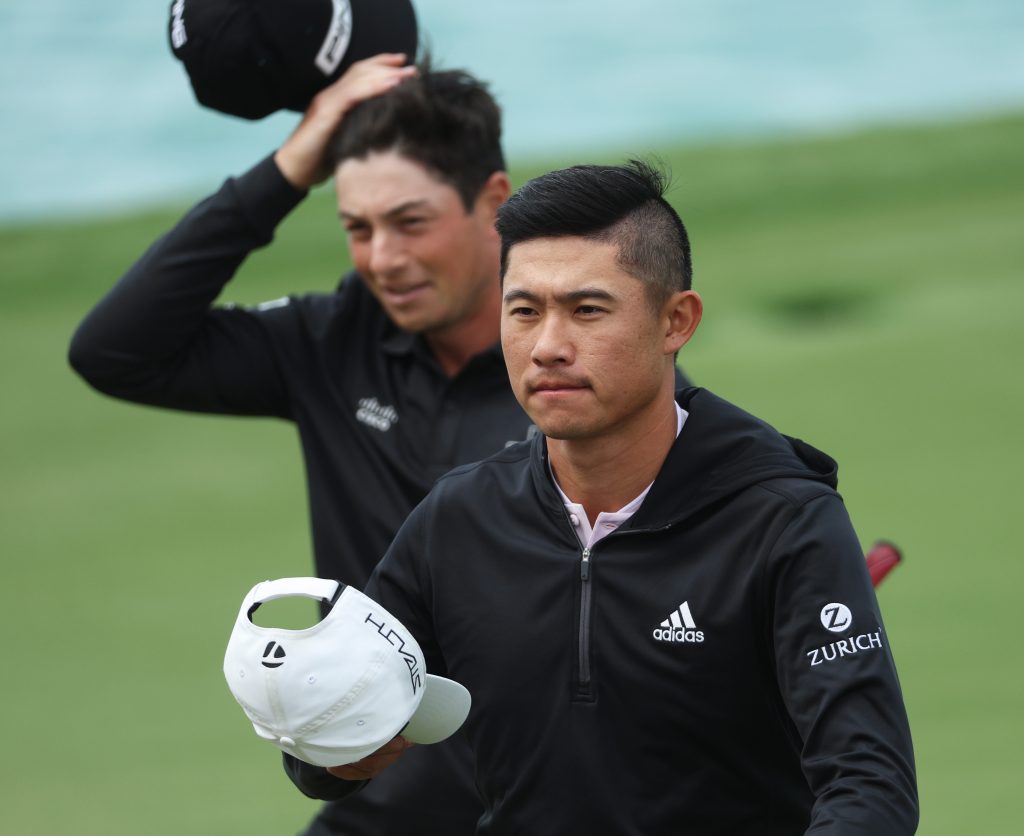 Keeping to the UAE, I think considering all that has been going through the pandemic it was ideal for the players to have back-to-back events at Ras Al Khaimah. The last two years has been exceptionally tough travelling, living in bubbles and being able to find a rhythm on the course has been harder than ever. So, to have four events in a row in the UAE is the perfect start to any season and more important than ever considering the logistical impact of the pandemic.
To have these events in addition to the three Rolex Series tournament in the region shows how instrumental the UAE has become to the DP World Tour. It will be interesting to see who wins at Ras Al Khaimah and don't be surprised to see the same player claim both titles. If the wind blows it will certainly test the player's ability to control their ball flight, this is why amateurs struggle in the wind. It will also be an advantage to the professionals who needed to master breezy conditions growing up. You can't just play to a number. You must feel the distance and see the flight that is required to match the shot.