Home town support
could make this game
more exciting. 
Having walked the fairways with the head of a TV sports channel I was blown away by the huge viewing numbers football receives and that got me thinking – perhaps we are looking at the game of golf the wrong way.
---
I've just got back home having spent some time with Brooks Koepka in South Korea during the CIMB Classic, and all the talk is still about Brooks' comment about Rory McIlroy not being a rival. I was in the room with Brooks during the press conference and the comment was taken out of context. 
His interview had been going on for some time, so there was a lot of build-up to the question: "Do you see Rory as a major threat?" Brooks' answer was tongue in cheek and was just a bit of banter with the media.
"What Brooks said wasn't wrong."

Rory addresses Brooks Koepka's recent comments about rivalries. pic.twitter.com/B55h0pavLq

— GOLFTV (@GOLFTV) October 21, 2019

Regardless of how Brooks' comments were taken, the great thing to come out of it is a potential rivalry that gets people talking every time they tee it up in the same tournament. It doesn't matter about the sport, a healthy rivalry gets people talking and raises interest levels – and boy! Does golf need that more than ever? Imagine how boring tennis would be without Nadal, Djokovic and Federer? Football without Manchester City and United; Real Madrid and Barcelona. The list in football is endless, hence the huge audiences it attracts worldwide.  I was with the head of a German sports broadcast agency the other month and he told me that English Premiere League derby matches can attract more than seven million TV viewers in their country. That's just mind-bending, considering in the next breath he says they only have 20,000 viewers for certain golf tournaments.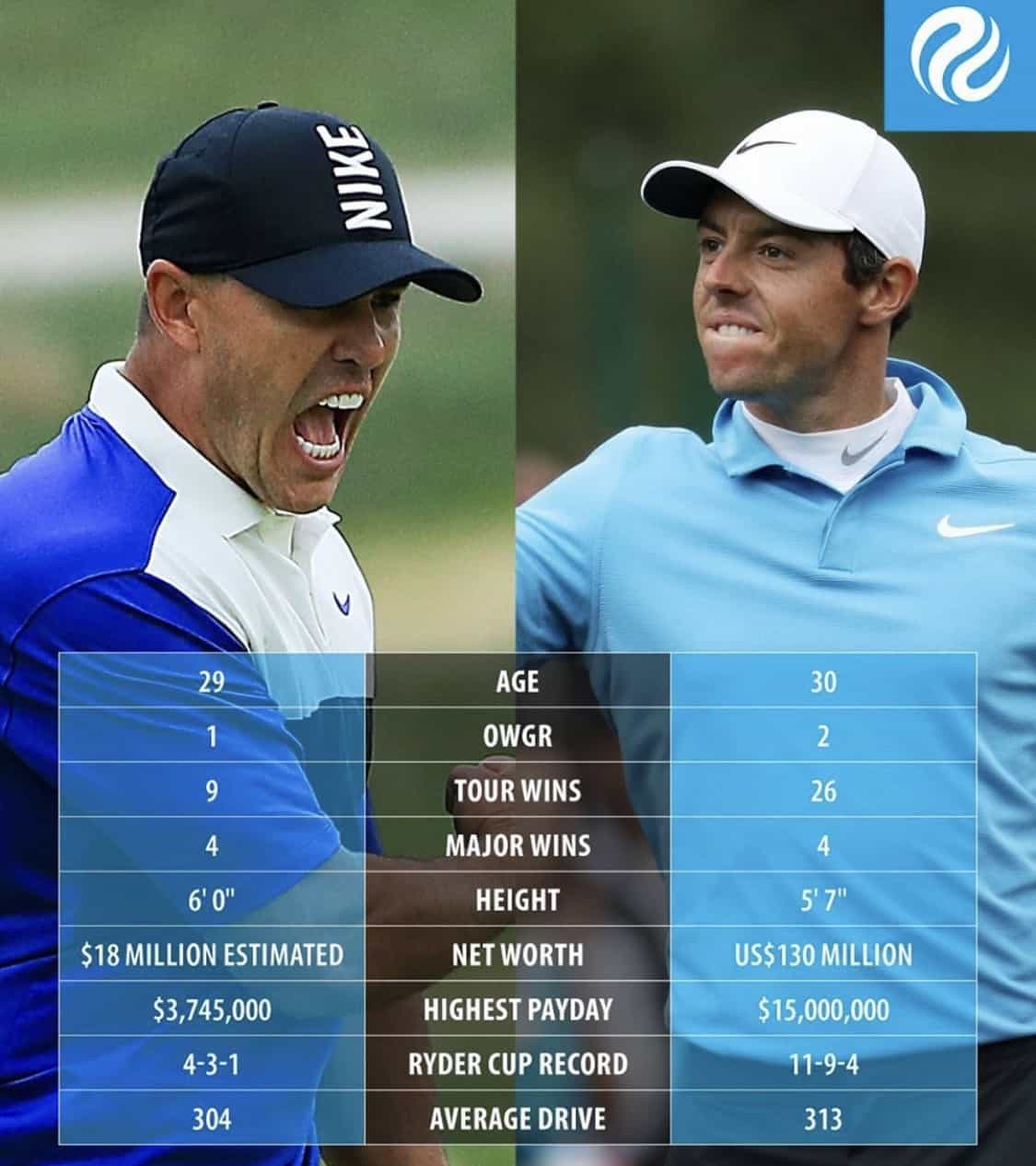 That got me thinking. We keep on trying to come up with new concepts of the game but regardless of what the format is, it's still boring to watch. Players these days just hit it straight, find greens and roll it into the hole without any great drama. Perhaps I'm teaching my players too well! The likes of Ballesteros was a joy to watch, as you just didn't know what was going to happen next. Amateurs could relate more to players being stuck in knee-high deep rough and snap- hooking a ball out of bounds. So what needs to happen is for players to find a way to bond with the spectators and golfers watching on TV. But how can that be possible? Simply mimic the home-town appeal of football and The Ryder Cup.
Imagine having a UK a golf premier league. London takes on Sheffield. Poulter and Wallace take on Willett and Fitzpatrick for example. You could make your golf squad eight players, and it could be a mix of men and women. Now you have the passion of city against city in an organised league. Give them a kit people can also relate to, that has a bond with the city they are representing and a catchy name. All of a sudden, it's a whole new way of supporting not just golfers but your own team.
---
T20 saved cricket
You could even broaden it to the golfing counties and emulate T20 Cricket with a televised six-hole matchplay shootout. To make golf exciting you have to give the fans something to relate to. In Sheffield when Danny Willett won the Masters the whole city and county was buzzing for 'THEIR MAN'. You saw what happened in Ireland when Lowry won the Open Championship at Royal Portrush. 
This is what the game needs to do in order to ignite the fans. Golf isn't exciting to watch but it can be if you want your team to win!
I'm all for going to watch the 'Sheffield Steelers' take on the 'Birmingham Bulldogs' as my city is my team. You could even do it as a skills test at a floodlit driving range, where you could challenge all areas of the game. From long drives to hitting targets from certain distances, in a similar way to Top-Golf in America.
Maybe a points system could be easier to follow and understand. Those places are packed and it's full of people just having fun and enjoying themselves. The professional game needs something like this to bond more with the fans. Somewhere in my ramblings, I hope, might be a winning formula and if Sheffield Steelers become a golf team, I should get a lifetime ticket for all home games!