My advice to the players: don't be frightened – get your fingers out, stop playing the 'Blame Game' and start practising the things you are NOT good at.
I told Alex Levy to take it easy when he was practising in Dubai and it seemed to do the trick at the Trophée Hassan in Morocco. It was important for him to get his head in the right place.
That's the hard part of being a Touring professional. When you've done all the hard work on the technical aspects, it's then all about getting your head in order. It's difficult, because when things don't go as planned, they always think it's the golf. With Alex, it's almost like he needs a performance director. We gave him drills to do in the gym and on the driving range. He needed a bit more structure in his practice and I talked with Tom, his caddie, about that.
Blame game
To be fair, the players should be their own performance director but they never are. They're all the same – they all look for something to blame. I'm looking for the player who will say, "Yes, I can do that, and I'll do that by myself and if I need you, I'll call you." Not – "oh heck, this isn't right, that's not right." I've said it many, many times, it's not about the 'hitting', it's the competitive sharpness and the stage fright you've got to handle. Sometimes you look at players and they're frightened to death. Alvaro Quiros in Morocco is a prime example. He was frightened. He finished with two birdies for second place but he was frightened of winning the tournament. It was a bit of luck for me because I actually gave him a lesson in Madrid a week earlier and I thought he was going to beat Alex, which would have been disastrous! I've done that too many times, unfortunately.
Inspiration
Looking back to Houston, where Ian Poulter won, it was a case of giving him some stern advice and inspiration on the Friday morning. He was 1-over through 17 holes before rain curtailed day one, so we were sat in the caddies' room waiting for him to go out and play the 18th, probably the hardest hole on the course. He then had to go back out an hour later to start his second round. He parred the hole, but during that wait to begin the second round, he was turning the air blue about his prospects and he asked me: "What on earth am I doing here – inspire me." So I said: "Well what happens if you go out and shoot 8-under, and then do it again two times over the weekend? You'll have won the event and you'll make the Masters." "Oh yeah, right, of course I can do that," was his sarcastic response. So I said: "Do you really want to know what will inspire you, Ian? Exactly the opposite of 'what on earth am I doing here?' You've got to turn that around and say to yourself: "I'm here for a purpose and I've got to do the best I can." That's what I said to him, and that's exactly what he did.
Rookies
Looking ahead, I know that if Levy keeps playing at the level he's at right now then he will be a certainty for The Ryder Cup. At this stage, with the event still five months away, so many players get affected by the prospect of qualifying. You can see it happening. We don't know if Alex is going to suffer. Most Ryder Cup rookies will suffer – but not those rookies in the elite bracket, like Jon Rahm. There's always somebody who looks like a dead cert to make the team but messes it up towards the end and doesn't get in. Darren Clarke couldn't really fail last time because that was a prime example of the 'changing of the guard.' The likes of McDowell, Donald, Poulter were all absent. It's a massive undertaking.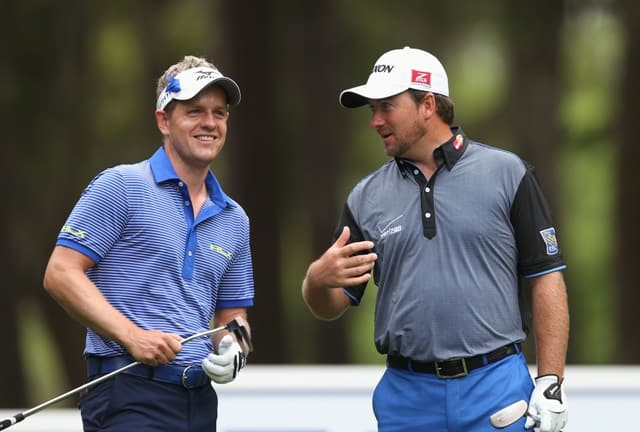 There are four from the rookies at Hazeltine who will struggle to get in this year – Danny Willett, Chris Wood, Andy Sullivan and Matt Fitzpatrick. Matt wants to play in America and he enjoys it. But he needs to return to play in Europe and win a couple of titles and get some confidence back. If he did that, he'd be in the mix every week and move up the rankings. In America, players don't seem to realise that you can play well and still miss the cut. They all need to get their finger out. Looking at the work ethic of some of today's players, they need to work hard on the right things. Players fall into the trap of practising what they are good at in order to build confidence. They don't like doing the things they are not good at. When players start practising the right things, like Alex did before he won in Morocco, then the good performances will come.