Since I was a young girl, I always dreamt of playing at St. Andrews. I grew up watching tournaments played on the famous Old Course on TV. Learning of the rich history of golf associated with St. Andrews made me fantasise about one day visiting the historical seaside town.
My home club, Lahinch Golf Club is often referred to as the St. Andrews of Ireland, this probably added to my sense of allurement to the place! A low key fan of the British Royal Family, hearing that Kate and William also met while attending the University of St. Andrews was just the cherry on top of the cake. I had to get to St. Andrews!
Turning 21 years old in Ireland is a pretty big deal. If you're any bit of a socialite like myself, a big party with family and friends would be on the cards to celebrate this coming of age! As a family, we had spoken about our desire to go on a family trip to St. Andrews. I fully convinced my Dad that if we did go to St. Andrews I wouldn't want a big, mad party for my then upcoming 21st birthday.
For my Dad (who likes to say the partying gene skipped his generation), this sounded like a very good compromise! Much to our delight, the timings and golfing gods aligned, we secured tee times to play at St. Andrews in April 2014, just a few weeks before my 21st. My dream to visit and play St. Andrews was finally coming true!
We played the New and Old Course on the trip. I still remember that giddy feeling of excitement as I got my first glimpse of the iconic R&A Clubhouse, it was a real pinch me moment. I felt so incredibly lucky. I also still remember getting my picture taken on the first tee on the Old Course. The R&A Clubhouse as the backdrop never gets old. I felt like a celebrity! Teeing off on 17 after watching it on TV for so many years was just pure magic.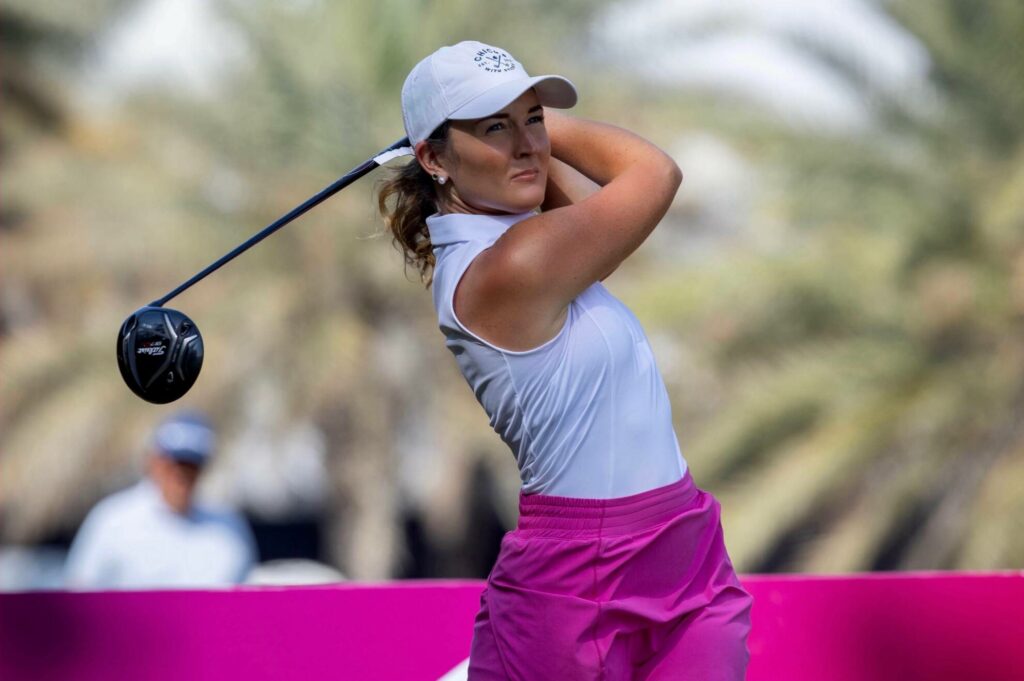 And of course, we all got our pictures taken on the famous Swilcan Bridge! More recently the Swilcan Bridge has featured in the media over the controversial stonework built to help preserve the grass area surrounding. This stonework that had been nicknamed a 'garden patio' has now thankfully been removed.
Those who know me well know I love my sense of style, on and off the course! I could have spent all day in the St. Andrews Links merchandise stores. A poor college student at the time, I unfortunately couldn't afford anything in the stores! Thankfully my generous parents gifted me a pink and white driver headcover, which I still use to this day. At this stage in life my older sister, Diane was working full time. I was very envious of her being able to buy herself a hot pink golf gilet. It may have disappeared from her wardrobe a few times over the years. I can't wait to be able to buy myself one when I return!
A younger me also had a fascination with the 'Jigger Inn', so I also got this ticked off my bucket list tour of St. Andrews. We also visited the R&A World Golf Museum. I would highly recommend this to any fellow golf nerds like the Hennessys.
This St. Andrews trip was a very special few days for my family and I. We were so fortunate to have had the opportunity to visit and play St. Andrews together. We often still talk about it! It was everything I hoped it would be and more, so much so that I immediately started looking up graduate and masters degree programmes at the University of St. Andrews.
With a background in education, my options at this particular University were limited. However, after much research I did find that my undergraduate degree met the criteria to apply for a Masters in Geography. It is an inside family joke that I am not the brightest spark when it comes to Geography, so much to my dismay St. Andrews University wasn't going to be a fit for me!
The 150th Open was played at St. Andrews last July. Oh how I wish I could have been there for that! Aussie Cameron Smith overtook my hero Rory to claim victory to lift the famous Claret Jug. An incredible win that will go down in history.
The St. Rule Trophy is an annual ladies amateur event played at St. Andrews, attracting many of the top female amateur golfers from all over the world. It is a 54 hole stroke play event played on the New and Courses. The handicap cut off for the event is 2.4, which means I would actually qualify to enter for the event this coming June. Perhaps I will make the voyage back to St. Andrews sooner than I anticipated?
For those of you wondering, I did not keep my promise to my Dad and proceeded to arrange a very large 21st Birthday celebration in our back garden. I think he is still scarred from that event. I have a big Birthday coming up this May, perhaps all the more reason to enter the St. Rule Trophy and return to St. Andrews, or perhaps another big garden party is on the cards! Let's wait and see!