Growing up, I was lucky to spend my summers in Lahinch, a seaside town in the west of Ireland. With a world class links course literally on my doorstep, it was written in the stars for me to fall in love with the game. However, it did take me until about the age of 13 to catch the 'golf bug',but when I caught it, there was no turning back! My love affair with the game was a very natural journey.
As a young junior girl golfer I began to show some promise. My name was put forward to enroll in a national development programme and I was invited to attend an under-13 National Coaching Day in Dublin. I remember it as if it was yesterday! I arrived with just two clubs, left handed clubs to be precise. Being naturally left-handed, it just felt right to play the sport this way. Later on my dad pleaded with me to switch to playing right-handed, as he said it was harder to coach 'lefties'. Being the obedient daughter that I am (LOL) I did switch to playing right- handed, and never looked back! In fact I think it has worked to my advantage, giving me that extra few yards of strength.
On this particular day, there were around 20 young promising golfers invited to attend the event at St.Margaret's Golf Club in Dublin. As I stood around waiting for the coaching session to start, two girls (identical twins) arrived with matching golf gear from head to toe, full tour sized golf bags and motorised golf carts. Needless to say, I felt incredibly inferior standing alongside them with the grand total of two golf clubs in my hand! It was my first encounter with Lisa and Leona Maguire! It was evident that both twins were strides ahead of the rest of the flock, their level of skill and technique was exemplary for players of their age. Through my teenage years and early twenties I came across the Maguire twins at many golfing events. They even featured in the opening ceremony of the 2006 Ryder Cup at the K Club by bringing the famous trophy to the stage. I thought this was seriously cool.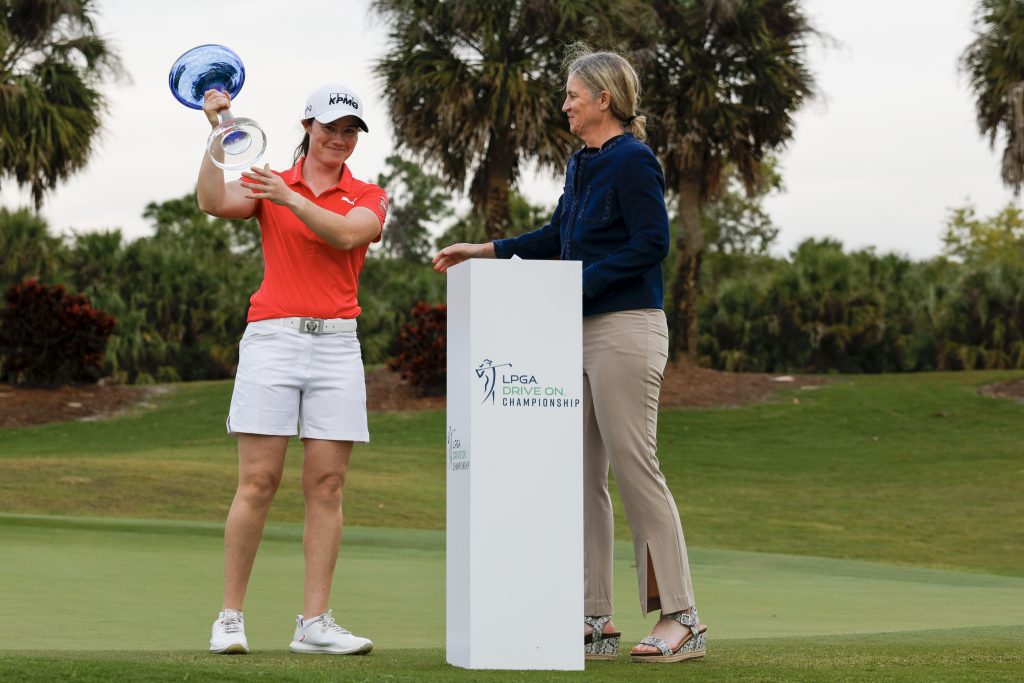 In 2015 I represented my province in the Ladies Interprovincial Championships. I was drawn to play against Lisa Maguire on the final day of the tournament. Lisa was representing Ulster and I was representing Munster. I was nervous on the morning of the match –in my mind the Maguire twins were golfing celebrities, and I felt I just simply was not up to their standard. However, my form had been good throughout the tournament week, thankfully I managed to calm my nerves on the range and focus on the task ahead. After a thrilling morning of golf, the foursomes match was finally halved on the 18th hole, but let me tell you, it felt like a win to me! Having grown up in awe of the Maguire twins, this was certainly a day to remember, and a day I look back on with pride. We had certainly come a long way since my two clubs at the under-13 National coaching day some years back!
Both Lisa and Leona played college golf at Duke University in North Carolina, USA. Although both twins showed exceptional talent from a very young age, Lisa had won more titles than Leona during their junior golf years. It wasn't until after attending Duke that Leona began to climb to the top. Fast forward to 2022, 27 year old Leona Maguire from Co. Cavan, Ireland is dominating the world of female golf. After an outstanding amateur career she turned professional two years ago. Since then she has had a stellar rise to the top, announcing herself on the world stage with her exceptional performance as the top points scorer at the Solheim Cup last September. Two weeks ago she won her first LPGA event at the Drive On Championship in Florida, and is now currently ranked in the top 20 players in the world. Leona's golfing future is bright, she is an exceptional role-model and inspiration for women's golf all over the world.
Swing easy!
Jenny
Founder of Chicks with Sticks