Messi v Ronaldo, Pele v Maradona, The Rock v Stone Cold Steve Austin… the list goes on but there's no doubt that Rory McIlroy vs Brooks Koepka is the most significant rivalry in golf. Although Koepka has dropped to No.3 in the world due to injury, there seems to be a brilliant battle brewing between him and McIlroy who is now ranked the world's best. However, the Ulsterman hasn't won a Major in five years whereas Koepka has secured four in the last three seasons. They are both big hitters off the tee but are contrasting when it comes to their physique and technique. In this Worldwide Golf Debate (#WWGDebate), five-time European Tour winner, Pablo Larrazabal, fellow Former Tour player, Chris Hanson, Claude Harmon Performance Academy Director of Instruction, Jamie McConnell, The Trump International Golf Club Dubai's, Sven Nielsen, and CHP3's Teaching Pro, Mike Bolt, weigh up this challenging comparison of who's the best.
Please share your view on 'Who's better out of Rory McIlroy and Brooks Koepka?' on our Facebook, Instagram or Twitter post.
Pablo Larrazabal – If both were at their best, Rory would come out on top
"Rory is a better golfer in my opinion and is a better athlete," says Larrazabal. "Rory has it all! The worst part of both players golfing ability is their short game.  Brooks is an awesome player but I think if both players brought their 'A game', out of 72 holes Rory would beat Brooks by four or six shots."
Mike Bolt – I would pick Brooks if it really mattered
"I think this is a fascinating debate and, in some ways, an unfair comparison," says Bolt. "Both players operate in completely different ways, but one thing's for sure, they are both brilliant assets to the game when both in full flow on a Sunday afternoon. Being from the Claude Harmon camp and having been lucky enough to watch Brooks operate at close quarters, I have to say it's impossible to imagine anyone as impressive across the board as Brooks. His driving ability is obvious to see, however, the area of his game he often does not get enough credit for is his irons and in particular his wedges. Nevertheless, the main reason Brooks gets my vote is his competitive drive and ability to switch it 'on'. His Major record is incredible and he is mentally so strong. There's no one I'd prefer to be golfing my ball on a Major Sunday when it really matters…"
Chris Hanson – Rory is the best
"For me it's got to be Rory," says Hanson. "Of course there is the debate that Brooks is the Major man, but Rory week in, week out is the best player in the world!"
Stuart Fee – Rory been at the top for far longer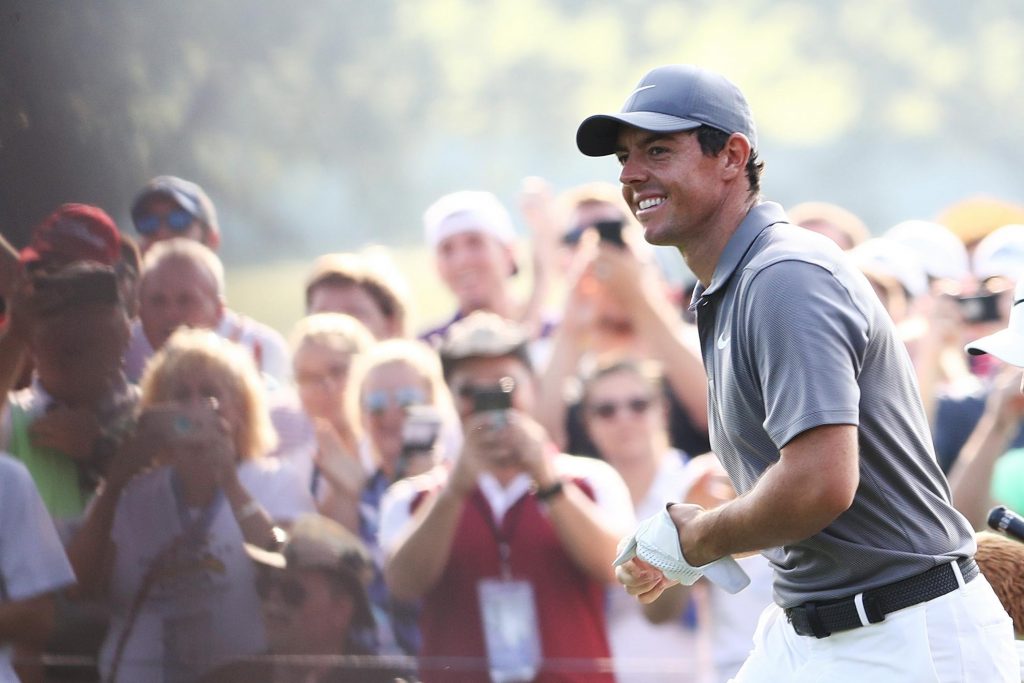 "For me Rory is a better player than Brooks and he's been at the top for much longer than Brooks," says Fee. "I'm not knocking what Brooks has done, his golf has been superb. But as we saw with other players i.e. Harrington – players can win multiple Majors over a short period of time or have purple patches in their career. Rory has been around a long time and is constantly there. Brooks for me has to stay doing what he's doing for a few years longer yet."
Sven Nielsen – Rory has the best statistics
"If we go purely on stats, I would have to say Rory," says Sven. "Rory has spent 101 weeks (Brooks 47) at World No.1, Rory has won 27 (Brooks 14) tournaments worldwide. And since Brooks' comments about Rory not being a rival, which I think fuelled Rory's game into 5th gear, Rory has proved his potential in his last 10 tournaments. And I think he will just keep getting better and better. Lastly, from a media personality perspective, Rory is by far the fan favourite. Brooks is making it hard for fans to like him with comments such as: 'I just practice before Majors, regular tournaments I don't practice.' But yeah, we would all love to have Brooks' confidence!"
Jamie McConnell – Brooks to have had the best career by the end
"This is a very difficult question," admits McConnell. "If you were going to look at recent form, you'd favour Rory. Brooks has had a hard time this year in the few tournaments he has played and Rory finished the tail end of last year exceptionally strong. In the big events like the Majors though, over the last few years Brooks has been outstanding. If you compared their whole career you'd probably favour Rory but Brooks is a year younger and is catching him at a fast pace. McIlroy has won four Majors, 14 times on the PGA Tour and 10 times on the European Tour so they are remarkable stats and that makes him the best out of the two currently. However, who ends out being the best when their careers are over I'd probably edge Brooks on that one."
What are your views on this #WWGDebate? Please share them on our Facebook, Instagram or Twitter post.