The 2017 Swing Against Cancer Golf Series got underway in fitting fashion with the Worldwide Golf Open at Sharjah Golf & Shooting Club as Clark Francis and Purna Sharma took the respective spoils in the amateur and pro divisions.
H.E. Abdullah bin Mohammed Al Thani, the Deputy Chairman of the much loved venue, is also a Board Member of Friends of Cancer Patients, the official charity partner of the series which aims to raise funds and awareness to fight back against one of the world's deadliest diseases. So it was a highly appropriate club for the first of six qualifiers running throughout the year leading up to the grand final, the Mike Clark Golf Day, at Jumeirah Golf Estates on October 26th.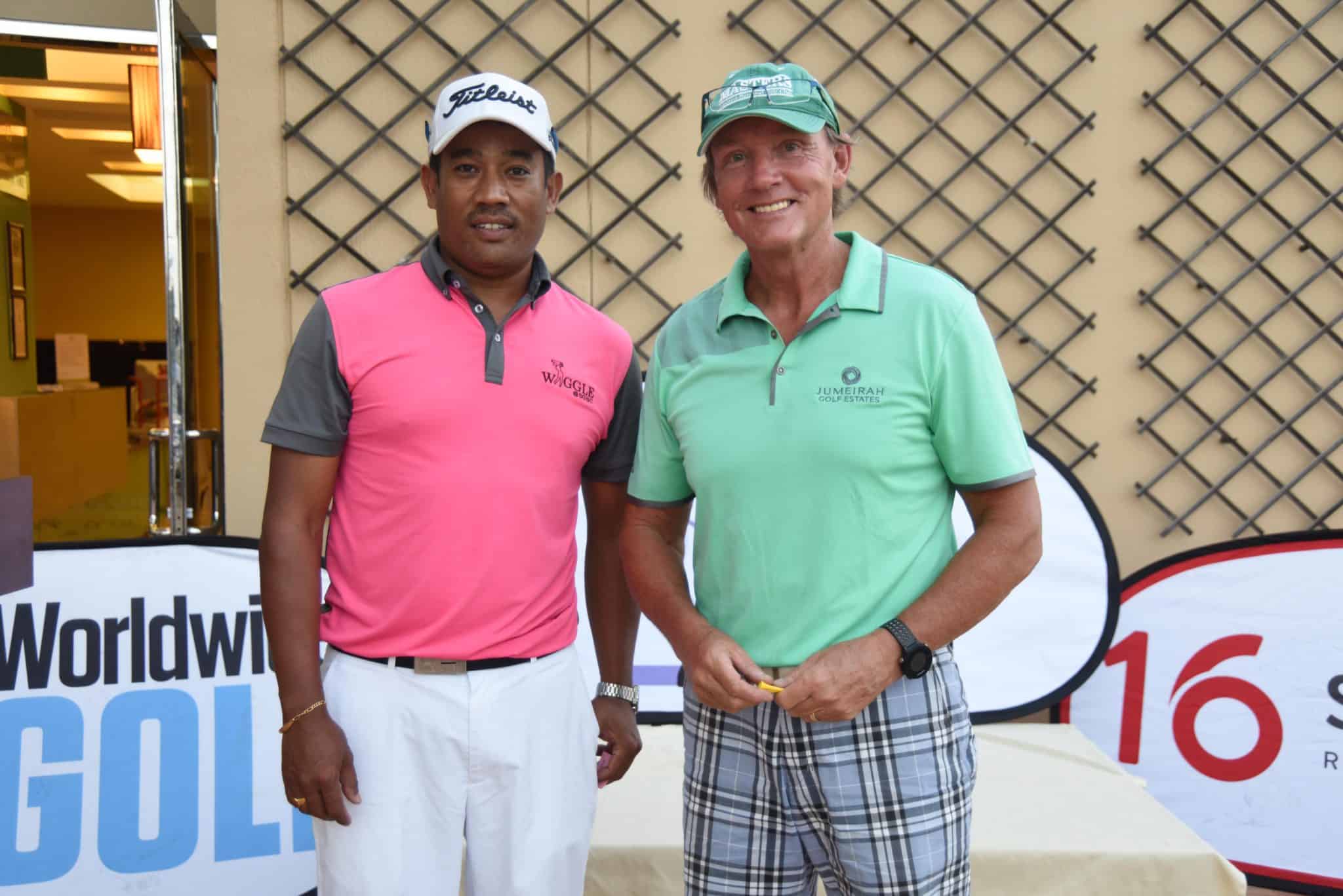 Each hole of the Peter Harradine-designed nine-hole track was played twice, using different tees on each round and Francis, playing off a 9 handicap, put in an impressive performance to emerge victorious with 37 Stableford points followed by Eugene Labuschagne who took second place ahead of Craig Moorfield on a back nine countback after both players scored 35 points.
All three have won through to the star-studded Mike Clark Golf Day where they will compete for the 'money can't buy' golf experience of a spot in the Rolex Pro-Am for the DP World Tour Championship, hospitality tickets to the tournament, an invitation to the players' beach party, a two-night stay at Atlantis, The Palm and a golf lesson with renowned PGA Master Professional Pete Cowen.
PROUD
"I'm very proud to win the opening event in the Swing Against Cancer Golf Series and get through to the grand final after a great day out with my colleagues," said Francis. "This cause is something that is very close to our hearts and our company does its best to support cancer charities so we are delighted to be involved. This is a great initiative by Worldwide Golf and Sixteen10 and I would like to congratulate them on such a wonderful event. Now I have a chance to win at the pro-am at the DP World Tour Championship and possibly stay in the Atlantis which should be marvelous!"
SIXTEEN10
Sharma, who works as a Club Technician for Pro Sports International, official distributors for Ping and Titleist and one of the Swing Against Cancer Series Gold Sponsors, turned on the style to emerge top of the pile in the pro division after shooting 2-over 74. He will compete with the other pro qualifiers for a 5-star golf holiday and a AED 5,000 winner's cheque at the Mike Clark Golf Day.
"I'm very happy with the result and looking forward to the final," he said. "It's a great series for a very good cause so I'd encourage other local pros to get involved."
Reza Sazegar, Managing Director of Sixteen10, co-organisers of the Swing Against Cancer Golf Series, won Nearest the Pin on hole 8/17 of the nine-hole course to claim an executive health check provided by Mediclinic while he turned provider for the Longest Drive contest on hole 7/16, donating a US Open flag signed by Rory McIlroy to winner Andrew Dancox.
"It's been a fantastic day and a great turnout at Sharjah Golf and Shooting Club," said Sazegar. "We could not have asked for more. Hopefully the momentum will build for the next qualifier at The Els Club on May 18th."
VOKEY WEDGE 

Titleist also ran a Nearest the Pin contest on hole 3/12 with each player testing their short game using a Vokey wedge which was also the prize, won by David Gross.
Martin Duff, Director of Golf at Sharjah Golf & Shooting Club, who also got involved by playing in the pro division, said:
"The event is a great concept and we are delighted to host the opening qualifier of the series. It has been a great success and I can tell that everyone has enjoyed it. The variety of the prizes, the format, and the fact that people are coming from all over the country to play, with different standards; professionals, high handicappers and ladies as well, is great. I'm sure it will go from strength to strength and I hope we make a lot of money for this great cause."
What the sponsors said: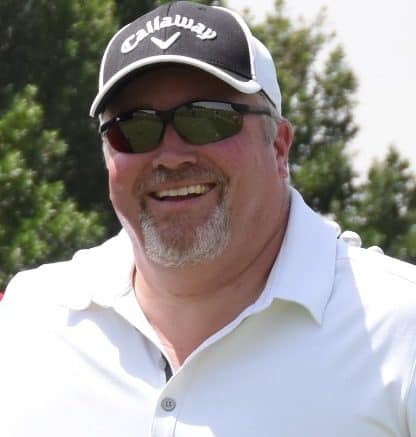 "We are very pleased and proud to be associated with this event. We took part last year at the Montgomerie and from there we got more involved. We have got many clients lined up to take part as well and personally I'm very keen about this cause because my wife is recovering from cancer from five years ago, so anything to do with cancer charities I am all for it!"
---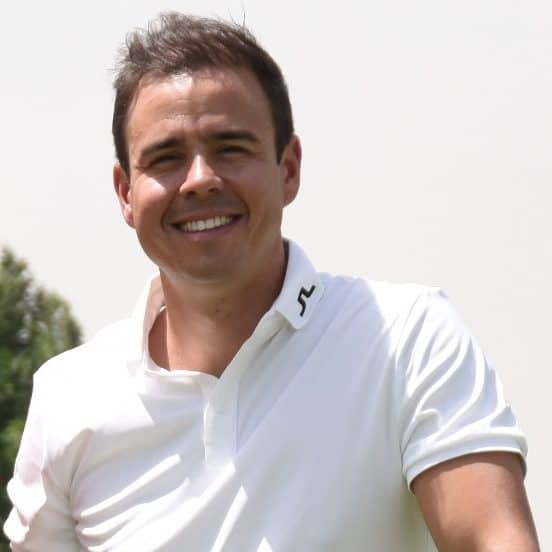 "My golf should have been a lot better! But obviously we are here for a great cause and also to enjoy ourselves. It is a noble charity and us as Multiplex are a big company in terms of reaching to charities and cancer is one of our big charities that we like to sponsor."
---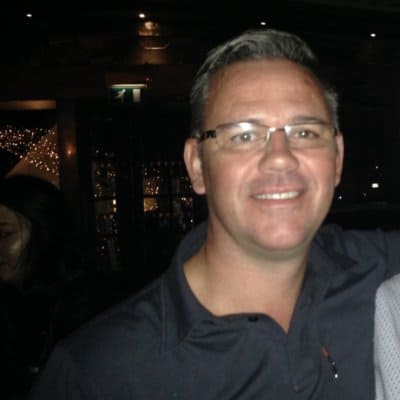 "We're delighted to be supporting the Swing Against Cancer Golf Series. It's a terrible disease that has touched most people – either directly or within their family – so we're proud to be involved and looking forward to the rest of the events." 
---
LADIES INTER-CLUB FINAL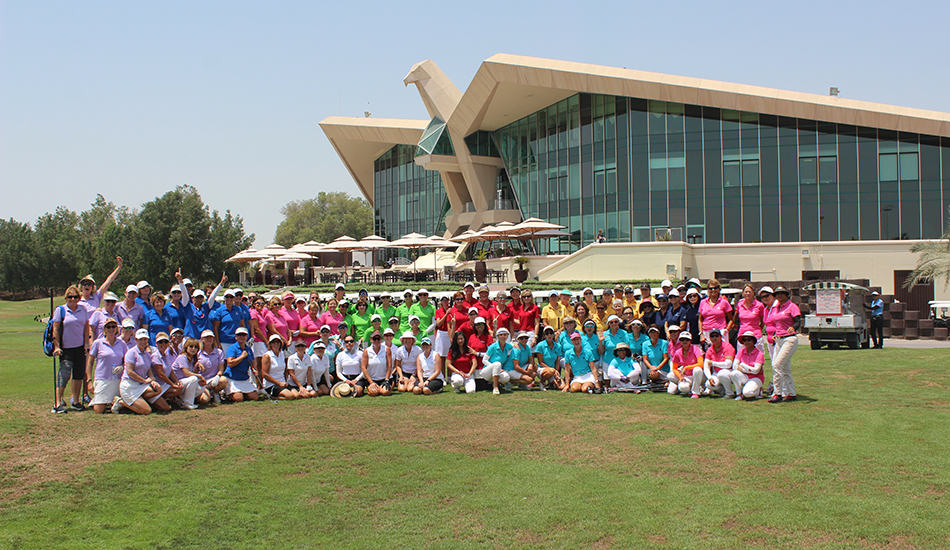 With the dust barely settled on the Worldwide Golf Open, the second event in the Swing Against Cancer Golf Series was hosted at Abu Dhabi Golf Club.
This time it was a 'ladies only' affair with the Inter-Club Final doubling up as a SACGC qualifier as over 100 players battled it out over the National Course where Cindy Lee Pridgen took the spoils in the pro division with a score of 36 Stableford points. In the amateur division Glory Xavier emerged victorious with 37 points followed by Christiane Sprunck on 35, Martha Wong on 34 and Michelle Larter on 33.
"I'm thrilled to have qualified for the grand final in the Swing Against Cancer Golf Series," said Pridgen. "This is a great way to bring people together and to raise money and awareness of cancer. I lost my mother to cancer almost 10 years ago now so this charity event hits close to home for me."
Meanwhile in the Inter-Club Final, Abu Dhabi Golf Club took the overall spoils with 241 points from The Address Montgomerie Dubai with 228 and Jumeirah Golf Estates with 218. The best performing team on the day was Emirates Golf Club with 260 points. "It's brilliant to have the support of Sandy Meyer from Women's Golf Middle East and all the lady players here supporting the Swing Against Cancer Golf Series whilst competing for great prizes from some of our sponsors such as Ping, who gave away a brand new fitted pink driver," said Reza Sazegar, Managing Director of Sixteen10, co-organisers of the Swing Against Cancer Golf Series along with Worldwide Golf. "I'm sure this is a platform that we can use to grow awareness for our charity partner, Friends of Cancer Patients."
GET INVOLVED AT THE DHL OPEN
Registration is now open for the third event in the Swing Against Cancer Golf Series, the hotly anticipated DHL Open taking place at The Els Club on Thursday May 18th.
At the conclusion of the event three more amateurs and one professional will qualify for the Mike Clark Golf Day, set to feature former England rugby captain Mike Tindall and several other celebrities, with a DP World Tour Championship pro-am spot and a host of other fabulous prizes up for grabs.
"We are proud to partner with such a worthwhile and professional series that covers great networking and branding opportunities whilst supporting such an important charity," said Elliot Santon, Regional Marketing Director, DHL.
On the day there will again be lots of other amazing prizes up for grabs – a fitted Scotty Cameron putter, Seawings flights, signed golfing memorabilia, an executive Mediclinic Health Check and more.
Following the golf there will be a private BBQ with drinks to continue the party and fundraising through the evening.
"Cancer is an indiscriminate disease that profoundly effects the lives of millions of people around the world each and every day, so we at The Els Club are delighted to be involved in such a worthy cause and play a part in creating awareness and by raising funds for cancer research," said Chris Brown, General Manager at The Els Club.
"The Els Club has been involved in many charity events over the years and it's always uplifting to see the enthusiasm and generosity of all involved and contribute to making these events an overwhelming success. I'm sure all those taking part in the Swing Against Cancer Golf Series will have a lot of fun over the qualifying stages and we wish all players the best of luck."
To register your interest please email: [email protected]; [email protected] or members can contact the club directly. 
Links Group Open 

Following hot on the heels of the DHL Open will be the Links Group Open at Dubai Creek Golf on May 19th where another three amateur spots and one pro spot in the Mike Clark Golf Day will be up for grabs. To register for this event please contact the club directly.