Scott Grayston had the pleasure of spending some time with the current Race to Dubai leader in Oman and found a disarmingly down-to-earth affable young man who is reaching for the stars with his feet firmly on the ground.
Shubhankar Sharma's whirlwind rise has been extraordinary this season and it's showing no signs of slowing down. The 21-year- old is the current Race to Dubai leader after already sealing two victories in his maiden season on the European Tour, at the Joburg Open and at the Maybank Championship, and he has recently accepted an invite to the Masters – which will be his first Major appearance. 
The most pleasing aspect of the Indian's rapid rise to prominence is his down-to-earth attitude towards others. I've yet to hear a bad word said about him. The amiable young man is at the top of his game right now but his feet are still planted firmly on the ground.
Fairytale Adventure
During the recent inaugural NBO Oman Open, Sharma would frequently leave his group of friends at the hotel and do the rounds, chatting to members of the tournament staff and journalists, often extolling the virtues of his beloved FC Barcelona and discussing the next targets on the horizon of his fairytale adventure. Unfortunately, he narrowly missed his first cut of the season in Oman, but he remained level-headed and upbeat, staying in the Sultanate to practice and spending time over the weekend talking to the club staff at the golf course and watching the golf with them. This generosity of spirit coupled with an impressive talent is making Sharma a real hit on and off the course in his breakthrough season.
"It's been absolutely life-changing so far playing on the European Tour," says Sharma. "I was looking forward to playing on the Asian Tour this year but when I won the Joburg Open I had to rearrange my schedule accordingly. I've managed to play some great new courses and met so many new faces it's been an amazing experience" The ironic thing is that Sharma, who is now the highest-ranked Indian golfer at 75th in the Official World Golf Ranking, wasn't even expecting to compete in South Africa where he romped home to a superb three-stroke victory over Erik Van Rooyen.
"I was playing in Mauritius the week before and I had a tournament scheduled on the Asian Tour the week after the Joburg Open so I was planning on going home for the week," he says. "Luckily I decided to play the Joburg Open instead! I was the only Indian playing that week so I did feel pretty lonely but I was proud of the way I played. I managed to stick in there and didn't get ahead of myself when I was in the lead.
Army Influence
"When the tournament got pushed to a Monday finish it was very difficult for me to sleep on the Sunday night. But I was so happy to be able to see it out and get a win under my belt." Sharma's breathtaking rise has been greeted with glee in his homeland and he's received plentiful support from the more established Indian golfers like Jeev Milkha Singh, Shiv Kapur and Anirban Lahiri. Kapur messaged Sharma on the eve of his Joburg triumph and inspired him with some unforgettable advice.
"Shiv messaged me and told me to try and win by as many shots as possible," reveals Sharma with a grin. "I was leading by five shots at the time and he said my target should be to win by seven and not to think about people who are trying to chase you down. I set myself that target and came out the other side with the win."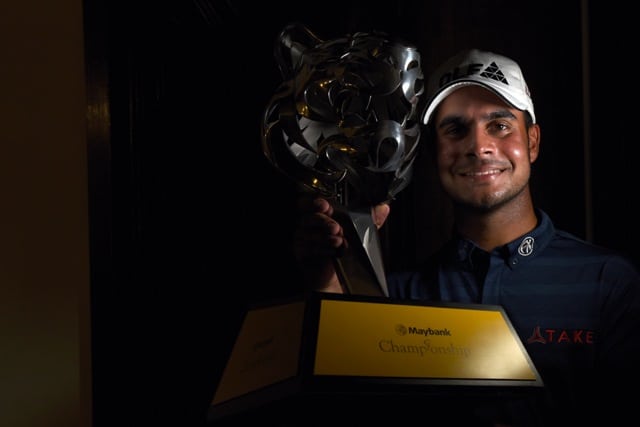 Desire
His sensational South African victory secured Sharma a coveted Open Championship spot at Carnoustie this summer, which will be his first Major. But the ambitious young star has his eyes firmly set on other Majors too with his debut set to be the Masters after accepting an invite this month. If he keeps on performing well, he will climb into the world's top 50 and be a regular in these substantial events up toe-to-toe with his golfing idols. It's not surprising that Sharma was inspired to take the European route rather than heading to America to emulate his favourite players.
"I didn't go to college in the USA because I always had the desire to play on the European Tour as soon as I could," says the army officer's son, who applies a military discipline and work ethic to his practice. "I loved watching The Ryder Cup when I was a little boy and I have always supported Europe. I feel the guys who come out of Europe are really good – players like Sergio Garcia, Rory McIlroy and Henrik Stenson are all top players who are among the best in the world. The European Tour travels all around the globe so it's fantastic to see all these new destinations and I believe it makes you a better player."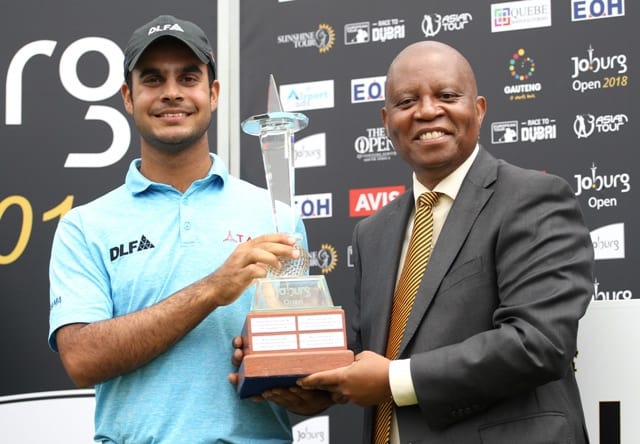 Mental Strength
"It's unbelievable that he's only 21," is the common exclamation when people meet Sharma for the first time and that was echoed by four-time European Tour winner Jeev Milkha Singh, who is considered by many to be the torchbearer for Indian golf. He commented: "Given the kind of coaching these guys have nowadays, anyone can get a good golf swing. "But there are very few blessed with Shubhankar's kind of mental strength and composure on the golf course. You can see the army influence in everything he does." Most 21-year-old golfers would be in awe of their heroes when meeting them for the first time but anxiety and Sharma just don't go together.
"I've never been nervous but every once in a while, I do back-up and watch the big names hit a few balls on the range so I can see how they play different shots," he says. "It's a dream come true for me being able to get so close to these guys and playing golf with them. I met Justin Rose in Indonesia after my victory and he congratulated me, which was pretty cool. "I met Henrik Stenson in Abu Dhabi. He looked at me then came over and shook my hand and we spoke about the EurAsia Cup. He was such a nice guy and it really made my day as he has been such a hero for me growing up."
Sharma might have missed the cut but his fans still love him 🇮🇳 #QatarMasters pic.twitter.com/89knI6WVHD

— The European Tour (@EuropeanTour) February 23, 2018
Sharma proved that his success in the Joburg Open was far from a fluke when he triumphed in his second European Tour event at the Maybank Championship in February and collected a cheque for €400,930.
Breath of Fresh Air
This means he has now won the same number of European Tour titles as Anirban Lahiri. He has also leapfrogged Lahiri in the world rankings with the 30-year-old in 79th position. But Lahiri is not bitter about his compatriot's meteoric rise to becoming the best Indian golfer on the planet. Instead, he describes Sharma as, "a breath of fresh air in professional sport". Coincidentally, Lahiri lifted the Maybank title in 2015 and went on to win the Hero Indian Open that season as well. It's a feat that Sharma would love to emulate in front of his friends and family on home soil this month.
However, fame still feels strange for Sharma who only just kept his Asian Tour card in 2016 and now finds himself under the glare of media spotlight due to his Race to Dubai-topping exploits. "When I returned to India after my victories, I had lots of media coverage which is something that I'm not used to.
Inspire more Indians
"But I guess that comes with playing well, so I have no cause to complain," he says. "I hope it keeps happening as often as possible, which means I'm playing well!" Cricket is still the most popular sport in India but golf and football are slowly growing in stature and both sports have huge appeal to Sharma. "I wish golf was as big as cricket in India," he says. "Hopefully, my success can inspire more Indians to take up golf. "I used to play cricket and football but now I just follow Barcelona who are my favourite team. I got the opportunity to go to the Nou Camp when I played Q-School so that was really special. I would love to meet Lionel Messi!"
If Sharma's star continues to rise he could soon be joining Messi and the world's sporting elite.