Annika Sörenstam's Instagram handle – @annika59 – serves as a modern-day reminder of legendary deeds past, the bio beneath it as a pointer to legacy enhancing exploits that remain passionate works in progress.
"Happy wife and mother. Cherish life and its opportunities."
As an icon of the game with no gender prefix required, 51-year-old Sörenstam has long worked at expert level when it comes to loving life and living it to the full.
Since 2009, the 10-time Major champion has shared the rich journey as wife to second husband Mike McGee, the son of former PGA Tour player Jerry. Together they're raising daughter Ava, 12, and golf-mad son William, 11 – all the while inspiring countless others from the next-gen as the famous frontwoman and dutiful CEO respectively of the ANNIKA Foundation.
Sörenstam might be hailed for her World Golf Hall of Fame career including 89 victories worldwide, but today it is family life and the development of young female golfers from around the world that truly fulfils the Swede.
Indeed, it was Ava and Will who inspired Mum to dust off her sticks and make a return to the LPGA Tour in January last year – 13 years after stepping away from top-flight golf.
Despite being north of 50, Sörenstam made the cut at the Gainbridge LPGA near her home in Orlando, Florida. Better was to come seven months later at the U.S. Senior Women's Open at Brooklawn Country Club in Fairfield, Conn.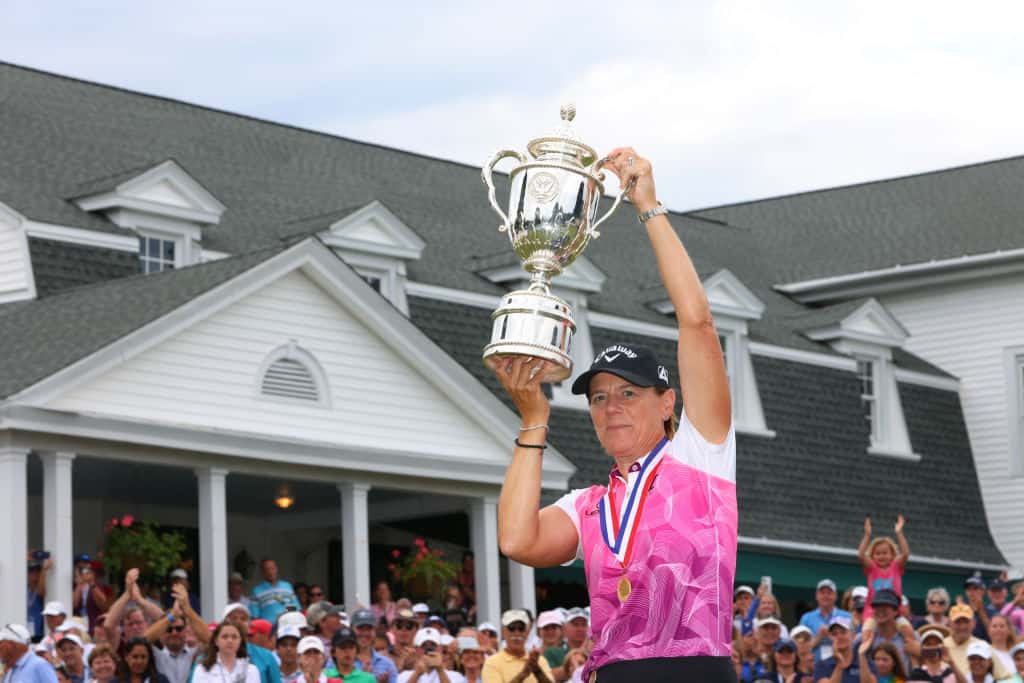 "I'd only ever seen these highlights of her playing really good, and I wanted to see that in person," said Will of his mother's debut in the senior Major.
With hubby Mike on the bag and Ava and Will following along in the galleries, Sörenstam delivered in trademark fashion, winning wire-to-wire. By eight strokes.
It earned an invite to the 77th U.S. Open played at Pine Needles Lodge and Golf Club last week. It was Sörenstam's 16th U.S. Open, a title she has captured three times previously including at Pine Needles in 1996 when she waltzed to victory by six shots.
"Teeing it up in the greatest championship in women's golf, at a venue that has so many incredible memories for me, and to be able to do so with my family means a lot to us," Sörenstam said.
"I'm sure Peggy Kirk Bell [Hall of Fame inductee and longtime Pine Needles owner] is looking down and smiling at how this all came together."
So will we see more of Sörenstam, who missed the cut ay Pine Needles following rounds of 74-81, inside the ropes?
"This is not necessarily about me trying to do a comeback," she said "It was more about the family. They wanted me to play, so it's very special."
Family values will also underpin another tournament dear to Sörenstam's heart. She won't have long between the U.S. Open and the €2 million Volvo Car Scandinavian Mixed hosted by Henrik and Annika either – the co-hosted and co-sanctioned event took starter's orders at Halmstad Golf Club on June 9.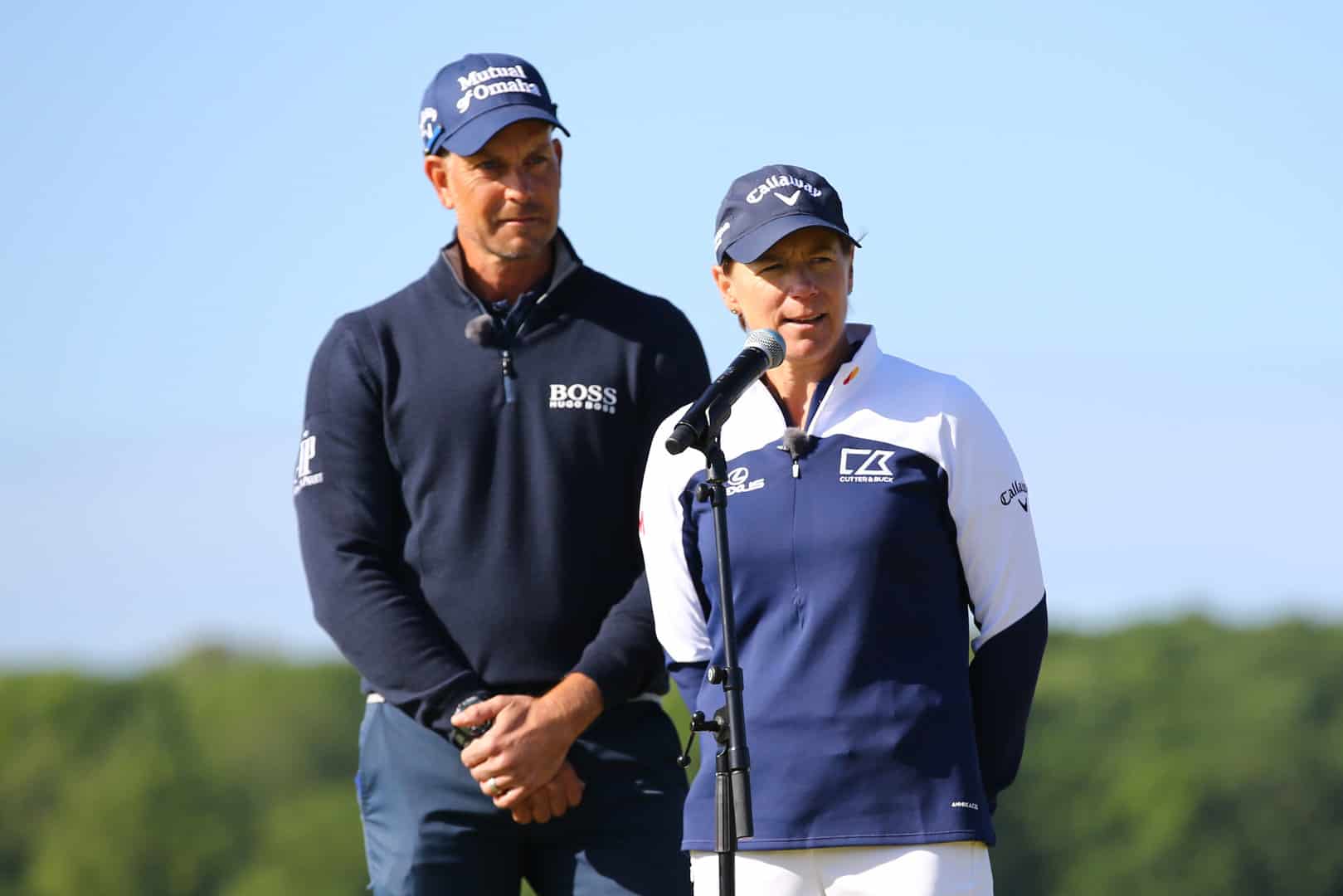 While a doubling of the prize purse will be big news for the 78 DP World Tour and 78 Ladies European Tour (LET) players involved, for former Solheim Cupper Sörenstam and her 46-year-old, Ryder Cup captaining co-host Henrik Stenson, throwing the gates open to fans in Tylösand is even more significant.
It will make a welcomed change from the inaugural event which was initially delayed by the pandemic and then played sans galleries in Gothenburg 12 months ago.   
"I'm excited for the next edition of the Scandinavian Mixed and to be playing at Halmstad Golf Club, a course that hosted the Solheim Cup and the ANNIKA Invitational Europe a few years ago, I know it will be a great week for everyone involved," said Sörenstam.
It will be a chance to inspire star-starved youngsters and continue to push the ANNIKA Foundation's over-arching remit of nurturing children into healthy and active adults. You can bet too that Sörenstam will take any opportunity to convince LET players, those current or aspiring, that golf is a game where both genders can compete, and win, on an equal footing.
"Bringing women and men together in a combined professional tournament was a huge success and we learned a lot from the event [last] year. Henrik and I want to bring our game to the younger generation in Sweden and we can't wait to have fans back to enjoy the special atmosphere."
In or outside the ropes, there will be no one in Tylösand with the star appeal of Sörenstam who has just been the subject of a documentary on Golf Channel. "Becoming Annika" chartered her rise from shy young Swede, to the tireless, dedicated accumulator of 72 LPGA Tour titles.  Among the film's many highlights is reference to the number affixed to her Insta handle. The 59 she shot at 2001 Standard Register Ping remains the only time a woman has shot golf's mythical number in competition. Incredibly, Sörenstam finished the 2001 season with eight wins, kicking off a five-year stretch where she won 46 of the 124 LPGA events she entered.
In 2003, she received a sponsor's invitation to the Bank of America Colonial. Some fans, and even players, didn't agree with Sörenstam becoming the first female in 51-years to tee it up in an official PGA Tour event. Despite misguided howls from the likes of Vijay Singh and eventually missing the cut by four strokes, the sweet-swinging Swede left Fort Worth with her reputation only enhanced.
Sörenstam subsequently turned down further PGA Tour invites but thankfully the game has moved on in the intervening 19 years, as evidenced by the events such as the Volvo Car Scandinavian Mixed.
As ever, Sörenstam is at the pointy end of change as the co-host of a mixed event co-sanctioned by one of the big male circuits. She's even got a Insta account to prove it.