During this difficult period the world is going through, the social media gurus have come together creating phenomenal content on social platforms giving us entertainment for our self-isolation zones, whether it's revolved around talent, is informative or comical, there's a variety of content out there to keep people entertained. Luckily for us golf fans, last night we got the opportunity to witness an in-depth Instagram live interview with the World Number One Rory McIlroy by former footballer and golf-obsessed pundit Jamie Redknapp.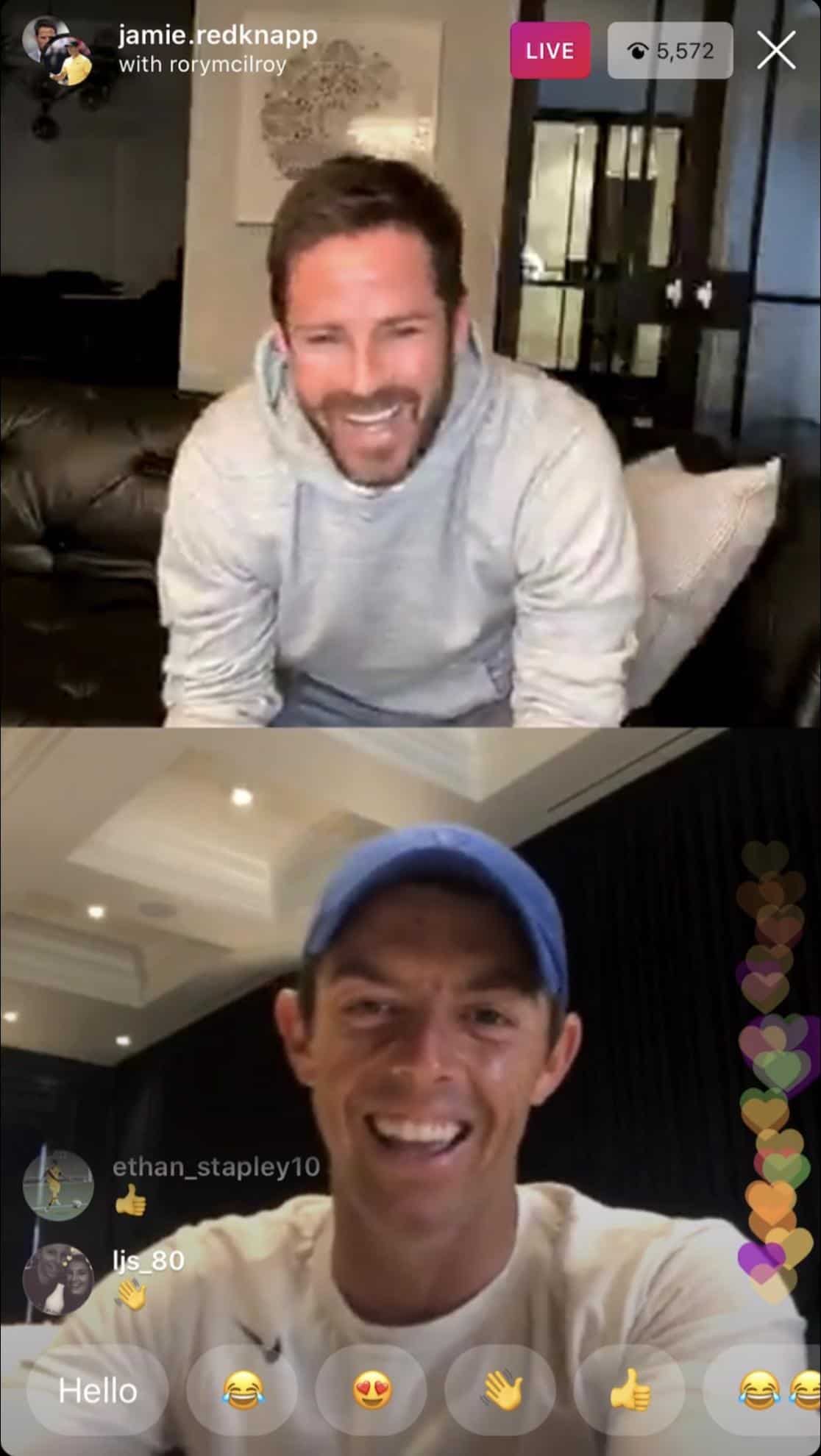 The Liverpool FC legend hosted an Interview on his Instagram (@Jamie.redknapp), featuring Rory McIlroy who was sat cozy in his mansion located on one of the tee boxes at The Bear's Club in Jupiter, U.S.A. McIlroy was live from his trophy room and even gave the 5,500 viewers a quick tour of all his trophies, as well as his first ever golf club and glove framed at the side of his indoor bar – a privilege for the lucky guests to see.
Redknapp was eager to find out what the Ulsterman has been up to during this isolation period and told him he is an animal on the peloton bike after sending regular updates into their WhatsApp group after his unbelievable efforts. McIlroy is using this off-time to keep on top of his fitness and said: "I'm glad I have the peloton; it gives me something to do."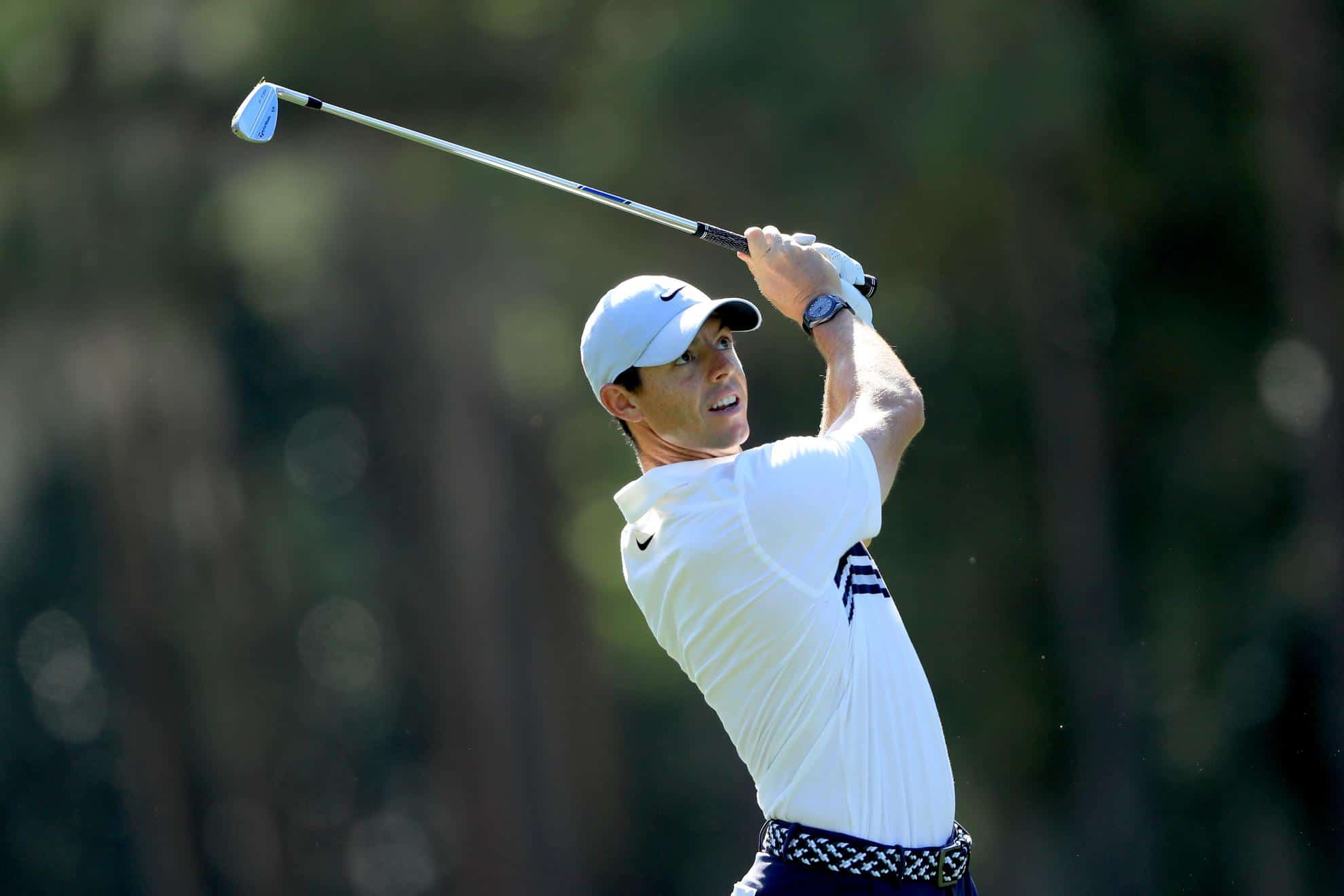 "I haven't touched a club since the Thursday at the Players Championship, I'm one of the people that needs something to practice for," he said, "I have no idea when we're going to play again, I'd rather build myself up to something. If I go out and hit balls now I'm not doing it for a purpose. I've realised over the past few weeks, I love golf but I love the competition more."
"If there's no competition, there's nothing to look forward too."
"Right now, I'm just enjoying my time at home, doing some gym work, relaxing around the pool and playing some tennis."
 Relationship with Tiger
Redknapp was keen to find out McIlroy's relationship with Tiger Woods, who currently lives 15 minutes down the road in Jupiter, Florida.
"I met Tiger when I was 15," he added. "At that point I played in some junior tournaments with Peter Uihlein, who's dad was the CEO of Titleist, and he arranged me to go over there for a Scotty Cameron fitting, then Tiger showed up, who I thought was a god." McIlroy was adamant that Tiger wouldn't have remembered the first time they met, but said they first had a one to one conversation at the 2007 Dubai Desert Classic.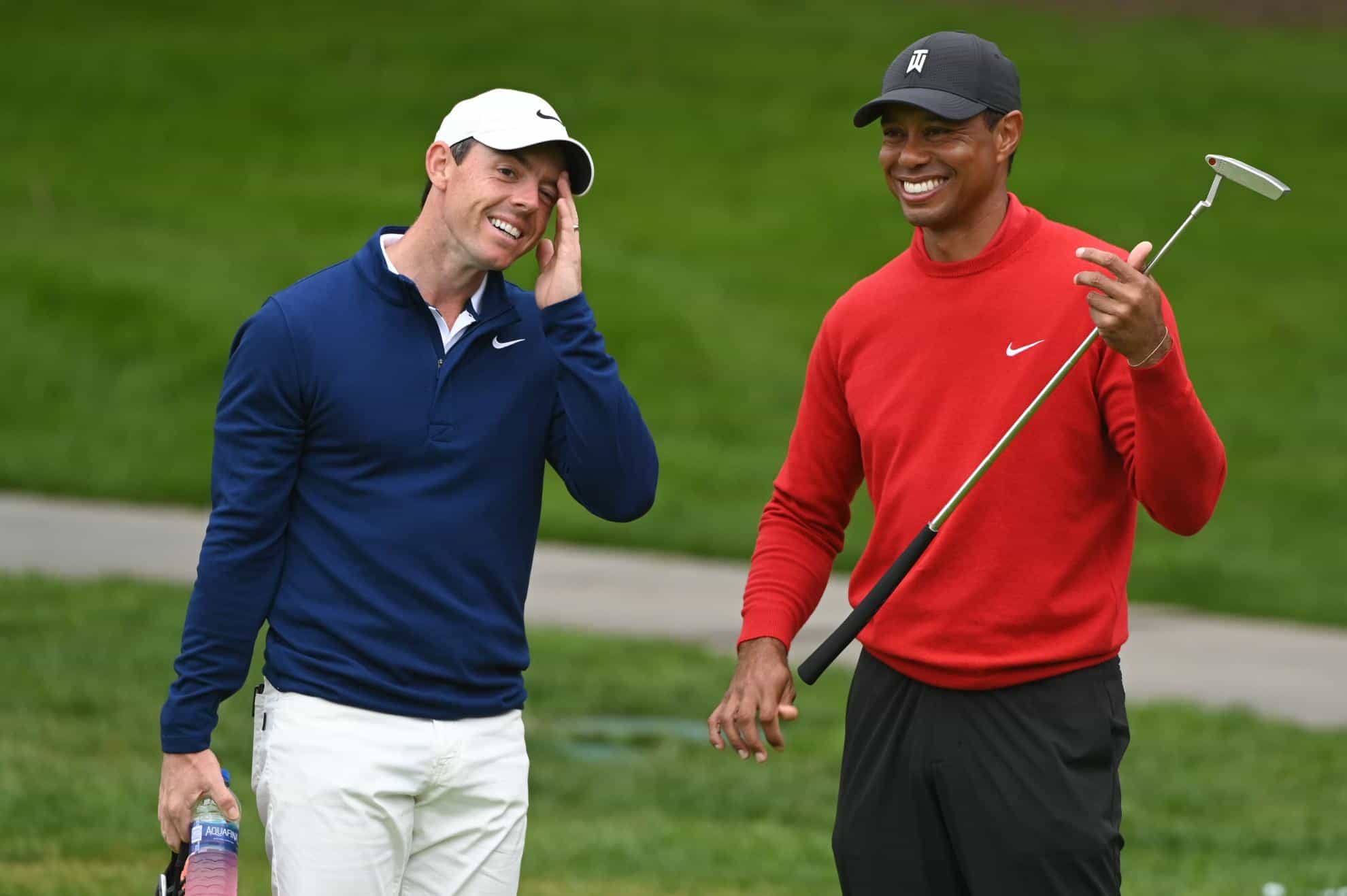 How do the other players feel when Tiger is up there, do they love to see him win?
The Irishman believes the 2019 Masters victory was one of the best sporting comebacks ever. "Anytime Tiger is in contention it's great, when he's up there it's a payrise for everyone – the media, the players, more eyeballs and more ratings on TV," he said. "But you wouldn't want to be on the wrong side of him like Brooks Koepka and Francesco Molinari last year, but for the rest of the field it was incredible. "
Rory's thoughts on the Masters and tour being postponed
 "Augusta play their cards close to their chest and don't let much out, I hope that they can play it in October which is the rumor, that would be great. Potentially you're looking at the four Majors, the Ryder Cup and FEDEX Cup in the space of 12 weeks if it does happen."
"If we all get back to playing mid-summer it's going to be a hectic couple of months."
Jamie: What would it mean to you to win the Masters?  
"I feel like I've still got 10-15 years left of my prime so plenty of time yet, every year you don't do it the pressure ramps up, winning the Masters will be a special moment in my career If I ever do it."
He's come close over the years, his best finish was 4th in 2015, with it being the only Major left to tick off all four. But how would you feel if you never won it? Redknapp asks.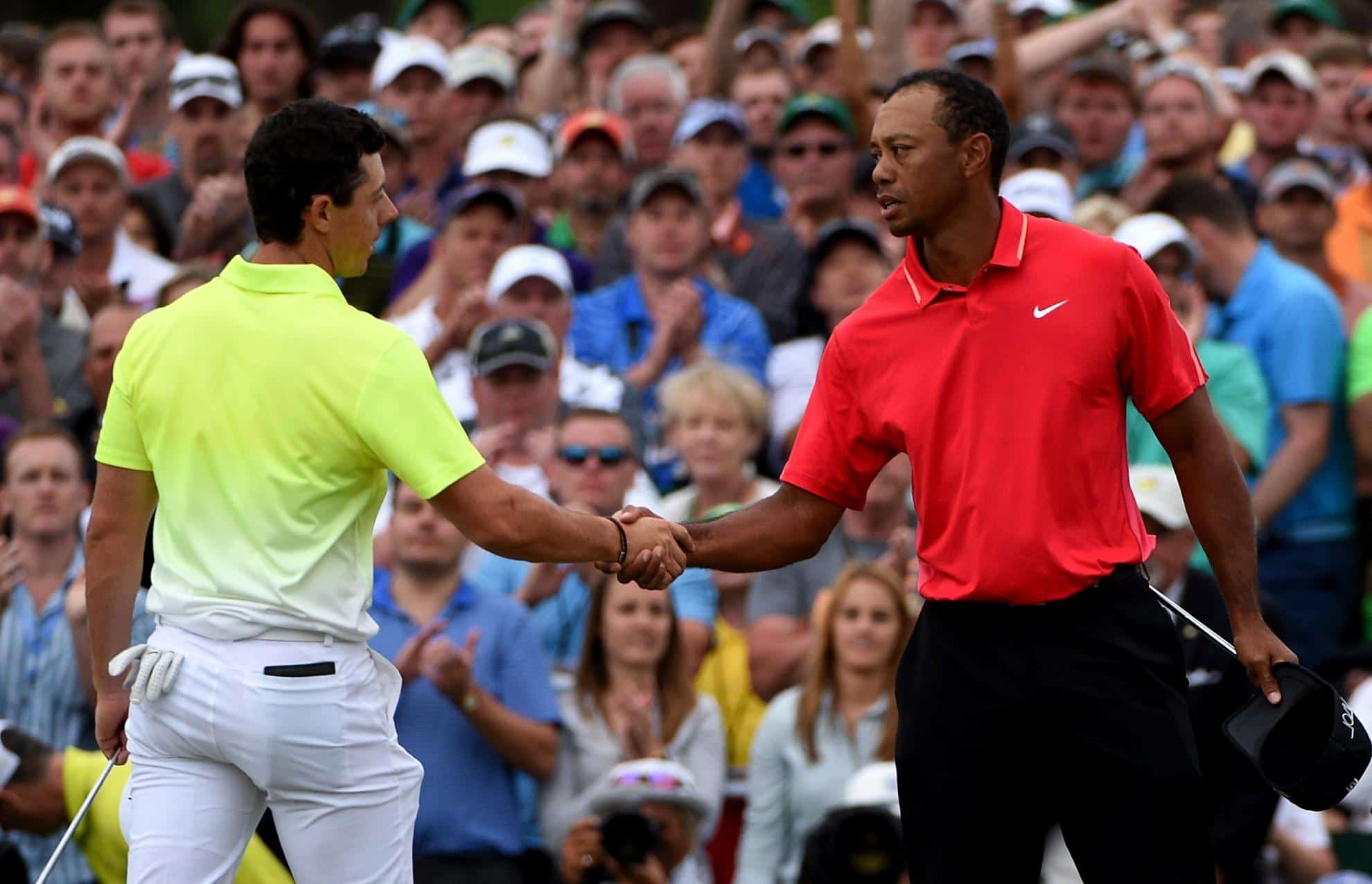 "If I didn't win it I'd still be happy. However, I'd miss going back there, going to the dinner and putting the green jacket on if going with friends, I've seen Phil Mickelson and Jordan Spieth do this – that's pretty cool."
"One of the great things about golf in general is there's always next week, it's not like playing in an FA Cup final where you can't go back next week.
Fun Questions
Jamie Redknapp: You're a Man United Fan, do you prefer Manchester City or Liverpool?
Rory McIlroy: Man City just because of Pep
JR: Red wine or beer?
RM: red wine
JR: Good 3 wood or good driver?
RM: Good driver
JR: Augusta or Holywood Golf Club?
RM: Augusta, I have made many great memories back at Holywood, playing 54 holes a day, but give me Augusta over any course in the world.
JR: David Beckham or Roy Keane?
RM: Beckham – nothing against Roy Keane, he was the glue who kept Manchester United together for many years, but I love David Beckham, his goal from the half way line and his freekicks – he's a legend.
JR: Harry Diamond or Niall O'Connor best caddie?
RM: Harry Diamond
JR: What series are you watching during quarantine?
RM: I'm currently watching Broadchurch, I've finished Narcos.
JR: If you could have a super power, what would it be?
RM: I'd like to be invisible, that would be nice and I'd go to Buckingham palace.
JR: Five Guys or McDonalds?
RM: Definitely Five Guys!
JR: Masters or The Open at St Andrews?
RM: "I can't believe I'm saying this… but The Masters.
McIlroy and Redknapp then went on to do a keepy-up challenge, one round with a golf ball and one round with a football, I think you can all predict the winner of both rounds on this one!
 The live stream will be on Jamie Redknapp's Instagram for 24 hours – click this link to check out the full interview.