Reigning Race to Dubai Champion Rory McIlroy returns to the site of his first professional victory on Irish soil this week as he tees it up at the Horizon Irish Open for 14th time in his career.
The 34-year-old won the 2016 Irish Open at the K Club by three shots ahead of Scotland's Russell Knox and Wales' Bradley Dredge following a stunning 253-yard approach shot on the last hole which lead to a victory-clinching eagle.
Now, the Northern Irishman is aiming to lift the trophy once more and join the likes of Seve Ballesteros and Bernhard Langer as players to win the event of multiple occasions.
"The atmosphere was electric during that final round in 2016 and I'm looking forward to seeing the fans out in force at The K Club once again," said McIlroy.
"The Irish Open is a tournament that I grew up not just watching on TV but attending as a kid, seeing all my favourite players there over the years. It's always been such a well-supported event.
"I've had my fair share of support and great memories at that tournament and going back to The K Club, it's where I've had the most success and I'm obviously excited to get back there."
While this iconic DP World Tour event has been a staple of McIlroy's playing schedule for long over a decade, he also has fond memories that stretch back to his youth.
Earliest memories
When asked to recall his earliest memories of the tournament, the world number two said: "I remember I played the European Young Masters in Germany in 2003, and we were flying back on that Sunday, it was at Portmarnock when Michael Campbell won.
"And we flew over Portmarnock, and I remember looking down and seeing the crowds, and because it was delayed, it was nearly dark. I think there were thunderstorms that day and it was delayed, and I remember flying in there on the flight from Germany and looking down and seeing all the crowds there.
"I don't know why it sticks in my head, but that's the sort of memory that I have about The Irish Open and first really dreaming about winning an Irish Open.
"So basically from then, I got an invite into The Irish Open in 2005 at Carton House. Obviously, you want to win your National Open. You don't get a chance to play in front of your home crowd very often. This is very special."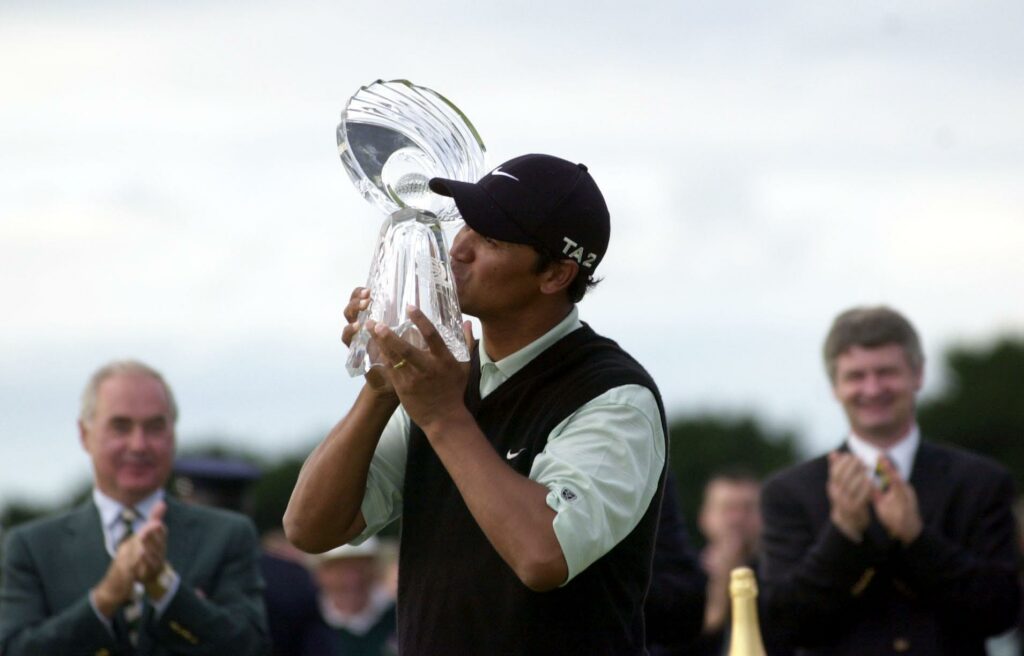 But just how significant was winning the event himself back in 2016?
"It ranks up there," added McIlroy. "When all is said and done, majors, WGCs — I'd rank this up here for me personally like a WGC, just below the majors.
"It's one of the things that I wanted to sort of tick off on my CV and thankfully I've been able to do it."
The Ryder Cup star is often a fan favourite wherever he travels in the world, especially on the DP World Tour. But it's back home in Ireland where the 16-time DP World Tour winner receives incredible support every time he tees it up.
"Irish golf fans are the best in the world," said McIlroy after his triumph in 2016.
"Rain or shine, hailstones, lightning; we had it all this week. We had all the four seasons in one day basically. They still come out in droves.
"I just wanted them to know that, because we play golf all over the world, and you know, that atmosphere on 16 was unlike anything else I've heard before."