Prior to holding the position of Global head of sponsorship for emirates airline, Roger Duthie was the PR manager for the Omega Dubai Desert Classic over 20 years ago. now he's starting a fresh chapter with Performance54, where he can blend his passion for the game and develop new partnerships.
Duthie previously worked at Emirates Airline for nearly 20 years as Global Head of Sponsorships, where he helped build the airline into one of the world's most iconic brands through the platform of high-profile sports, arts and cultural sponsorships.
These sponsorships included working with some of the world's major sporting organisations including The Ryder Cup, PGA Tour, PGA European Tour, Asian Tour, Sunshine Tour as well as host of other major events outside of golf including the FIFA World cup and the Rugby World Cup.
We recently caught up with Duthie at Emirates Golf Club to get the lowdown on his new position, how the pandemic has changed sponsorship and the importance of developing the audience in the Middle East.
---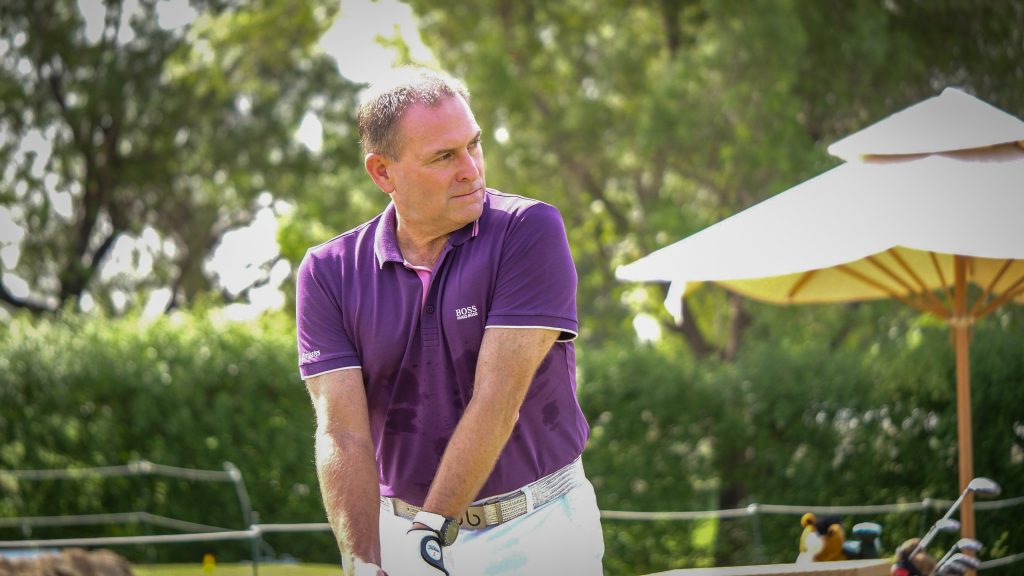 Worldwide Golf: You have been directly involved over many years with handling sponsorship agreements for Emirates Airline with both the European Tour and PGA Tour. What does golf bring to the table in terms of sponsorship exposure compared to football and Formula 1?
Roger Duthie: Golf is a really unique platform for sponsors. The beauty of golf is that it allows a local brand in a particular market to activate and that's through B2B opportunities, through hosting and through the local print media to get the coverage, but it also extends to regional coverage and, more importantly, global coverage for the sponsors, so it really ticks off three boxes in terms of exposure. The other unique offer that golf has is that it allows the sponsors and their guests to play in the arena of the professionals, tennis offers that a little bit but not actually during the tournament. The day before the professionals are playing the amateurs get to play with them, so that's really unique in the sporting world. Formula 1 and football offer really good global coverage but golf gives the opportunity to engage with fans directly during the entire week and offers the sponsors exceptional global, regional and local coverage and exposure.
WWG: Before you joined Emirates you were involved with the OMEGA Dubai Desert Classic, what was your role and how did you move into event sponsorship?
RD: I was a PR Manager for the OMEGA Dubai Desert Classic; it was the year before Tiger came out here and I actually wrote the original press release when he was announced to play. I managed the regional PR in the press office here and had some association with Emirates Airline who then approached me to come on board and ended up there for 20 years. It was a wonderful career.
WWG: You have dealt with a variety of sports since then, but which particular sport has moved with the times in terms of evolving with the change of audience and sponsorship demands?
RD: I'm going to answer that question a bit differently and say that the one sport that hasn't changed is golf. I'm a huge advocate of golf sponsorships and it's great for the company that I work for and it's great for other partners, but I think it's untapped potential, golf really has to look at different ways to capture new audiences.
For example, the average age of a golf fan in America watching on TV is 63 years old so those are the decision makers right now but in five years time they will have retired so golf really needs to capture a new audience, so it'll be really interesting if we could create a new format for golf or a new way to consume and watch golf. The other thing that's interesting about golf is that only about 40% of the time the top players play in these events and that's really unfortunate for fans, sponsors and broadcasters. If there's a way to have the top 50 players in the world play every three weeks, I think golf would really see a huge change and opportunity to capture new audiences, we need to get audiences younger in golf and offer new creative ways to view golf.
"Hats off to P54 for recognising the need to hire someone like myself who has that brand experience. I'll work with partners and advise them on what they should be doing to get the most out of their properties, I'll also be looking at new sponsors as well, and because of my role with Emirates I'm in a pretty good position to explain what an event can offer sponsors, even the existing ones. It will be quite a diverse role and I am really excited to be working with P54."
WWG: How has the pandemic changed the face of global sports sponsorship and advertising?
RD: During the pandemic a lot of brands were really trying to claw back some cash from rights holders and fair enough, sponsors pay a lot of money to get their brand on TV and to engage with fans either actively or through digital platforms. But COVID forced rights holders to change that and what they did, especially in America, was offer new branding opportunities so if you look at stadiums and arenas they are now covered with more branding for the sponsors. I think what COVID did was force the rights holders to look at creative ways to offer sponsors good benefits rather than claw back cash and, from my understanding in the market, sponsors are really happy with what's happening. Happy is a strong word but because sponsorship is about partnership, and COVID was no one's fault, it's really important for the sponsors to realise they are partners and to work with rights holders. They don't want to have to give the cash back because they need the operating capital, so they've offered those partners new and unique creative ways to get their narrative across to a global audience.
WWG: How important is it to develop the Middle East audience?
RD: The Middle East is very important for golf. The stakeholders here include Emirates Airline, Dubai Duty Free, ADNOC and of course DP World, these are global players, not just in sponsorship and golf but in commerce and business. To capture the Middle East is very important for the growth and development of sports and golf in general. It's important to offer TV platforms in this market, to offer the sponsors something unique and creative globally and a different way to get their story and narrative across to the world is very important, this market right here is the future of golf.