By Thomas Wragg
Most players book the first flight home after missing a cut on the European Tour, but not Robert Rock. The former Abu Dhabi HSBC Champion failed to make the weekend at each of this year's opening desert swing events in Abu Dhabi, Dubai and Saudi Arabia but was still found on the grounds at the business end of the tournaments giving guidance to his players on the range.
Now in his 19th year on Tour, the Englishman has always enjoyed the coaching side of the game which first started with two Ladies European Tour players, Amy Boulden and Kelsey MacDonald, before he took on Oliver Wilson in 2014. He's stable has steadily grown since then and he is fast becoming one of the most sought-after coaches for his fellow competitors.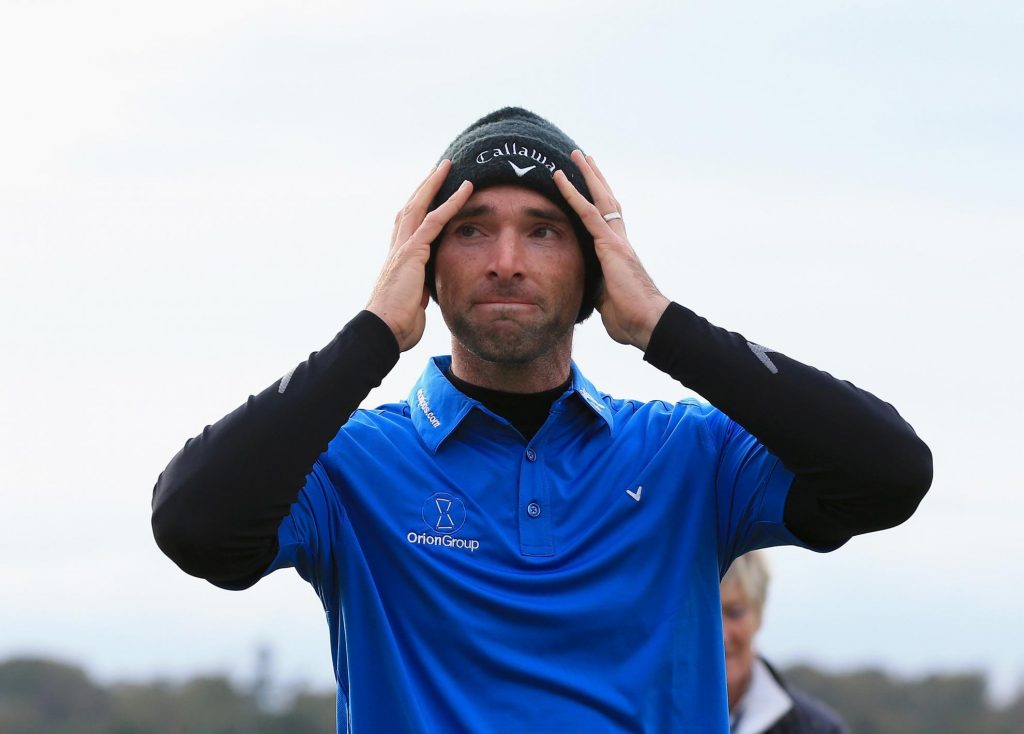 "My amateur career wasn't great, so I knew I was going to be a coach one day," recalls Rock. "My background was in coaching. I started off as a club pro and during my amateur career I felt that there wasn't anything there that really showed I could be a Touring professional.
"I knew I could win money in smaller events but to be doing it on this stage for twenty years – I'd never have thought that possible, so my plan was to be a coach because I'd always worked on my own game and always studied.
"I wasn't in county golf squads or getting England Golf coaching, so your choices are paying for lessons, which for a young pro is expensive, or you learn it yourself – and that was the only option really for me.
"So, I learnt as much as I could, through books, watching, listening, then I got to play out here surrounded by the best coaches and best players, so I kept my eyes and ears open."
'Mixed bag'
The experience of being in the company of the best coaches and players in the game has led the 42 year old to coaching 20 star names, including 25-time European Tour winner Lee Westwood, who started working with Rock in the build-up to his victory at the Abu Dhabi HSBC Championship presented by EGA.
"Now I coach nearly 20 players. It's a real mixed bag and that's the beauty of it," said Rock. "There's those with so much experience and then there's the younger lads who have their whole careers ahead of them – and I can hopefully help them avoid the same mistakes I've made, keep them working harder, give them a plan to stick to so they don't go off on tangents.
"We haven't had to say no to people because I've got Liam James and Benn Barham who help me, so now we're near 20 players. Matt Wallace, Matthias Schwab, Jason Scrivener, Wade Ormsby, Pablo Larrazábal, Thomas Bjørn and Lee Westwood to name a few.
"I've learnt a lot from them too, Larrazábal and Bjørn in particular have helped me with my short game. That's the nice part about having a group of players, as I can say to one player 'he's good so let's watch him' and they can bounce off each other. I can have a pool of thoughts after seeing how they all tackle certain shots."
Old school
Having been a coach for the majority of his adult life, Rock has had to adapt his coaching methods to the ever-changing game, with distance now one of the most focal points of golf. Having said that, Rock still relies on his own methods rather than using a piece of newer technology to measure distance.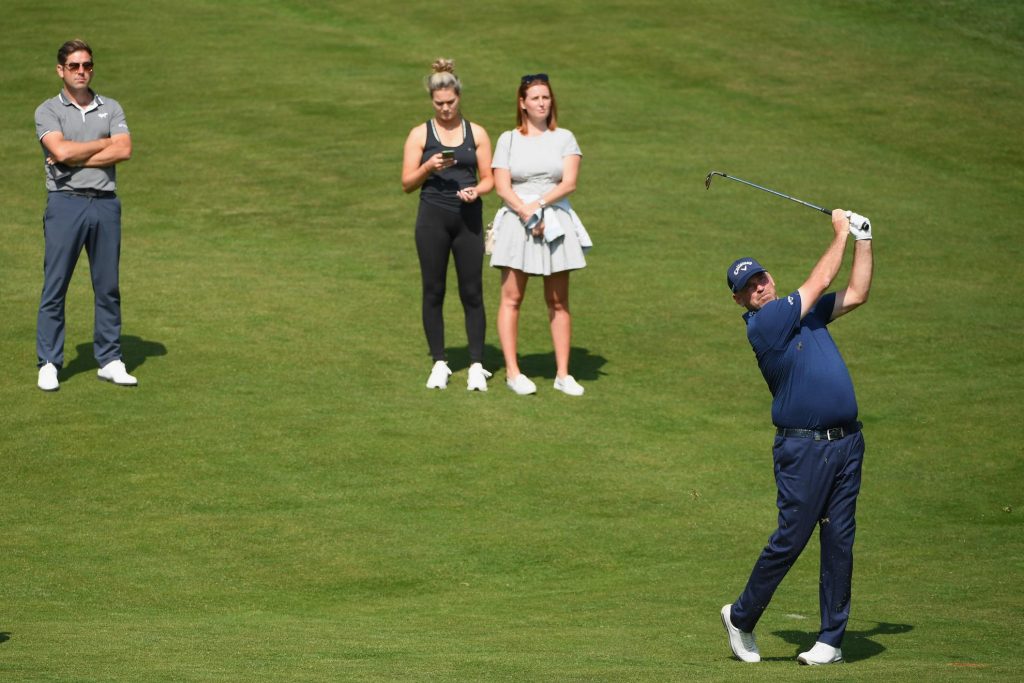 "I don't use Trackman, I have my own method," he said. "Trackman is probably one of the reasons that sends players down the wrong route and stops them from playing their best golf. It's a new piece of technology and you're left to interpret it how you choose because it doesn't come with a set of instructions.
"I've learnt to trust my own judgement of what I see and I think I've been around enough good players to see good golf shots, you can see them, hear them, tell people when they're in the right frame of mind and when their swings are in order you can see it clearly. But, the game has changed and hitting it a long way is a massive part of it now."
Tiger showdown
Despite not having belief that he had what it takes to make it in the professional game, Rock proved himself wrong by winning two European Tour titles including the memorable win in Abu Dhabi back in 2012 when he held off Tiger Woods and Rory McIlroy in a thrilling final round battle to get his hands on the iconic Falcon trophy.
"I took on Tiger in his Sunday red," he said. "Going into that day I was just happy just to be in that group and watch him potentially win a tournament. I'd watched most of his wins, some of them in the pro shop as an assistant pro, some of them in the evenings at home, some of them while out on the road playing tournaments myself and that was the closest you could get to watch, so I was prepared to enjoy it."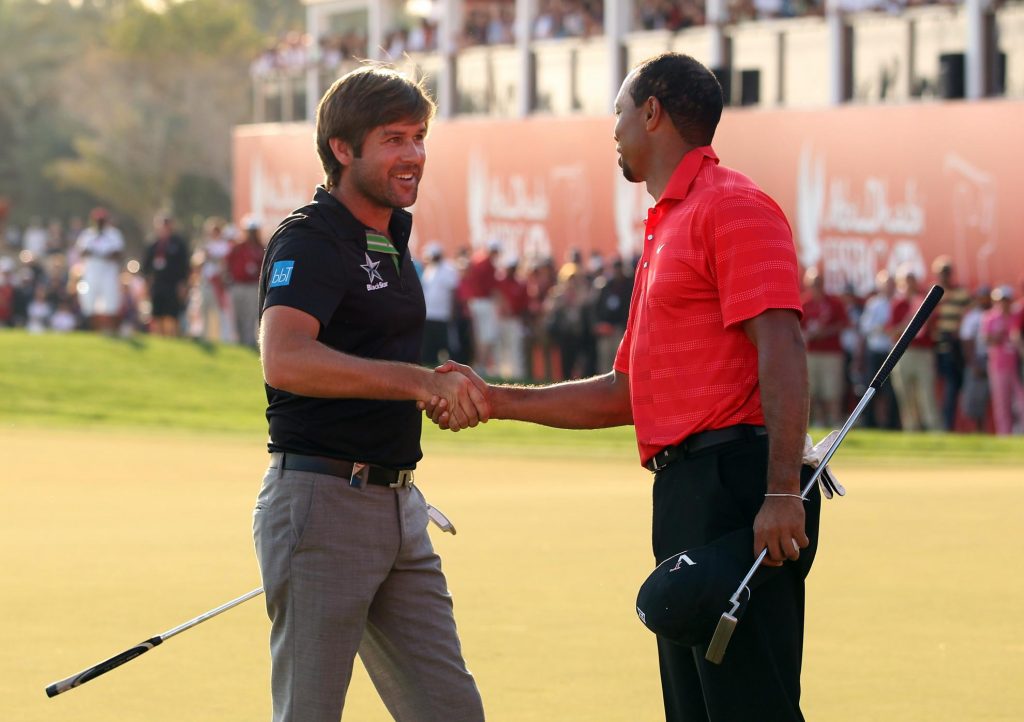 "It became much more than that, though. When you beat that fella in a tournament people don't forget it. I never will. Even some of the younger guys now – I played with Rasmus Højgaard recently and he asked me about it, he'd have been 11! It's just brilliant."
Lahinch relief 
Although Rock now spends more and more of his time on the coaching side of the game, he is still a regular on the circuit and has his European Tour playing privileges after finishing 108th in last year's Race to Dubai. But it could have been very different had he not finished tied fourth at last summer's Dubai Duty Free Irish Open.
"The 60 in the third round in Ireland saved my whole year last year; that was an amazing day!" said Rock, reflecting on his joint course record at Lahinch Golf Club. "It came out of nowhere really, I mean I had been putting well and there were a lot of tournaments where I'd been putting quite well, but to have a chance for a 59 that day was awesome.
"Last year I had played very averagely and took most of April off because my son was doing his exams at school, so the early part of the season didn't go great. I made a ten on the last hole during the third round in India when I was going well.
"Then I did very little until Ireland and just had a great week. After that I got in The Open and played poorly there, really hurt my thumb on holiday and I did nothing after that, so without that week in Ireland I'd be gone as a player."