Golf has an unexpected way of serving up rewards to those who deserve it, and 2008 Ryder Cup player Oliver Wilson knows this better than most. After suffering many missed cuts and recent poor results, the 42-year-old enjoyed a fairytale week at the 2022 Made in HimmerLand where he claimed a shock victory. The DP World Tour veteran explains to Worldwide Golf about how he reconstructed his game to compete at the highest level again.
"To get over the line in Denmark was huge," Wilson said. "I've had a lot of ups and downs. My driving is what has let me down over my career, especially the last decade. I'm not that long or straight. I decided I might as well just become long because If I'm long and wide then I'm better. I decided that I was going to change the way I trained. I sorted out information from long-drive coach Lee Cox and watched some of Joe Miller's stuff (two-time World Long Drive Champion). I integrated that into my game. It was an interesting process because I actually became straighter. I've learnt so much going through the process in the short space of time it has transformed my game. I became much more dynamic. Although it hurt my iron play for a little bit because I had to adapt my swing to both, I felt like it has made me better."
It's an interesting approach for a player edging towards to the latter stage of their career when the human body naturally becomes less athletic. However, it's clearly worked. The 42-year-old is averaging 307 yards off the tee this season which ranks him inside the top 35 longest players on the DP World Tour. In 2019, he drove it 286 yards and in 2015 his average was 275 yards. It's a significant increase.
Along with an improvement with the big stick, Wilson went searching for further help. "I've got a coach, Greg Brodie, that I've been working with for a year and a half," he added. "Greg's really helped me narrow down and give me some clarity to my game. There's a long way to go, but I feel like my path has become much clearer now. I'm trying to piece it all together, and it came together in Denmark which was fantastic."
Still, not many were tipping the then world number 745 to win the Made in HimmerLand this year. Wilson hadn't secured a top ten finish in his prior 79 starts on the DP World Tour across three seasons, while his unfavourable Category 16B was restricting his schedule. At this point, the sport must have seemed a dark place to the Englishman. His victory alongside Henrik Stenson in the 2008 Ryder Cup foursomes will have seemed a very distant memory.
"For the last few years I just wasn't happy with my game," Wilson added. "I was struggling and I just didn't want to play that kind of golf. I was hanging on to my career. It's been a rocky road. You never know if you feel like you're doing the right things. I wasn't getting a whole lot back from the game. Winning again gave me a massive sense of validation of all the hard work I put in. It was enormously rewarding. It was more about how I won and the quality of golf that I played on that Sunday. I would take a win anywhere I can, but those things that came together that week were how I wanted to play the game."
You only need to look at Wilson's recent record to realise how difficult the sport can be. Having lost his card back in 2016, the Englishman was forced to drop down to the Challenge Tour to chase a route back to the elite level. This was a long way from his career-best world ranking of 35th. There are not many golfers who can say they've experienced the highs of Ryder Cups and DP World Tour wins, to the stresses of missing cuts and losing a tour card.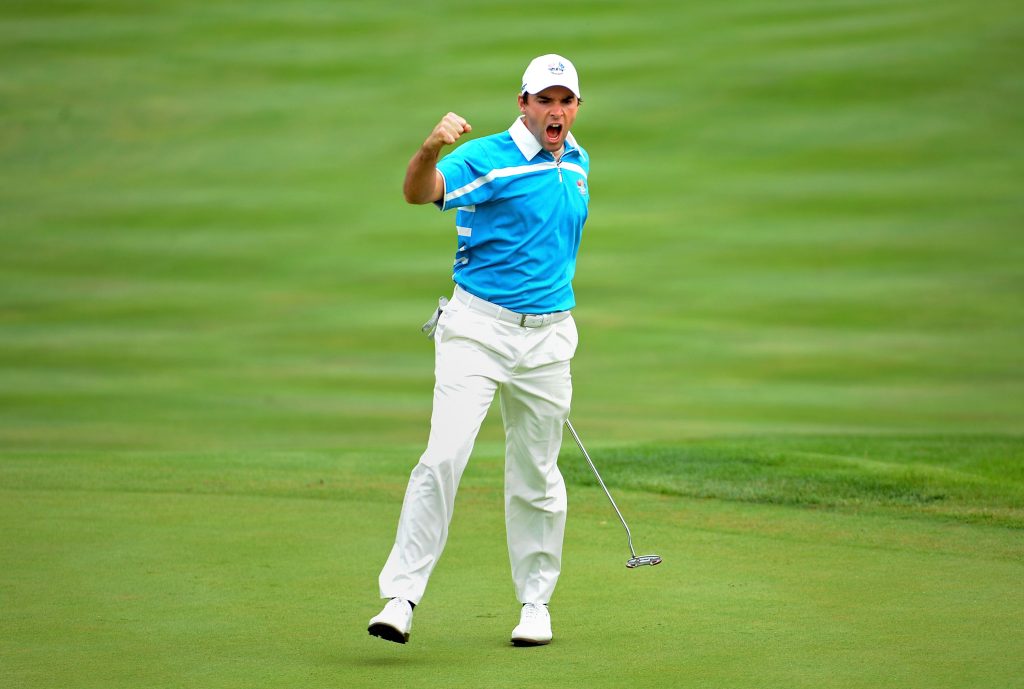 "It's so hard to compare because they are all so different," Wilson said when asked to compare the pressures of professional golf. "I played in the Ryder Cup when I was playing well and flying high. I felt invincible as most guys do when you qualify for that team. You're confident and your game is in good shape. In Denmark, I felt very calm but I was confident. I was in good shape again. But on the flip side, when you're battling for cuts, you clearly are not playing that great. Confidence isn't that high and you're down the bottom end. It's more a mental thing, more how you perceive the situation that anything. That's one of the things that I've worked hard on in getting a better perspective and not get caught up in the moment so much."
Next year will mark Wilson's 20th year as a professional with nearly 500 tournament appearances to his name including 15 starts in Major Championships. His first career victory was at the Alfred Dunhill Links where he beat Rory McIlroy by a single shot. It's a credit to 42-year-old's determination that he is still chasing improvement on the daily basis even after his second DP World Tour victory in Denmark, nearly eight years after winning the first. He remains convinced there's a lot more left in the tank.
"My game is still not anywhere near where I want to be with it," Wilson continued. "But I am improving all the time. The win was great in it giving me clarity with my playing schedule so I can plan, but it hasn't really made a difference with my golf. I'm still trying to get better in each area. It's just a bump forward in the right direction. I feel like if I continue to drive it better, the rest of the game I'm pretty good at. Hopefully that will help to bring the floor of my game up. When I'm playing well I feel like I can do a lot of good things on any golf course. I need to improve my bad golf which is what is getting better."
DP World Tour Championship return
The recent triumph has also propelled Wilson into contention for a spot at the lucrative DP World Tour Championship. He hasn't featured at the Earth Course since 2014 and is now just a couple of solid results away from confirming his spot in Dubai. "I'm very excited about the end of the season," Wilson added. "Hopefully I'll be good enough to get in the event in Dubai. To go back there in the mix, it's where you want to be. There's nothing worse than finishing your season and watching everyone else carry on playing because you're not eligible. That sucks. I am really thrilled that I could have that opportunity and it will be great place to go and test my game."
The likeable Englishman continues to chase a position in the top 50 of the DP World Tour Rankings for the first time since 2010. His stats are trending in the right direction, and the deserved Danish triumph has opened doors for bigger playing opportunities. As Wilson frequently mentioned in our interview, golf wasn't giving him much back. Hours on the range, missed cuts and moments where he will have questioned the purpose of it all. But the outpouring of emotion he displayed in the immediate aftermath of victory in HimmerLand proved that everything was worthwhile. From representing Team Europe, to falling back to the Challenge Tour, to then becoming a champion again – Wilson's career has had it all.