MyGolf Dubai finally celebrated their long-awaited grand opening last month with a star-studded ceremony at the region's largest indoor golf facility, which included attendance from several dignitaries and VIP's, including H.E. Saeed Mohammed Hareb, Secretary- General of Dubai Sports Council.
No expense was spared on the glitz and glamour of the evening with live music, premium F&B and taster golf sessions available for the many guests in attendance. Those who hadn't seen the venue since the soft opening in April were wowed with the premium indoor golf and entertainment facility that spans 14,000 square feet and recreates realistic, immersive experiences of nearly 190 golf courses from across the globe.
Now with its doors 'officially' open, Michael Zhao, Founder of MyGolf Dubai, is keen for every golfer in the region to experience everything the outstanding venue has to offer.
"I'm feeling on top of the world," said Zhao. "All the guests that we have here tonight at the grand opening didn't expect the venue to be this impressive at Dragon Mart. It's such an engaging and compelling place that hasn't been easy to put together but it has been worth all the hard work.
View this post on Instagram
"Hopefully 90% of the golf community would have already heard about MyGolf Dubai and now we've had our official grand opening, we want to bring them folks to our venue and give them a unique experience. We know there is so much we can offer the golf community so our focus is fully on letting them know more about the venue and to try it out themselves. If you're reading this, get yourself down!"
The recreational facility can host over 200 guests and mimics a premium golf club, including six private bays, two open bays, two VIP suites named after golf legends Arnold Palmer and Jack Nicklaus and one VVIP suite named after Tiger Woods. The suites feature a dedicated concierge making it the ideal place for social gatherings, occasions and celebrations.
"We are a client first concept; the whole team are dedicated to making our guests feel as welcome as possible," added Zhao. "I don't care if they are managing F&B or on the front desk, if they see a guest having any sort of problem, they will be over there in a shot to assist. It's the little details like that which matter. We want to understand every client's need and offer a holistic approach to whatever they may want from their experience at MyGolf Dubai."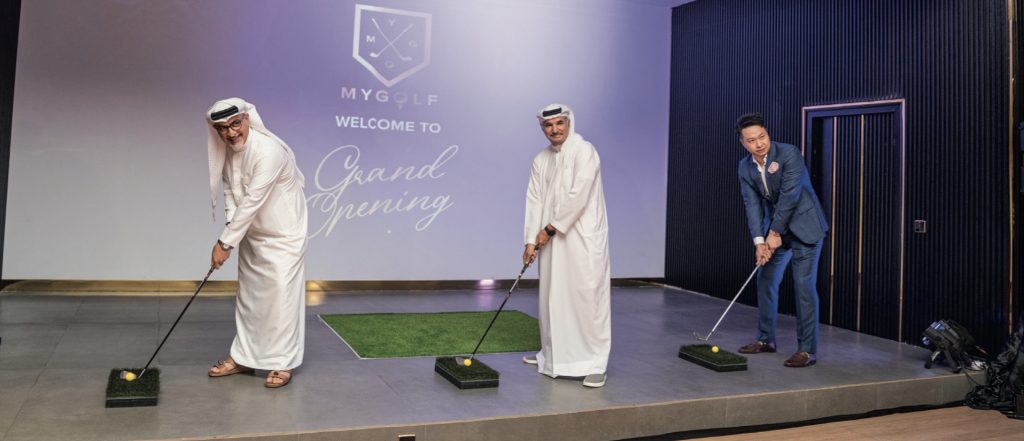 The venue will also feature three training studios in a modern social-leisure platform with state-of-the-art proprietary equipment, to support experienced golfers to enhance their technique, while offering amateur golfers personalised attention to learn in a supportive setting. Equipped with the latest technology that provides real-time shot statistics with 98% accuracy – including ball speed, angle of launch, left or right deviation, and distance hit – the unique experience enables golfers to improve their swing or putting with every turn.
MyGolf Dubai will offer two packages, Pay & Play – where golfers can enjoy a wide-range of golf courses at their own preferred time and bay; and the Membership package that offers a variety of options for individuals and corporate groups. MyGolf Dubai will also house a Golf Academy where trainees have the chance to learn under the supervisions of world-renowned coaches.