The MENA Tour came back with a bang after a 16-month hiatus last year with the region's only recognised golf tour witnessing plenty of incredible drama over the course of the season, including Josh Hill becoming the youngest winner of an OWGR event at just 15 years of age. Dubai resident MG Keyser secured the Journey to Jordan (Order of Merit) with an impressive US$45,153, accumulated throughout the season, courtesy of victories at the Al Zorah Open and the Dubai Open Presented by Turkish Airlines, which included a spellbinding second round 61 – a course and MENA Tour record. Here, the South African, who will be making his debut at this month's OMEGA Dubai Desert Classic, talks to Worldwide Golf's Thomas Wragg, about his impressive year and what lies ahead for the upcoming season.
MG KEYSER: "It's been a really busy season for me, but I'm delighted to have won the Journey to Jordan, especially as I'm based out here in Dubai. The competition last season was a lot stronger, which was great for the Tour and the players. It proved that my game was heading in the right direction and it's always good to compete against better players. At the start of the year there were plenty of Challenge Tour players competing on the MENA Tour, which was good. Hopefully, plenty more will compete this year to strengthen the Tour even more. Last season ticked a lot of boxes for me, playing against those guys and proving my game was good enough, and hopefully this year I can do the same.
I played the Desert Classic Shootout at Dubai Hills early last year and funnily enough I wasn't a big fan at first, but when I played there again for the Dubai Open my game just seemed to click. We had a weather delay due to hailstones – which you don't get to see in Dubai every day – and I came back out and a holed a 25-footer for birdie. From there on in it was a birdie-fest. I holed out from 82 yards on the 16th before making par on the 17th and then picking up another shot on the last. I was four under par on the 12th and ended up 11 under! Sometimes these things just happen.
OMEGA Desert Classic joy
It was a great honour for me to get a place in the OMEGA Dubai Desert Classic as I live out here and I've always tried to get into the tournament but never had any luck. I'm really looking forward to playing a tournament on home soil and having all my friends, family and sponsors around to support me. It's hard to play a European Tour event when you don't play them regularly but having support and being in Dubai will make me be more comfortable out on the Majlis. I enjoy playing the course and it will be good to play it under the same conditions that the European Tour guys play. I'll be doing a lot of practice in the lead-up to the tournament to ensure I'm ready.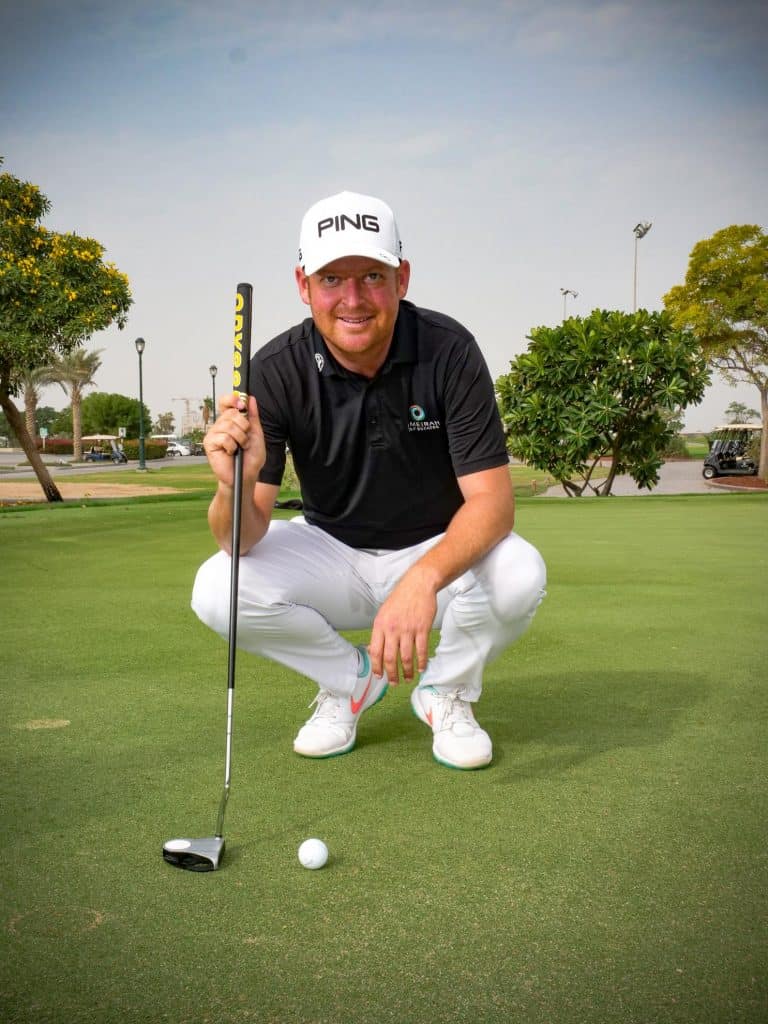 MENA Tour changes 
The guys at the MENA Tour did a great job with the changes they made. All the management team were pretty new on the Tour so during the first five weeks it took a while for everyone to get to know each other, but the last five events were really professionally run. The guys did a great job especially with all the incentives that we were given throughout the season. We used to just get a few opportunities to access other events but now we have incentives to play in Challenge Tour/Asian Tour/Q School events by finishing in certain positions in particular tournaments or the Journey to Jordan, which is great for us guys. That's going to keep attracting better players to come over and play the MENA Tour and, hopefully, really drive it forward. 
It's also a great experience for the amateurs to play alongside the professionals and it can help the federations in the region. When I was an amateur, I always wanted to play with the professionals as you can learn so much from them. Look at what Josh Hill did last year. He was amazing. He learned so much by playing with the professionals and the confidence he got from beating a pretty strong field is only going to help him progress with his game. 
He's a good player but it's different playing a tournament as an amateur as you have nothing to lose, while we professionals are playing for our careers. There's no denying he has something special about him, though. I've played with him before and I've seen him hit balls and walk about with a bit of a swagger, so I can definitely see him going places. I know his dad quite well. They work very hard and are up for the fight, so hopefully he can continue to improve. 
Destination Dubai
Dubai has been great to me. My family live out here and it has some of the best golfing facilities in the world. I've been lucky enough to get to know some really good people, especially Ismail Sharif at Jumeirah Golf Estates, who has given me the opportunity to be an Ambassador for JGE and let me use their facilities. I don't think there is anywhere in the world better for golf than Dubai. Every day is ideal golfing weather and it's all so professional. The support I've been given out here is amazing and I can't see myself leaving anytime soon.
2020 plans
I've signed with a management company in the Czech Republic, who have given me ten starts on the European Challenge Tour for next season. I've also got an Asian Tour card from winning the Journey to Jordan, which means I've kept my status there, so I'll play most of those events. Obviously, I've got the OMEGA Dubai Desert Classic and the Made in Denmark entries from the MENA Tour and my manager is hoping to get me into a couple of more European Tour events, so it's going to be a busy season! Hopefully, I can play a few MENA Tour events as well, as I enjoy playing out here and I want to continue to support them. My short-term goal is to finish in the top ten at the Desert Classic which would get me into the Saudi International powered by SBIA. My long-term goal is to try and reach the highest status in the best tours around the world. Todd Clements did an amazing job last year in getting a Challenge Tour card on the minimum number of invites so, potentially, I can do that with the ten starts I have."