One of the lasting impressions spectators take away from a day at the DP World Tour Championship is the sheer sense of fun spent in a relaxed, friendly atmosphere.
The excitement is guaranteed as the top-60 players on the European Tour compete for the Player of the Year title and $8 million in prize money, yet the overall success of the Championship can be measured by the number of smiling faces to be seen at Jumeirah Golf Estates.
The tournament certainly brings out the best in the players and the thousands of spectators who turn out in force every year.
A contributing factor to the success of the tournament is the expertise and commitment of the volunteers who give up their time and effort to make sure the event runs smoothly and that everyone enjoys the experience.
Volunteers come from all around the world and, over the years, they have become a close-knit band of friends who take pride in a job well done.
10th Year of Organising
The hub of the operation revolves around Chief Marshal, Jenni Hoskins, who is in her 10th year of organising and orchestrating the volunteers over the week of the tournament.
"I start gathering the Team in July in preparation for the event in November," says Jenni. "It's more like putting together a reunion than anything else. So many of them have made close friends with their fellow volunteers since the inaugural tournament started back in 2009 and it's a rewarding and humbling experience for me to make contact with the Team to check their availability.
"If any of my regular volunteers cannot make it to the tournament in a particular year, often due to illness or family commitments, especially those from overseas, they will still reply to let me know how disappointed they are not to be able to support.
"They always ask to be put on my following year's list so they are not forgotten. In many cases, they feel they are letting me down so they have already lined up a friend as a stand-in to ensure I have their continued support for future years." Jenni is both recruitment officer and manager of the Team that comprises 40-45 per cent of volunteers from overseas with the remaining numbers coming from the Middle East.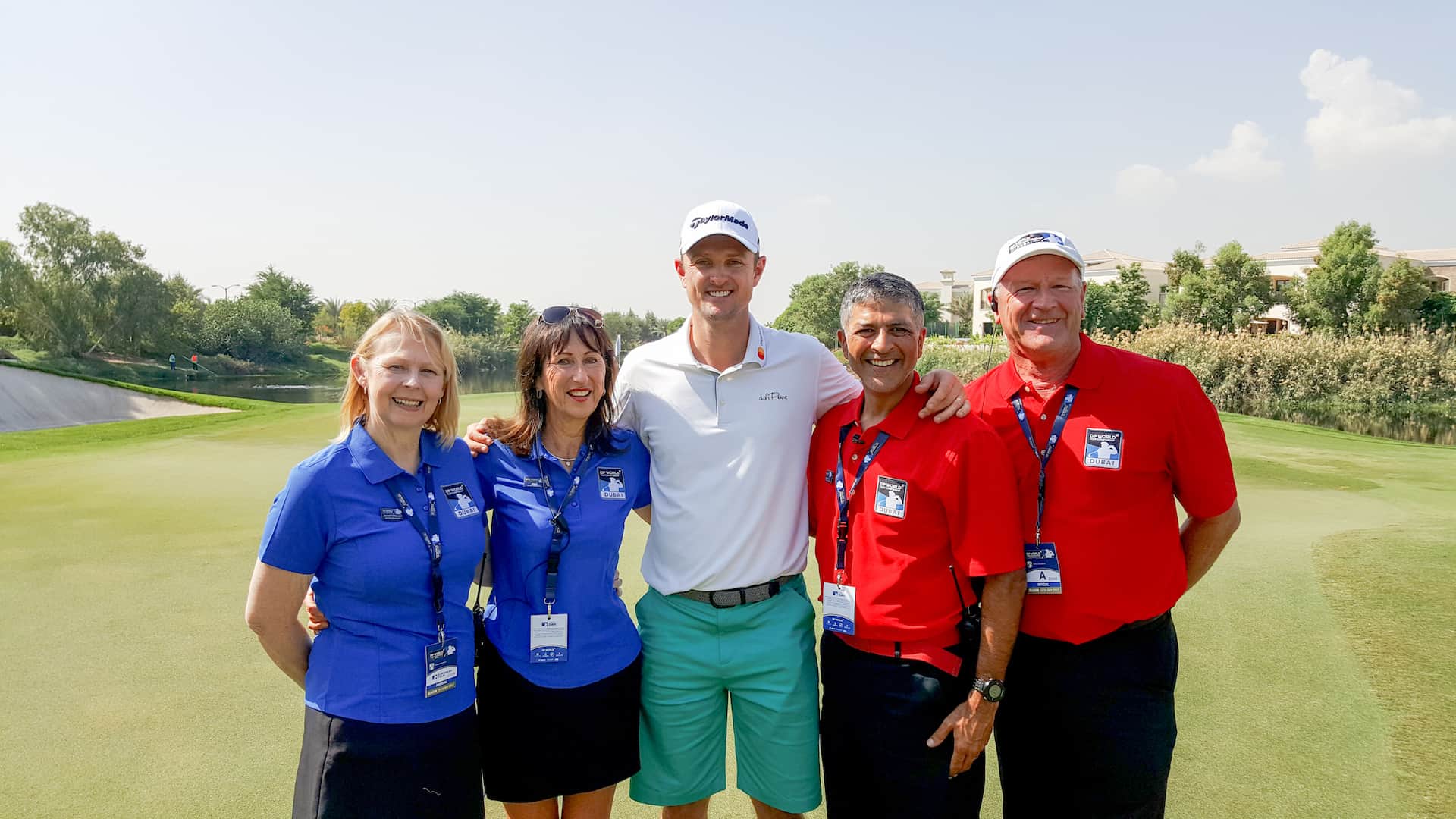 Many nationalities are represented, and the amazing camaraderie amongst the volunteers that has built up over the years is part of the attraction of being a volunteer. Overall, Jenni requires up to 300 volunteers for the four days of the tournament in a variety of different duties, from marshals to scoreboard operators.
"Regardless of where they are from, they come together as one Team. They know the routine and how they will spend their working time well before they arrive, and they are aware of the expectations we have of them.
"They always support each other, and they make a huge contribution to the success of one of the most spectacular Championships in world golf. They are totally passionate about the event, and even those who don't play golf, want to experience the atmosphere.
"They enjoy meeting up with old friends, made through their teamwork, and coming together in a friendly and happy environment, with no time to worry about other matters for a while.
"They feel they are an integral part of the event – and with their knowledge and relaxed manner they can handle the most difficult of situations.
'All about friendship'
"It's really all about friendship and experiencing good times together. It's what draws them back, year after year, creating memories and looking towards the future, building mutual trust and respect for each other and working as groups within the Team."
The DP World Tour Championship is unlike any other event and has earned the reputation of being one of the best run and most enjoyable tournaments on the Tour.
Jenni and her volunteers can take a lot of credit for creating an ambience that exists for all of the four days. Jenni's happy family also use their skill and initiative to defuse any possible situations before they become an issue, which is why they are widely respected by the players, spectators and officials.
Available roles:
With a different format and a smaller field of 60 leading players, there are only 30 matches played each day, so usual requirements are slightly different.
TV Support Crew: 28 volunteers are normally required in various roles, such as ball-spotters, buggy drivers, camera assistants, mic holders, fairway walkers, pole pointers and many more.
Walking Scorers: 30 are required, one for each match, who will stay with their two players for the entire match.
Shuttle Drivers: Usually 6 are required to cover throughout each day as a team, taking the players from one area to another.
Static Marshals: Around 45-60 are deployed at various important locations on the course, to ensure the smooth-running of play and to maintain order where necessary
Walking Marshals: Around 120-140 are needed to walk with the players to keep order around the course and allow their players to carry out their play in a peaceful and uninterrupted environment
Jenni explains: "Since I took on the role of Chief Marshal in 2011 for the 3rd DPWTC, many local volunteers came on board to support me, having worked with me on other tournaments in Dubai.
"The format and the smaller field of the top 60 players interested the volunteers and the numbers soon increased with word getting around overseas, so our International support grew at a rapid rate.
"I continue every year to look for new ideas and new ways to add to the excitement of working as a volunteer, in terms of looking after them, caring for them, listening to them and ensuring each one felt they were contributing an important duty, which has helped me produce the great Team I have today.
"Sincere appreciation goes a long way to creating a happy member of the DP World Tour Championship family of volunteers and long may that continue!"
If you would like to participate and experience the exciting challenges of becoming a volunteer for the European Tour's season-ending Championship, then please contact Jenni at: jengolfdxb@hotmail.com