Ismail Sharif, the 'Forefather of Emirati Golf', talks exclusively to Richard Bevan about his life in the game, his new role at Jumeirah Golf Estates and his belief that the MENA Tour is straying away from its original mandate.
It's UAE National Day 1992 and Ismail Sharif is getting hot under the collar of his Kandura on the driving range at Emirates Golf Club. The 'stick' his Japanese friend has thrust into his hands seems entirely unfit for the purpose of hitting the collection of small, hard white balls that lie at his feet with and they're firing off in every direction but straight – topping, chunking, slicing, hooking or, more often than not, staying exactly where they are as he produces yet another 'air shot' sending him spinning helplessly off balance.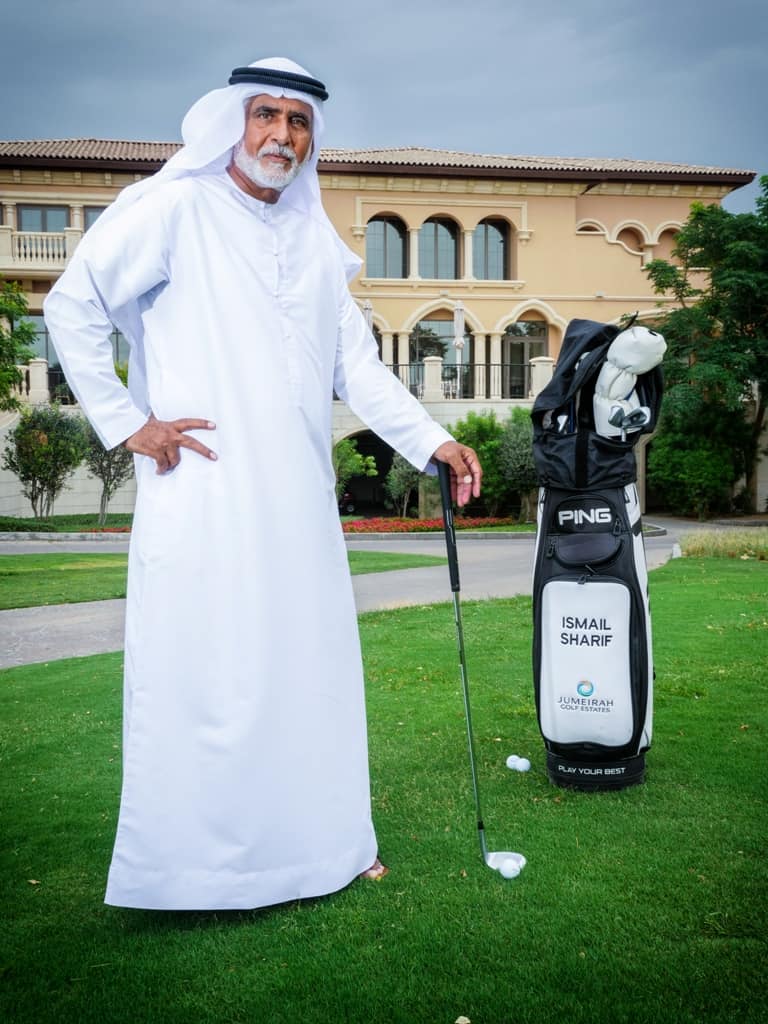 But then a breakthrough. The 'stick' is made for right handed players and Sharif is a lefty. 'That must be it,' he thinks and off they march to the golf club reception to procure a left handed one.

"My friend started asking the receptionist about tee times," recalls Sharif as we chat in the shadow of the imposing clubhouse at Jumeirah Golf Estates, where he has been in the role of acting Managing Director the past nine months. "I was completely oblivious to what that meant – I thought he was talking about tea, the drink! I said: 'I'm not in the mood for tea, I just want to play some golf!"
His mood didn't improve when the receptionist in question refused to lend Sharif a left-handed club as he was not a member – despite his friend being one. It was his first experience of the barriers to entry he feels existed around the sport. 
"I promised her that I'd become a member and I would come every day to the golf club to the point where she would get fed up of seeing my face!" he laughs. 
Become a member he did and he improved with remarkable speed – a process that was helped by some sound advice from none other than eight-time Order of Merit champion Colin Montgomerie. "The same friend who encouraged me to take up golf was taking part in the Dubai Desert Classic Pro-Am, and he told me that he needed a caddie," says Sharif. "He was playing with Colin Montgomerie. It was not as pleasant as I hoped it would be – I had no idea about the rules, and I was moving while he was hitting the ball so I distracted him a couple of times, which made him very angry! 
"I had the chance to speak with Montgomerie and I asked for his guidance about how I could improve my golf and he said: 'Don't take any advice from your friend! Instead of him teaching you, you should go to a proper golf academy and learn all about the game.' 
Sharif took the advice to heart and joined the newly opened Dubai Creek Golf & Yacht Club's Academy as one of its first regular students. Athletic and sporty by nature, like many Emiratis, he was a keen footballer (he later owned a football club in Slovakia) – a highly regarded goalkeeper – and during his five years in the Amiri Guard became an ace pistol shot. But once bitten by the golf bug, like many who came before or since, it consumed his passion. 
"I would be in the club at 2pm and I would leave at 10pm, I was hitting around 2,000 balls a day," he says. "One of the key reasons of my success in golf is that I did not go to the main 18-hole course in my first six months. I was either on the driving range or on Par 3 course. That helped me bring my handicap down to 14 and in 1994 I played in my first Dubai Desert Classic Pro-Am with Ernie Els, whom I've since gotten to know very well."
First Emirati professional
Sharif went on to win seven National Championships and in 2004, aged 44, became the first Emirati to turn professional. But his main goal in the game was not to accumulate personal honours – it was to lead the way for his fellow Emiratis and show them that success and accomplishment were more than possible in what was a hitherto alien and unfamiliar sport.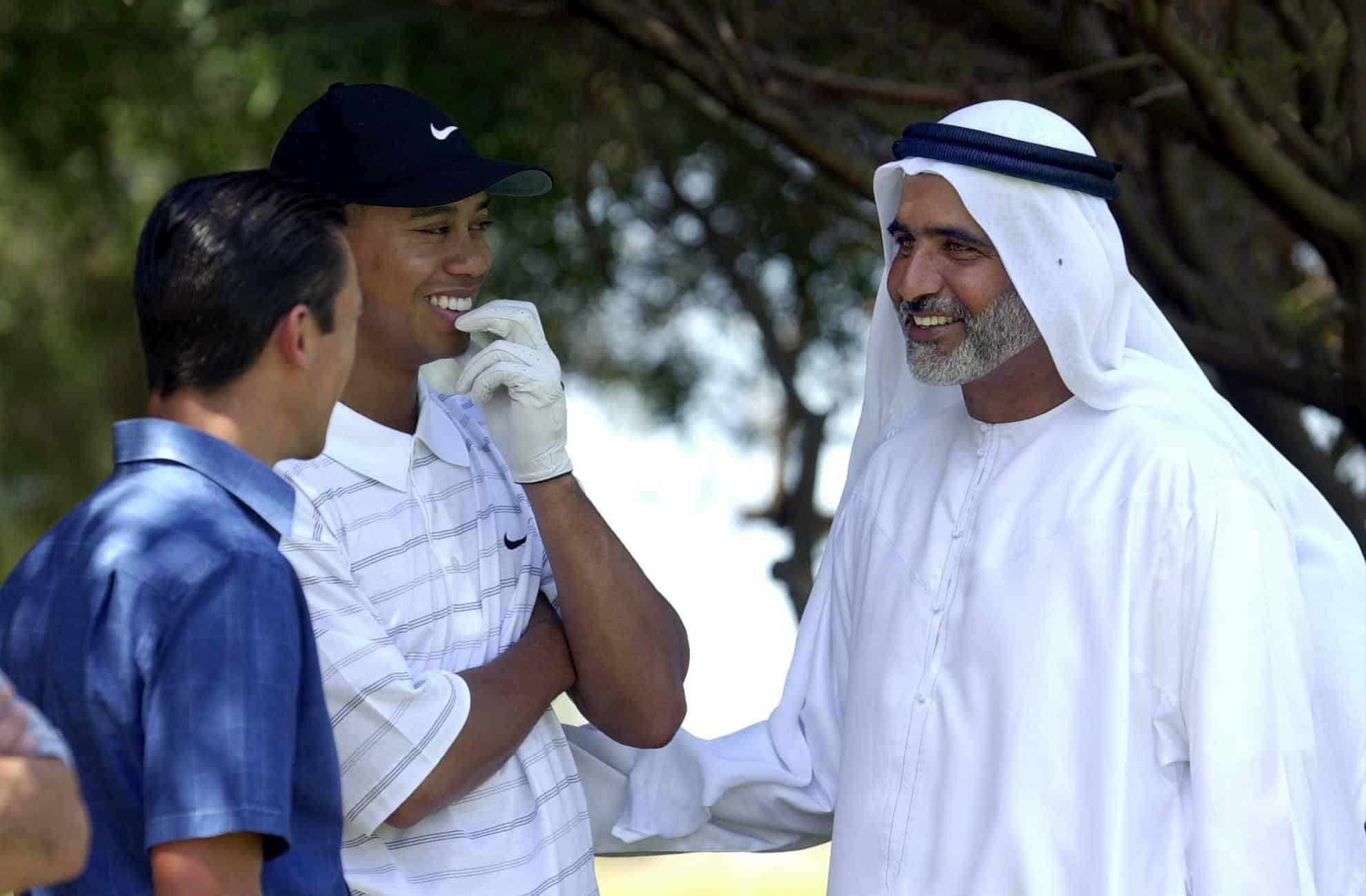 "My biggest achievement was getting the UAE National Team together with the leadership of Mr Mohamed Alabbar, who was the first chairman of the Emirates Golf Federation, and along with Khalid Al Halyan and Mohammed Bu Amin," he says. "My vision was to establish a junior development programme. I started to work with Nick Tarratt, who is now the Director of the European Tour's Dubai Office, and I left my full-time job to dedicate my time for the programme. I started helping the Federation with the development and I also helped promote the Dubai Desert Classic as I was very keen to know how the golf industry works. 
"We started the first UAE National Golf Cup and I brought sponsors to it. I managed to win the National Championship six years in a row until Walid Al Attar snatched the title off of me!"
Sharif has become known as the forefather of Emirati golf and a role model for those UAE Nationals that have followed his lead and taken up the sport. 
"One of the biggest challenges for Emiratis is that we will not go any place where there is a barrier on the door, because we don't know if we are welcomed or not," he says. "In those early days at Emirates Golf Club, even though I was involved with the Federation it took me several calls to be allowed to play on the course. We started to feel welcomed when the Dubai Creek Golf Club opened – they opened their doors to everyone and from that moment we started to see many more Emiratis playing golf."
There has undoubtedly been a significant increase in Emirati participation in golf since Sharif first picked up the 'stick' all those years ago and a concerted effort on the part of the Emirates Golf Federation, with grass roots initiatives such as the highly successful DP World supported Arab Schools Initiative aimed at introducing more Arabic children to the sport. But he believes there is still work to be done.  
"It still can be challenging for us because we can't find enough young players," he says. "We are dedicated to finding Emirati kids to join the golf club and the academy but the problem is that most parents don't have time to take their kids to the clubs, wait for them to finish training and then take them back home. 
"Why would they need to go through all that hassle when a football club like Al Ahli Club sends a bus to my house, take the kids to the club, train them, give them all the facilities that they need and give them their pocket money? 
"As a Federation, we can't take up this responsibility alone, we need the clubs to pitch in and be a part of it and that is why I think that every club in the UAE needs to have a UAE National Junior Team which they handle logistic such as transportation for." 
MENA Tour

Sharif believes that another local initiative initially aimed at providing more competitive opportunities for Emirati golfers, the MENA Tour, has begun to stray away from its original mandate in recent years.

"In its initial years, the MENA Tour worked closely with the Emirates Golf Federation and thus there was a heavy focus on Emiratis participating on the Tour," he says.
"I believe for the sport to continue to grow in the UAE, it is imperative that the Tour re-engages not only more heavily with locals to integrate them into the tournaments, but to also concentrate on talent born in the UAE as well.  We would then be able to celebrate the achievements of UAE Nationals and locally grown players."
As well as having been involved in golf from a player, club member, and Federation perspective for the past 26 years, Sharif once ran his own real estate company and was involved in Dubai's first golf course real estate project –Emirates Hills at the Address Montgomerie, Dubai. All of which provides a perfect blend of experience for his current role as acting Managing Director at Jumeirah Golf Estates – home of the European Tour's season-ending DP World Tour Championship.
"The biggest reward for me was to get involved with one of the leading real estate developments with a golf course that hosts one of the biggest tournaments in the world, the DP World Tour Championship," he says.
"There are certainly challenges and the expectation on us as Emiratis is perhaps higher as this is our country. There is also a perception that we don't know the golf business but I think that if you are in any business you need to know the basics and have a sense for it. 
"I was previously on the other side of the fence as a club member and a golfer but now I am on the other side and that has helped me as I understand what members want from the management. 
With new golf course developments springing up in Dubai at a rapid rate – there are three due to open over the next 12 to 24 months – staying ahead of the pack is becoming harder in an ever more competitive marketplace. But Sharif is confident that Jumeirah Golf Estates will remain at the forefront by offering a world-class venue and facilities while keeping its members, guests and residents at the heart of everything they do. 
"If you want to be one of the leaders in this business, you should not be worried about what other people are doing," he says. "You have your own way of developing, you need to be sharp and understand the needs of the golfers and residents, and work very closely with all tour operators who develop golf tourism here. There are challenges  but we want be one step ahead of everyone else." 
He's come a long way since confusing 'tee' times with 'tea' time and in Sharif, the team at Jumeirah Golf Estates, and Emirati golfers across country, have the ideal leader.