Rai Legnar was one of the pioneers of golf in the UAE when Emirates Golf Club was being created – the only 18-hole golf course in the region – in the late 1980s. Austrian-born Rai, is a former captain of Emirates GC, who established his golf retail business in Dubai, which became one of the first co-sponsors of the Dubai Desert Classic. Here he talks to Mike Gallemore about the journey Dubai has taken in becoming the greatest golf destination in the Middle East.
"I originally came to Dubai through golf, which I was introduced to very late in my life. I was in Saudi Arabia when I decided to start a golf business with my business partner, who was a Saudi national. We had heard about how Dubai was developing and that they were building the first 18-hole grass course in the Middle East – Emirates Golf Club.
My wife, Joan, and I came out regularly to Dubai and we met James Williams, who was my first point of contact, and Rod Bogg. They were the early creators of the golf club and we thought, 'This is it, this is our destination.' That's where it all began; we became Founding Members of Emirates Golf Club in 1988 and, looking back over the past 30 years, I can say it has been an amazing journey. James's return to Emirates GC and the establishing of the Pete Cowen Golf Academy will, I'm sure, make the club even more successful. My wife is a very good golfer. She was captain of Emirates GC from 2000-2001 while I had the honour of being captain of this fantastic club from 2007-2008. I had the privilege of being part of the group that presented the Desert Classic trophy to Tiger Woods in 2006.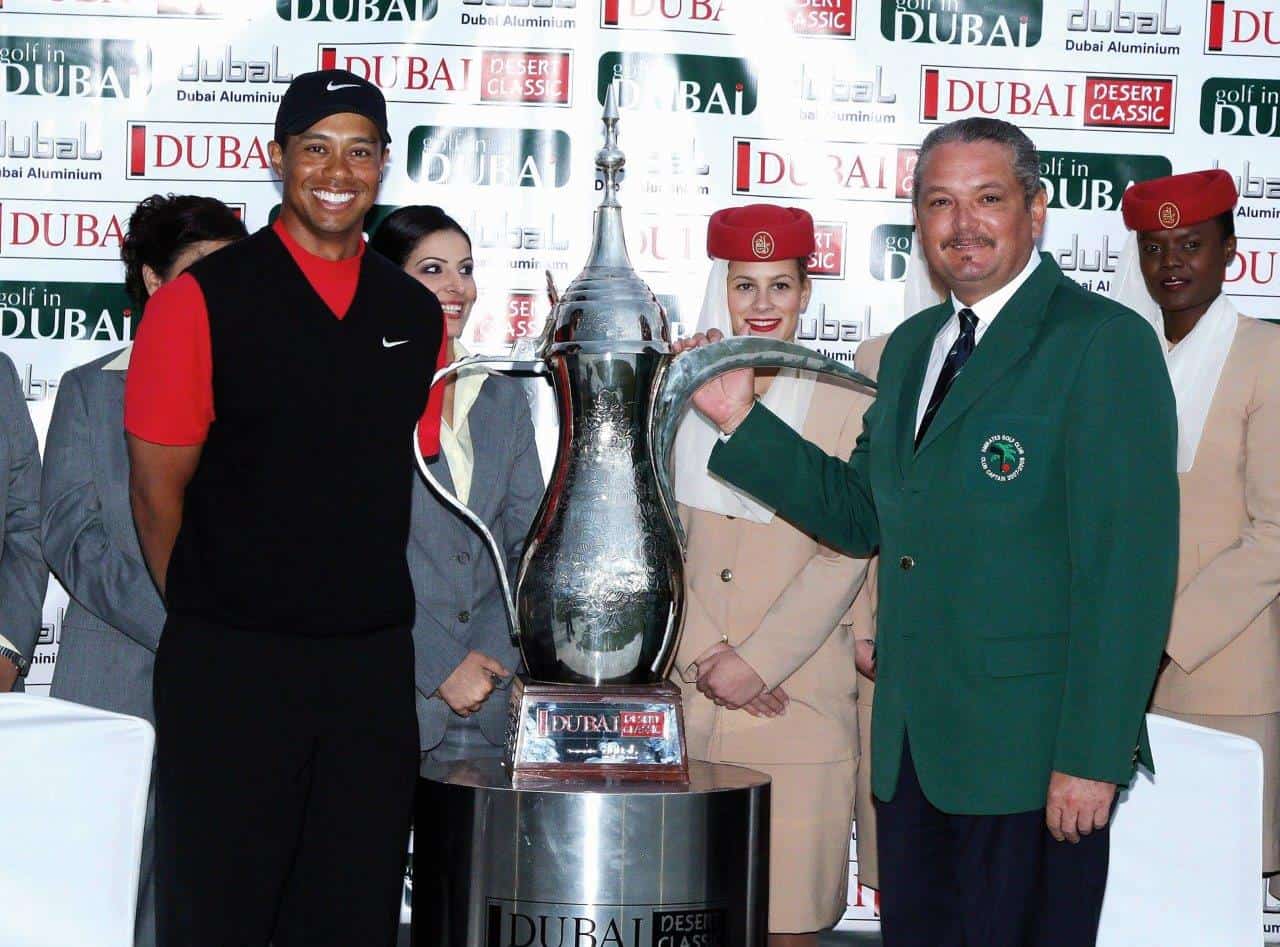 I have so many fond memories from my time in Dubai. I live in Austria now but I love coming back here – it feels just like coming home. Joan would move back to live in Dubai tomorrow and if the right opportunity came up I would certainly consider coming back. Affordability for residents and visitors can be an issue due to the increase in the cost of living in the UAE and many individuals may not have the disposable income to play golf or join a golf club. It would be particularly good to see more all-inclusive packages for visiting golfers.
Setting high standards
Emirates Golf Club has always set such high standards – that's what makes the place so special. The architecture of the clubhouse is unique, the interior and the service, along with the people, make this place great. Many of the original staff are still here, which Chris May, CEO of Dubai Golf and the management will tell you. Whenever I return to the club I always get such a warm welcome from everyone. It really is a phenomenal place. The club definitely knows how to take care of their members and their guests. I have friends from Austria who love coming over here and seeing our names on the board in the clubhouse which is nice The Dubai Desert Classic doesn't need to persuade players to come and play in the event because it is such a superb tournament with lots of history. The players also love it because of the fantastic facilities. The course hasn't changed that much over the last 30 years. It's always a magical event and the players enjoy it because it's such a challenging course. We have seen some fabulous finishes on the 18th including some memorable play-offs.

There have been so many special memories from players on that final green over the years, including the likes of Woods, Montgomerie, Woosnam and Els. The event has long been regarded as the 'Major of the Middle East' – this is where golf was born out here. One of my first memories of the tournament was being in the merchandising tent. I had asked Ernie Els to come down to sign some photographs and he came down with Freddie Couples. They sat down for around two hours chatting away with the spectators. It really was amazing. I only have fantastic memories of Emirates Golf Club. I was very close to Mohammed Alabbar, Founder and Chairman of Emaar Properties, who shared H.H. Sheikh Mohammed's great vision for Dubai. Many of the iconic developments we see now are his due to his vision. He wanted to move golf forward and make the golf club a focal point of Dubai. We decided to merge our businesses together in the late 1990s – I had the distribution network whilst he had the retail covered. It was a great success.
12,000 Callaway clubs
Starting from a one-man show to becoming an organisation with over 60 colleagues and several retail shops with distribution all over the region, it was hugely successful. We brought great brands over when it was unheard of. I remember the first shipment I received from Callaway was for 97 clubs and we ended up selling over 12,000. It was an amazing journey with all the brands that we brought over here. I visit the golf shops whenever I come over to Dubai. Some of the original staff are still working which is good to see. Some now have their own companies. The golf industry has changed a lot from when I first came here. There are now more than 20 courses in and around the UAE and I'm proud to say we were among the pioneers of that progress. We were one of the first co-sponsors of the Dubai Desert Classic which was really exciting. We handled all the merchandising for the event which was unknown territory for me. My background wasn't in the golf business – but business is business at the end of the day.
International Ambassador 
I've now started a completely new chapter in my life. We recently moved back to my home country, and Scott Evans, one of the owners of the Centurion Club, near St. Albans, North London, asked me to join him skiing for a couple of days. I started working with them, helping them with their new GolfSixes event last year and I support the team at Centurion and travel once a month putting on marketing events around the world, which is good fun. We have the second edition of the GolfSixes in May and it's an exciting prospect. It was a great success last year.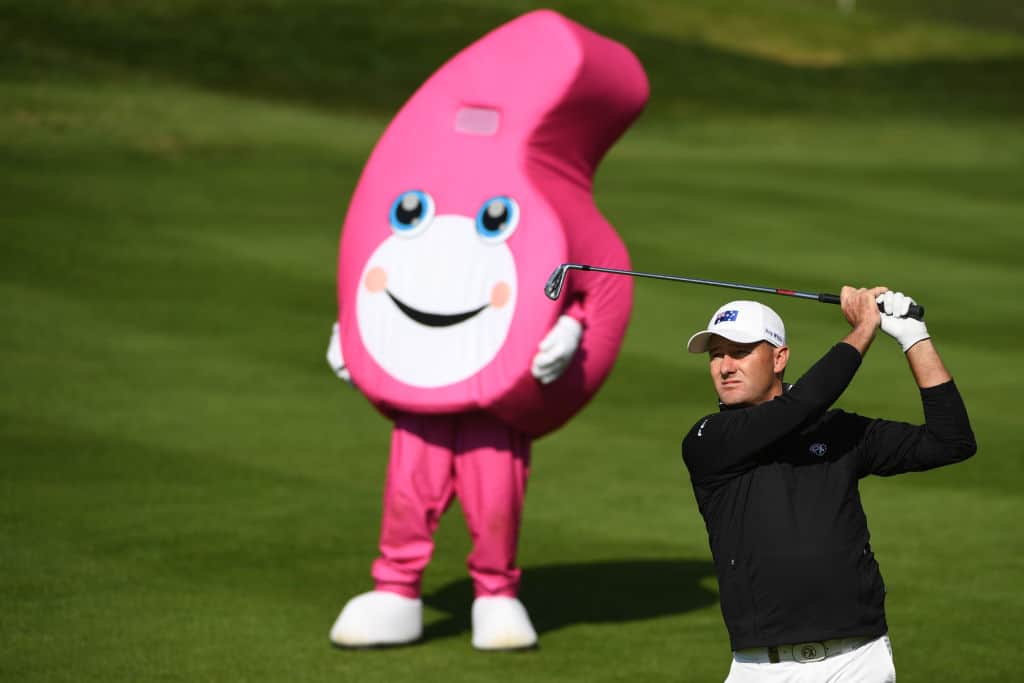 We had a lot of spectators each day and we're hoping to welcome even more this year. The new format was very well received so we are really happy with that and looking forward to putting on another fantastic event. The format of GolfSixes, with the element of team golf, is particularly suitable for junior golfers. We want to attract younger fans to come along and watch these events so instead of having 'quiet please' signs we have 'noise please' signs which creates a really fun atmosphere with music playing and interviews with players on the fairways. We don't want to get rid of the traditional game of golf but we enjoy bringing in new ideas.