The golf scene in the UAE is thriving and one club which is very much on the up is The Els Club in Dubai where General Manager Tom Rourke has overseen a raft of enhancements since taking up his position in July 2020. 
Long known as one of the best golf courses in the region, The Els Club is now a fully-fledged lifestyle destination, complete with luxury Spa, Country Club, gym, padel courts, multiple dining options and much more.
We caught up with Tom to find out about the latest additions and plans for The Els Club's ever-expanding members and guests offering.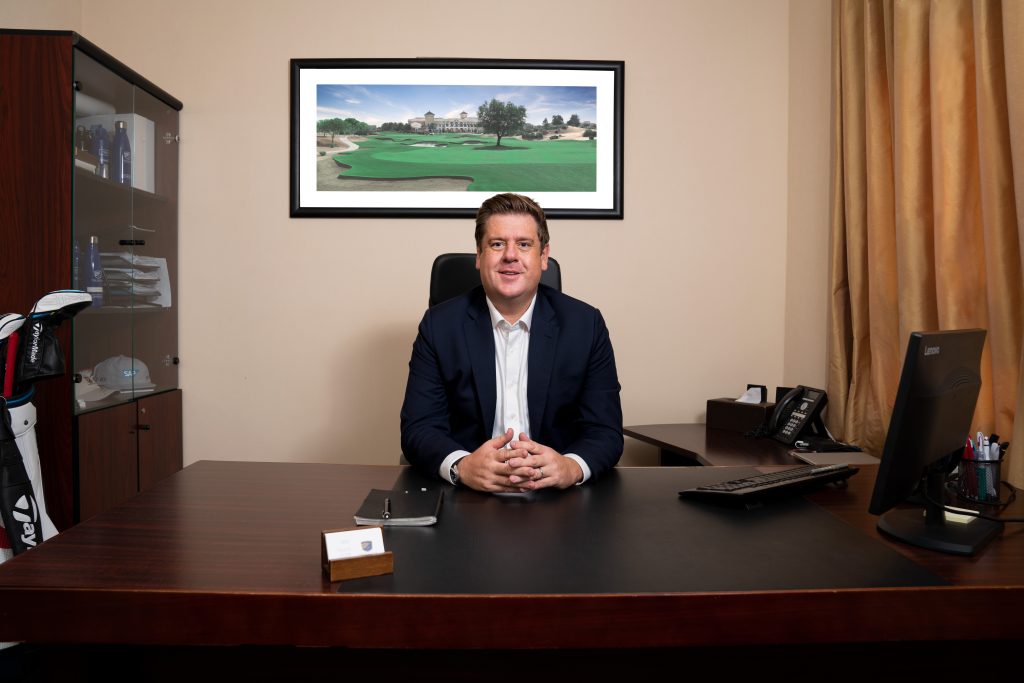 Worldwide Golf: There's been a lot happening at The Els Club over the past few months, tell us about the latest updates to the club's offering?
Tom Rourke: We've been developing The Els Club as a destination with some fantastic additions which include: Padel courts, new artificial surfaces and shading at our practice facilities, new golf carts, a Wellputt studio at our CH3 Academy, Spa facilities, Ladies Salon, Barbers Shop, Country Club facilities which include a resort swimming pool, restaurant, gym and studio. We are working closely with fitness professionals VITA developing personal training sessions, group exercise classes, boot camps and transformations which have been very successful and well received. The first two hotel rooms are currently under construction which are due for completion in Q2 2022 which will further enhance the offering.
WWG: How important is it for a club like The Els Club to be more than just a golf club, especially here in the UAE?
TR: Firstly, it is very important for us to highlight members and the members' experience. We at The Els Club prioritise members and it is essential that we continue to keep our members at the top of the agenda to enhance the club for their enjoyment and benefit. We are seeing members spending more time at the golf club playing golf, having meetings, socialising than ever before. We continue to develop the offering with this in mind, giving multiple options for dining, meetings, relaxation and entertainment. We are also at the centre of the Victory Heights residential community and must embrace and engage with family-friendly initiatives and to make the club accessible for all.
WWG: Padel tennis is said to be the fastest growing sport in the UAE and a lot of golf clubs are installing courts – why do they work well in a golf club set up and why do you think the sport has taken off so much?
TR: Padel is great as all ages and abilities can play. Typically, you would play in groups of four (the same as playing golf) and the sport is fast-paced and easy to learn. Matches are either 60 minutes or 90 minutes and guests using the courts can access the main clubhouse for F&B along with the locker rooms and facilities to prepare or freshen up and dine after a game.
WWG: How can people book to play and are there memberships or is it a pay per play model?
TR: Bookings are handled by our Padel partners, Super Sports, who have a very user-friendly booking system where members and guests can book one game or multiple games at discounted rates. Els Club members receive a members' discount and the courts are available for everyone. For more information do visit our website at www.elsclubdubai.com/padel-courts
WWG: You've done a lot of work on the course of late, tell us about that and what golfers can expect when they play it?
TR: The Covid-19 pandemic in 2020 meant the golf course did not undergo its normal annual summer maintenance. Due to this we have been catching up, removing thatch and compaction from the golf course and feel that it is now in its best condition and health for a very long time. The greens are rolling incredibly well and we are bringing back the inland links conditions with the golf course playing firmer and faster. We feel the golf course is tournament-ready on a daily basis and we pride ourselves on the quality and consistency of the playing surfaces utilising Troon Golf agronomic best practices.
WWG: You've overseen some big enhancements to the club since you took over as GM, one of the biggest being the Country Club, how is that new addition to the club going?
TR: The Country Club has been a fantastic addition to The Els Club and a huge enhancement to the members' offering. The state-of-the-art facility really is the best in class, creating a family friendly, safe environment for all of our members and guests to enjoy the club beyond the golf course. We have received great support from the surrounding communities with non-golfers choosing to join The Country Club to train and relax. The membership has been fast growing and this has helped generate considerably more new golf membership sales on the basis of having The Country Club facilities included as part of the golf membership. If you'd like to bring the family to experience The Country Club and be a member for a day do book your free trial here: www.elsclubdubai.com/country_club
WWG: Looking ahead to the coming months, what have you got coming up that our readers should look out for?
TR: We're extremely excited to be opening the first two hotel rooms at The Els Club and with that our first Stay & Play packages. We also will be conducting restaurant upgrades and refurbishments at 261 along with updated menus and multiple social events open to everyone. We have some great daily offerings to try with my personal favourite being our Saturday Carvery at The Big Easy Bar & Grill from 12 – 4 pm. Do check out our website and socials to always stay updated on our latest offerings.