It is fair to say that Chiara Noja has enjoyed a rather stellar first year as a professional. Making the step up at just 15 years old in October 2021, the Dubai resident has gone on to pick up her first professional win on the Ladies European Tour Access Series, played in every single Aramco Team Series events across the globe and secured her Ladies European Tour playing privileges for next season.
Here, Noja gives us the lowdown on her magnificent maiden professional season, her hopes of playing with one of the giants of the game in New York and how she hopes to inspire the next generation of female golfers as part of her role as a Golf Saudi ambassador.
Worldwide Golf: Firstly, a massive congratulations on securing a LET card at the first time of asking. Just talk us through what that means to you to achieve that at such a young age?
Chiara Noja: Going into the season that was my goal at the start of the year, so every tournament I played –and every shot I played – I had that goal in my mind. I think I finalised securing my card pretty early on but then more events got added to the schedule so I had to continue playing for a little longer than expected, which was frustrating and a bit tough on the mind. It's been a season of ups and downs – getting my first professional win was amazing and I couldn't be more grateful for that plus some of the opportunities I've had this year. Definitely ending the season on a positive note and looking forward to the two final Aramco Team Series events of the year in New York and Jeddah before focusing on my GCSEs during the off-season!
WWG: How did you find it this year being out on the road for long periods? Did it take some getting used to?
CN: This season was really tough as I wasn't allowed to go to Qualifying School because of age restrictions so I had to gain my card through playing on the Ladies European Tour Access Series. It was great and a good learning experience for me as I had to fight my way through, which was good for me to help build a bit of character. It's been a really long season jumping between Tours as I've played all the Aramco Team Series events – I'm super grateful to play those so I don't want that to be misunderstood as being ungrateful because every single one of them has been an absolute blessing! I've played around 17 events so far this year and usually that it spread out over the year but for me I had the majority of those events between April and August, which was a lot tighter a schedule than originally planned but we wanted to ensure I had banked my LET card so I didn't have to fly out for more events after returning home to Dubai.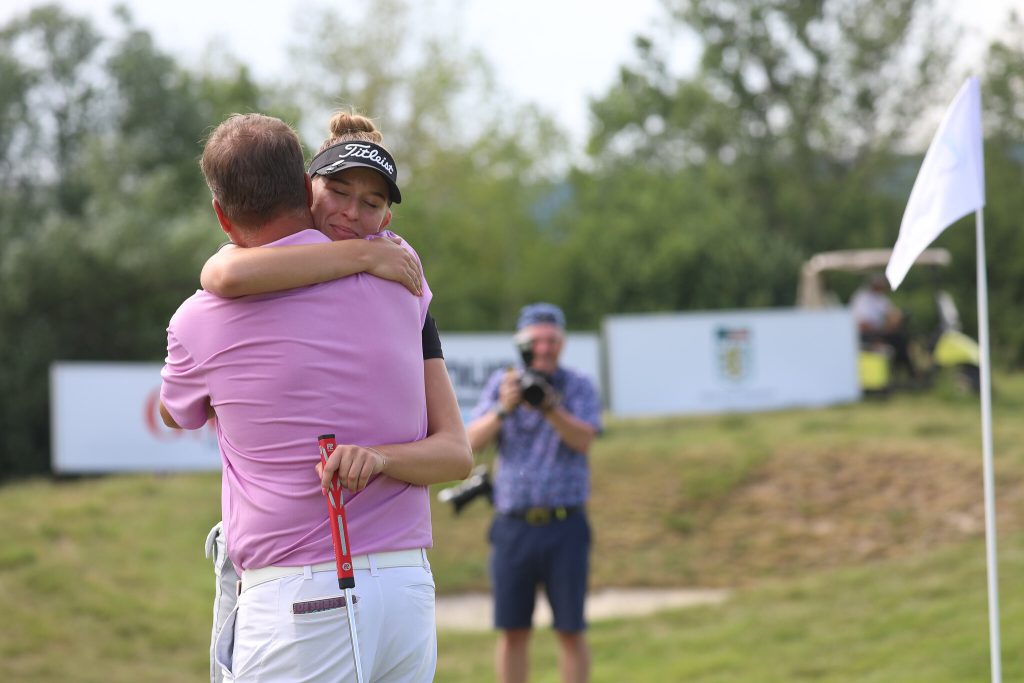 WWG:. How much of a help has your dad been on the bag this year and will he continue to be your caddie on the LET next season?
CN: My dad was on basically all season which was really nice because it's great to have someone on the bag that you trust and who you love no matter what you score out on the course. But at the same time, it is difficult because there is some tough love out on the course and sometimes you do bring those vibes back into the hotel room – it's just how its is, that's my dad at the end of the day and he always wants what's best for me. It's a blessing to have him around but he's also done a great job and been a great help to me. I do feel bad a bit for him though as during tournaments in warmer climates I have carried around way more water bottles than necessary, so I kind of tortured him with that! It's been a great season for the both of us! Going forward I will be using a new caddie next season and I'll be starting with them at the Team Series event in Jeddah. We'll use that as prep work for next season as we get back out to competing on the LET.
WWG: How are you feeling about next season on the LET?
CN: Next season I guess I'll have to take it easy for the first half of the year as I need to complete my GCSEs. I will be playing competitively before and straight after but I do need to make sure my focus is on the correct things while studying for my exams so that's what I'll be up to the first half of the year. I'll be going to tournaments and playing but when I'm back to the hotel the textbooks will be straight out! It's just something I have to deal with and it will be tough but hopefully not as intimidating as this season was as I've already achieved so much of what I set out to do.
WWG: What has been the highlight of the season?
CN: Good question! The first thing that comes to mind is getting my first professional win in the Czech Republic – that was really exciting and on my bucket list for this year. It may sound a little silly but when you look at all the greats in the women's game they are starting to impress on the professional stage around the age that I am now. I wouldn't say I was under pressure to do it but I wanted to put myself amongst those names so it was really nice to check that off my list. The Saudi International would also be a highlight as it was my first event of the year, the field was strong and it's a beautiful golf course that was playing in tough conditions – to finish that week 13th in a field like that was really fun and gave me a boost going into the season. All the Team Series events have been highlights to be honest – they all have amazing fields so every time I played I get to say 'I'm playing in my strongest field yet' as every event seems to get stronger which is super exciting! The lineup in Sotogrande including the Kordas and Alison Lee and a couple more LPGA girls which was really cool. Playing in New York this month will probably be the highlight of year as it's such an iconic statement city so to be able to go there and play professional golf is awesome with the likes of Kordas, Lexi Thompson and Brooke Henderson!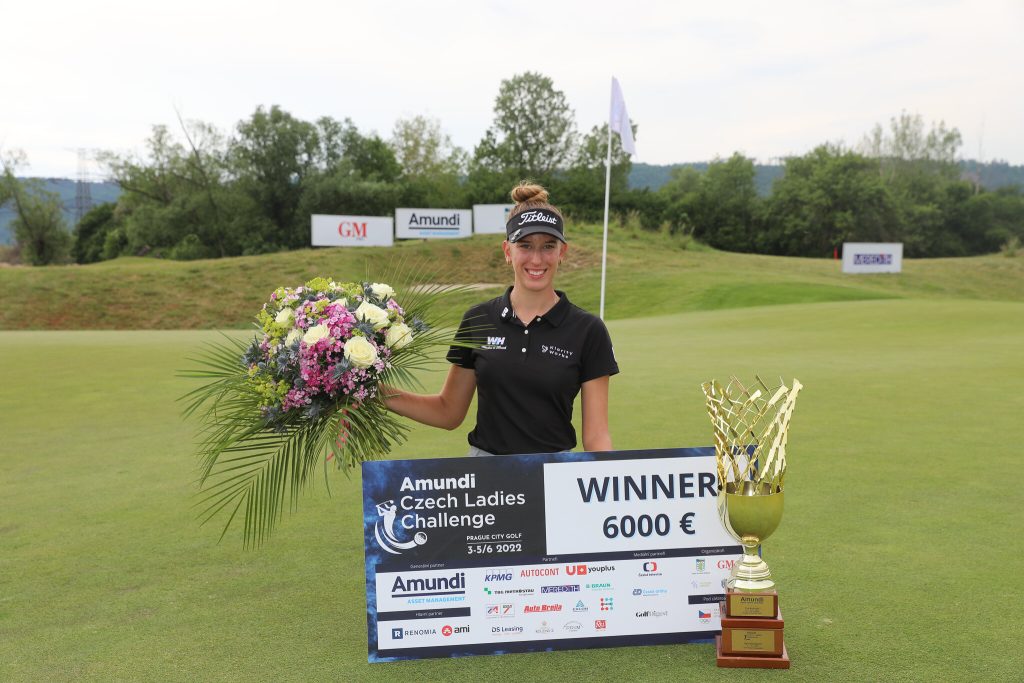 WWG: You've spoken before about really improving the mental side of your game after the Dubai Moonlight Classic a few years ago. How is the mental side of the game right now?
CN: Mental health wise the start of the season was pretty easy in the sense of mentality and I didn't really have any problems. Towards the back-end of the season when I was running on the final bursts of energy you just need to accept sometimes you need to try and make it work and play with your C game as you have nothing else in you. The fuel tanks were almost completely empty playing my final two events on the LET Access Series – my whole team knew it. We were just trying to get that over and done with so we could get back into the process of recovering, prepping and actually being able to practice. I think practice is a necessity that people forget because when you're on tour you are going from place to place so you don't really have time to tinker about with things that are going wrong as your always in this go, go, go mindset. The time you do get is mainly focused on hitting the shots you want to his shape wise and the rest of the time is usually spent in a car or a plane so it's not been easy in that aspect of the mental side. But I've gained so much confidence in the last two years which has been really cool to see as you forget the growth that has happened over such long period. Some of those experience I've had I can be forever grateful for and I'm glad that I've made good use of them.
WWG: You're back in Dubai now and preparing for your exams. Just talk us through how you've managed to juggle your professional game and your school work?
CN: I think it's an important message to get out that I'm not home-schooled, I go to a normal school with GCSEs sadly! It's something I'm going to have to juggle and set my head straight on to get it over and done with doing the best I can. It's very time-consuming especially when you're juggling two things that are very important. My parents have been great advocates of the fact that school is very important for me if not for trying to secure a job later on but to be educated and the social aspect of it to. Golf is my main priority.
WWG: You've got two more big events this season on the Team Series in New York and Jeddah. How much do you enjoy playing that format and how big have the Team Series events been for the women's game?
CN: As I mentioned earlier, I think those Team Series events are really fun and seeing the line-up for New York is really exciting! Usually you want to be amongst the top players in these events who are captains but because this line-up is so awesome you sort of want to be a pick as it gives you the opportunity to possibly play with some of these amazing players and watch them. It would be awesome to be in a team with a really experienced player and sort of watch and study a little bit which would be really interesting. It's a really fun format and I think it makes golf more approachable. 
WWG: You were announced as a Golf Saudi ambassador earlier this year – what exactly does your ambassador role involve?
CN: As a professional golfer I'm doing a job that I love and I want to inspire others to grow and love the sport as much as I do. I think being an advocate for golf and women's golf is sort of my job already.  My role as a Golf Saudi ambassador is to grow the game, whether that be in Saudi or internationally, I love having that role and making golf accessible for more people. When I was younger I didn't really see much of the women's game, I was always inspired by the men because that's all I saw so giving women's golf a platform is part of my role and Golf Saudi have already done such a great job at it.