It's been a period of great change at JA Jebel Ali Golf Resort both for the club itself and for the man now at the helm.  Stuart McMurdo took over from long-serving Director of Golf James Williams back in February after 14 years as Golf Operations Manager when his fellow Englishman moved on after 20 years in charge. Big shoes to fill indeed but add into the mix a sizeable redesign of the stunning Peter Harradine designed 9-hole layout and the upcoming opening of the Middle East's first David Leadbetter Academy, among a number of other projects, and it's fair to say that the 40 year old has gone straight in at the deep end! Worldwide Golf headed down to the newly re-opened JA The Resort Golf Course to speak to McMurdo about his new role and the significant developments at the club since he took over.
Worldwide Golf: How are you settling into the new role, James Williams was in the position for a long time so it's quite an act to follow?
Stuart McMurdo: It's been a Baptism of Fire but a fantastic opportunity for me. I have such a wonderful relationship with James. I've known him since I was 11 years old and he's the reason I came over to Dubai from the UK in the first place. I've had 14 great years working alongside him which has been an absolute pleasure and I've learnt so much from him. He's a legend of the golf industry, especially here in Dubai where he's spent the last 30 years after coming over to help open Emirates Golf Club. Being around him for so long and having him as a mentor and good friend has been so valuable and a lot of fun.
WWG: What has been the biggest challenge since you started in the new role?
SM: It's been an interesting time for us here at JA Jebel Ali Golf Resort. There's been a lot of change within the company itself – we've had so many projects going on so for me it's just been getting to grips with them all! I think we're looking at around 12 large scale projects that I'm dealing with right now so it's been a steep learning curve!
With summer settling down, get excited to hit the greens as we reopening of our golf course on 24th September at JA Jebel Ali Golf Resort.#JAResorts #Golf #Reopening pic.twitter.com/T8XOtDzUDF

— JA Resorts & Hotels (@JAresorts) September 23, 2018
WWG: It's certainly exciting times at the club! The course has just reopened, talk us through the changes and how they will improve the playing experience?
SM:  The course used to start with a par 5, then a par 3 then a dogleg par 4. Now we've got a dogleg par 4, followed by a risk and reward par 4 and then a challenging par 3 third hole.  The main reason for the change was that we're building a new 348-bedroom hotel at the back of the golf course. So the move of the holes was basically to accommodate the hotel but we asked our original architect Peter Harradine, who has built so many great courses in this region, to come back for the redesign. The changes he's made are fantastic – it's never easy to change but I think the holes we have now are really going to add to the quality. It's in keeping with original design but it's added something extra and I really feel that our guests are going to really enjoy the new holes.
WWG: There's a big landmark coming up with the club's 20th anniversary at the end of October –that's quite an achievement in today's competitive and challenging local golf scene – everyone must be very proud?
SM:  We're very proud of it. For many clubs around the world 20 years isn't a long time – if you look at courses in America, Europe or the UK they've been going for a much longer time. But over here in the Middle East it is a considerable amount of time. We've placed ourselves in this very competitive market and we're very fortunate that we've got a great team. A lot our guys – 25% of team – were here from the start so we've managed to retain a lot of our staff and that's been key to our success going through the years.
WWG: How has the local golf scene changed today from what it was when the club launched and how has the club evolved to meet that changing landscape?
SM: When we first opened we were the third grass golf course here in the Middle East. Back then there were obviously limited options for golfers in Dubai so more business to go around. The number of golfers in Dubai has increased, as has the competition! We're very lucky in Dubai in that we have some really great golf courses and there are lots of options for golfers. It's a lot more competitive and prices have also changed quite a lot over the years. We've had to adapt but we're very flexible. We always try to be a fun, friendly environment for golfers to come and enjoy their time. We're very fortunate that we have an idyllic piece of land here that people can really come to escape from their busy lifestyles for a while.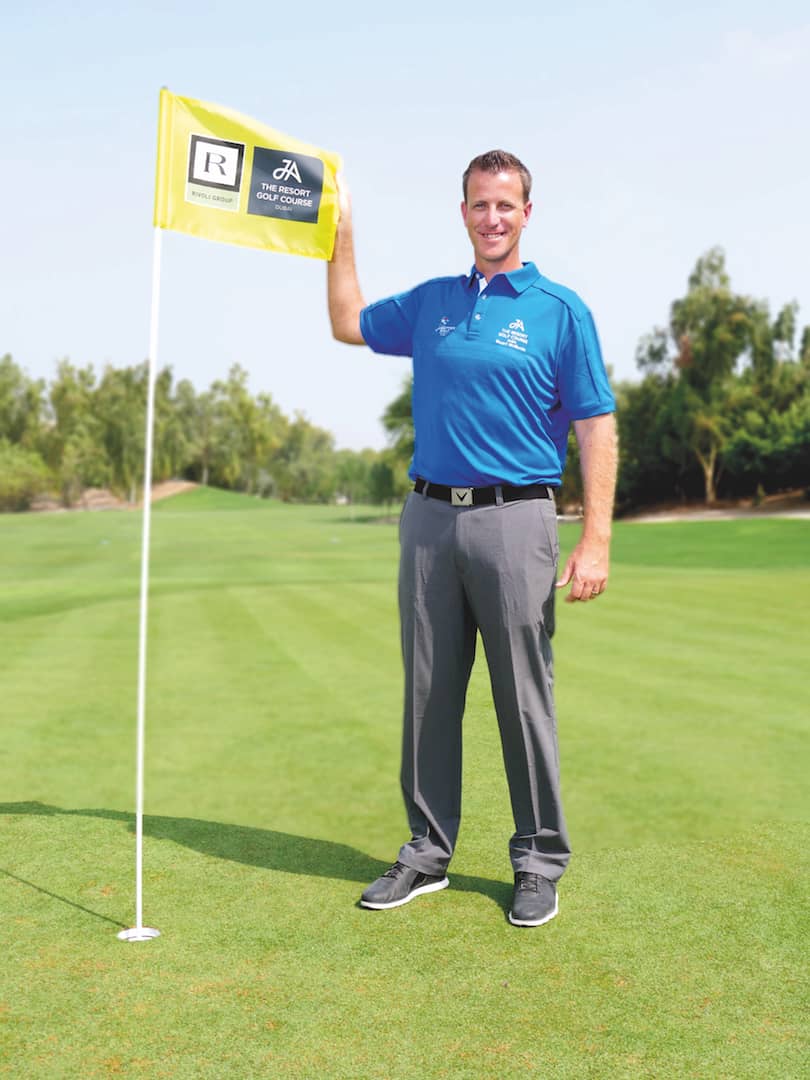 WWG: What is it that sets JA The Resort Golf Course apart from the many other options golfers have in the UAE?
SM:  A lot of the courses here are very expansive, open, desert courses whereas our course is very narrow and tree lined so we offer that different challenge and different feel. It's a more Mediterranean feel than most of the other courses. Because we're 20 years old we're the course is mature as well which is obviously a big plus in terms of the playing experience.
WWG: You've also got a new Academy opening on November 12th – tell us about that?
SM: We're very fortunate that we've just gone into partnership with David Leadbetter so we are going to have an official David Leadbetter Academy here. He's a legend of the teaching industry and has been coaching top professionals for over 40 years. We're going to be his 37th Academy worldwide and the first one in the Middle East so we're very excited to partner with him and look forward to a long and fruitful future in the years to come.
WWG: What other plans do you have in store, any offers or special deals that local or visiting golfers can take advantage of?
SM: We've got many great deals in store. As you mentioned, it's a very competitive market and we need to provide attractive offers. We have some excellent corporate packages that we do and some very good individual packages – whether that's midweek or seven days a week. With our Leadbetter Academy opening we'll have some fantastic offers for kids to come and do some weekend sessions. We've done some partnerships with schools and we're also still focussing on our loyalty programme where you pay to play six times and get your seventh round for free.  Our year-round packages are all very competitive in the marketplace so we have a number of great options available to suit everyone.
Please contact JA The Resort Golf Course for more information, to book tee times or enquire about lessons at the new David Leadbetter Academy.

Web: jaresortshotels.com

Email: golf.teetimes@jaresorts.com

Phone: 04 814 5023/5058