Some of the best players in the world are set to tee it up in the region to kick off their 2021 season as the three events – which start at Abu Dhabi before heading to Dubai and Saudi Arabia – take centre stage.
---
What: Abu Dhabi HSBC Championship
When: Jan 21 – 24
Where: Abu Dhabi Golf Club, Abu Dhabi, UAE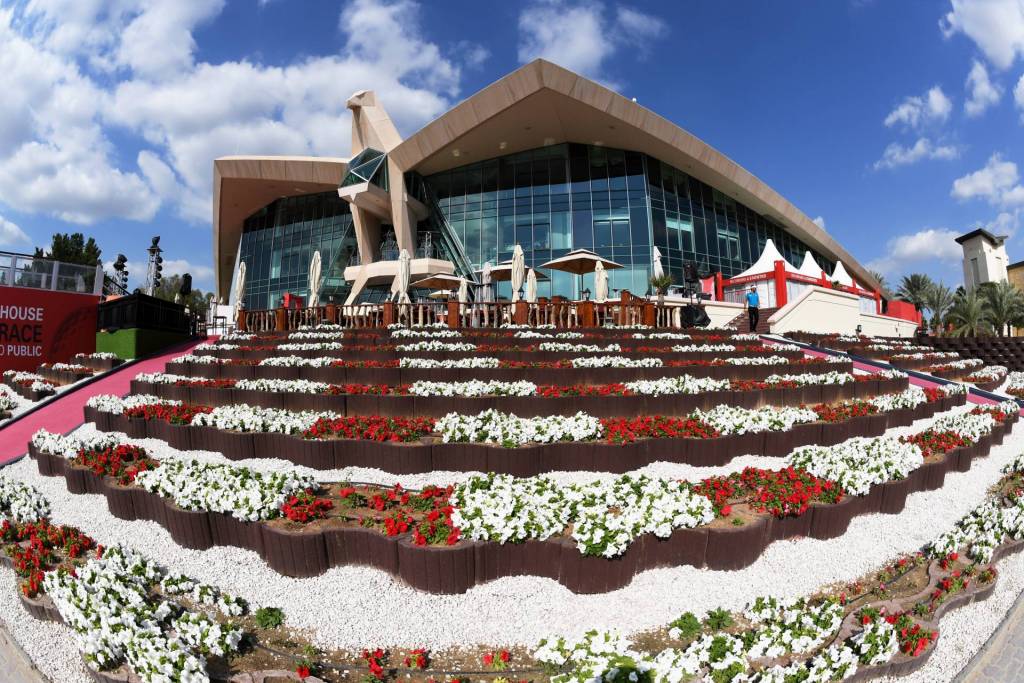 The National Course at Abu Dhabi Golf Club is primed and ready to host the 16th staging of the Abu Dhabi HSBC Championship and as one of the European Tour's elite Rolex Series events for the third year in succession.
Designed by Peter Harradine and opening in 2000, Abu Dhabi Golf Club's 7,583-yard par-72 National Course is a long examination, and the combination of huge, glassy putting surfaces, plentiful bunkers, water hazards and the desert heat can make the course as much of a test of stamina as well as golfing skill. Water comes into play on more holes than not, so players have to have their A-Game with them if they are to score well. The signature par-3 12th hole – with a lengthy carry over water to a large, sloping green – is a test for any standard of golfer.
Spread across 162-hectares, there are 27 championship-standard holes, with 18 of them making up the National Course, home of the Abu Dhabi HSBC Championship since 2006. Also on site is the floodlit 9-hole Garden Course. The iconic Falcon Clubhouse casts a striking presence over the par-5 closing hole, which has always provided a dramatic finishing scene.
The inaugural professional event held at Abu Dhabi Golf Club came shortly after it opened when the final of the European Senior Tour (now Legends Tour) rolled into town.
---
MCILROY AND THOMAS HEADLINE STELLAR FIELD
Justin Thomas and Rory McIlroy were the first players to announce their participation and they will be joined by the likes of defending champion and reigning Race to Dubai winner Lee Westwood and past winners Martin Kaymer, Shane Lowry and Tommy Fleetwood at the first Rolex Series event of 2021.
"I'm excited to play for the first time in Abu Dhabi," said Thomas. "I've heard really great things about the course and with it being the first Rolex Series tournament of the year, I'm sure it's going to deliver a strong field. I enjoy new challenges, such as playing different golf courses around the world and competing against the best players in the game, so of course I have my eye on trying to take home the Falcon Trophy."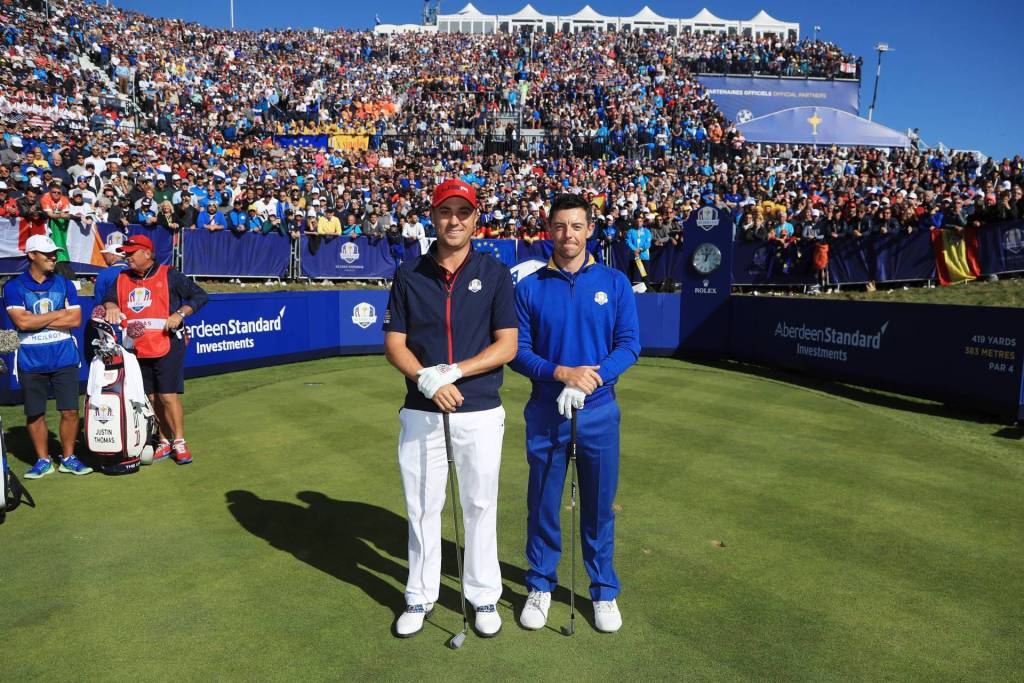 McIlroy added: "I'm looking forward to coming back to Abu Dhabi. It's always a great event for the players and it's the perfect place for me to start the 2021 season. Abu Dhabi Golf Club is a world-class golf course, one that I have come close to winning on several times over the years, so, hopefully, I can do well again and be right up there contending come Sunday."
---
PAST HIGHLIGHTS
Fleetwood defends in style (2018)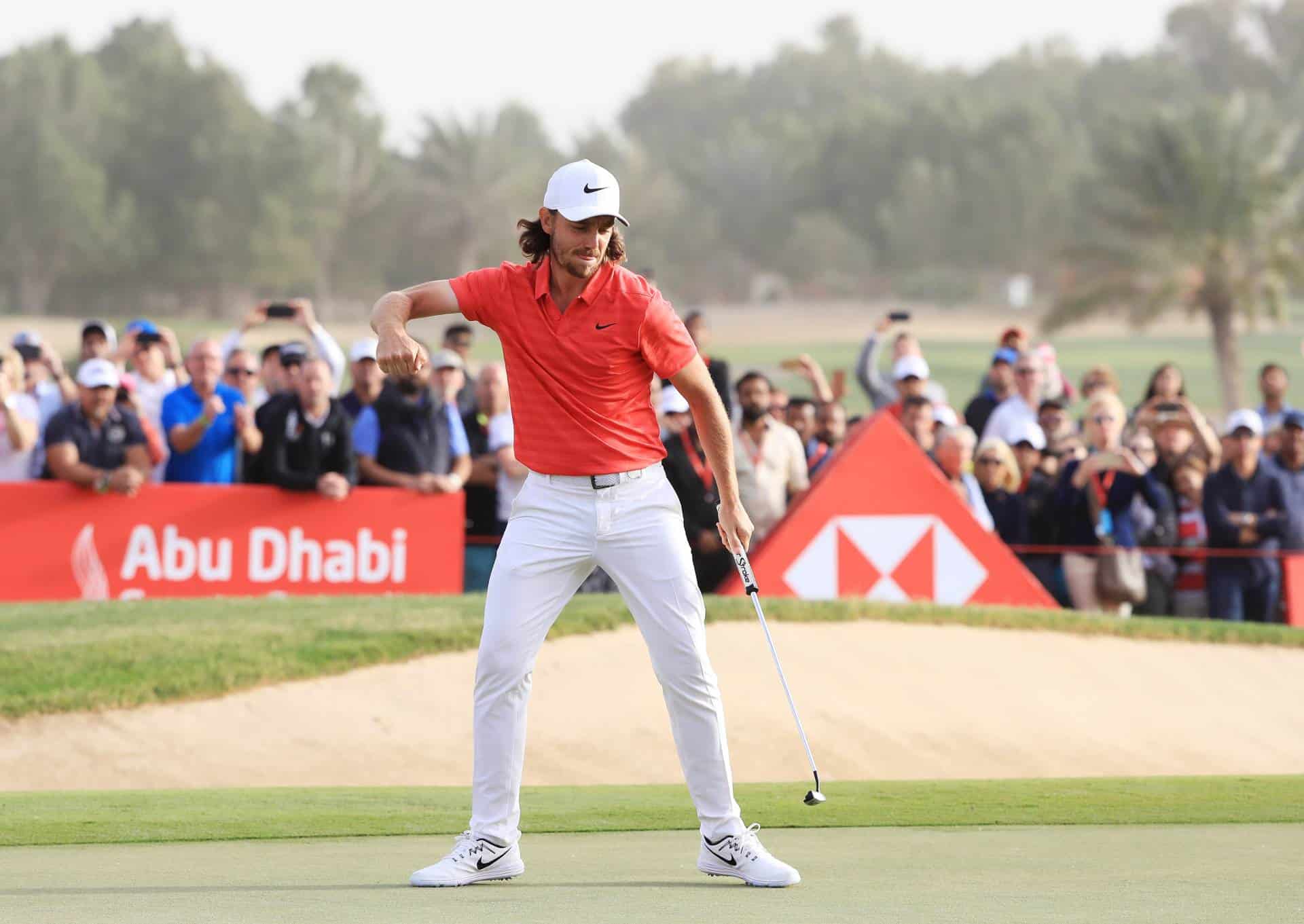 HAVING won in Abu Dhabi for the first time a year earlier en route to topping the Race to Dubai, Tommy Fleetwood underlined his status as one of the European Tour's star performers with a superb defence of his title in his first start of 2018. Two behind the leaders Thomas Pieters and Ross Fisher and one behind Rory McIlroy, Fleetwood stormed home with a closing 65 to win by two strokes from Fisher on 22-under-par.
Robert Rock holds off Woods and McIlroy (2012)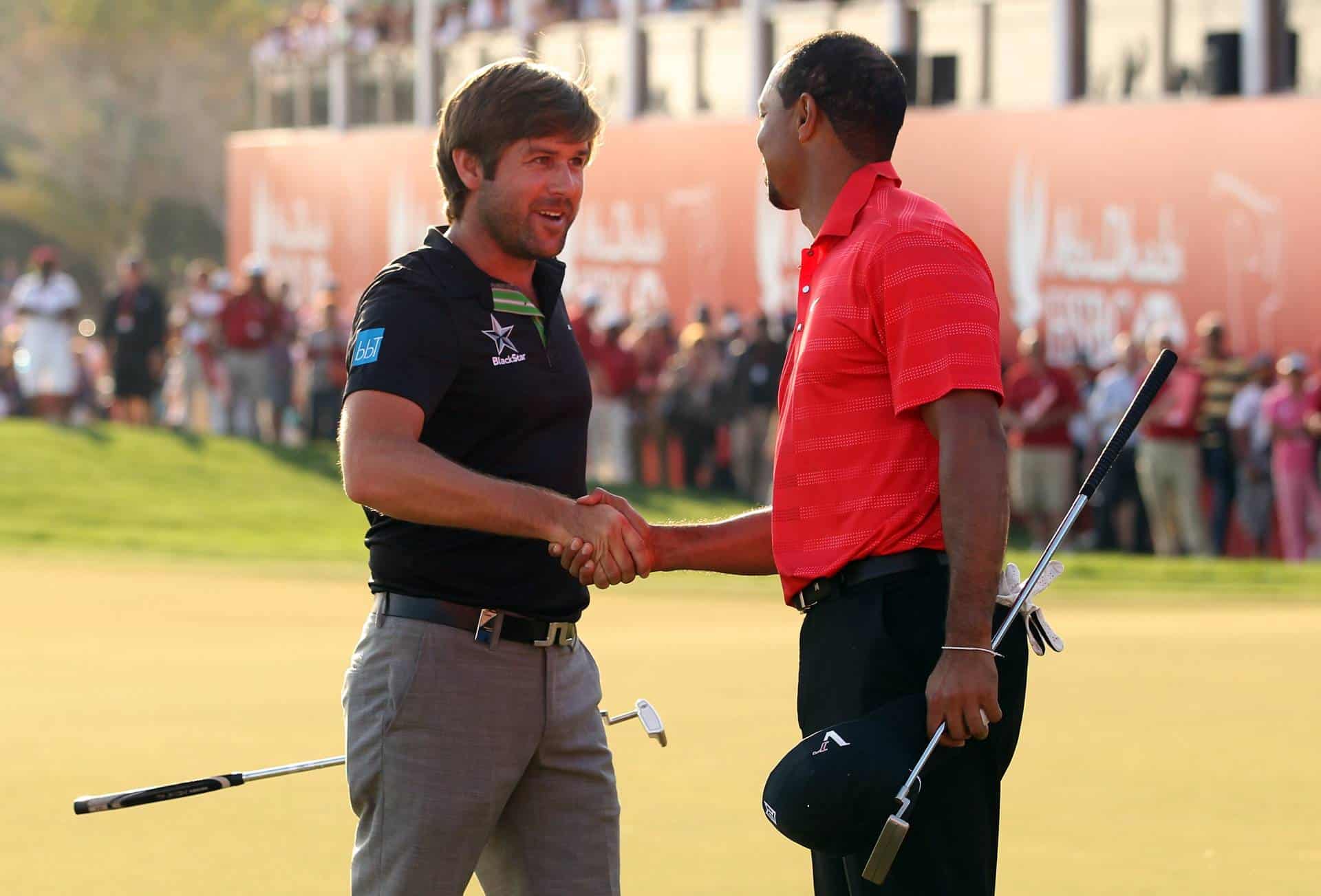 BEGINNING the final round level alongside Tiger Woods, and with Rory McIlroy and Graeme McDowell also in contention, not many would have fancied Robert Rock's chances of emerging victorious. At that point in his career, Woods had held or shared 62 third round leads and converted 55 of them, but he was out of sorts on that Sunday, finding just five greens in regulation in a level par 72 as Rock fired a 2-under 70 for his second career title. McIlroy finished runner-up, one stroke clear of Woods who was third alongside McDowell and Thomas Bjørn.
Kaymer takes home the first of three (2008)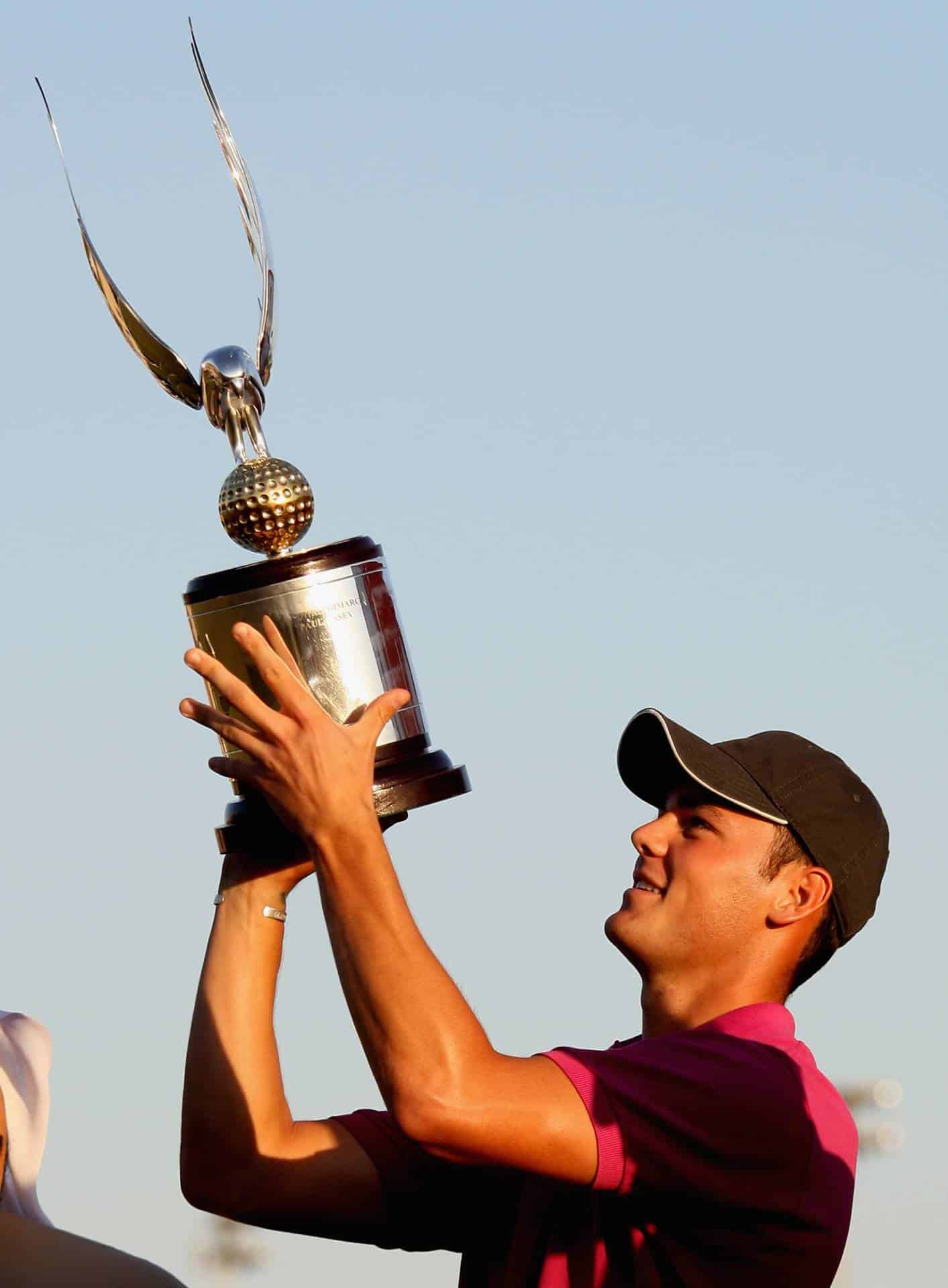 AS 2007's rookie of the year, Martin Kaymer underlined his potential with a remarkable four-stroke win over veterans Henrik Stenson and Lee Westwood in 2008. Having missed the cut in his first career start at the venue a year earlier, Kaymer opened with rounds of 66-65-68 to create a six-shot lead and he afforded himself a final round 74 and still won by a comfortable margin. His love affair with the tournament continued with back-to-back victories in 2010 and 2011.
Strong past winners' pedigree
THE best players usually rise to the top in Abu Dhabi, with the likes of Paul Casey, Martin Kaymer, Rickie Fowler, Tommy Fleetwood, Lee Westwood and Shane Lowry all getting their hands on the famous trophy. There have been a few surprises, as shown in 2015 when France's Gary Stal, ranked 357th in the world, won by one shot ahead of the then World No.1 Rory McIlroy.
THE LOWDOWN:
WITH thick rough, its fair share of long par-4s and lightning fast greens, the layout at Abu Dhabi is usually referred to as one of the toughest tracks on the European Tour. However, the scoring doesn't always reflect that, as the last time the winning tally was anything less than 15-under was 2014, when Pablo Larrazabal won on 14-under.
---
What: OMEGA Dubai Desert Classic
When: Jan 28 – 31
Where: Emirates Golf Club, Dubai, UAE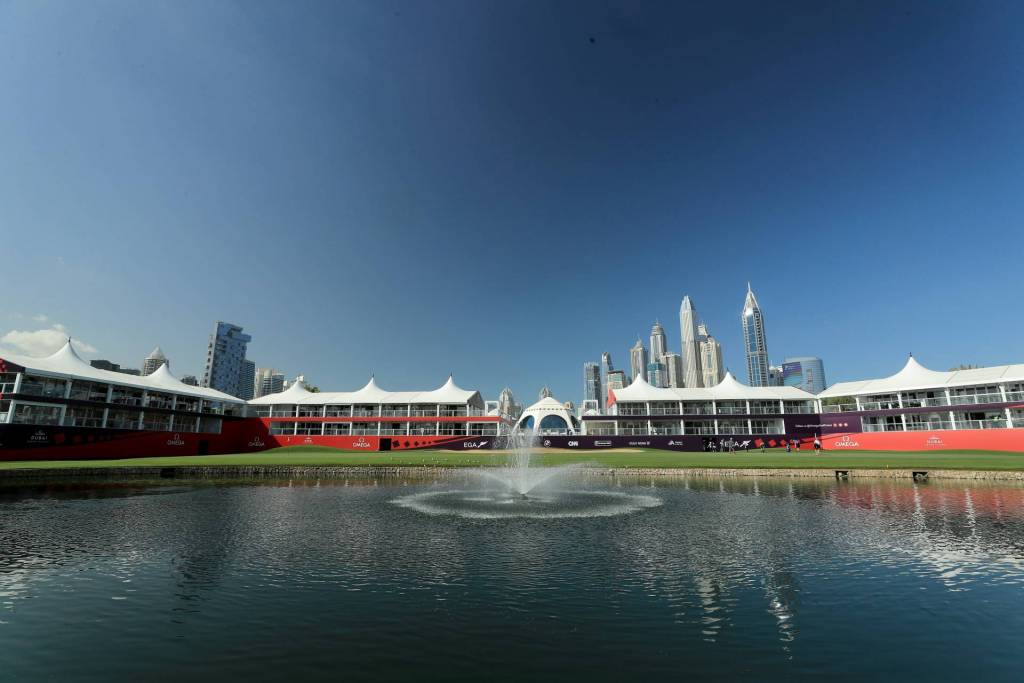 The OMEGA Dubai Desert Classic is the oldest tournament in the region and the longest-running European Tour event to be held outside of Europe having started in 1989.
As the first all-grass golf course in the Middle East, Emirates Golf Course is one of the most iconic courses in the world. Designed by American architect Karl Litten and opened in 1988, the original 18 holes were built in and around the dunes of a natural site to the south of the city of Dubai, which was donated by His Highness General Sheikh Mohammed bin Rashid Al Maktoum, who gave specific instructions that the desert flora was maintained in its natural state.
The course features hundreds of indigenous species of fl ora and fauna, which intertwine with the winding fairways, natural sandy areas and seven fresh and saltwater lakes. As Dubai has grown in the intervening years, so too has the reputation of the club and the course, which acts as a standard-bearer for all grass championship courses in the region. Litten believes his creation to be the pinnacle of his work – for both its design and playability, including the way the course is managed amid a growing number of courses in the city and beyond.
"I'd say Emirates Golf Club is right up there as No.1 because of the maintenance and the fame it has gained," said Litten. "They have spent a lot of money on the proper equipment and on having good golf course superintendents. It was my first golf course in the region and I wanted it to be the best.
"There were people who laughed at us when they heard we were building a golf course in the middle of the desert. I didn't want them to keep laughing after we had finished it."
In 2012, an irrigation system renovation was completed, which now sees the use of over 8,800 metres of mainline piping and 33,500 metres of lateral piping deliver water savings by ensuring increased distribution efficiency throughout the course.
A new state-of-the-art pump station allows up to 6,500 gallons of Treated Sewage Effluent (TFE) water per minute to travel throughout the network, significantly reducing the course's water consumption.
---
BIG NAMES FOR 2021
Collin Morikawa, Justin Rose, Tommy Fleetwood, Tyrrell Hatton, Sergio Garcia and Lucas Herbert have all confirmed their participation, with reigning US PGA Champion Morikawa making his debut at the event. Rose returns to the tournament for the first time since his runner-up finish in 2009 while Fleetwood is making his 10th consecutive start on the Majlis course. Hatton missed last year's tournament having undergone wrist surgery and Garcia is a past winner, having triumphed in 2017 before going on to win that year's Masters Tournament.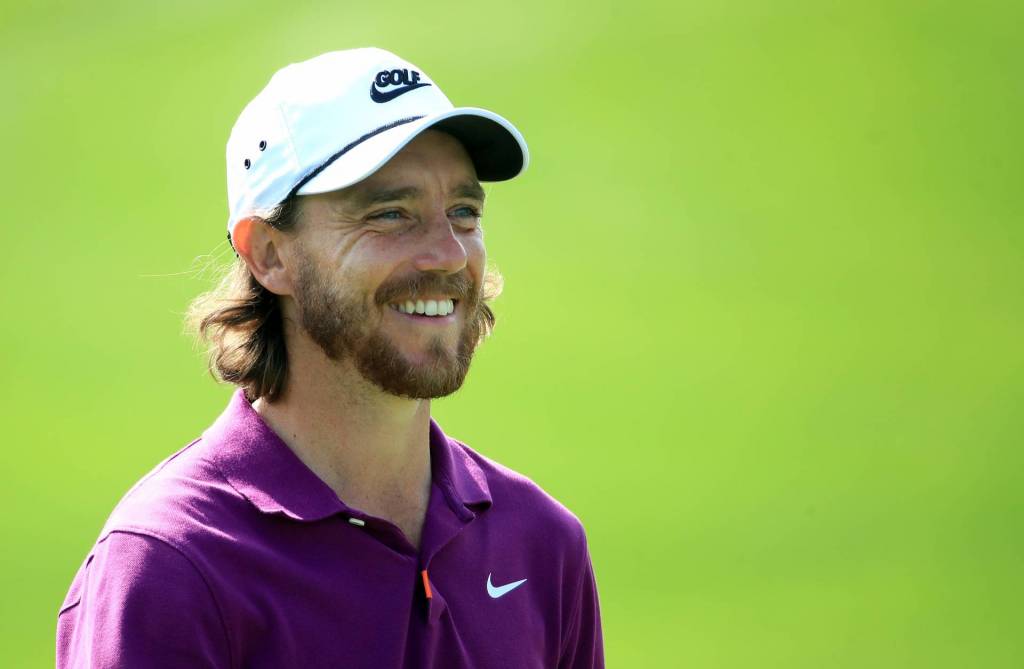 "I always look forward to starting my season in the Middle East, and Dubai with its history is a popular tournament in the Middle East Swing. There are so many great winners of the OMEGA Dubai Desert Classic and I would love to be one of them one day," said Fleetwood.
---
PAST HIGHLIGHTS
Monty's driver off the deck (1996)
Standing in the middle of the fairway with a one-shot lead over playing partner Miguel Angel Jiménez in the final group, Monty closed the door in emphatic fashion by finding the green with a crisp strike that was later crowned 'European Tour Shot of the Year.' "Under that kind of pressure, that was the best shot I've ever hit on the European Tour," said the Scot.
McIlroy's maiden win (2009)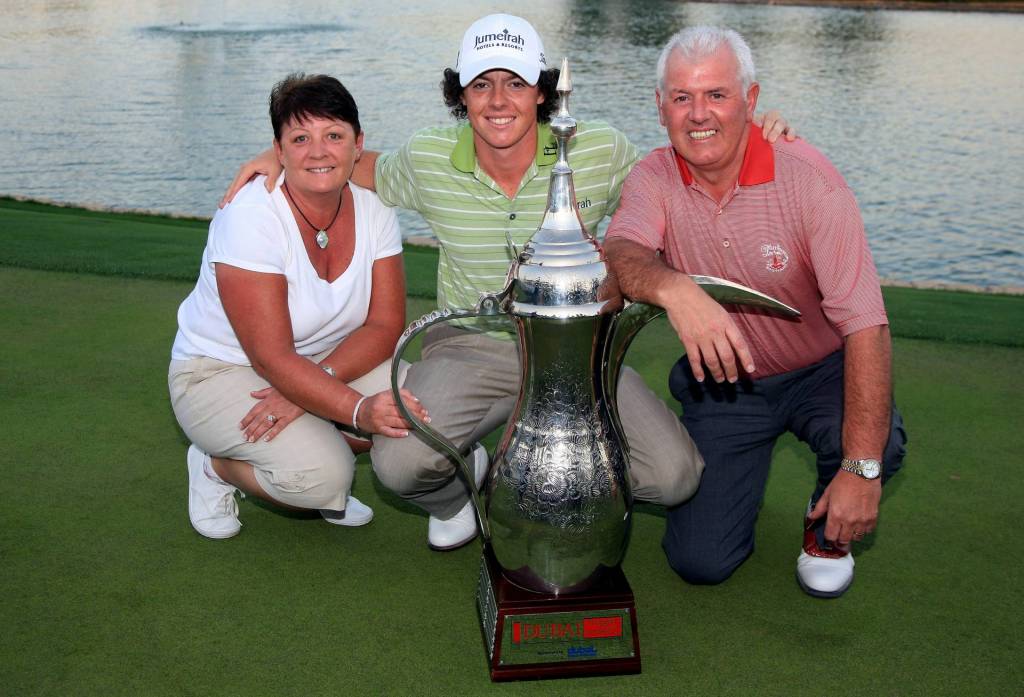 Fresh-face 19-year-old Rory McIlroy recovered from three back-nine bogeys to win his first professional title in Dubai by one stroke ahead of Justin Rose, with Henrik Stenson third. "I still have a lot of years to progress and I just want to keep improving and, hopefully, one day I'll be able to compete with Tiger," said McIlroy after taking ownership of the Dallah Trophy for the first time. He would win the title again in 2015.
Els at the treble (2005)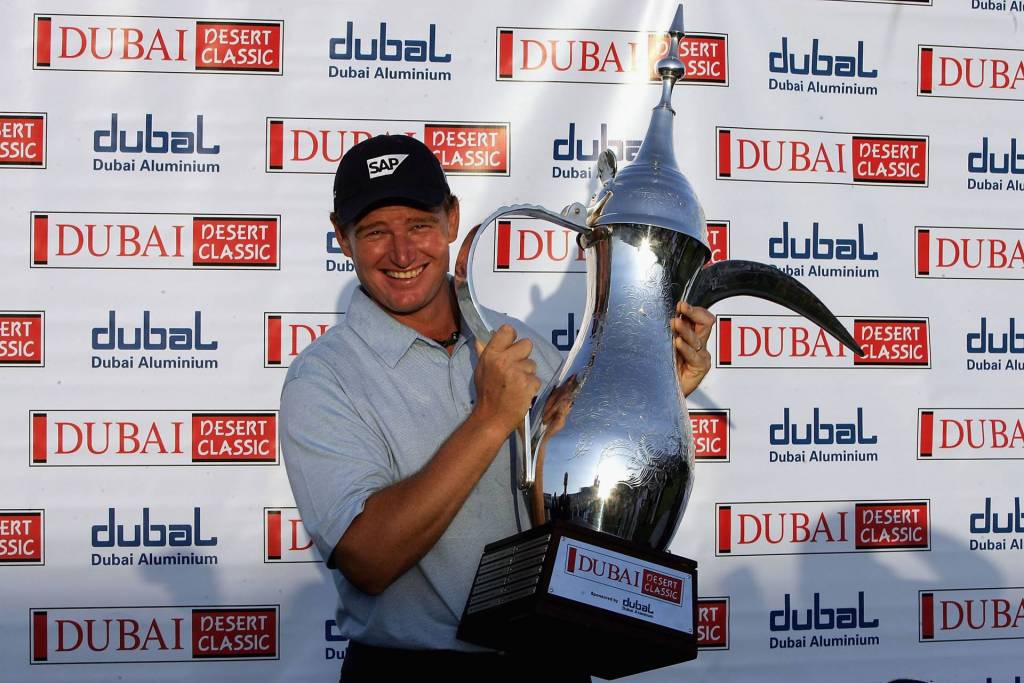 Ernie Els rolled in a 20-foot eagle putt on the 18th green to win by one shot ahead of Stephen Dodd and Miguel Angel Jiménez and become the event's first three-time winner in 2005. Els was the only player to eagle the final hole all day. In addition to his three wins, Els also finished runner-up on three occasions.
Legendary winners
Tiger Woods, Ernie Els, Seve Ballesteros, Rory McIlroy, Colin Montgomerie and Fred Couples are just a few of the big names to have won the Dallah Trophy. Recent winners include Major champions Danny Willett (2016), Sergio Garcia (2017) and Bryson DeChambeau (2019) and leading Chinese player Haotong Li (2018). Australia's Lucas Herbert is the defending champion after he won his maiden European Tour title with a gritty play-off win over Christiaan Bezuidenhout 12 months ago.
THE LOWDOWN
Of the 31 past events, there have been six play-offs and 12 victories by one-shot. Bryson DeChambeau's 7-shot winning margin two years ago is a tournament record, as is his 24-under-par score.
---
What: Saudi International powered by SoftBank Investment Advisers
When: Feb 04 – 07
Where: Royal Greens Golf & Country Club, King Abdullah Economic City, Saudi Arabia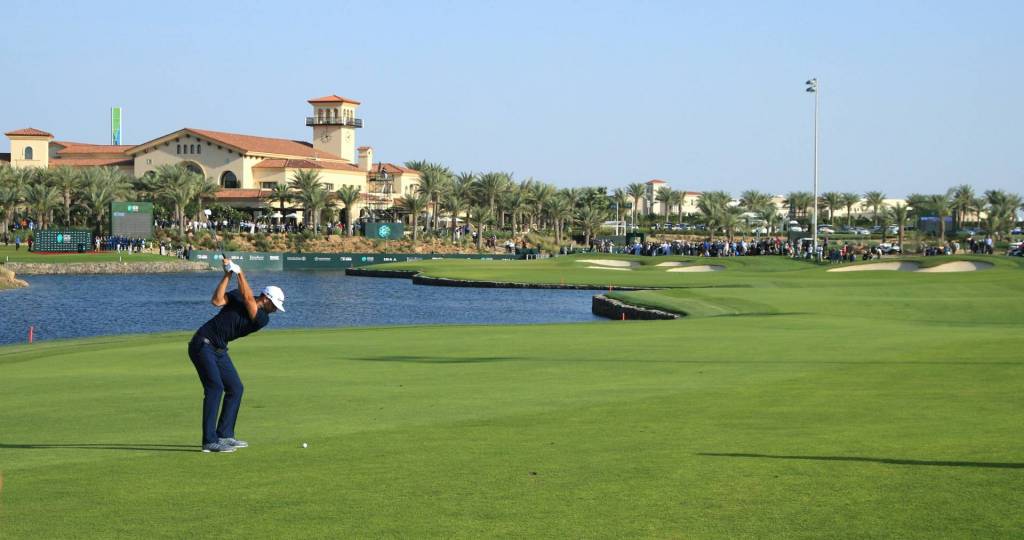 Now in its third year, the Saudi International powered by SoftBank Investment Advisers has established itself as one of the must-play events as the big names from around the world flock to tee it up and compete in the Kingdom.
The Championship course at Royal Greens Golf & Country Club was designed by European Golf Design to test both the world's leading players and amateurs alike, with multiple teeing options on every hole. Off the tips the course plays to a par 70 at 7,010yards, with only two par-5s, the 569-yards fourth hole and the 607-yards 18th.
The Red Sea is a hop-skip-and-a-jump from the 16th green and the course offers spectacular views across the blue expanse, while also utilising some elements from the most world-renowned courses for strategic purposes. Numerous bunkers enhance the challenge while the routing offers some risk/reward choices which could make or break a player's chances of success.
The wadi and lakes add drama while the well-maintained native areas are ready to cause headaches for anyone wayward in their play. Major research was undertaken in choosing the particular grasses and the layout of the irrigation system to try and offset the harsh conditions that come during the peak summer sun. Genetically modifiedgrassgrowninGeorgia, which is heat resistant, was sourced, while the irrigation system provides efficient application of water in order to minimise any waste.
---
EPIC CAST OF PLAYERS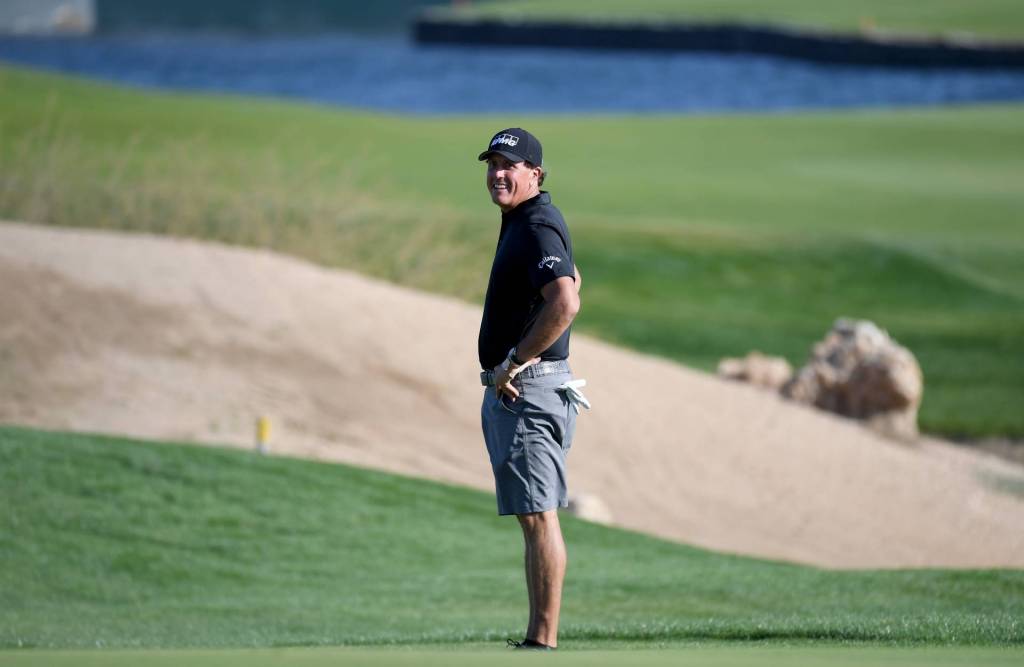 TAKE A DEEP BREATH, Dustin Johnson, Bryson DeChambeau, Patrick Reed, Phil Mickelson, Tony Finau, Viktor Hovland, Graeme McDowell, Shane Lowry, Sergio Garcia, Justin Rose, Henrik Stenson, Rafa Cabrera-Bello, Paul Casey, Tommy Fleetwood, Tyrrell Hatton, Ian Poulter and Lee Westwood are all headed for King Abdullah Economic City.
"It's been pretty neat to witness the growth of golf in the Kingdom and it's definitely one of the reasons I like to play in Saudi Arabia. Golf has been such an important part of my life, so it's nice to get the chance to play a part in introducing it to a new audience. In just the past two years you can see the interest level rising in Saudi, especially amongst the juniors." – Dustin Johnson
---
PAST HIGHLIGHTS
Dustin Johnson won the inaugural edition in 2019, defeating China's Haotong Li in a final round tussle. Li had fired a stunning 8-under-par 62 to launch himself into a share of the lead with Johnson, but he couldn't repeat his heroics as Johnson's final round 67 saw him win by two strokes. "Any time you can win a professional golf tournament, no matter where it is in the world, it's a big win. I'm honoured to be the champion," said Johnston."I'm really looking forward to returning to Saudi Arabia for a third consecutive year. I've really enjoyed both of my visits and I love the golf course, as evidenced by my win and runner-up finish. The scuba diving experiences I've had in the Red Sea have also been amazing." The 2020 winner was Graeme McDowell, who took home his first piece of European Tour silverware since 2014 after defeating Johnson by two strokes. McDowell was in protection mode as the wind picked up as the final round went on, and he shot a level par 70 to fend off the defending champion, with Phil Mickelson in a share of third place, alongside Thomas Pieters and Gavin Green.
THE LOWDOWN
For the third year in succession, the event will carry a $3.5m prize fund and this year there will be 4,250 Race to Dubai points up for grabs. Plus, with the strength of the field it will likely carry more Official World Golf Ranking points than the Waste Management Phoenix Open, which is held during the same week on the PGA Tour.
---
THEY SAID WHAT?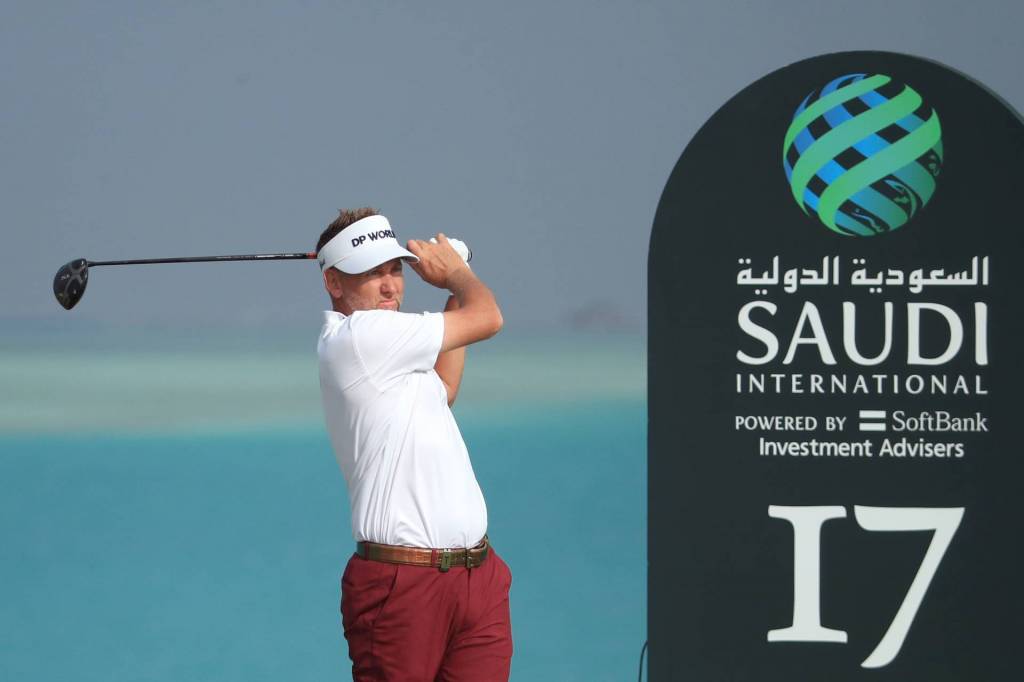 "I really enjoyed the tournament in 2020 and am psyched to be returning again. The course sets up for my game rather nicely so I was pretty frustrated to only finish in the top 20 and will certainly be aiming to finish rather higher up the leader board this year. It's a fantastic Championship course with some really amazing vistas and I also like the fact that we get to play a part in introducing golf to a whole new audience in a new region in the Kingdom of Saudi Arabia." – Ian Poulter
---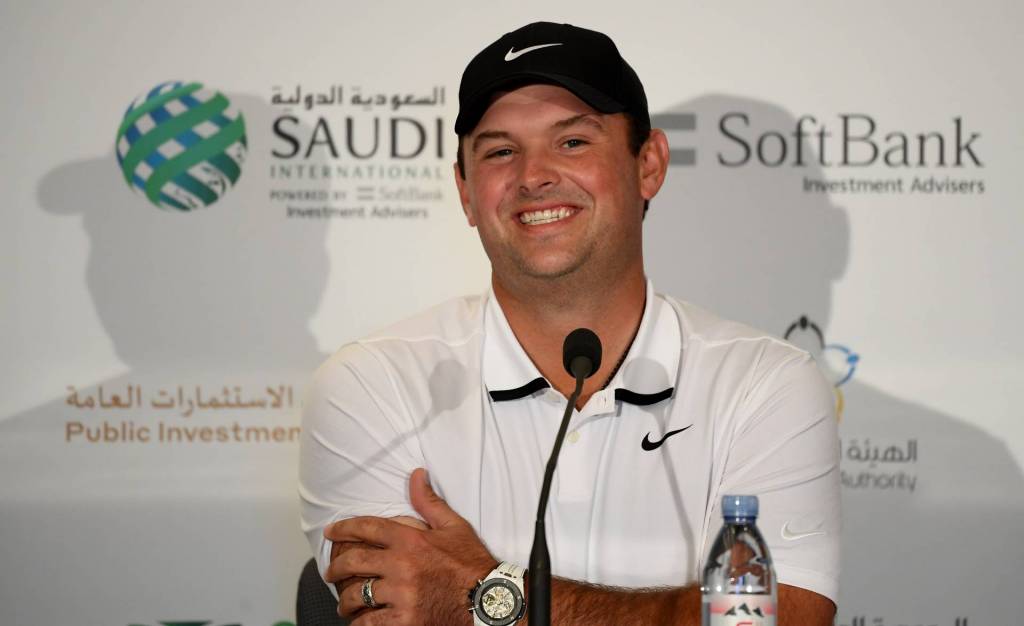 "This is my third time playing in the Saudi International Powered by SoftBank Investment Advisers and I am genuinely excited to return to see all the kids at The World Academy and find out how they are getting on with their golf. They have been so generous in their welcome and support in previous years and I look forward to seeing how everything is progressing, as Golf Saudi works so hard to grow the game and provide the children with so many inspiring golf opportunities." – Patrick Reed
---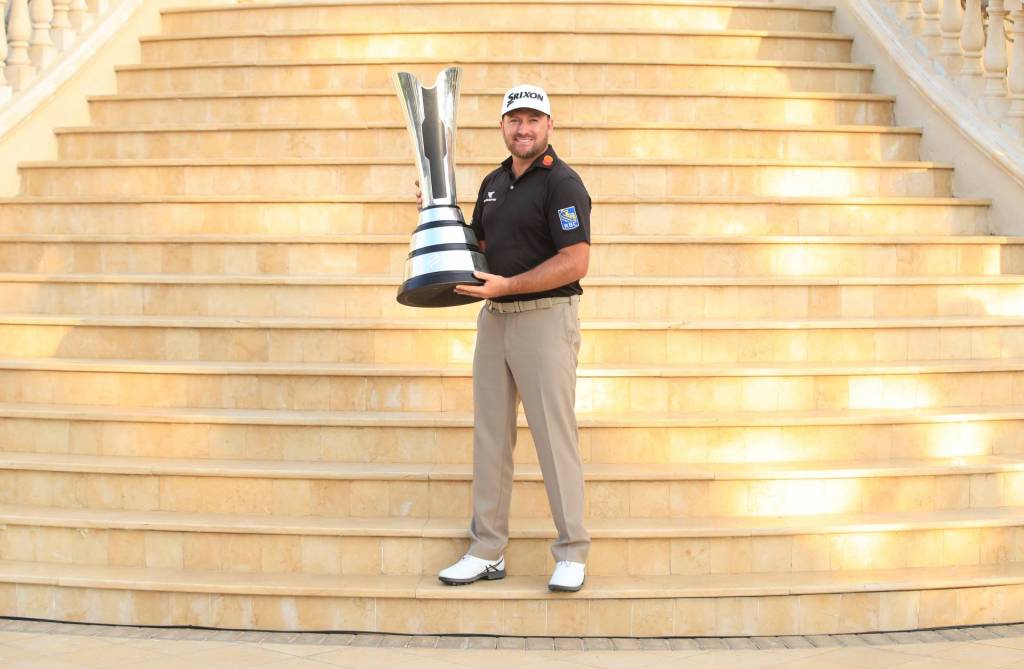 "From the high of winning the 2020 Saudi International in February against such an amazing field we very quickly had to contend with all that COVID-19 has thrown at us since, so I think I was lucky to be able to hold onto that awesome winning feeling through the darker parts of lockdown. I don't think I have ever seen a tournament establish itself so quickly on the player's schedules as the Saudi International has. The Royal Greens Golf & Country Club is a great Championship course and huge credit to the Saudi Golf Federation for gathering such a world class field as they look to inspire a new generation of golfers in the Kingdom." – Graeme McDowell
---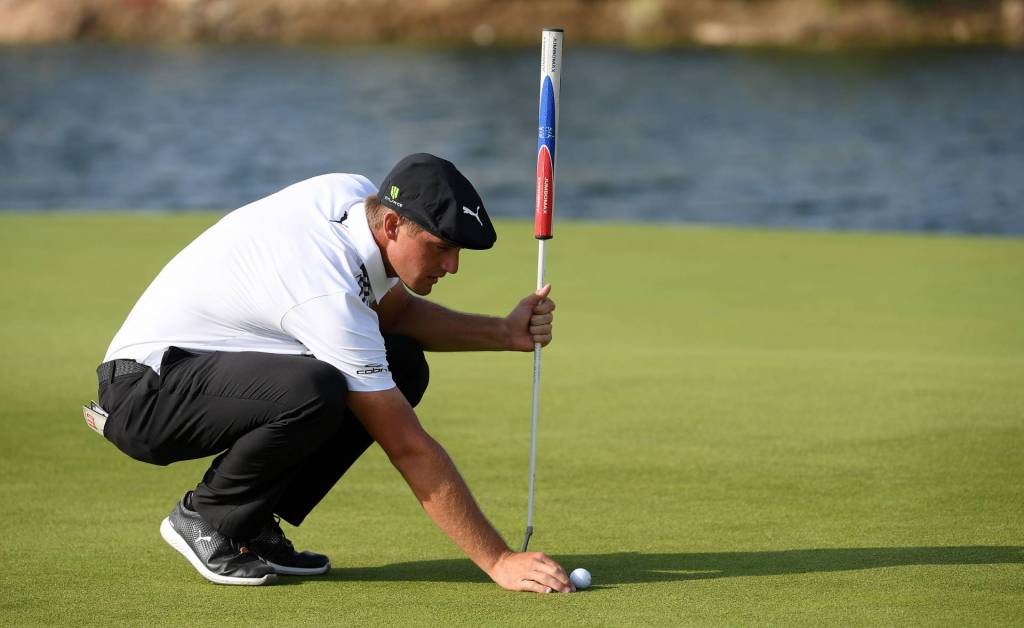 "I have undergone a lot of changes since I last visited the Kingdom as I work to fulfil my golf potential, and I think you can say the same about golf in Saudi as it continues to develop as Golf Saudi endeavour to grow the game." – Bryson DeChambeau