France's leading light, Alex Levy, might downplay the notion that he represents the best chance of home representation at this year's Ryder Cup in September, but with his victory at last month's Trophee Hassan II he has moved into contention and no doubt caught the attention of captain Thomas Bjorn. Alex Gallemore caught up with him practising at Emirates Golf Club on the eve of his victory in Morocco.
Levy has been knuckling down in recent months, taking a break in Dubai from slogging it out on the European Tour, week-in week-out, in order to practise hard and make the most of his opportunities when he's ready to tee it up in competition. His philosophy certainly bore fruit in Morocco as he closed out a one-stroke win over Alvaro Quiros to move into the top 50 in the World Ranking and the top 10 on the Race to Dubai, and pick up his fifth European Tour title.
"I'm really happy with how I played because it was a very tough golf course," said Levy. "I managed to keep my mind
focused. That was the most important thing. I wasn't at my best with the driver but my iron play and short game was really good. That's what I've been working on recently. So, it's nice to see that you can work hard on your game and then win a tournament – that brings confidence." Levy intends to bring his fiery French passion and confidence to the bigger events this summer and put himself in a position to make a charge in The Ryder Cup qualification rankings thanks to a hot start to this season and then victory in Morocco.
Recent work with world renowned coach Pete Cowen and a new putter helped him to hit the ground running in the New Year, with top tens in Abu Dhabi, Dubai and Oman and now he's got his eyes fixed on the lucrative Rolex Series events as a route to making Bjorn's 12-man squad. "A lot of people are saying that the biggest goal for the French player this year is to make The Ryder Cup team with it being in our home country," said Levy. "But we will need to
work hard as there will be a lot of great players close to getting into the team. So, I will practise hard to play well in the big events that are coming up.
"I just need to follow the format I've been doing for the last four months and we will see. I don't really have The Ryder Cup in my sights, I'm just happy to work hard, enjoy it and play my best."
French Ryder Cup rookie
There was a Frenchman in the side four years ago when Victor Dubuisson turned out to be one of the stars of Europe's victory at Gleneagles and Levy is keen to ensure that the French Ryder Cup legacy continues later this year. "At the moment, I'm trying to play fewer times so that I can really focus on the big tournaments. I played the leading events in the Middle East – and played well. I didn't take part in the Open de Espana last month because I preferred to practice and be prepared for the Rolex Series and the Majors, starting at the BMW PGA Championship at Wentworth.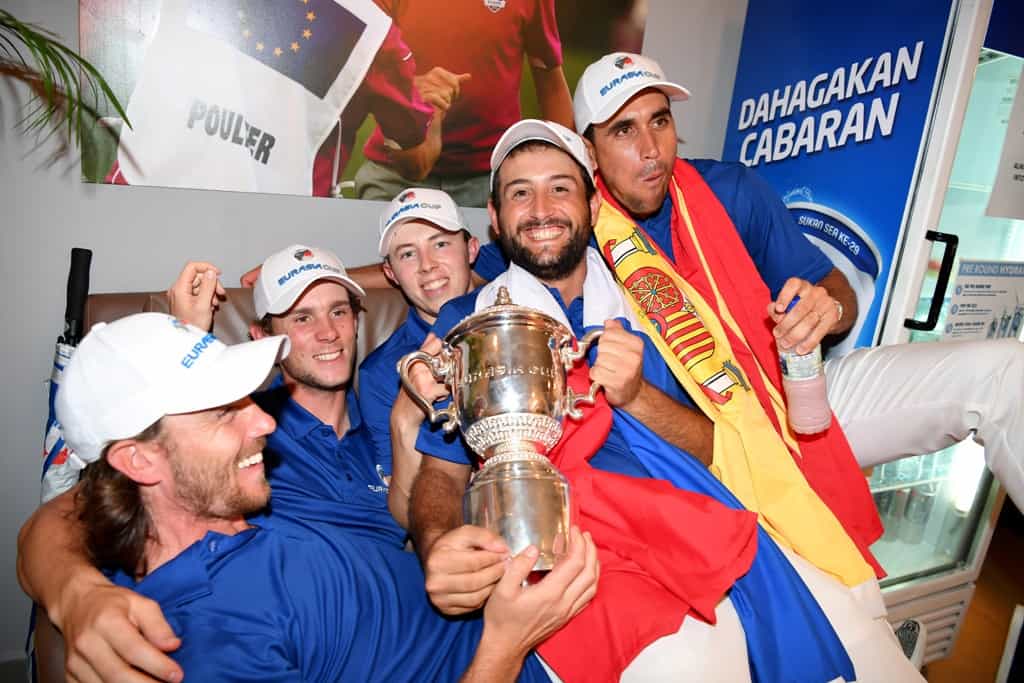 "The DP World Tour Championship is another of those events that I'm aiming for this year.The golf course at Jumeirah Golf Estate is great and the place has a certain vibrancy to it. It's a tournament worthy to be the climax of the European Tour season." Levy will be bidding to become the fourth Frenchman to don the colours of Team Europe in the biennial match-up with the United States, following Jean van de Velde (1999), Thomas Levet (2004) and Dubuisson. The 27-year-old had his first taste of team golf earlier this year at the EurAsia Cup where he defeated Kiradech Aphibarnrat in the Singles session to help Europe overhaul Asia and seal a 14–10 victory. "That was an amazing week," said Levy. "I really liked the team aspect and I learned a lot from it. It was my first time playing with my team mates since I turned professional and for sure, I dream about The Ryder Cup in France. But I must go to work – I have to practice hard and I will try my best to make the team."
Grafting on the Dubai ranges
Levy has been hard at work among the many world-class courses and practice facilities in Dubai. He's hoping that this, coupled with the confidence gained from his recent triumph, will set him up nicely for a summer surge. "Dubai is a wonderful place to practice. I like to come down here every once in a while," said Levy. "The Academy at Emirates Golf Club is outstanding and the quality of the golf course is excellent. When practising you need to go
somewhere where you can better your game and Dubai is the perfect place for that. You see so many European Tour players out here. "I have been working for one year now with Pete Cowen and my game has improved a lot with him. I am focusing on my body action so I can have better ball control and ball flight. So nowadays I try to put my body in good action so that my feet can work properly so that I do not lose control and energy during my swing."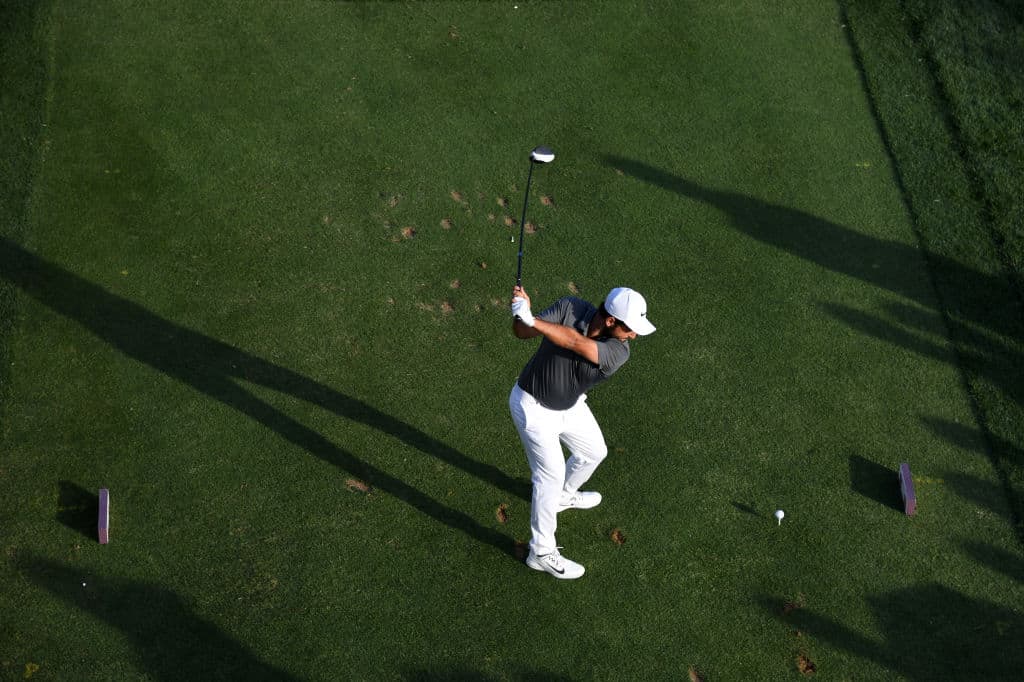 When he's not honing his game, Levy likes to kick back and enjoy what Dubai has to offer away from the golf course. "I like to go to different restaurants throughout the city and try different cuisines," he said. "I also have many French friends in Dubai so I get to see them and catch up. What I really like about Dubai is that you can have that balance between focusing on your game and enjoying yourself." Levy was also on hand to take part in Worldwide Golf's new Gorilla Golf League at Emirates Golf Club – and, perhaps, not surprisingly, he smashed the longest drive of
the night to lead the UAE table.
Although he's not overly confident of hanging on to that lead for long. "I think you have some great long hitters; Jay Varkey would definitely beat me," he smiled. "Admittedly, I am not really one of the top three long drivers on Tour. I may be leading the way for now, but I am not sure how long I will be able to keep hold of that lead." With that, he launched his ball 350+ yards? "I used the TaylorMade M2 because it's the best driver I have had in my career. I don't want to change it because it has been really great for me," he admitted. "It's an 8.5° head but I have opened it out to 9.5° because there wasn't enough spin. So I put a little more loft and I have been using the same shaft for the past five years – a Mitsubishi Rayon, weighing 60 grams."
Modern equipment is fun
Equipment has been a hot topic of conversation in recent years, but Levy believes there is no reason to dial back the ball. "Advancements are good for the game," he said. "I believe that the set-up of the golf courses at Tour level should be harder – with higher rough and firm greens. "The improvements in equipment are noticeable. I was at the Pete Cowen Academy and they gave me the first balata ball to hit with an old driver, and you can feel the difference. But
I think every sport should improve. It's good for the game. It makes it more fun to be able to hit the ball easier. Being a long hitter doesn't mean that you can win every tournament – I would rather be a good putter than a long hitter.
"You can have a 170-yard par-3 with deep rough and water all around it and you can walk off with a very bad score. But I like this kind of short hole because you can make birdie but you can also mess up and walk off with bogey or double bogey. I find that much more challenging and enjoyable than an open 230- yard par 3."
Levy's routine is working well – practice hard, compete well and the rewards that come will fall into his lap, and he'll be sure to enjoy them to their fullest. If he can continue on the right lines France could be well represented come September.