I've been fairly busy since my last column and I'm delighted to be writing this having ended a five year wait for a third European Tour title after winning the Aberdeen Asset Management Scottish Open in July. 
I've been in contention to win several times over the past few seasons and I felt that I didn't do much wrong, it's just that things did not go the way I wanted them to. But I still believed that I could do it – I'd done it before and I knew it was going to happen again, it was just taking a little bit more time than I desired! In the end, all you can do is to keep trying and to stay focused on your routine. Winning the Scottish Open was meant to be, it was my day. I played great golf, got the lucky breaks that I needed, ended up getting into a play-off, which I didn't think I would make, and then I played well in the play-off and luckily that birdie was enough for me to get the win.
After five long years.

Rafa Cabrera Bello wins the 2017 @AAMScottishOpen pic.twitter.com/smzokLNAwf

— The European Tour (@EuropeanTour) July 16, 2017
Timely triumph
The introduction of the Rolex Series to the European Tour is extraordinary. We are very grateful and happy with how the  events are going and to be part of the winner's circle in the first year is very special. I'm getting married at the end of this year so of course it's a nice time to win, but I think it's always a good time to win a Rolex Series winner's cheque!
On the course, I was fighting and trying to catch the leaders in the final round, I think I was playing very well and I was keeping an eye on the leaderboard but I really wanted to focus on my game. But I honestly felt that it wasn't going to be enough. Callum Shinkwin was playing great and he showed no signs of making any bogeys. However, he did bogey the 18th. In a play-off you have a 50-50 chance – some people said that I had the advantage and I agree because I was the one who was happy because I really did not expect to be there.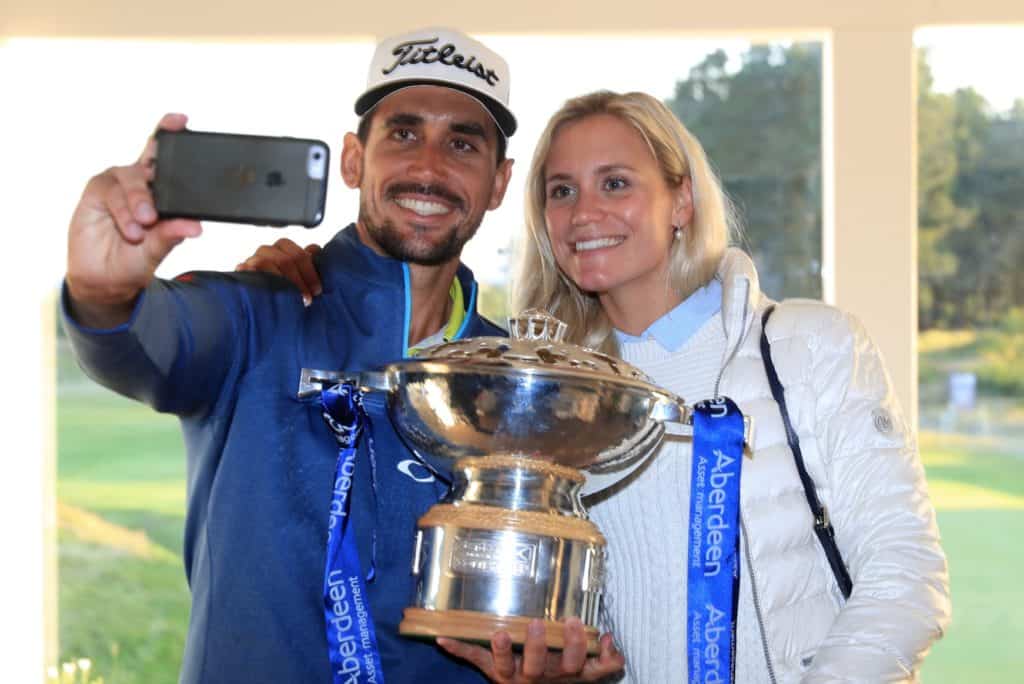 I do sympathise with Callum because I was in his shoes before and I know how it is when you do well throughout the tournament and yet don't come out on top. I don't think he should be regretting anything, it is easy to get down on yourself when you are so close to win but fail to clinch it in the end without doing much wrong.
Major proceedings after Scottish Open
I tried to keep the celebration simple as of course I had The Open the following week. We rented a house near Royal Birkdale and I enjoyed several nice dinners with my finance, family, friends and manager with the lovely replica trophy they give you sitting next to us on the table! Back in the days when the Scottish Open was played at Loch Lomond Golf Club, the media often talked about the 'curse of the Bonnie Banks' which referred to players who won the Scottish Open suffering from a 'hangover' in The Open the following week, but I think Phil Mickelson proved it doesn't exist anymore in 2013 when he won at Castle Stuart and then backed it up by lifting the Claret Jug at Muirfield!
In my case I do admit it was a different feeling because when a player approaches a Major the only thing they usually think about is the Major itself. But after winning a title after such a long time I was simply ecstatic! I was too excited to sleep the first few nights after my victory.
Preparing for The Open was not easy as the practice rounds felt different for me with my emotions running high. But I managed to focus and I forgot the Scottish Open win as soon as I teed up on Thursday morning and I was very pleased that I finished in the top five for my highest finish in a Major.
After a great summer I'm now in the top five of the Race to Dubai rankings but I'm not thinking too far ahead at the moment. There is still a lot of golf to play both in the US and Europe, including the final Rolex Series events leading up to the season-ending DP World Tour Championship.  It would be nice to arrive at Jumeirah Golf Estates with a chance to fight for the Race to Dubai crown, but I will need to be on my game for the reminder of the season. The guys ahead of me – Tommy (Fleetwood), Sergio (Garcia) and Jon (Rahm) are playing great so we'll see what happens!
Barcelona attack
On a more somber note I want to touch on the terror attack in Barcelona. It's a huge tragedy and it's not only my home country of Spain that has been affected as similar incidents have been happening all over Europe for the last decade. It is definitely something that worries all of us and it is an ongoing global problem. As players, golf is our livelihood but, in the end, it is only a game and when people have lost their lives like this it puts everything into perspective.