The media had a field day about Patrick's private life but as the saying goes: 'If you don't have anything nice to say, don't say anything at all.'
My first vivid memory of The Masters was in 1987. I was 12 years old, just beginning to become very keen on the game of golf. I tuned into the BBC just in time to watch Sandy Lyle hit that 7-iron from the bunker on 18 at Augusta National. He slipped on the green jacket just a few minutes later and from then on, I was sold. The Masters had a place in my heart from that moment onwards.
Of course, in those days, European stars dominated the leaderboards. So, most years when I tuned in, one of the Big-Five was at the helm, hoping to join Seve Ballesteros, Sandy and Bernhard Langer in the Champions locker room. To a teenager, it was intoxicating stuff. Childhood memories often dwindle away with the years and once you grow up you often look back and realise that things were not quite what you remember, and that your child's mind had glorified things just a little. It turns out, however, that the Members of Augusta National have created a masterpiece so special that 30 years on, having watched just about every Masters since, you realise that it's just as enjoyable to
watch for a well-travelled 42-year-old touring pro like me, as it was as that starry-eyed teenager.
Drama
It is truly a very special sporting event, not quite transcending golf in the manner of The Ryder Cup, but certainly engaging a non-golfing audience just by the sheer splendour of the canvass on which the competition graces. Somehow, no matter what happens, The Masters always seems to provide us not only with unrivalled drama, but also a storyline that is filled with emotion. Picture Ben Crenshaw winning the year his old Coach Harvey Penick
passed away, or Adam Scott and Sergio Garcia burying their Major demons.
This year, however, the story was all about one of the unfavoured underdogs claiming the spoils from under the noses of the Patrons' favourite sons. Patrick Reed claimed the Green Jacket from two charging compatriots, Rickie Fowler and Jordan Spieth, with a performance filled not only with great skill but also with true grit and determination, and nerves as steely as any we have seen for a long time. Patrick wears his heart on his sleeve. The stress of the situation was clear to see, a man gasping for breath as he goes about trying to reach the pinnacle of his sport. It made for incredible viewing in my opinion.
'Captain America'
So, what a shame it is that no sooner had the champion been crowned than the press and media had a field day about Patrick's private life, his relationship with his family and his capacity to get on with being a top professional golfer, rather than worrying about being everyone's best friend. My column last month talked about rivalries, or, more to the point, the lack of them; the champions of the past who, perhaps, weren't the most popular players on the Tour; the sort of guys who would put the cat among the pigeons, shall we say. If you took any notice of some of the press, it appeared as if by magic, that Patrick Reed had filled that void instantly.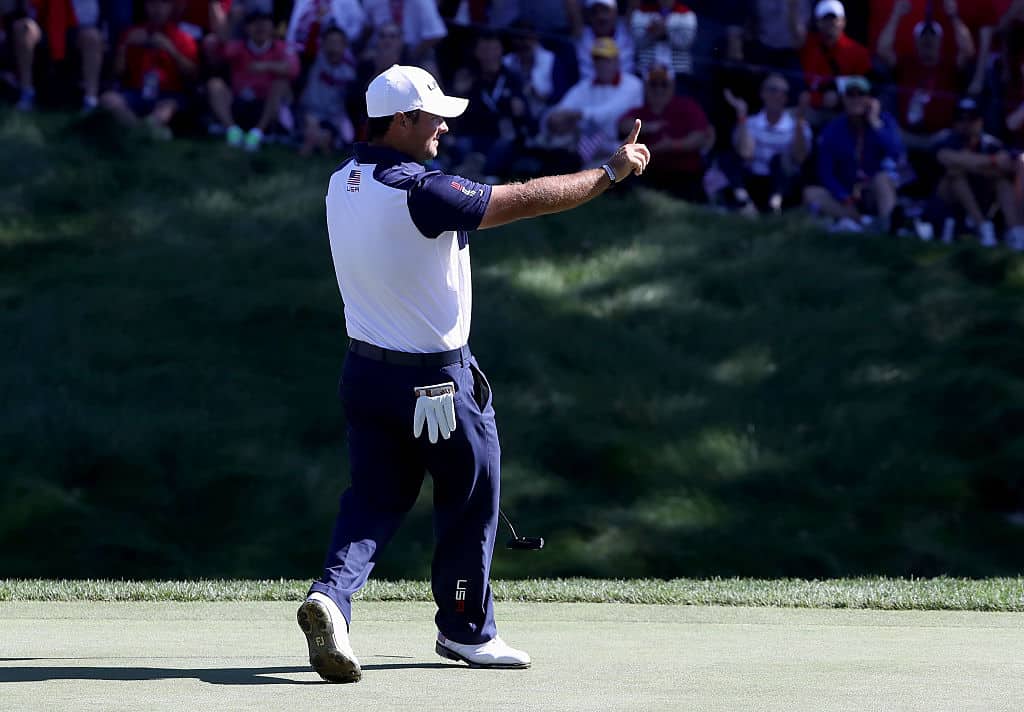 Well, here is my take on the issue. I've met Patrick Reed a few times. I've played golf with him and I found him to be charming. He joined the European Tour to experience some worldwide travel and take his game global. Not so many of the US Players have done that. He spearheaded the charge for the US Team at the last Ryder Cup at Hazeltine, rightly claiming the nickname of 'Captain America'. He plays with belief in his heart, right there for us all to see.
Solo act
Fifty years ago, Arnold Palmer was the darling of American golf. In fairness, he continued to be just that until the day he left us. But then, one day, Jack Nicklaus came along. As I'm led to believe, he wasn't the most popular chap in the early years. But he was good. Very good. He knew it and he showed it and it took time for the fans to warm to him.
But warm to him they did. I see a similar future for this year's Masters champion. Maybe he's not going to beat Jack's record of 18 Majors, but the biggest cheer of the day may be reserved for the defending champion when he tees off next year. The negativity will soon ebb away. Reed may not be joining the band with Ricky, JT and Jordan, but that's fine. Solo acts are needed, too.
Champ
The Ryder Cup will be an interesting encounter, too. Reed is now a Major champion and not an unknown quantity and I can see Patrick taking a much calmer approach to his on-course leadership role this time around. The shooshing finger to the lips might well be replaced with a cooler demeanour that simply says, "Hey, I've got this covered, I'm the Masters Champion you know." So, I hope from now on that the golfing world acknowledges that
Patrick Reed put on an outstanding performance this year to don the coveted Green Jacket, that he beat the world's best players on fine form, and that most of us have done the odd thing in our younger years that we might have regretted.
But we move on, we grow up, and we make decisions that we hope make ourselves as happy as can be, whilst understanding that no one really knows what goes on behind closed doors. So, it's best not to gossip. As the saying goes, 'if you have nothing nice to say, don't say anything at all.'