A new year begins and a whole host of opportunities beckon for the players of the DP World Tour starting right away with the inaugural Hero Cup being hosted in Abu Dhabi. With Luke Donald, our Ryder Cup captain, picking the two teams of ten this is the perfect way for Europe's players to both stake a claim for a berth in the team in Italy and to brush up on their match-play skills.
Europe versus Great Britain and Ireland has always created a bit of needle between the teams, which is a good thing and I hope it will prove the same at the Hero Cup. One thing Europe has never had a problem with is coming together as a team for the Ryder Cup, egos left aside on the way into the team room. A bit of early year spice will be sure to set these 20 players up nicely for the season that awaits.
Tommy Fleetwood and Francesco Molinari, famously a perfect partnership in Paris, will butt heads as captains, which will be a strange feeling for them, so close is their friendship. But their teams are filled with fresh talent and some old heads who are sure to make the backbone of Luke Donald's team in October. The Hero Cup is guaranteed to help Luke in his effort to win back the Ryder Cup, as such it is a fantastic development to have a tournament inspired by Seve back on the schedule, backed by one of the tour's finest supporters in Hero.
Polish star
One of the players sure to have a shot at making the team is Adrian Meronk, after his stellar season last year Adrian made his way Down Under to take part in the Australian swing – the PGA and the Open. Being top billing from the DP World side was a new pressure for Poland's first golf star to handle, and it probably hindered his start at the PGA. However, being partnered with Adam Scott and Min Woo Lee at the Open, his bounce back after a horrible first day was simply sensational, and to go toe to toe with the former Masters champion in front of a boisterous Australian crowd and run out the winner by a canter, was a performance that might just catapult him to heights even he never thought probable. His prize, along with putting his name amongst some greats on the trophy, was delivery of that most sought-after Christmas card from Augusta National, the invite to the Masters, happy Christmas indeed.
After the Hero Cup the tour stays in Abu Dhabi for their championship at Yas links before moving onto Dubai for the Desert Classic, a tournament that always rekindles wonderful memories for me with it being my maiden win on the European Tour. That year, way back when in 1999 we played at the Creek for the first time, with six inch rough providing a stern test. I will never forget trying to navigate my way down the final couple of holes along the Creek itself. Two wonderfully stressful holes with water everywhere just ready to wreck my dream of a first win. In the heart of the city, the Creek has a very different feel to the Emirates Golf Club, at least it did back then before the Majlis also got swallowed up by the city.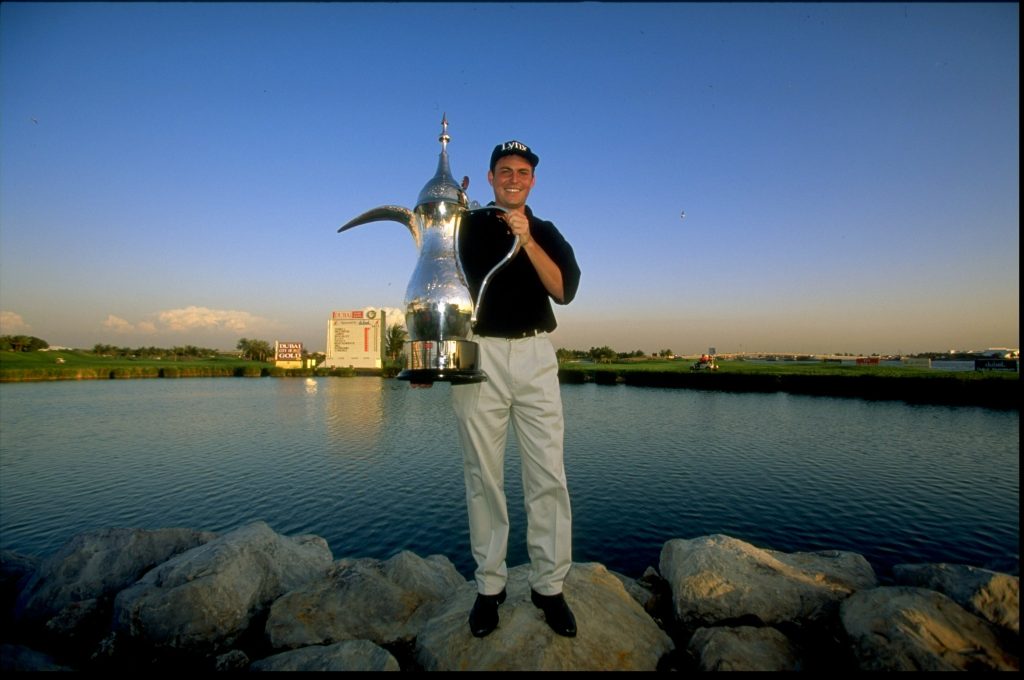 Once I had made my way onto dry land in front of the spectacular clubhouse, that maiden victory was assured, and I couldn't have wished for a finer back drop to experience such wonderful emotions, or played a finer course too. If you are visiting Dubai, the Creek is a must-play course in my opinion, but then I'm biased of course.
These two Rolex series events will take centre stage in the worldwide golf calendar with a couple of stellar fields battling it out to take the spoils at two wonderful venues. It feels like these neighbouring emirates themselves battle it out for bragging rights as to which tournament is bigger and better – a healthy rivalry that everyone benefits from. Whilst my form won't see me competing, sadly, I'm thrilled to be working with TV in Abu Dhabi and am looking forward to watching the teams battle it out for the Hero Cup.
One player that won't be there is Justin Rose who, after a tough season last year, is returning to the PGA Tour to rekindle his magic. Nobody puts in more work than Justin to stay fit and strong but, sadly, his back issues really caused him trouble in 2022. He has somewhat dropped off the radar for the first time in fifteen years and I have to believe that this year is a year in which Justin returns to form. He has set his stall out to do that on the PGA Tour in the early season and I'm sure he will be looking to force his way into the European Team in Italy later in the year.
Luke is sure to have a new look team – some fresh faces will bring new energy to the team room which will only be a positive. But some old hands like Justin or Francesco Molinari would be welcome additions to the team. Francesco will no doubt start to show some of his Major winning form too between now and October and one has to imagine hime being on the tee when the greatest show in golf gets underway.
So, there is lots to look forward to, professional golf is in an interesting period of that there is no doubt, but one thing is for sure – there will be plenty of highlights coming our way this year.