THREE long strange years have passed since Thomas Bjorn led his men to victory in Paris on that wonderful sunny Sunday afternoon. So much water under the bridge shall we say.
Thankfully, the world has started to get to a point where sport can take centre-stage for a while, every now and then and what better way to escape than to watch 24 of the world's best golfers go head to head once more at the incredible Whistling Straits Golf Club, the perfect spectacle to host The Ryder Cup.
I have known Europe's current Captain Padraig Harrington for 30 years. He is the golfer's golfer, shall we say. A lover of the game itself, he has never stopped trying to master this most maddening of games, and at the age of 49, having won three Majors along the way, I fancy Padraig will enjoy his week more than any other week in the 26 years he has spent as a pro.
https://twitter.com/RyderCupEurope/status/1432772675861053444
Mind you, I guess the sad reality is that the difference between captaining a winning or losing side is about the size of the Atlantic that separates the two continents. I can't recall too many Captains waxing lyrical about the week that they lost The Ryder Cup, it's the same for the players themselves. But in a two-horse race someone will leave disappointed, save for the option of a halved match.
First port of call, however, is finalising the two teams. Paddy, as I know him, has opted for three picks and will have to wrestle with the fact that his team won't have space for all the regular faces from recent years. Garcia, Rose, Poulter, Molinari all look to make it with a Captain's pick – and four into three doesn't go.
But what about the guys who have just missed out, too? Will Paddy opt to pick a rookie to go along with two stalwarts? My pals on Tour believe he might just take a gamble and bring some youthful energy into the camp but I fancy that the four guys I mentioned above, are so strong that Paddy will find it hard to not fill his team with three of these four likely Ryder Cup stalwarts.
If there is one man who has done things his own way over the years, however, then it's Padraig, who can see many things from a slightly different angle than most. It could make the Irishman one of the most interesting Captains for a while. Let's hope so, we could all do with a smile after all.
One thing that seems certain, is that if Europe win this one then it will be a win for the ages. I'm sure Steve Stricker will be looking at his team and licking his lips at the prospect of the top five places all being filled with Major winners, and with six wildcard picks he can choose his team as he sees fit. Undoubtedly, he has a mighty team on paper, but time and again over the years this format has proved that it comes down to more than just golfing prowess.
On simple terms, right now, you might judge the Americans as being in better form, but when I look at the bulk of the European Team I just see Ryder Cup players, who have risen to the occasion, players who want to rise to the occasion and who have made The Ryder Cup their battleground.
The collective spirit, plus the bits you can't see on the outside, are often what makes the difference during the three days of matchplay golf. And there's the rub. It's matchplay which is the deciding factor – not strokeplay. That's a huge difference. More often than not, in recent decades, the Europeans have capitalised on that difference.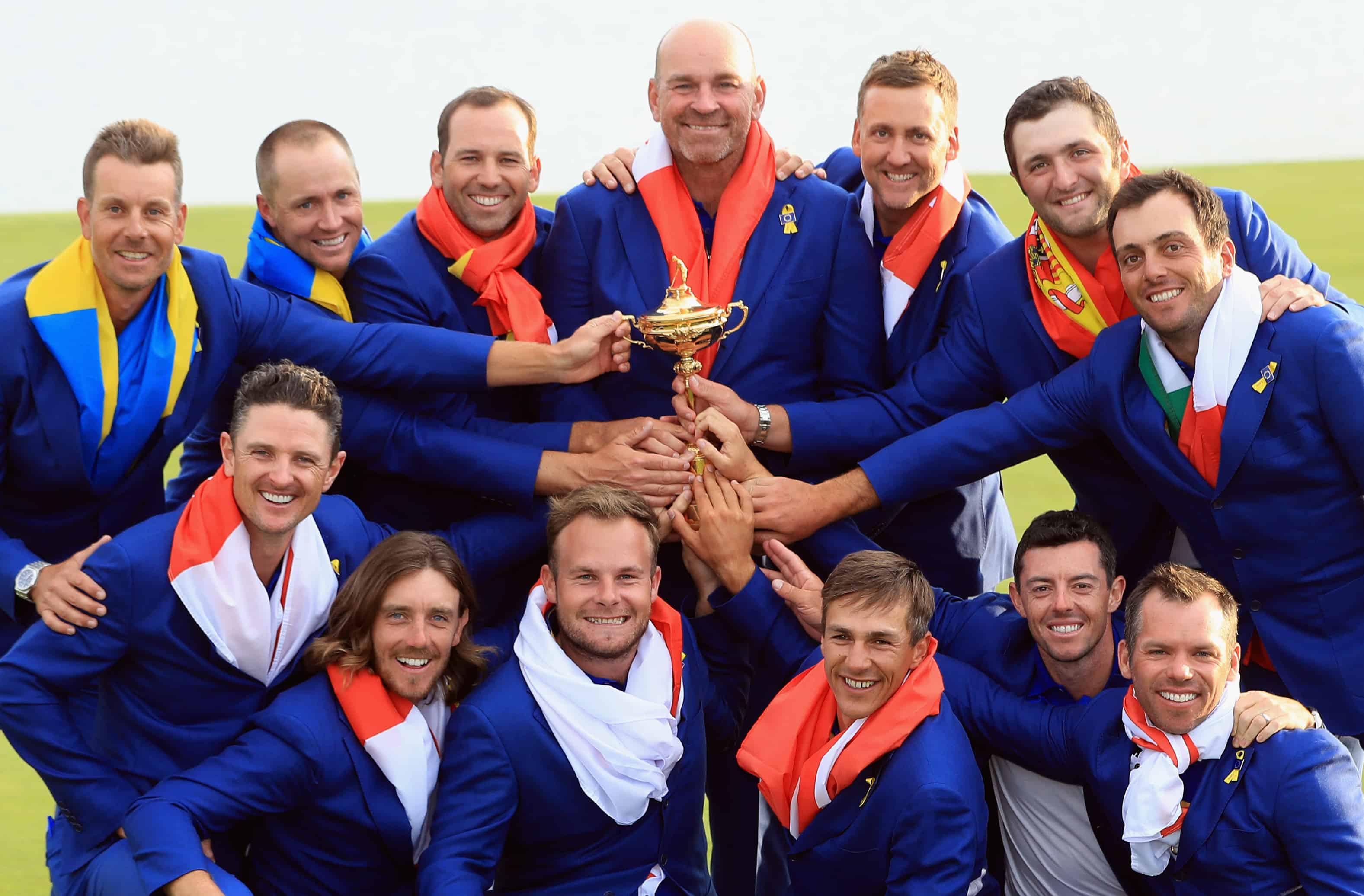 A European win away from home this year would be an incredible feat, but Padraig is capable of rallying his troops and getting the best out of them. Let's face facts – the past 18 months have been a strange existence for everyone. A few of our boys are in less than startling form, but there is nothing like a Ryder Cup to get the juices flowing again. Rory looks like he needs The Ryder Cup to spur him into form. It seemed an age since we have seen a passionate fist pump from the boy from Holllywood, Northern Ireland.
Lowry is the first Open Champion to hold onto the trophy for two years and he could be an outstanding addition to the team. He's a joyful happy-go-lucky personality and his energy could be influential if he holds onto his spot. He and Captain Padraig are great friends. Paddy won't want to have to pick his friend, so I fancy a strong week from Shane in the run-in will seal the deal. Viktor Hovland seems sure to play a strong part. The rookie who isn't a rookie will play a lot I fancy. Young legs will be required around Whistling Straits, which is a long, tiring venue.
One thing is for sure – it will need a collective effort to get the job done this time around, and I don't see any unbeatable partnerships as there were in Paris, and believe that if we win it will be a nail-biter of a finish. But isn't that just what we could all do with right now? A last-hole thriller that transcends the sport and shows the very best that golf has to offer, and perhaps, just perhaps, as a tip of the hat to all we have been through since the two captains were announced three very long years ago, a rare tied match might be just a fitting way to end. With Europe holding onto the trophy of course, just as the rules dictate!