One of my proudest achievements as a professional golfer has to be winning my first fully sanctioned European Tour event. Moving into my fourth season on the Tour back in 1999 if I could have picked a title to win, the Dubai Desert Classic would have been around the top of my list.
How fitting it was that in the year I put my career on solid ground with that victory at the Creek Golf and Yacht Club, Mike and Alex Gallemore were embarking on their own adventure in the Emirate, too, with the first edition of Worldwide Golf hitting the shelves that same year.
Unpredictable
I'm not sure many people could have predicted at that point that Dubai would blossom into the multicultural city of millions that it has become over the following 19 years, or what a crucial role golf would play in bringing the delights of Dubai to our television screens across the globe. But that is exactly how things happened to pan out and Worldwide Golf has been there right from the very beginning, documenting the growth of the game across the Middle East, its integration into the communities of Dubai and the UAE, Qatar, Bahrain and more recently Oman.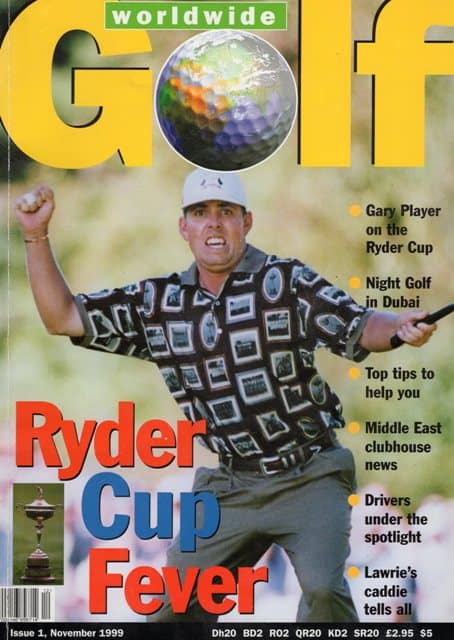 It has been a delight for me to be a Columnist over the last few years, to air some views and give a little insight into my golfing world, and to grace the pages next to the likes of Gary Player, Greg Norman, Pete Cowen, and Rafa Cabrera Bello with my own opinions, is a thrill in itself.
Dubai really only does five-star. If it does deviate from this standard it is only upwards and, much like its subject matter, Worldwide Golf has always seemed to me to fit in seamlessly with that standard. Its ability to attract the very biggest names in golf as contributors and interviewees is the mark of a publication that has consistently hit its core values, and it has stood the test of time when so many others in the print media world have fallen foul of the digitalisation of our world.
Different paths
So, congratulations to Mike and Alex and all their journalists and designers in Dubai, the UK and worldwide for reaching the milestone of 200 editions. In that time, Dubai has come through at least one crisis, Gary Player has flown another few million miles around the globe publicising the game that gave him so much. Never in all my years have I met another person with such enthusiasm, not only for golf but for life itself.
In that same timespan Greg continued to be one of our most recognisable stars, who built a business empire that could rival so many. Then, there's me. Well I managed to win the odd tournament, take part in a couple of Ryder Cups, lose my hair and grow a family. However, I'm incredibly lucky that my journey through life has taken place within the cauldron of professional golf. Within that world I am fortunate to have been to so many different countries, experience so many different cultures, and, most importantly of all, I have got to hang around with some wonderful people who also share a love of the game that has changed my life.
Managed to get peppa pig off the tv finally and replaced it with tiger woods trying to make the cut, slightly more interesting I'd have to say, mind you the one when peppa jumps in muddy puddles Is a classic, btw, Rahm goes to no1 with a win, incredible start to a career. Wow

— David howell (@davidhowell530) January 26, 2018
I feel incredibly lucky that because of these experiences Worldwide Golf has offered me a platform to talk about the game, its people and its places, to put pen to paper knowing that my thoughts will be read by just the sort of people I respect, is wonderful. So, in this special 200th edition I would like to say thank you, Worldwide Golf, for giving me the chance to contribute. I've made only a tiny contribution compared to many, but I hope to be able to keep airing my views for years to come. By my reckoning, in edition No.300 I could well be discussing what it's like to be a rookie on the Senior Tour. If we all make it that far, a special celebration will be in order for sure, and maybe even a front cover shoot…