Is everyone at the top level of professional golf a little bit too nice? Is the game lacking a character that can transcend the sport and engage with a non-golfing audience?
With my own season having been on hold for various reasons in the health department, I was delighted to take the opportunity to do a little television work for Sky Sports.
In the final round of the AT&T Pebble Beach Pro-Am, Dustin Johnson held the lead alongside the unheralded Ted Potter Jnr, or as many had billed it, 'David versus Goliath.' I was taught never to say, 'I told you so' but my final line in last month's column was, 'when David beats Goliath, which often happens in golf, everyone feels good.'
Gloating over, how does this happen so often in golf? How does a player ranked below 250 in the world beat the world's best player, head-to-head. Well, I'll tell you. Pebble Beach isn't a long course. It requires accuracy and great spin control; it's as old-fashioned as exam papers and it gives a whole host of players the chance to excel. Faced with Pebble Beach, Ted Potter answered all the questions. He shaped his shots, he controlled his emotions and he came out the victor in fine style. I don't watch too many final days from start to finish but I'm glad I got to see Ted win, perhaps not in dramatic style, but by truly outplaying everyone else over a superb golf course.
The game is graced with some tremendous talents at present. Johnson is all power with a devil-may-care attitude; watching Rory in full flow is like watching a Rolls Royce purring down a motorway; Jason Day is flat-out with every drive, full of positivity; Justin Rose is full of quiet determination like a James Bond movie assassin, and Jordan Spieth seems to be a mix of insecurity off the tee added to complete and utter self-belief in every other department. They are all popular golfers, nice personalities and great role models.
Rivalries
But I wonder if it would be more interesting if there was a little more intense rivalry between these stars of the game. Where has all the rivalry gone? When I look back in history I remember the battles with Jack Nicklaus and Arnold Palmer; Nick Faldo and Greg Norman; Seve Ballesteros and anyone who happened to be American. Ernie Els may be a lovely character, but he had an intense rivalry with Tiger Woods for a few years, not to mention Phil Mickelson versus Tiger.
Even Colin Montgomerie seemed to bring an air of invincibility to the game. He created powerful storylines wherever he played, and as popular as he was in Europe he was far from a favourite in the States. When I watch the top boys pitting their wits against each other I often get the impression that it's all a little too friendly. I accept that everyone is trying their best to be No.1, and the golf they produce is quite incredible, but I get the feeling that they could add a little more spice if it had a 'villain' right at the very top of the game.
For years, Tiger filled that role by his sheer intimidation plus the fact he was by far the best on his day. His bank balance was akin to that of a small nation but his intensity and his determination to win was always there. It's simply part of him. Whilst he was always courteous in defeat, he was a 'sore loser' – and proud of it. There's nothing wrong with that. Maybe the global game would be more interesting if a 'sore loser' emerged from the latest pack, someone not so nice, a cat amongst the pigeons. The problem is, golf is a game that attracts a certain type of person. It's a game that knocks you around, mentally, which makes being arrogant and cocky a rare thing. It's why it's such an incredibly good game for kids to play.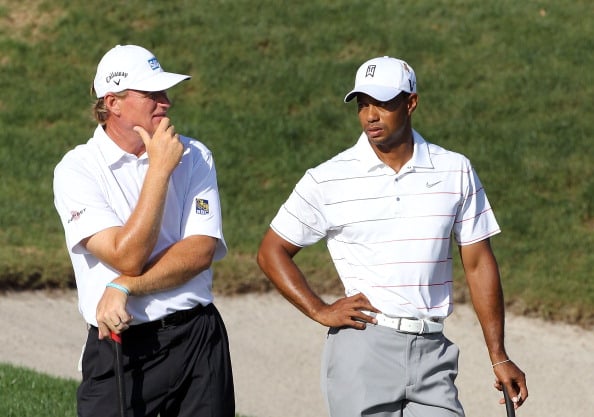 Nice guy
Golf teaches you about life in so many ways. It can shape your personality, too, if you play enough of it, and teaches you to respect the rules and the etiquette of the sport. So, it's rare when someone stands out from the crowd at the very top of the game. Tiger did it for so long we took it for granted. His rivalry was based on one guy versus the rest. Now we need a couple of classic Major championship shoot-outs between 'heroes and villains' to spice things up. The Ryder Cup always brings that sort of energy to our screens. If we can bottle some of that Ryder Cup rivalry and bring it to the rest of the circuit, then the game will be all the better.
It's quite simple really. All it would take is someone like Jon Rahm holing a 20-footer on the final green for a European victory at this year's Ryder Cup; swimming across the lake to hug captain Thomas Bjorn; resigning from the US PGA Tour during the closing ceremony; then winning next year's Masters and the Grand Slam, simultaneously; moving back to Spain full time to concentrate on playing the European Tour; then popping over to America once in a while to gloat and steal their cash. Now that would create some real rivalry!
Only problem I can envisage with this plan – Jon Rahm is also too nice, too humble and I think too surprised by his own brilliance to be the villain in the pack. The only option then, is to start spreading some fake news I reckon. If we try hard enough, maybe we can create some rivalries.