Ahmad Skaik cruised to a second victory at the UAE Presidents Cup sponsored by HSBC as he fired rounds of 74-73 for a championship total of 147, 3-over-par at Abu Dhabi Golf Club.
"This year's win is special for me and my family," said Skaik, whose brother, Mohammed, won the Junior Division. "To win the Presidents Cup and to have my brother win the Junior Division at the same time, will be something that we will remember forever. I wasn't hitting the ball particularly well off the tee this weekend but I scrambled well and made a lot of pars.
"Coming off playing four consecutive weeks on the DP World Tour, it is time for a little break and focus on my studies. It is an honor to win the UAE Presidents Cup and I am grateful for all of the support that I have received from the EGF and the entire UAE. I'd like to thank my family, coaches, and of course my teammates for pushing me and making me a better person on and off the course."
Taking the runner-up prize was last year's champion, Khalid Yousuf, while Khaled Salmeen completed the top three.
The Overall Net winner for the event was Walid Al Attar, who was playing in his first national championship in over ten years. Playing off a handicap of 10.4, Al Attar finished with a Net Total of 130 for the two days.
Meanwhile, the winner of the Senior Division, which had more then 15 competitors over the age of 50 playing, with gross scores of 77-84 for a total of 161 was EGF Secretary General, Mr. Khalid Mubarak Al Shamsi.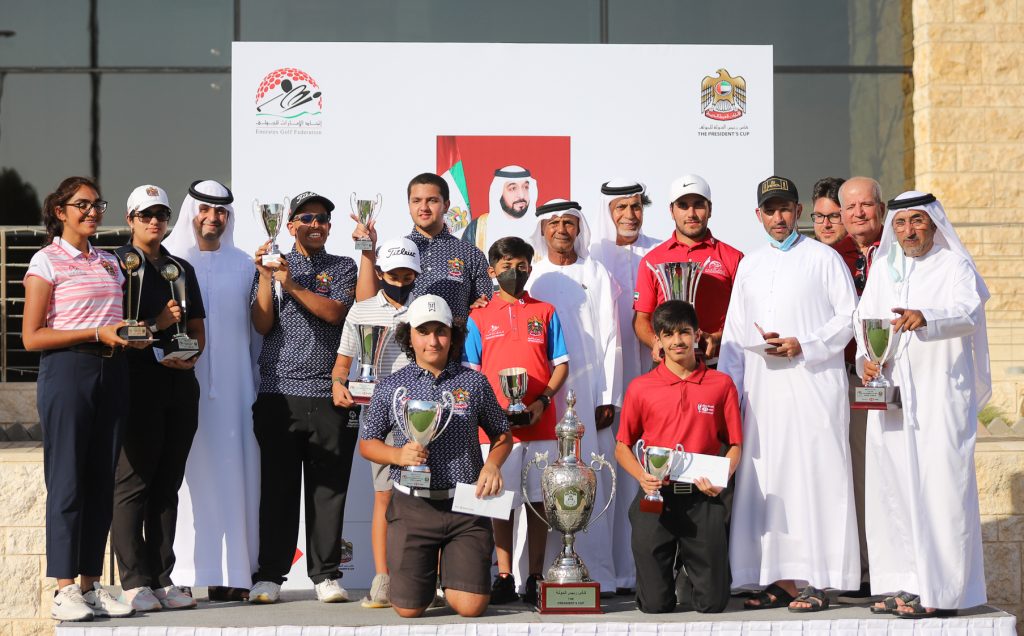 Al Emadi defends her title
In the Ladies Division, Alia Al Emadi successfully defended her title after shooting rounds of 82-81 for a championship total of 163.
"It feels amazing to not only win the Ladies Division two years in a row but also it proves to myself that my hard work is paying off," said Al Emadi. "The Presidents Cup is the biggest tournament for Emiratis in the UAE. One thing I particularly love about the Presidents Cup is the fact that all golfers from the UAE reunite to compete together. This weekend my putting has really stepped up. I made some key putts to save my score."
The Ladies Overall Net winner was Faye Al Bolooshi with a net score of 139.
Growing the game
In efforts to develop the game of golf within the national community, the 2022 UAE Presidents Cup sponsored by HSBC also hosted a 9-Hole Championship on the Garden Course at Abu Dhabi Golf Club. On a modified 9 holes, this year's event also offered the UAE Special Olympic Team players to compete in the 9-Hole Championship.
21 members of the EGF National Foundation Squad and three players from the UAE Special Olympic Golf Team competed in the 9-Hole Championship. UAE Special Olympic Team player Ali Bin Sumaida won the event in style after carding a hole-in-one on hole seven and an eagle on hole eight on his way to shooting an impressive 37.
Latifa Al Jassmy finished runner up while UAE Special Olympic Team members, Saif Saeed Al Qubaisi and Vincent Bower took third and fourth respectively.
General Abdullah Alhashmi, Vice-Chairman of the EGF, said:
"Congratulations to all of the winners. On behalf of the Emirates Golf Federation, we would like to thank HSBC for their continued support of this amazing championship. This weekend is a true celebration of UAE golf. Thank you to and Abu Dhabi Golf Club and to The Westin, Abu Dhabi for hosting our players and families. Lastly, thank you to Abu Dhabi Sports Council and eGolf Megastore for enhancing our championship. UAE golf is moving forward, we have a lot of work to do, together with our partners and stakeholders we will achieve our goals."