New Yorker Julian Suri has made his mark on the world stage this year in the style of a champion. In the space of just one season he has progressed from the American mini-tours to become a winner on the European Challenge Tour to winning on the European Tour and qualifying to compete in the grand finale, the DP World Tour Championship, where he shared eighth place with Tyrrell Hatton on 16-under, three shots off the winner, Jon Rahm. We caught up with the American in Dubai to talk about his rapid rise and his goals for 2018.
The likeable Suri, who has made his home in Florida, is one of golf's rapidly rising stars. He's a man on a mission to join golf's elite as quickly as possible. "Exactly a year ago I missed out on making my playing card for the 2017 European Tour season at Qualifying School by just one shot, but I got onto the Challenge Tour. I was runner-up in the Open de Portugal, which took me to the top of the Challenge Tour ranking, and I went on to win the D+D REAL Czech Challenge by four shots in May," he says.
"I had been looking forward to playing in a European Tour event and then at the seventh attempt I won the Made in Denmark tournament in August and managed to make it into the top 60 in 59th place to qualify for the DP World Tour Championship. "I've loved being in Dubai and the Earth course really suits my game. It's been a great year. Coming from where I did, It was pretty cool to do what I have done in just 12 months and to be here at the DP World Tour Championship is testament to all the work I've been putting in."
Suri's career path might have followed a different route had it not been for the magnetism of a certain Tiger Woods. As a youngster, Suri was a keen tennis player but he had his head turned to focus on golf by the iconic 14-time Major winner. "My dad was a tennis coach and tennis was my main sport, although I had started playing golf when I was five years' old," he explains. "As a teenager it was around the time that Tiger came on the scene and he was a huge attraction. I got hooked on following golf and started to get more interested in the game. I played at Duke University, graduated in 2013 and turned pro at the end of that year. "I was grinding it out on the mini-tours in the States but struggled with my game. I thought that maybe the European Challenge Tour had a higher ceiling and decided to make the switch.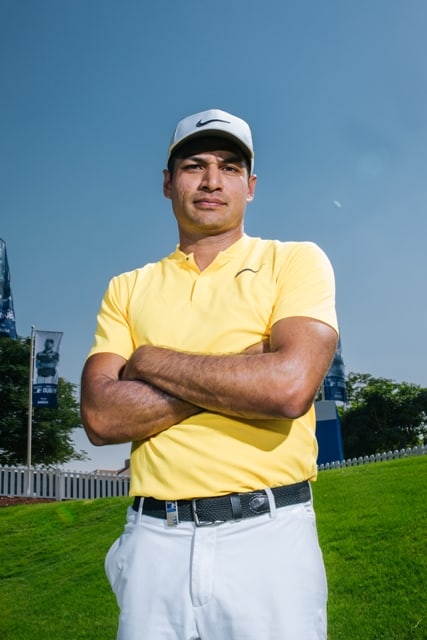 "I loved playing on the Challenge Tour. It was a real education for me in so many ways. Playing on different courses, in different countries, where the food was different and, in many countries the language was different was a great experience. I'd always wanted to travel the world and what a great way to do it. My mum is from India and my dad is from Mexico and I was born in New York and now live in Florida, which probably explains why I took to globetrotting. "Playing on the Challenge Tour and now the European Tour taught me to be patient and how to handle it when things go wrong. It was a great learning experience. I learned how to compete week to week with the Challenge Tour constantly producing worthy winners and tight leaderboards.
"Coming from the United States I found the standard of the Challenge Tour much higher," he says. "When I was in the US people would ask me why I was playing on the Challenge Tour – was it because it was easier than the US mini-Tours? My answer was that everyone over here on the Challenge Tour can play. "It teaches you to make birdies and be aggressive in every part of your game. It teaches you how to take care of things, like hiring a car and sorting out your accommodation, and finding your luggage when it gets lost –four times – as well as concentrating on playing golf. It was certainly a big learning curve.
"As an American it was difficult to adjust but I was made to feel very welcome from everyone on the Tour. I got to know the guys on Tour and I had a couple of friends over here. It took a little adjustment. "I didn't need any motivating and I certainly didn't have any laurels to rest on. I was trying to progress every week. and try to play better every time I teed it up. I added fuel to the fire in trying to achieve as much as I could on my first year on Tour. "I really enjoyed my time on the Challenge Tour. I was looking for the opportunity to play an event on the main European Tour and when it came I took full advantage. I managed to win in Denmark and things just turned around. I kind of rolled the dice and won."
With the victory, Suri's goals changed. He had status on the European Tour and suddenly found himself with a good chance of finishing in the top 60 and getting as high up on the Race to Dubai as possible. "I'm not one to relax," he smiles. "As a New Yorker I have a bit of pitbull in me. I want more. I want to be winning events. I want to be playing when the heat is on and continue to get better."
Suri's top ten finish at Jumeirah Golf Estates saw him end the campaign in 52nd place on the Race to Dubai and with a full season to look forward to in 2017-18, he made a superb start with a share of second place at last month's UBS Hong Kong Open, which opened up the new season just one week after the DP World Tour Championship.
"It was good," said Suri of his performance in Hong Kong. "I did what I wanted to do, which is what I did all week. I've just been hitting it so pure from tee-to-green. I kind of saw the green light on the back nine and made a couple of putts there but didn't really make much coming down the final stretch, which is kind of disappointing. I feel like this is the best I've hit it all year. I gave myself a million chances and didn't really make anything all four days. The way I'm hitting it, I should have been double this score or close to it."
Played solid at the @EuropeanTour season finale @DPWTC … now off the Hong Kong for my last event of the year! #HongKongOpen #wehungry

— Julian Suri (@JulianSuri1) November 19, 2017
Although Suri was disappointed with a runner-up finish he's he's keen to come back to Dubai in the new year and use the Desert Swing as a springboard for more success. "The courses out here in Dubai are similar to those I grew up with back home in Florida – resort courses with big greens and big slopes," said Suri. "They're Bermuda grass, too, the same as the courses out here. "Playing good golf is what matters. I played my first Open at Royal Birkdale and that gave me a taste – now I want to play more Majors. The Open next year is at Carnoustie and I enjoyed it there during the Dunhill Links Championship. That and Valderrama are my favorites. Valderrama is such a demanding course and when I shot a 65 I thought I'd slayed the dragon."
In addition to the Tour's venues leaving a lasting impression, Suri is impressed by the Tour's new innovations and wants to play his part in the Tour's growth. "The European Tour are doing a good job in loosening up a bit," he says. "The GolfSixes event is cool and I'd love to represent the US in that tournament. The Hero Challenge is also fun and that has certainly been a useful addition to the Tour at the bigger events. Also, it's a great move to group the bigger events together as it makes for better fields and that creates more competition."
With a habit for quickly progressing and ticking off his goals, don't be surprised to see Julian Suri flying high, mixing it with the best and stepping into the winner's circle again on the European Tour in the coming months.