Interview by Alex Gallemore
The world renowned Dubai-based golf course architect Peter Harradine is far from putting his feet up but his son, Michael, the leading UAE amateur has decided it's time to hang up the clubs and give his father a lift in the family business. With more projects underway in the region we find out how the golfing landscape has changed and why parents are so important for golf's future.
Back in 1989 when you designed the Abu Dhabi Golf Club course, did you ever foresee that 30 years later players would be carrying the ball 300+ yards?
Peter Harradine: Not at all. In those days the Big Bertha was the first club that really helped players drive the ball longer. When that club came out I was using driver from the fairway, which was something very different. But I never dreamed players would be able to carry it as far as they do today.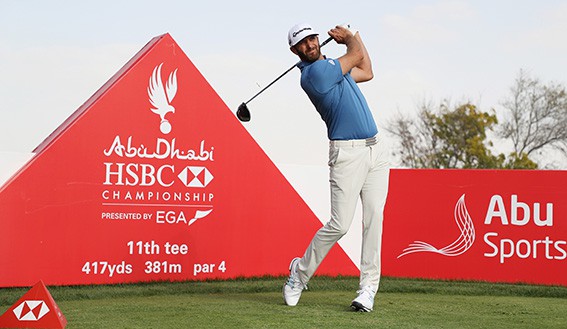 What new projects have you got coming through in the Middle East?
Peter: We are just finishing the Living Legends course at the moment, which we will start grassing around April-May. We have a new project starting in Dubai for a public course which is called 'Safari.' It's now gone out to tender, so hopefully they will start to build that in June.
Is Living Legends going to be a 9 or 18 hole course?
Peter: It's going to be nine holes. I love nine-hole courses and I believe they are the future. I've been saying this for the last 20 years or more. I've always been pushing for nine-hole courses and that's why I'm very happy that Jebel Ali has remained a nine-hole course.
The Staysure Tour (formerly European Senior Tour) created an historic milestone when it became the first professional organisation to stage an official Tour event over nine holes at the Sharjah Senior Golf Masters. Do you think this is the future of professional golf?

Peter: Absolutely! What astonished me was that there was very little international media coverage of it being the first European Tour event to be played on a nine-hole golf course, which made history. Few people talked about it, and that came as a surprise. I definitely think they are the future. So many people seem to think that a golf course should be 7,000 yards and 72-par, which I believe is completely wrong.
Another change within Harradine Golf is that Michael is going to be hanging up his clubs and joining the family business.

Michael Harradine: Well, I'm not completely hanging up my clubs, but I won't be playing as much as I have been for the last eight years. It's time for me to move on and start working full time with my father. I also carry a great responsibility on my shoulders, as I will represent the third generation of golf course architects in the family"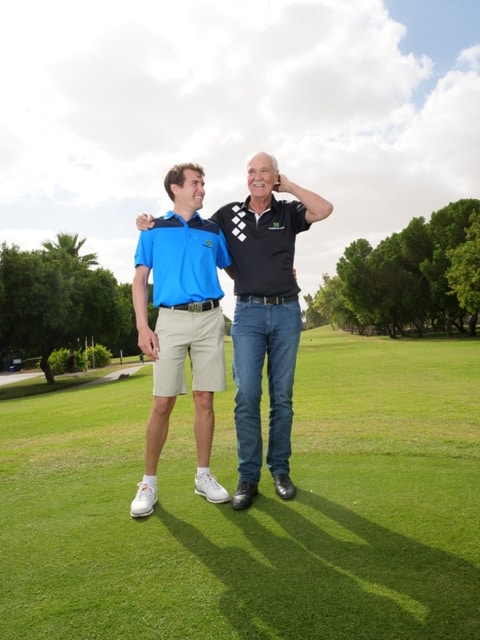 Looking back at your career as an amateur, what was your proudest moment?

Michael: Probably winning the Emirates Amateur Open three years ago. I played really well and I'm extremely proud of that. My performance at the Asian Q-School last year also comes to mind. I put in a very good performance there.
Peter, what does it mean to have a very good amateur golfer joining the family business?
Peter: It's definitely an advantage to have someone of Michael's golfing ability in the team, although that doesn't necessarily mean they know how an average player can play. I used to get Michael to play with higher handicappers, so he could see what they play like. We've got to remember that they are the golfers who pay our fees.
How do you entice more young people around the world to play golf, especially youngsters who prefer to play video games?

Peter: That is definitely a serious issue. We really need to get more young people involved in golf. When I travel around Europe, I always say that we need to get golf into the schools and let the youngsters play on a local course or on a driving range on a Monday for free – as very few people play golf on a Monday. You have got to try and get these kids onto the golf course first of all. It should be part of their curriculum from an early age, just like football, rugby and other sports.
Michael, it may seem an obvious question, but how did you get involved in golf?
Michael: My dad, naturally! When you're a kid, golf isn't the most alluring sport. But, obviously, now I'm very happy that my dad got me interested in the game. My dad would always take me and my brother once a week to play golf, and it was always good fun. I'm very grateful to him for introducing me to the sport.
Peter, would you say that the parent has a pivotal part to play in getting their kids involved?

Peter: Absolutely. I used to get the kids to play by playing for money! First of all, I would lose on purpose to keep them entertained and interested, then, eventually they would beat me fair and square – but the sad thing is, I never managed to get my money back!

Michael, what's the best piece of advice your dad has given you?

Michael: He would always tell me to keep track of my ball. He really drummed that into us. I've found so many balls for other people because I've kept an eye on it and tracked it down.
What's the worst piece of advice?
Michael: My dad is a realist and 90 per cent of the time his advice has always been spot on. But when we were growing up I would have appreciated a little more positivity. However, nobody's perfect. I'm grateful that the way he is, has made me the way I am. Being a realist is quite important in the world we live in.
What would you say is the best hole your dad has designed in the Middle East?

Michael: I would have to say the 16th at Doha GC because of its simplicity. It's a drivable par 4 but it has that massive rock in the middle of the fairway, in the way. It's so tempting to go for the green but you can so often come off that hole with an eagle or a double bogey. It's such a simple and unique design and it's certainly a hole the pros love to play.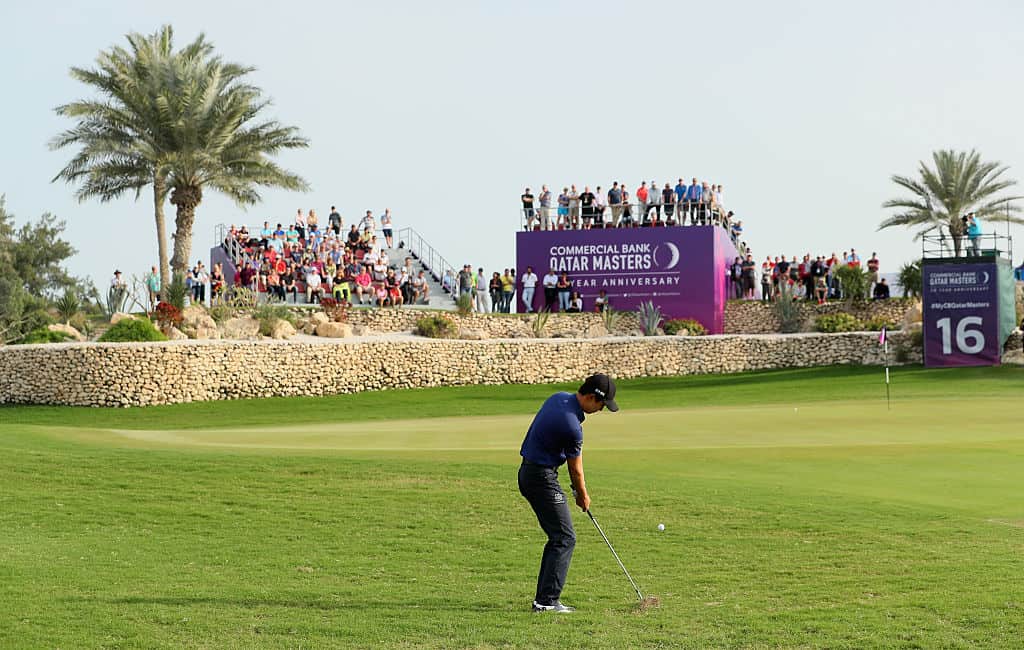 When designing courses are you now looking at making drivable par 4s from a TV spectacle point of view?
Peter: Yes, of course. The PGA are now encouraging them. I don't mind the pros going round in 20-under par. That's what they're paid to do. I like the drivable par 4s, where you can go for it, but also get punished if you don't hit the ball correctly, is definitely something I look out for.

Do you think there should be more of a fair balance where we have holes that suit long hitters like Dustin Johnson but also have the holes where distance has nothing to do with how well you play the hole?

Peter: As far as I'm concerned, golf now massively favours the long hitter and that's why all these players are working out in the gym. I don't believe that's how the game was meant to be played. It's taking the thinking out of the game. I strongly believe that length shouldn't be the criteria to play golf well.
Peter, you've been in Dubai for 41 years now. If you could turn the clock back would you do anything differently from a design perspective?
Peter: No – I don't think I'd do anything different. We always say, 'what if.' But you never know what would have happened. I love Dubai and think H.H. Sheikh Mohammed has shown great courage and an incredible vision. I certainly wouldn't have changed anything I have done. I've got three great kids and it's been a great ride.
What is the one standout moment for you from a tournament perspective since you've been in the Middle East?

Peter: The only tournaments I really look out for are the ones played on my courses because I want to see how the professional play the course. The good thing is, these days, there are so many good players who can win a golf tournament. These days, it's not just one guy we look out for. For me, that's really great from a design point of view.