Some of you may know that in my spare time, when I'm not playing golf or working on my game, my favourite thing to do is to surf.
It's a passion that began 10 years ago when I was 23 years old and in Bali having a week's break before we played a European Tournament in the region. It's impossible to go to Bali and not surf so I decided to give it a go. The first time I tried it was much harder than I thought it was going to be but I kept trying and by the end of the first day I was able to stand up on the board. I was also hooked for life.
I got some lessons and got better, re-visiting Bali whenever I could so that I could do more surfing. In the end, I was visiting to regularly I decided to buy a holiday home there where I now keep a couple of my boards.  The feeling you get when you catch a good wave and ride it well is, in my mind, similar to when you've smashed a big drive or holed a really long putt.
The best of @RCabreraBello's winning 64 in 2 minutes#AAMSO #RolexSeries pic.twitter.com/DLqsYwQfCw

— The European Tour (@EuropeanTour) July 17, 2017
Man-made River
As well as Bali, I've surfed all over the world in places like Indonesia, Costa Rica, Australia, (Hawaii is still on my bucket list) and even my home city, Dubai! But I never expected that I would ever surf in Germany and even less so in the land locked city of Munich!
But that's exactly what I did when I visited the city recently to play in the BMW International Open. BMW arranged for me to visit a beautiful big park in the city called the 'English Gardens'.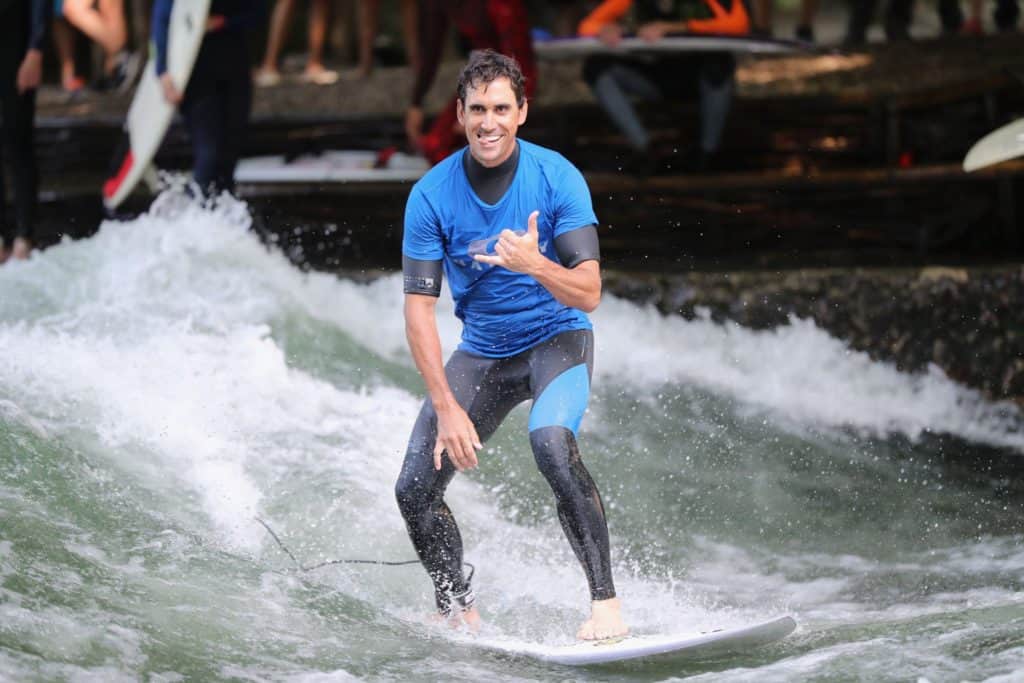 There's a man-made river inside the park that has a stationary wave, kind of like the ones you'd see in a water park like Wild Wadi in Dubai.
I went there with a guy called Tao Schirrmacher who is the European Stationary Wave Riding Champion and it was a really fun and unique experience. It was really tricky at first, as I've only ever surfed on ocean waves, but Tao was really helpful and gave me some pointers and I eventually got the hang of it. It's not every day you can say you've been 'inner city surfing'. BMW really does great work around the tournaments they sponsor, they organise a lot of extra activities for players and our partners so it's really good fun.
11-time World Surf Champion
Kelly Slater (11-time World Surf Champion), who is a friend, was shown the video clip of me surfing (below) in Munich and gave me some tips so I went back to the English Gardens before I left Germany and had another go!
I'm currently preparing for The Open Championship at Royal Birkdale and have just competed in the Dubai Duty Free Irish Open which was very special as I was able to meet up with my good friends Colm and Breeda McLoughlin and there were also many other guests and friends from Dubai attending.
I'm often asked which Major I would like to most win? For me it is the Open Championship because of its tradition and the success of Seve winning multiple times and paving the way for Spanish and European players.
It will be my first time playing at Royal Birkdale which is steeped in history having such great winners in Arnold Palmer, Peter Thompson, Lee Trevino, Johnny Miller, Tom Watson, Mark O'Meara and Padraig Harrington.