By Mike Gallemore
Jersey
Never having visited Jersey before now, I can appreciate what I've been missing. For such a small island it seemed that a short stay would provide more than enough time to see all that was to see. How wrong can you be? In three days my wife and I did little more than scratch the surface of this fascinating gem.
The first thing that struck us both was the peaceful pace of life, wherever we went. The people were polite, courteous and friendly. Just driving around the island was pure pleasure. Motorists were pleased to give way and we didn't hear the sound of a horn once.
Starting from St Helier, we headed for Gorey along the scenic coastal A4 with The Long Beach non-stop Royal Bay of Grouville all the way, to find out whether the pictures of the majestic Mont Orgueil Castle really are as spectacular as they look. Having made the climb to the highest ramparts I can testify that it's a memorable experience.
We continued north, where the coast became more rugged, taking in Jersey Zoo and the magnificent water wheel at the Moulin de Lecq, then down the west coast with its continuous 5-mile St Ouen's Bay. Our next stop was St Brelade's Bay and the adjacent Ouaisne Bay, then on to St Aubin's Harbour and back to St Helier.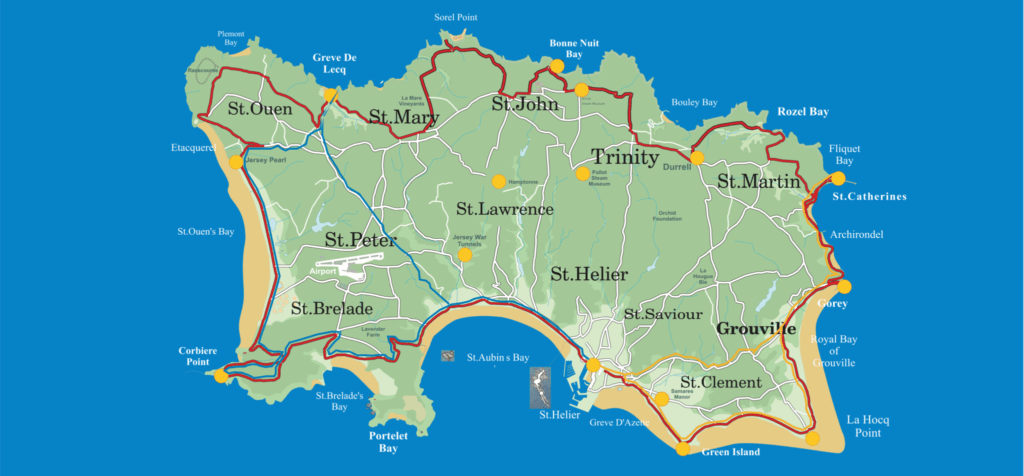 We simply ran out of time in visiting the numerous attractions we had heard so much about. We thoroughly enjoyed our short sample of Jersey and we would recommend this unique island that has so much to offer to so many people.
La Moye Golf Club, St. Brelade, is an 18-hole links course located
in a stunning position overlooking St. Ouen's Bay in the south west of the island. Facilities include a golf shop, clubhouse, restaurant, driving range and putting green. Tel: +44 (0)1534 747166.
Website: www.lamoyegolfclub.co.uk
The Royal Jersey Golf Club, Grouville. The Royal Jersey is a par-70, 18-hole links course on the east coast, close to Gorey Village overlooking Royal Grouville Bay. The course is open to visitors who are members of a recognised club. Facilities include a golf shop, clubhouse, restaurant and putting green. Tel: +44 (0)1534 854416.
Website: www.royaljersey.com
St. Clement's Golf and Sports Centre, St. Clement. Located in the parish of St. Clement nearby to the island's capital of St. Helier, this sports centre boasts a testing 9-hole parkland course. Other facilities include12 outdoor tennis courts, a putting green, restaurant and bar. Tel: +44 (0)1534 721938.
Website: www.stclementgolfandsportscentre.co.uk
Les Mielles Golf & Country Club, St. Peter. Situated in the heart of Jersey's picturesque conservation area in St. Ouen's Bay. The challenging 18-hole course is open to visitors. Facilities include pro shop, bar, restaurant , putting green. Tel: +44 (0)1534 482787.
Website: www.lesmielles.com
Les Ormes Golf Club & Holiday Village, St. Brelade. Les Ormes is a fantastic 9-hole parkland course suitable for all ages and abilities overlooking St. Ouen's Bay, with self-catering cottages and a large sports centre and tennis courts. Tel: +44 (0)1534 497000.
Website: www.lesormesjersey.co.uk
Wheatlands Golf Club & Hotel, St. Peter. Wheatlands Golf Course is a challenging 9-hole course set in 30 acres of parkland. There is also a two-star hotel, bar and restaurant on the site.
Tel: +44 (0)1534 888877
For further information visit: www.jersey.com
The Club Hotel & Spa
It's very rare that I have ever taken a short break away from it all and everything has gone like clockwork. But our 3-day visit to Jersey surpassed all expectations. The Flybe flight from Manchester was on time and comfortable, the flight attendants were courteous and efficient, the airport staff were helpful and the taxi driver threw in a guided tour of the island en route to our outstanding hotel, The Club Hotel & Spa in St Helier.
The Club is tucked away in a peaceful corner of the heart of the capital, with a myriad of bars and restaurants within a few minutes' walk, yet the unpretentious, luxurious hotel and spa is home to one of the most famous and lauded restaurants in Great Britain.
Michelin Star Bohemia
The Michelin-starred Bohemia and its Head Chef Steve Smith had the honour of receiving the highest accolade of five AA rosettes at an awards ceremony in London in September. Bohemia was recently ranked the 11th best restaurant in the UK and added the prestigious two-star rating in the '2017 World's Best Wine Lists Awards.'
I can only testify that those making the ultimate judgement got it right. Since its inception 13 years ago Bohemia Bar and Restaurant has been Jersey's finest dining destination. The Bar on the ground floor of The Club is all dark wood paneling with leather seating and subdued lighting, creating an ambience of sheer luxury and offering a varied menu of excellent dishes and a wide selection of beers, cocktails and an award-winning wine list.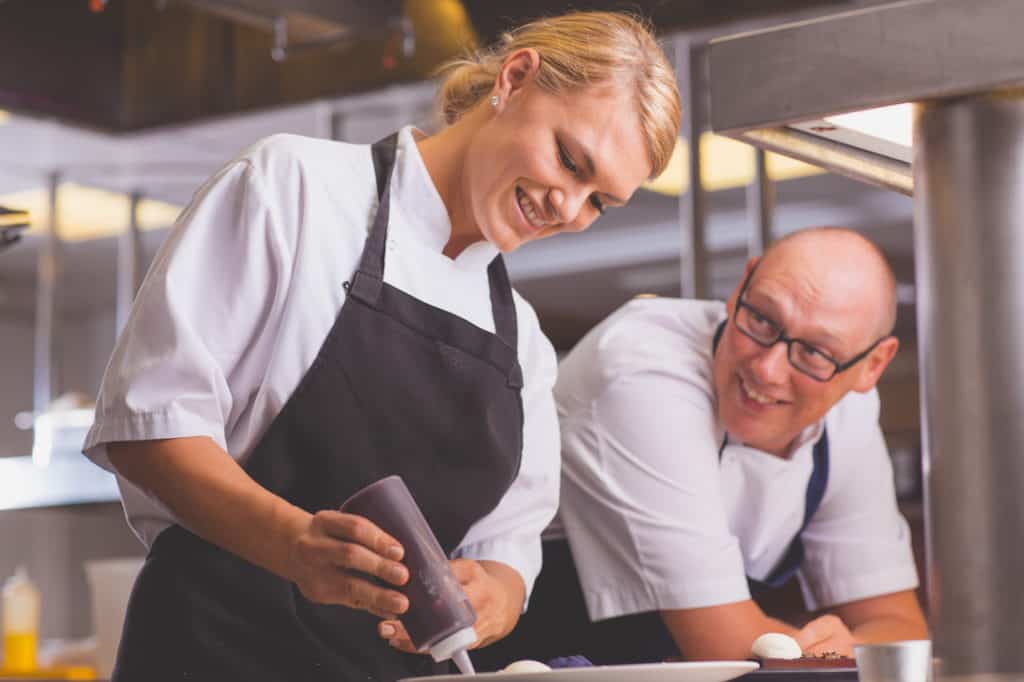 The Dining Room beyond the end of the Bar continues the luxurious theme and presents a pleasurable atmosphere of high expectations. Since coming to Bohemia Restaurant in 2013 Steve Smith, formerly at the famed Burlington Restaurant at The Devonshire Arms at Bolton Abbey in North Yorkshire, makes the most of local fresh produce and seasonal fruits. My wife and I opted for one of the four Tasting Menus, which were a sight to behold. The presentation equaled the taste of each dish and it was almost a crime to disturb the design.
But my wife's choice of Sea Bass was an inspiration and my lamb loin and braised neck was out of this world. The dinner was something of an adventure which created a surprise with every dish, each of which was exceptional.
There are various Tasting Menus, plus set lunches on Saturdays and weekdays, all very reasonably priced. The following day we indulged in Bohemian Afternoon Tea, which was so beautifully presented it was a shame to take it off the plate. The artistry was the work of Steve Smith's wife Ellen de Jager, the Head Pastry Chef (who are both pictured together, left) and we have to say it tasted every bit as good as it looked.
Adjacent to the reception area is the breakfast room where a wide selection is available.
Culinary perfection aside, there is so much more to The Club, in particular its renowned Spa. It has four indulgent treatment rooms and a Rasul Mud Chamber.
It also has an indoor salt water pool and thermal suite comprising salt cabin, herbal steam room, sauna, experience shower, relaxation sanctuary with four reclining beds with integrated headphones playing calming music, plus fruit, herbal teas and magazines.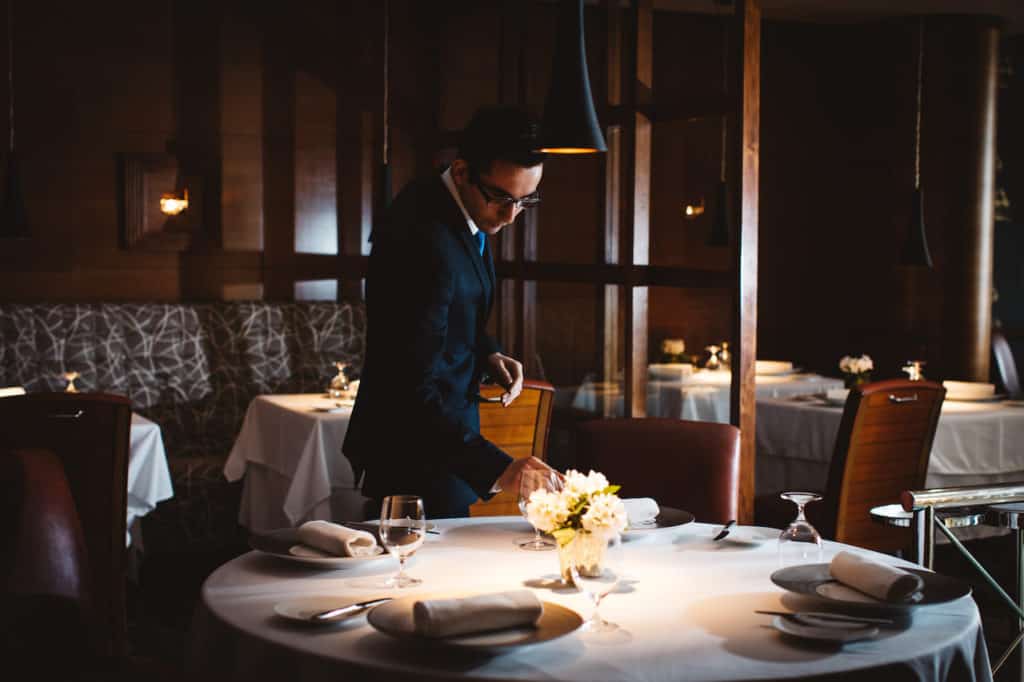 There is an ivy-clad roof terrace Champagne bar where you can enjoy a meal and drinks, and on the ground floor there is a heated outdoor pool with sun loungers. alongside is an honesty bar with a small library.
Deluxe Rooms & Suites
There are 38 deluxe double rooms and eight suites with floor-to-ceiling windows creating natural light; LCD flat screen TVs; DVD players; portable telephones; en suite bathrooms with Elemis toiletries. For business guests there is a large meeting and banqueting room with a conference table seating up to 34 guests. WIFI is also available, plus free car parking.
The Club certainly has every facility imaginable but its most important asset is its staff. From the moment you walk into the reception area guests are greeted with a friendly smile from the staff who genuinely want to make your stay as enjoyable as they can.
For further information contact: The Club Hotel & Spa, Green Street, St Helier, Jersey JE2 4UH, Channel Islands. For reservations please call: 01534 876 500 or visit