With a beautiful terrace overlooking the 18th green and pristine fairway of Dubai's newest golf club, Dubai Hills, Duck Hook certainly features a perfect location for whiling away a few afternoon or evening hours but we were keen to see if the food matched up to the stunning setting.
Duck Hook is a gastropub style eatery with a distinctive warm, down to earth and welcoming style that grabs you as soon as you walk through the door. Large 'oil painting' style prints of humanised ducks dressed in a variety of olde English finery adorn the walls and add to the venue's 'cool but quirky' vibe.
One of the first things that jumped out at us during our visit was that this is most definitely a dog and family-friendly venue, and wonderfully so! There aren't many establishments in Dubai where you can bring the canine members of the family along to enjoy the experience with you but Duck Hook is one of them. There's also a bouncy castle on the lawn in front of the restaurant along with a series of mini tipis for the little ones to play in. It all adds to the vibe of a quintessential British summer afternoon in a beer garden and it was enough to get us all dewy eyed and nostalgic as we sat perusing the menu.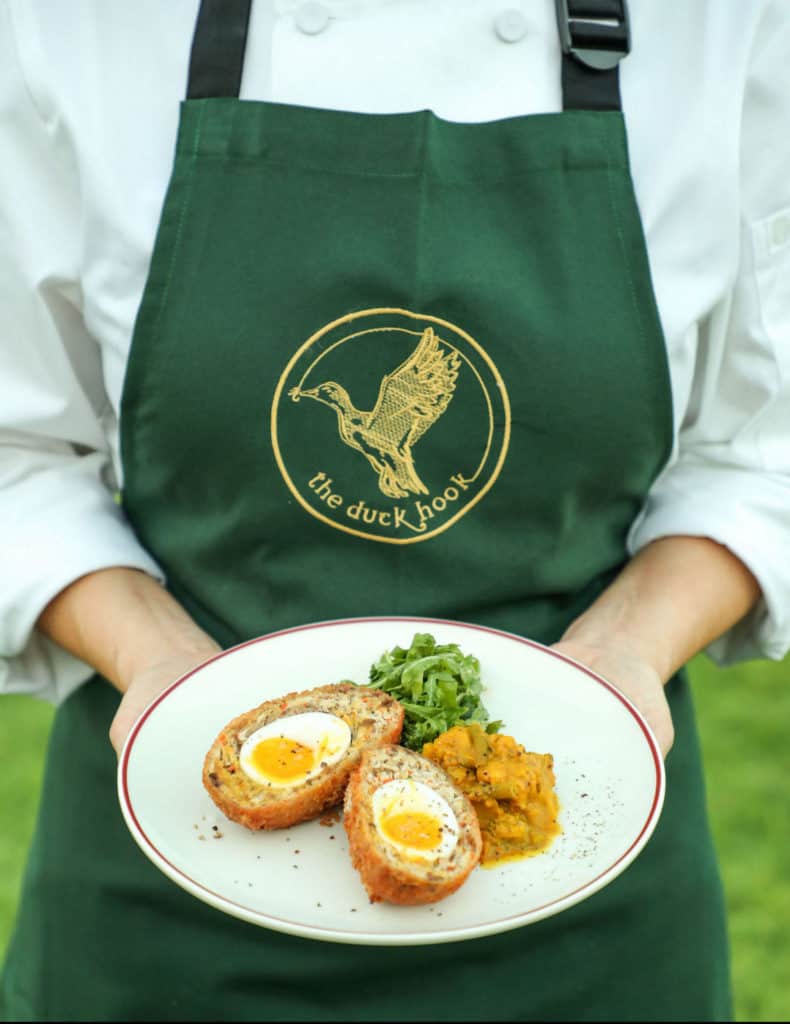 The food is British pub-inspired too. Think Wellington for two; braised and roasted Welsh lamb shank; beer battered fish and chips; duck confit or a steak and ale pie. There's also fine looking chicken ruby (curry) and a vegan Portobello mushroom, or Stockyard beef, burger as well as a large selection of craft beverages and inventively named golf-inspired cocktails…or 'tipples and tinctures' as the menu refers to them!
After much deliberation (everything sounded delicious) we went for starters of homemade duck scotch egg and Atlantic prawn cocktail. Great choices – both very enjoyable and the prawn cocktail was huge, we could have shared it between two!
On to the mains…We've heard great things about the pies, and we'll definitely return to try them at a later date, but as our visit was on a Saturday – and they do a roast on a Saturday and Sunday – we thought it would be remiss of us…insulting even…not to try it. My dining partner favoured something a little 'lighter' so plumped for the fish and chips, which was an insanely tasty piece of Devonshire haddock with real 'chippy' chips. But the fish was more 'whale-like' in size so the goal of a less filling main course was not achieved!
The roast featured beef cooked three ways. Slow roasted top side, roasted rib and slow cooked pulled short rib which is stuffed inside a hearty Yorkshire pudding. It came with duck fat roast potatoes, root vegetables and a whole bowl of cauliflower cheese. Top tip – if you want the roast, go hungry as this is some serious eating but it is highly recommended! A great touch is that they also give you an extra jug of gravy (top notch gravy at that) which is something often lacking with roasts in the UAE.
Although we could barely move after such a mammoth feast, we felt that we owed it to ourselves to 'at least try' the desserts, so we sheepishly ordered the chocolate fudge arctic roll which finished off what was an exceedingly enjoyable meal in a fabulous location perfectly.
Open 12noon-12am daily, 12 noon-1am at weekends. Diners can book on 800 666353 or email: [email protected] or [email protected]
Weekly Offers and venue timings:
Happy hour is daily from 3-8pm.
Enjoy 'A Good Roasting' every Saturday and Sunday, where an AED125 bill will get diners a choice of slow-roasted topside, roasted rib or slow-cooked pulled short rib along with thyme and honey roasted root vegetables, duck fat roast potatoes, cauliflower and leek gratin, homemade Yorkshire puddings and creamed horseradish.
Join The Duck Hook on Monday, Tuesday or Wednesday for Grub & Grog – where guests will get a classic dish and a drink for just AED105.